The Nintendo Switch has topped 122 million lifetime sales, but year-on-year hardware sales were down by over 20 percent due to component shortages.
As noted in Nintendo's fiscal report for the nine months ended December 31, 2022, hardware sales declined by 21.3 percent year-on-year to 14.19 million year units.
The company said that downturn was largely because of a "shortage of semiconductors and other component supplies" that impacted production until late summer. It's worth noting, however, that Nintendo recently said that Switch production will be ramping up again in 2023.
As it stands, the Nintendo Switch has sold precisely 122.55 million units to-date, meaning it has now sold more than the Game Boy (118.69 million units) and has increased the gap between itself and the Wii (101.63 million units).
Major milestones
Software sales also declined by 4 percent year-on-year to 172.11 million units, with Nintendo explaining its game sales were "affected to some extend by the decline in hardware sales."
Despite that downturn, there were major sales milestones for some notable titles. Pokemon Scarlet and Pokemon Violet have sold 20.61 million copies since launching in November 2022, while Splatoon 3 has sold 10.13 million units since debuting in September 2022.
Evergreen racer Mario Kart 8 Deluxe sold 6.66 million units to surpass 52 million lifetime sales, while Kirby and the Forgotten Land sold an additional 3.47 million units for cumulative sales of 6.12 million copies.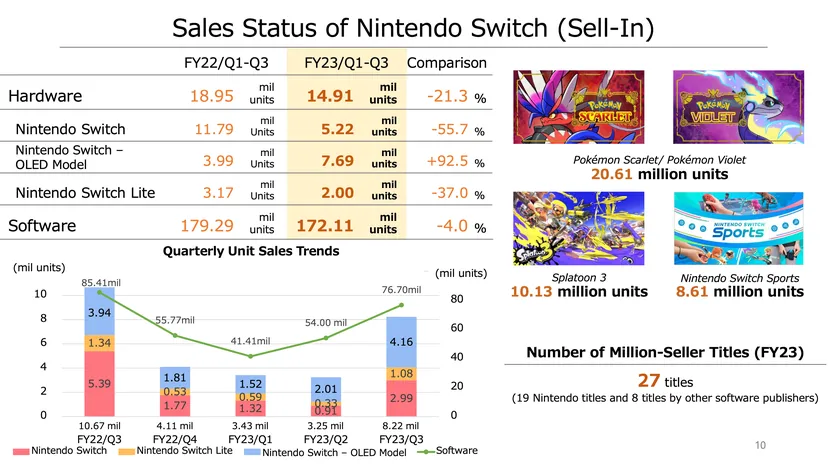 Looking at the company's wider business performance, net sales were down by 1.9 percent year-on-year to 1.29 trillion yen ($9.8 billion) and profit decreased by 5.8 percent to 346.2 billion yen ($2.6 billion) over the same period.
Within the company's digital business, Nintendo said downloadable software "performed well" and that revenue related to Nintendo Switch Online increased to help push digital sales up by 21.5 percent year-on-year to 310 billion yen.
Nintendo added that royalty income remained "stable" in its mobile and IP-related business, but that income from smart device content declined, resulting in overall sales falling by 2.3 percent year-on-year to 38.9 billion yen.
Based on its current performance, Nintendo has modified its Switch hardware and software sales forecast for the fiscal year. It now expects hardware sales to total 18 million units (down from 19 million units) and software sales to hit 205 million units (down from 210 million units) by the end of March 2023.
The Japanese company has also adjusted its fiscal forecast, and is now anticipating net sales of 1.6 trillion yen (previously 1.65 trillion yen) and profits of 520 billion yen (previously 560 billion yen) by the end of the financial year.