Tencent's PUBG Mobile Lite, which is optimized for lower-end smartphones with limited storage, has been in testing in Brazil and the Philippines since late 2018. It was rolled out to further territories in July, including India, where it quickly topped the app download charts. According to Priori Data, the title has been downloaded 46.8m times since its testing phase, and almost half of these downloads came from India in the last 30 days. This is indicative of both the potential scale of the Indian mobile games market, which currently has low smartphone penetration, and the potency of the PUBG brand there.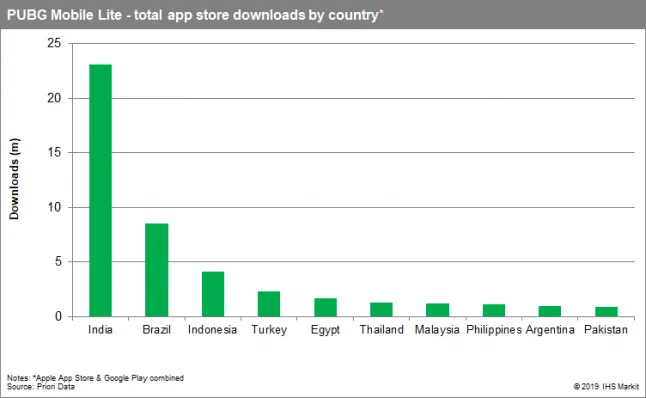 India remains the primary market, with high saturation of entry-level Android smartphones
PUBG Mobile Lite supports up to 60 players in a smaller map, whilst the map selection is more limited. It is less than a third of the download size of the original PUBG Mobile, and it is optimised for Android smartphones with less than 2GB of RAM, with no comparable iOS version. This is a logical strategy as, globally, Android takes an 80% share of the PUBG Mobile market, and over 95% of smartphones in India – a key market - use the Android OS and thus Google Play Store. Choosing to focus on the Android version allows Tencent to fully optimize its offering, which is important for maintaining positive user sentiment: the original title is widely recognised as high-quality, with frequent updates and active developer support.
For the 30 days following its July 26 launch, the game was the most-downloaded app in India, narrowly beating out social media video platform TikTok. Whilst competitor titles such as Fortnite continue to focus on large, established games markets like the USA, Tencent is working to make PUBG a household name in emerging territories before they become over-saturated. Revenue generation from PUBG Mobile Lite remains minimal at present – and only a fraction of that of the original PUBG Mobile - but establishing loyal fanbases early on by catering to their needs could prove rewarding in the long-term, as these markets are set to steadily grow. As users transition to more powerful smartphones, they will have the opportunity to upgrade to the regular PUBG Mobile, which monetises far more strongly.
PUBG Lite for PC is a free alternative on the title's most lucrative platform
PUBG Lite for PC is developed and published by PUBG Corp. and does not share servers with the original game. The beta launched in Thailand in January and has since been expanded to wider regions including Indonesia, Pakistan, UAE and India, with local servers to support minimal ping. It is not available on Steam and must be downloaded from the official PUBG Lite website. Importantly, it is free to play – the driving force behind the success of PUBG Mobile and other, similar titles such as Garena's Garena Free Fire. The build is playable on PCs and laptops using integrated graphics, which is crucial for players who lack the hardware and/or budget needed to play the Steam version. To enhance accuracy, gun recoil has been reduced and aim assist has been enhanced – leaving the style of gun-play somewhere in between Steam PUBG and PUBG Mobile.
Behind mobile, PC is the second largest platform in PUBG Corp.'s target territories of South and South East Asia, the Middle East and South America. The console presence is weak, and in providing a low-spec PC version of a game which was previously beyond the reach of many players, PUBG is further cementing its position as market-leading title in these regions. Free-to-play mobile game Garena Free Fire has also proven extremely popular – especially Brazil – but with no "lite" PC equivalent, there is a gap in the market. In addressing this, PUBG Corp. is further capitalizing on a substantial and under-served audience.
PUBG Lite could fragment the Western player-base – a global launch seems unlikely
The premium PC version of PUBG has amassed a considerable following. It holds the record for the highest peak concurrent player count on Steam at over 3 million. However, the game has long suffered from multiple bugs and performance issues, despite efforts by developers to rectify them. A comprehensive fixing process would likely mean a complete redesign of the game, which would disrupt the established user-base.
PUBG Lite, in contrast, offers a free of charge, bug-free experience in a similar vein. As such, it is logical to suggest that this offering could attract many disenchanted players of the Steam version in the West, but a comprehensive community shift to PUBG Lite – if introduced to Western markets - seems very unlikely. The realistic gun-play is an important factor for many players, but has reduced difficulty in the Lite version. Skill-based aspects such as this are particularly significant for competitive players and streamers.
With no official statement regarding a global launch, it is likely that the title will remain confined to select areas of Asia, South America and the Middle East, in order to avoid fragmenting the hard-earned player-base. What's more, PUBG Corp would obviously not want players to gravitate towards the version that does not monetise as strongly.
Serving the under-served could be a fruitful long-term strategy
In catering to the needs of those who don't have the budget or hardware capacity to play the non-lite versions of the game, Tencent and PUBG Corp. are laying the foundations for a strong audience rapport moving forward. The mobile and PC versions of PUBG Lite provide slightly different experiences, meaning cross-platform cannibalisation is unlikely. Instead, players can interact with the brand on multiple levels, intensifying engagement. With competitor companies focusing their efforts elsewhere, these still-emerging games markets with high future growth potential may prove to be crucial allies in the future.