While developers have been able to poke around in the updated App Store for a few months now, the launch of iOS 11 has officially brought the new, curation-heavy digital store to the general public.
This significant App Store redesign is just the latest development in a long-running mission to help developers battle the discoverability problems that have crept up in mobile app stores throughout the years.
While the first part of that quest involved ending support for 32-bit apps, the most noticeable change both developers and players will find in the iOS 11 App Store is the completely redesigned storefront.
The update forgoes data-driven 'best seller' lists and instead places the focus on curated editorial content through the Today tab. It's the new front page of the App Store and uses regularly updated written content to attract players to new games and apps.
Those curated articles will include everything from developer interviews to Game of the Day spotlights and Apple is actively looking for developers with "unique stories" to highlight in the new tab.
Meanwhile, iOS games as a whole have received their own section on the App Store, separate from other app categories. Like the Today tab, the Games tab is headlined by curated collections and editorial recommendations. Individual game pages have also received a spiffy makeover that Apple says will give devs more opportunities to woo potential players.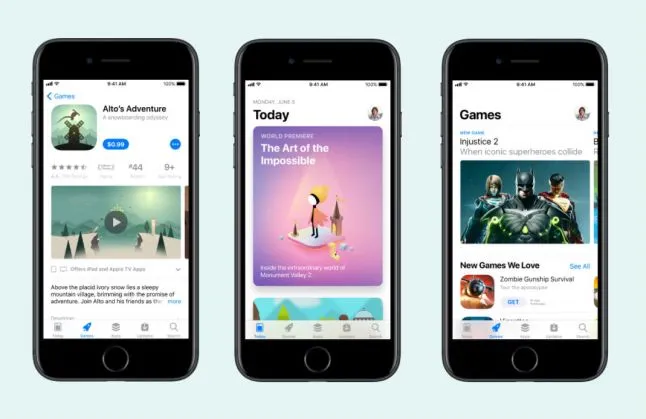 This includes the addition of a brief subtitle field just below a game's title and auto-playing app preview videos that aim to quickly give players a better idea of what a game is all about. The in-app purchase directory has also received a fresh coat of paint, enabling developers to showcase up to 20 IAPs that can then be purchased right from the product page itself.
Apple has included a useful guide on how to make the most of the new product page design over on its developer portal that is well worth checking out. Meanwhile, screenshots of the new store in action and detailed information on the changes themselves can also be found on Apple's developer portal.