[In this article, originally published in sister print publication Game Developer magazine late last year, its editors present profiles of 50 of the most important contributors to the current state of the game industry -- from indies to AAA, from business to art, design, and beyond.]
We spend a lot of time focusing on companies in this industry, and sometimes not enough on the individuals. While it can often be difficult to attribute the achievements of a game to one to one particular person, we have attempted just that -- mentioning leads where necessary, and independent accomplishments whenever possible. If possible, where leads are mentioned, teams should interpret this as a group honor.
And so, this is our list, compiled by the editors and our advisory board, of 50 important accomplishments of the last year (give or take) as filtered through the specific people attached to them, in the categories of art, design, programming, business, and evangelism.
Within each category, there is no ranking -- names are ordered alphabetically. Thanks to all the below for doing what you do, and keep striving for future excellence!
Art
Jakub Dvorsky
Amanita Design
Games from Jakub Dvorsky's Amanita Design have a distinctly European look that combines the sadness of a faded daguerreotype with flashes of sly, post-modern humor.
Mixing collage, hand-drawn art, and animation, games like Samorost and Machinarium have a complex patina and visual density that seems to transcend their Flash origins, but show their Czech animation roots in ways that speak to a country with its own, rarely seen visual aesthetics.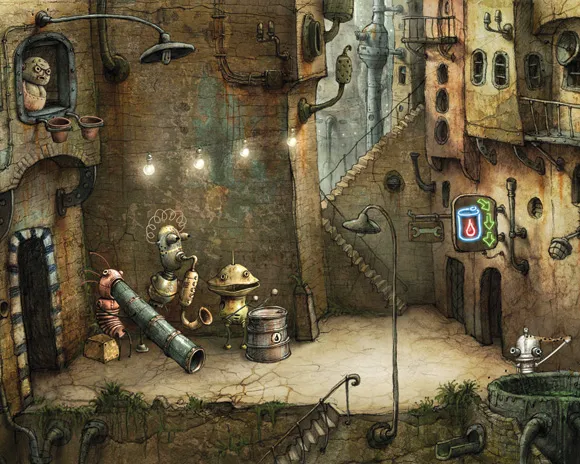 Amanita Design's Machinarium
Dhabih Eng, Jeff Ballinger, and Jason Mitchell
Valve
Valve's Team Fortress 2 is a prime example of how art direction can support game design to create a smoother experience for the player. First and foremost, TF2's art direction scores for its whimsical retro vs. space age bachelor pad vibe, with clever cinematics and characterization making potentially generic characters like The Spy stand out by a mile.
In the fast-paced environment of TF2, differentiating units on the battlefield swiftly is critical for player survival. Thus, Valve's smart art direction also has a crucial role in helping players recognize the unique visual signature of their team and opponents.
Kareem Ettouney
Media Molecule
Most video games look like... well, video games. But Kareem Ettouney's richly textured, handcrafted visuals for LittleBigPlanet are far more Etsy and Real Simple than cathode ray tube.
Not only is LBP's constructed look a perfect fit for the game's concept of user generated content, but it gives the PlayStation 3 what might be its first broadly recognized visual brand identity. The multitudinous awards the title over the last year have vaulted Ettouney and his team to the top of the visual heap.
Matt Korba and Matt Clausen
The Odd Gentlemen
The Odd Gentlemen's Xbox Live Arcade and PC game The Misadventures of P.B. Winterbottom began life as a USC student project, and the school's film studies orientation made a deep impression on its design.
Referencing the look of German expressionist films of the 1920s, the game's art direction by Matt Korba and Matt Clausen (with an additional nod to illustrator Vidal Perez) is a clever metaphor for its deconstruction of linear time. The main character's comically villainous façade also helps to support his nefarious quest to steal all the world's pies.
Jouji Kamitani
Vanillaware
Proving that 2D games still have a place in the hi-def world, Vanillaware has perfected its craft across three console generations. By making a total commitment to its aesthetic of painstakingly realized 2D graphics, the studio has evolved a distinctive house style that is instantly recognizable, and transcends regional classification.
Kamitani is art director, but also the president of the company, and his claim that the studio is "100 percent artists" shows how seriously he takes the artistic side of Vanillaware's games, with titles like Muramasa re-interpreting classic Japanese legends in beautifully abstruse ways.
Tomohisa Kuramitsu (AKA Baiyon)
Pixeljunk Eden
Baiyon is part of an emerging class of borderless digital artists that move effortlessly between graphic design, fine art, film, music, and fashion. His work on Q-Games' PlayStation Network downloadable game PixelJunk Eden as both composer and art director presents a thoroughly modern aesthetic that mixes minimalist pop art with gently pulsing techno.
As games move further into the mainstream of popular consciousness, these kinds of blurred distinctions between media will become more important, but as an artist who happens to have done a game-related project, Baiyon is a great exemplar.
Ryan Lesser
Harmonix
In creating The Beatles: Rock Band, Ryan Lesser and his team of artists at Harmonix faced an unusual challenge: How should one respectfully portray the Fab Four in a video game? Particularly when The Beatles' faces and personalities are so deeply etched on the hearts of music fans?
Their approach, which avoided the obvious pitfalls of photo-realism as well as the easily dismissed "kiddie" look of cartoon caricature, struck an elegant balance between the two extremes. Lesser and his team show that a tasteful eye combined with lots of research and the traditional skills of hand-animation is the surest way to connect with an audience's emotions -- and a little psychedelia goes a long way.
Mickail Labat
Ubisoft
The world of Prince of Persia had become a comparatively dark and grungy place, rather at odds with its One Thousand and One Nights-inspired origins. What a pleasant surprise it was, then, to step into the newest Prince of Persia and find blue skies over perfumed gardens -- a game that seemed to be an oasis far from the death encrusted space marines that critics charge are so prominent in the current generation.
Ubisoft Montreal's Mickail Labat is to be commended for leading the charge on creatively reimagining this long running franchise.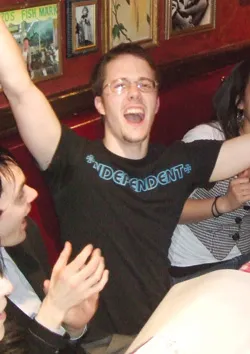 Dan Paladin
The Behemoth
Dan Paladin's work on 2D hits Alien Hominid and Castle Crashers is a welcome reminder that form follows function. His chunky, clean line style is perfectly tuned to indie developer The Behemoth's brand of instant gratification game design.
Rather than trying to crowbar over-designed graphics into the relatively low-spec environment of Flash or XBLA, Paladin plays to the strength of these platforms by creating art that is bright and eloquently simple. His art also lends itself well to more humorous scenarios -- it's not often you see poop-prone deer jetting across the screen.
Lee Petty
Double Fine
Brutal Legend is as much about the look of heavy metal as it is the sound, and under Lee Petty's art direction, the music's lowbrow high fantasy album cover art comes to life. Beyond simply bringing Joe Petagno's Orgasmatron cover into 3D, Petty incorporates a wealth of fantasy art influences into Brutal Legend.
From Frazetta's rough-hewn figures and Brom's leather strapped fetishism, to Beksinski's cyclopean forms, the Tim Schafer-headed game presents a vast canvas of fantasy art history.
---
Design
Jenova Chen
ThatGameCompany
Chen and colleagues at Los Angeles studio TGC released PlayStation Network title Flower to great critical acclaim. Not only does the game play differently from others, it eschews violence and many traditional play mechanisms in order to create a new sort of experience.
Chen's design for Flower has sparked no end of critical discussions, design debates, and GDC topics, and has inspired other designers to look further into the fun of experiential and experimental gameplay.
Chen's well-spoken philosophical ideas and theories have cemented his position as one of the more forward-looking designers in games.
Todd Coleman
KingsIsle
KingsIsle lead designer Todd Coleman has claimed for years that MMOs can be successful targeting smaller niches. His first attempt, the free to play/subscription hybrid PC online game Wizard 101, merges a little Harry Potter, a little Pokémon, and a little Magic: The Gathering into a boutique MMO that recently snared its five millionth registration.
The youth and tween space for MMOs is a crowded one, but Coleman and company have proved that specific targeting and clever game design, rather than generic catchalls, can be a formula for success.
George Fan
PopCap
The entire PopCap design team has done much to legitimize casual game design by producing titles that combine easy accessibility with deep play mechanics. Recent releases such as Plants vs. Zombies demonstrate the PopCap style of creating games that are deceptively simple on the surface, but remain rewarding over the long-term.
In PvZ, Fan's take on the alternately hardcore or faceless genre of "tower defense"/strategy is cleverly personalized and masterfully iterated, without alienating the more strategy-minded players.
Nate Fox
Sucker Punch
The whimsical cartoon world of Sly Cooper was Sucker Punch's bread and butter during the PlayStation 2 era, but with the transition to latest gen consoles, the competition has gotten altogether darker in tone.
Sucker Punch's response was to update the proven action elements from their well-crafted franchise with a modern, open-world design and edgier art direction. The resulting inFAMOUS is the perfect intelligent fix for an audience that grew up with cartoons, but now craves more adult fare, and gives the PlayStation 3 another much-needed system exclusive.
Sefton Hill
Rocksteady
Hill is the creative director of Rocksteady, a company which came from relative obscurity to create the greatest Batman game yet made (Batman: Arkham Asylum). Rather than turning the hero into "punching batarang guy" as so many developers have before, Hill and company created a thoughtful, stealthy combat-oriented game, with well-designed levels, clever tricks, and scads of new ideas throughout.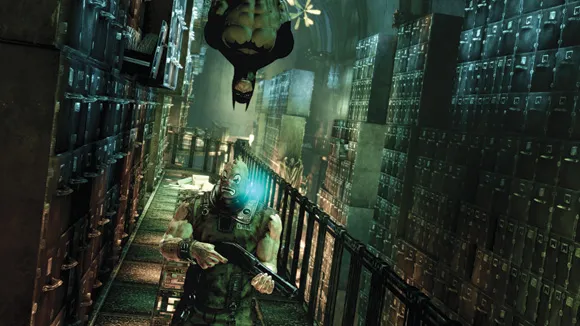 Rocksteady Games' Batman: Arkham Asylum
From Batman's "detective vision" to the flowing combo-oriented combat, to the silent takedowns, Arkham Asylum manages to make cautious play enjoyable, without being slow.
Tom Leonard
Valve
Left 4 Dead and its sequel reinvigorated cooperative multiplayer games in such a logical way that it seems astounding it wasn't done before. Players stick together and help each other out because the enemy AI is designed in such a way that you're a fool not to. You actually want to work in partnership, instead of being forced by the old "you need two people to open this door" gag.
By forcing most of the large scale battles to take place in motion, rather than from single defensible positions, Leonard and his Valve colleagues have created a new variant of co-op that has captured the imagination of many.
James Ohlen
BioWare
Most people know BioWare for "the doctors" -- Ray Muzyka and Greg Zeschuk, but James Ohlen is a key design brain behind many of the BioWare classics, including Baldur's Gate I and II, as well as Knights of the Old Republic and Neverwinter Nights.
Ohlen is currently heading The Old Republic, BioWare's entry into the MMO space, ensuring that the tricky franchise -- on a massively multiplayer scale, of course -- is properly infused with the studio's brand of thoughtful play.
Hirotoshi Shiozaki
Street Fighter IV team
Street Fighter IV brought lapsed fighting game players back into the fold, and even created some new fans. This was a marketing win, to be sure, but the design of the game for lower-level play lowered the barrier of entry such that players were less daunted.
The challenge modes also served as a tutorial for the combo system, teaching players how to link certain moves together. Shiozaki and the folks at Dimps and Capcom have paved the way for a resurgence of 2D fighting games in general.
Shuntaro Tanaka and Ryutaro Nonaka
Sega
Strategy RPGs have traditionally been a hyper-niche genre, beloved by its adherents and almost inscrutable to outsiders. Into this hidebound form stepped producer Ryutaro Nonaka and director Shuntaro Tanaka with Valkyria Chronicles, a game that put a fresh, youthful (and blue-skied) face on the typically grognardian elements of small unit fire and movement tactics.
Massive sales didn't necessarily result, but perhaps when the franchise moves on to the PSP it will introduce even more players to the pleasures of tactical games.
Jarrad Woods
Captain Forever
Captain Forever developer Farbs has had about eight years of commercial game development experience at companies like BigWorld and 2K Australia -- on either canceled or unreleased games.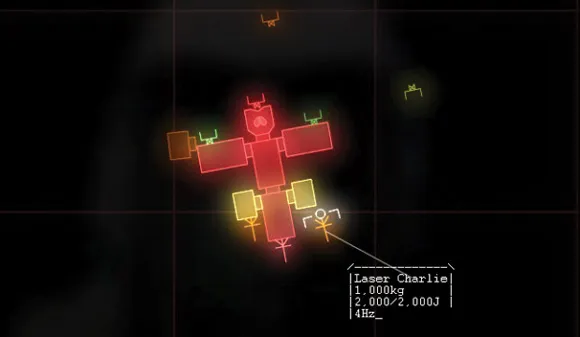 Jarrad Woods' Captain Forever
But in his free time he started making independent games, and the fascinating and transgressive ROM CHECK FAIL -- which mashed up classic arcade games in cheeky ways -- was just the start, a Grey Album for games, if you will. His new project, and his first as a full-time indie, Captain Forever, won the IGF China Best Game award for the top Asian-Pacific indie title.
---
Programming
Chris Hecker
Ex-Maxis
At Maxis, Hecker was responsible for pushing forward the procedural animation, character tessellation, and rendering found in Spore, which, regardless of the game's overall success, did some spectacular technical things.
Hecker is also the cofounder of the original Indie Game Jam, of which there are now multiple international derivations, inspiring indies to collaborate and work together in new ways.
Now that Hecker is once again independent, one can only anticipate what technical (or, indeed design!) delights he may create with his "free time", starting with the truly promising-looking Spy Party.
Kristján Jónsson
CCP Games
Running a gigantic MMO on a single server carries a host of difficulties -- from latency issues and player capacity to time synchronization. However, when having a large, persistent universe is the primary selling point for a game, using a single-sharded architecture is the only way to effectively create that environment.
Kristján Jónsson's team on EVE Online continue to impress technically by delivering a consistent universe on a vast scale, ever more eye-opening because of the game's growing subscriber base, now over 300,000.
Rob Knopf and Nyung Chul Kim
CN FusionFall team
The Cartoon Network has jumped into the free-to-play MMO space with FusionFall, a web-based game built on the Unity game engine and incorporating Cartoon Network characters.
The project is a great example of how smart, low-cost technology can give media companies an easy path to their increasingly connected audiences. In the browser space, 2D is much more common, and for an MMO, even that is difficult. Taking it to 3D and keeping the "massively" bit intact is what puts Knopf (at Cartoon Network), Kim (at Korean developer Grigon), and the FusionFall team on our list.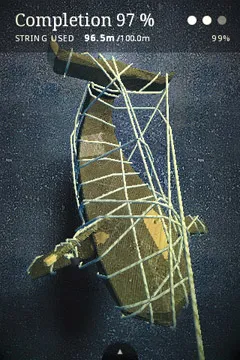 Jetro Lauha
Secret Exit
As a past and present Finnish demoscene coder, and as part of the team that created the first licensable 3D mobile game engine, Lauha is at the cutting edge of making 3D work on low spec machines, coding much of the first 3D engine from Fathammer for mobile handsets.
So it should be no surprise that he's gotten ragdoll physics working in the iPhone in the form of a port of his 2006 title Stair Dismount, while also helping with the rope-wrapping element of Secret Exit's iPhone hit Zen Bound. Lauha makes the list for his continued pursuit of power in small places.
Taku Murata
Square Enix
Square Enix's custom-built Crystal Tools engine has only recently gotten to step into the limelight with playable demos of Final Fantasy XIII, which bring the company's signature baroque visuals to real time, in incredibly high fidelity.
As the general manager of R&D at the company, Taku Murata has spent years shepherding the Crystal Tools framework, and despite long development times, Square Enix's lush engine, which powers the recently-released art triumph Final Fantasy XIII, is a genuine wonder to behold. Summon, anyone?
Jean-Charles Perrier
Quantic Dream
Few companies in the entertainment sector of games are doing more to pursue visual realism than French developer Quantic Dream with PS3 exclusive Heavy Rain. Though the viability of realism as a method of expressing artistry in games can be debated, QD's singular focus on what they believe in, both from a gameplay and technical standpoint, is admirable.
Perrier's tech work, building the engine and the tools that support it, helps lead a team that is creating realism without sci-fi or post-apocalyptic scenarios to fall back on for "It's supposed to look like that" excuses.
Adam Saltsman
Flixel
Austin-based Saltsman is a prolific indie game creator, probably best known for Flash and iPhone roof-jumping game Canabalt. But he exemplifies a sharing trend among indies that's great to behold.
During the course of developing his games Saltsman built up a library of custom ActionScript 3 files called Flixel that takes a lot of the grunt work out of Flash game creation. Flixel provides handy implentations for collision, particles, parallax scrolling, sound utilities, tile maps, fast rendering, and more. The best part? In the true indie spirit, he provides everything for free at flixel.org.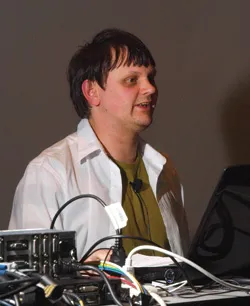 Eskil Steenberg
Quel Solar
Swedish indie developer Steenberg is in a class all his own. His multiplayer online FPS, LOVE, was created entirely from scratch, engine and tools included. And Steenberg did it all himself.
The visuals are gorgeous procedurally-generated impressionistic artistry, the world builder is amazingly involved and detailed, and he's been extremely open about the whole project. Steenberg is one of those rare games programmers that just doesn't seem to realize he's doing it the hard way -- because to him, it isn't.
Steve Swink and Scott Anderson
Enemy Airship
Shadow Physics is an intriguing prototype that takes the 3D lighting effects we take for granted in games and uses the technology to create a new spin on traditional platforming challenges.
Based on the idea of manipulating objects in the foreground in order to cast shadows that become the actual playfield, Shadow Physics is thinking outside the light box, and is a great showcase both for Flashbang's Swink (also working on 3D web games for the Blurst portal) and full-time mainstream industry participant Anderson, as well as the role of technology in indie iteration and experimentation.
Hiroki Ueno
Yuke's
As executive technical director for Yuke's, Ueno has been dealing with motion of and interactions between human bodies for some time. The developer is known for its wrestling titles, but with UFC Undisputed 2009, a large step forward was taken in body interpretation.
The human body isn't easy to deal with, because the user knows how it should work, and how it shouldn't, and it's especially tricky for close-contact titles like MMA. That the UFC team managed to do chokeholds and kimuras so convincingly is a testament to their skill, and the depth of experience they have with the subject.
---
Business
Ron Carmel and Kyle Gabler
2D Boy
These two ex-EA indies formed 2D Boy, and are creators of the peerless World Of Goo. But we're awarding them for business savvy, since the duo have been very vocal (Carmel especially) about DRM as a pointless way to stop piracy.
Running with a 90 percent piracy rate on PC, as many other games do, Carmel employed every trick in the book to maximize profile and revenue, with cut-price bundle deals and even a "pay what you like" policy for the game, allowing players to pay 1 cent and up for a normally $20 game.
Experiments like this embody the indie spirit of business and entrepreneurship -- and actually work, too.
Satoru Iwata
Nintendo
As the Wii and DS suite of consoles take the world by storm, Iwata and Nintendo continue to play a game of patient business and design innovation. The Wii was the last console to take a price cut, and the release of the DSi, though a small hardware upgrade, was very successful.
Of course, not all attempts to shift boundaries were quite so successful, as Wii Music proved that Nintendo doesn't simply print money with every effort. But the important lesson is that these less successful experiments don't cause Nintendo to stop trying risky things, and Iwata's development and iteration-centric leadership is a big part of the firm's continued massive business success.
Steve Jobs
Apple
Apple revolutionized album and single purchasing with its iTunes store, and for a long time, games looked longingly at the resulting shift in music digital distribution. Then along came the iPhone and the App Store, and within weeks, it was clear that another paradigm shift was born, this time in gaming.
Though it's not without its problems -- particularly regarding monetization -- the service is tremendously successful, both for Apple and for select game developers who get on board at the right time. Most excitingly, as Jobs perhaps imagined when planning the service, the miniscule barrier to entry means that the next iPhone -- and now iPad -- game rags to riches story is only just around the corner.
Peter Moore
EA Sports
CEO and bona fide biz personality Moore left the Xbox business in 2007, joining EA Sports as its president not much later. EA's sports brands have long been successful for the company, but the 2009 release of EA Sports Active was not only a great success for the sports imprint, it was EA's best Wii launch ever.
With smart moves into the fitness and even MMA areas as some "evergreen" franchises like Madden wilted marginally, EA Sports' ability to adapt and innovate has certainly increased under Moore.
Rob Murray
Firemint
Melbourne-based Firemint is pointed to as one of the big winners in the iPhone and iPad development scene, and rightly so. While the studio has done work-for-hire for publishers in the past, it's really starting to break out with original IP.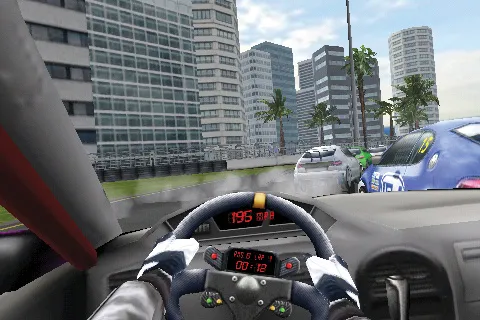 Firemint's Real Racing
The company has two games that have apparently grossed over one million dollars, in two very different price brackets and categories. There's the casual, pick up and play 99 cent Flight Control (now over 2 million sales!), and the bigger budget 3D, fully optimized Real Racing, which has sold for $6 to $10. CEO Murray has successfully diversified his game sizes and revenue streams in a smart way, and it seems to be paying off.
Mark Pincus
Zynga
Now that everybody and their grandmother has a Facebook account, social networks are looking like the new Gold Rush country. Quality games and ruthless user aggregation tactics will be the differentiating factor between VC money sinkholes and long-term success.
In competition with companies like fellow honoree Playfish, former Tribe.net supremo Mark Pincus is positioning Zynga as the dominant player, with efficient, well-advertised titles like FarmVille, Mafia Wars and YoVille in the company's lineup. Social network gaming shouldn't be underestimated, despite some skepticism of business model and design chops from the conventional game biz, and given reports of 9 figure yearly revenues at Zynga, it behooves everyone to pay attention.
Kristian Segerstråle
Playfish
In late 2007, Segerstråle and several other early members of the Glu Mobile family branched off to dive into the world of social gaming, launching titles like Pet Society. Initially the newest in a long line of redheaded stepchildren of the gaming industry, the space, especially in Facebook games, has grown by leaps and bounds.
Increasingly complex, artistically relevant titles are being twinned with impressive revenue numbers, thanks to application of Web 2.0-style concepts and iteration to the gaming space, and Playfish is one of the companies at the forefront -- explaining why Electronic Arts acquired the company late last year for $300 million.
Martin Tremblay
Warner Bros. Interactive Entertainment
Warner Bros. has made multiple attempts to enter the game industry, but it appears that this time, it's actually working. The acquisitions have so far been smarter to outside observers (Monolith and TT Games both have their strong suits), and the licensing more canny, as the company's work with Eidos on Batman: Arkham Asylum was one of the more celebrated games of the year.
What impressed us more than that was WBIE's marketing of Scribblenauts, since it's very uncommon for a publisher to put a full marketing push behind an original DS title from a smaller developer. For this, WBIE and president Martin Tremblay deserve credit.
Paul Thelen and Jeremy Lewis
Big Fish
Founder Paul Thelen and CEO Jeremy Lewis of Big Fish have been growing their casual games business for seven years, based on one of the most dominant portals in the PC casual game biz, a solid foundation of in-house quality games and canny international expansion.
The last year has seen the launch of the casual MMO Faunasphere, and the inking of a partnership with Harlequin Enterprises that will allow for games based on the book publisher's romance series as well as tie-in novels to Big Fish's games. Even if the company was one of the main participants in the potentially developer-catastrophic PC casual game price war -- well, they've come out on top, haven't they?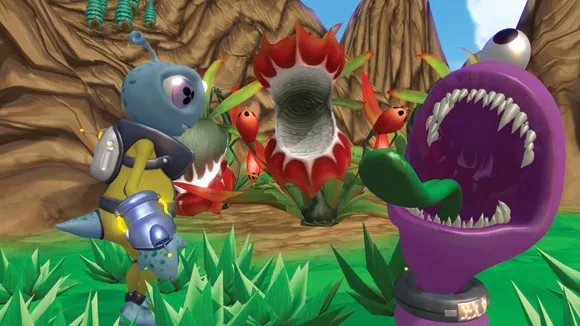 Twisted Pixel'sThe Maw
Michael Wilford
Twisted Pixel
Austin-based independent developer Twisted Pixel, like The Behemoth, is one of those indies that really knows how to make the business work. They make good games, certainly, but it's that ability to get the games -- like XBLA hits The Maw and 'Splosion Man -- in front of the eyes of customers that keeps them going, so they can make more good games.
Announcing your new game as an April Fool's joke sent to a host of game journalists (as Wilford and team did with 'Splosion Man) isn't a bad idea, either.
---
Evangelism
Jason Della Rocca
Perimeter Partners
As the executive director of the IGDA from 2000 through early 2009, Della Rocca has played a key role in advocating for game developers and the games industry in general on a multitude of issues. His strong leadership on elements such as quality of life issues and game crediting was important in growing the IGDA by a massive factor during his tenure.
While his departure -- to run a consultancy devoted to counseling local and national governments on attracting game development talent -- was surprising, his selfless work deserves both mentioning and honoring here.
Jerry Holkins and Mike Krahulik
Penny Arcade
As far as evangelists within the community, Holkins and Krahulik are practically bar none. Their discussion of games is intelligent and relevant, if occasionally too spiky for developers, and their Penny Arcade Expo is an undeniable nerd haven.
But they also promote the goodwill of gamers and developers alike through their Child's Play charity, which donates money, games, and toys (to the tune of $1.4 million in 2008) to children's hospitals in the U.S., Canada, and elsewhere. Their good work reflects well on all of us, partially because we are participating directly in their successes.
Dennis McCauley
Ex- Gamepolitics.com
Before McCauley, there were no journalists dedicated specifically to the intersection of games, censorship, social issues, and politics. With his site GamePolitics.com (which he recently left to pursue non-journalistic avenues), McCauley essentially created a vital news beat all of his own.
Though the web site was purchased by game consumer advocacy group the ECA in October 2006, and McCauley is no longer involved in running the still-extant outlet, his work in documenting and reporting on the legislation (and Florida-based lawyers!) that affect games, and the information that allows game developers and players to get involved in shaping the course of our own industry, has been vital.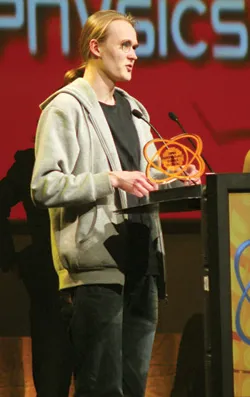 Petri Purho
Kloonigames
For a sustained period, Finnish indie creator Purho made a game every single month. Purho's efforts have not only inspired further indies, but his theatrical, whip-smart attitude to both game development and public speaking help exemplify the role of the independent game creator as the neglected personal angle.
Nowhere was this better demonstrated than his "creation of an entire game in five minutes" at his 2009 Indie Games Summit rant session, something he was asked to replicate at several other worldwide shows. Whether the feat was true (spoiler: it wasn't), it wrapped the glory of performance and the joy of game creation into one breathless whole. Bravo.
Tim Schafer
Double Fine
Brutal Legend is the result of a strongly-realized vision by Tim Schafer and crew, but more important for the industry, Schafer makes games look cool.
Not just his own game, with its mass of big stars with cultural cache, but through his humorous and personable appearances in the public eye, most notably on Late Night with Jimmy Fallon on NBC, Schafer has managed to make game developers look like real, funny, witty people. While Will Wright holds up the supernerd end, Schafer pushes forward the personable and sociable side.
Kiyoshi Shin
IGDA Japan
As the head of IGDA Japan and a prominent game columnist and media commentator, Kiyoshi Shin has done a lot of work to bridge the gap between Japanese and Western developers. Aside from his work advocating for independent development in Japanese outlets like Nikkei, the two-year-old Sense of Wonder Night is one of his most notable achievements.
The event is held during the Tokyo Game Show, and like GDC's Experimental Gameplay Showcase for an international group of indies, gives creators 10 minutes in which to present their games to a global audience. The cultural sharing and networking gleaned from this event is not to be undervalued.
Tommy Tallarico and Jack Wall
Video Games Live
Tommy Tallarico and Jack Wall have been very active in promoting their traveling worldwide concert, Video Games Live, for several years now. The show brings game scores to the masses via live orchestral and rock performances, highlights and features on stage the creators of many of these scores, and helps to keep game music from being relegated to background noise.
Indeed, the Brazilian government subsidized the group's show in the country as furthering the artistic development of students. Anything that advances popular and governmental recognition of games as an important entertainment medium warrants a place on our list.
Yoichi Wada
Square Enix
Yoichi Wada is the president and CEO of Square Enix, but he's on this list because of his chairmanship of the Computer Entertainment Supplier's Association (CESA), Japan's equivalent of the ESA. Wada has become increasingly vocal about Japan's reasons for falling behind in the game software world, citing the country's lack of development hubs and discussion forums, which would promote an exchange of ideas, as well as Japanese companies' tendency to solve the same problems separately.
Wada and CESA -- through outlets like Japanese developer conference CEDEC and Tokyo Game Show roundtables -- are serious about helping the Japanese industry reclaim some of its lost luster.
Will Wright
Stupid Fun Club
Though he no longer works at Maxis, where he created SimCity and The Sims, and has moved on from working exclusively on games, Will Wright may now glow even brighter as a beacon for electronic entertainment.
Freed from the burden of Spore, he can innovate anew, and anyone who can discuss games and Russian space technology in the same breath is helping to elevate games from the "murder/smut simulator" stigma which at times has threatened to seep into the industry's pores from popular opinion.
Derek Yu
TIGSource, Mossmouth
An active indie developer himself, Yu's games, from Diabolika to IGF Award-winning Aquaria to Spelunky, provide inspiration for the independent games community. But we're honoring him here for running TIGSource, which is a wonderfully random and helpful indie game community.
Not only has Derek and the site been active in helping defend indies when they get raked over the coals for unexpectedly fragrant issues (see the Edge Games controversy), the regular TIGSource competitions birth often brilliant games on startlingly esoteric topics.
[EDITORS' NOTE: As with when this story was printed in Game Developer magazine late last year, past the normal controversy about specific people not being mentioned, there's been complaints - particularly from Channel 4's Alice Taylor - about the lack of women on the list.
We will simply note that we regret not having women game developers on the list, and the list was the people we felt had major accomplishments in the year to somewhere around October 2009, divided into those categories. In addition, we do have a record of feature-length articles and charts on women in the game business, and indeed, our 2008 Top Deck list - this list's previous iteration - featured multiple female honorees alongside male. In addition, the Frag Dolls' Rhoulette has prepared a list of game industry women to know as a counterpoint to this list's original publishing.]