Historically, Boulevard Saint-Laurent in Montreal was the dividing line and meeting point for all the cultures of Québec; English to the west, French to the east, and everyone else in between.
It's little surprise then that the French company Ubisoft chose it as the location for their first North American studio in 1997, and the multiculturalism (and multilingualism) of contemporary Québec continues to suit the company well. "It's very convenient for us to be able to talk the same language with creators in France, and at the same time the people in Québec are close to the North American market," Yannis Mallat, CEO of Ubisoft Montreal, told Gamasutra shortly before a tour of the studio. "They watch the same programs, they have the same entertainment, so they know what works."
Creativity and Innovation
Based in a suitably aged red-brick building for Saint-Laurent, if unusually retro for a studio that Mallat describes the ambitions "to be the number one studio in the world; which should be defined as putting on the market the best games, and the most commercially successful."
Inside the Montreal studio is surprisingly open, airy and bright, with the internal design making the most of the building's architecture, featuring exposed beams, brick, and, by necessity, realms of data cables webbing the ceiling in remarkable order.
Across the 250,000 square feet of floor space the studio is staffed by over 1,400 people, and that's not the limit of Ubisoft's staff in Québec, with roughly 100 more staff in a motion capture studio elsewhere in Montreal and a studio of 100 in Québec City. "It's about 85% local," Cedric Orvoine, Director of External Communications and Public Affairs said, before Mallat added "It varies a lot, month after month, but mainly locals. But we also welcome people from all over the world. UK, China, Asia, Europe, U.S., France. Really we're working with people from everywhere."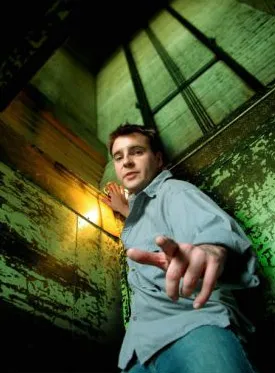 "Ubisoft very early on saw Montreal as a future place of growth for videogames," said Mallat, "there were actually some players in the industry, such as Softimage, that were already here, and also Montreal has good universities. The Québec government was quick to foresee here was an industry that could grow in Québec, so they actually facilitate the establishment of studios. In Québec, though people are North American people, there is a certain amount of European culture, so it's always about creativity. The people are talented creators, but they also know what a blockbuster is. This happy combination of creativity and innovation into something that's always relevant to the market makes people here well suited for working at Ubisoft."
Campus Ubisoft
It's perhaps out of Ubisoft's respect for the local job market that they committed to building skills in Québec with Campus Ubisoft, a programme run in conjunction with local colleges and universities. Mallat explained his passion for the course; "We have a program with the universities, Campus Ubisoft, and basically the universities and colleges are working with us on programs on in level design, animation and engineering, and all the classes are given by the university and college professors."
Orvoine continued, "there are five different programs on the campus. There's three college programs, that are level design, animation and modelling, and there's two university degrees, which are what we call second-cycle degrees, so the equivalent of a masters degree. Each program has a very, very specific focus. So if you're going on the animation programme, you're going to get really focused on 2d and 3d animation. And it's three to four month sessions. You have the first session where you learn the tools and you learn the basics, and the further and further you go, the closer you get to a real life simulation."
Mallat then passionately described his favourite section of the course; "the really cool thing is that at the end of the program there is a simulation of what it is to make a videogame with all the constraints of reality. So they form a team; sound designer, game designer, animator, engineer, etc. etc. and then they make a game. You know, a small game, but the real conditions of production. And this has proved to be very effective, and in fact, all the people who have joined Ubisoft are performing quickly and well and they are well suited and equipped within the real production line. And as a matter of fact all of the producers are super happy with them." He added, "The goal is to make sure those people know what's real; what really is production. We need to teach some fundamentals, but we also need to teach how it is to work in reality and how it affects the theory. That's as valuable as the fundamentals."
---
The reality of working at Ubisoft Montreal, Gamasutra was told, was a little different from the reality at working at many other studios. With a firm but flexible schedule (employees are expected to arrive between 7am and 10am and work an 8 hour shift, to ensure most employees are available for meetings between 10am and 4pm) we were informed that Ubisoft does their utmost in scheduling to ensure there is little to no crunch time. "We just shipped Open Season for Xbox 360 and that was completed with no crunch time at all," Orvoine said. "That was a team of 80 people."
Orvoine did admit however that Splinter Cell: Chaos Theory, which had a team of up to 300 people at points, did do "some" crunch time.
Despite the branding of Campus Ubisoft, Mallat affirmed that the students are free to pursue their own futures after graduation; "It's a university and college campus, so they're following training there, but they're not Ubisoft employees at all. Of course, we're hoping that they'll join Ubisoft. After the program is finished it's up to us and other videogames companies to show up and propose, as we do at other universities in Canada."
Orvoine added, "When the first group graduated back in last spring, 2006, all the companies in Québec basically hired a few people. EA hired people from the campus, A2M did, Activision did. So it's an open market. I think they had over 92% of them in a job within the first two months."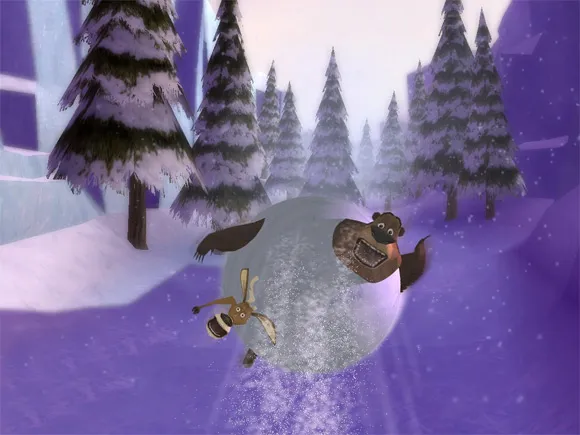 Open Season
The Market Leader
Though the motion capture studio is in a separate studio, with 1,400 staff the studio tends to complete every section of a project without outsourcing; "sometimes we work on a portion of the game and another studio works on another part," Mallat said, "but most of the time we take the product from A to Z."
In order to do that, the studio across several floors has everything from the cinematic division (populated with many staff from Québec's renowned film and animation industry) over 100 support staff (that support the whole Ubisoft network), a recording studio in which all five languages Ubisoft work with are recorded, and even a foley studio for realistic sound effects. "The slash sound in Prince of Persia is a grapefruit being cut," Orvoine revealed. The offices also hold space for consumer playtesting.
The studio is "Big, creative and full of talent and passion," according to Mallat. "It's very challenging to make sure that we have the conditions under which creativity can happen. I come from a production background and I know that this is an industry in which we need a certain amount of chaos; so that ideas can bounce and change, people can argue, and managing this on several projects and making sure that everyone is working towards is relevant is my job."
Expanding on his role as the Chief Executive Officer at the studio, Mallat said, "It's fun. I myself am a passionate gamer, and man, I have the best job on Earth. I have a chance to talk to all the creators, to challenge all of the producers, to see all the products and to be there with them on the production floor. It's fun, and the games are really fun. But games also have rules. And I'm here to try to define the best rules as possible so we can get to our objectives."
Mallat also makes sure to be available to the staff that need him. "I put responsibility and accountability on people who should have it. I also make sure that they can have access to me when they want; so every Thursday actually I don't have meetings at all; that day I reserve to be on the production floor and connect with all the producers, and I think that's something they like."
"I think we are the market leader and I think our products speak for themselves," Mallat concluded, "and I'm sure Ubisoft is seen in many eyes as a major player who'll take the sometimes necessary risks to come up what's new and fresh, even in our existing brands. We're going to keep our winning strategy which is keeping creativity and innovation at the heart of our creations, thus making good quality games that surprise the market and the consumers."