Special thanks to Andrew Schmied for co-authoring this! While I may have put the thoughts on paper, Andrew was a gifted surgeon when it came to nailing down the stuff that counts!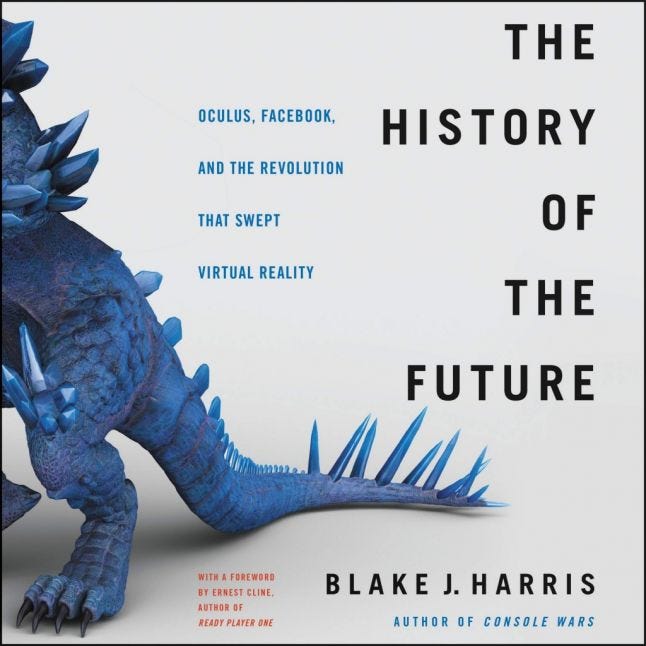 "The History of The Future" is a new book by Blake Harris about the history of Oculus with a strong focus on one of its founders, Palmer Luckey. According to the author, the book involved over 100 interviews. I'm the founder of Meant to be Seen (mtbs3D.com), and MTBS is repeatedly credited throughout the text as the place where some of the most important meeting of minds happened. The developments around Oculus had far greater influences than just virtual reality itself.
Let me open by saying that what I think is the most interesting story has little to do with virtual reality or innovation. Innovations happen every day; I think it's how those innovations happen and grow that make things interesting. More precisely, the beginning of Oculus is a story about community and what a community is truly capable of.
The Birth of Community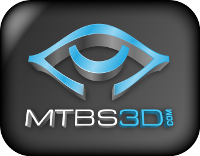 Meant to be Seen was founded in 2007 as an advocacy website for stereoscopic 3D gaming. The purpose of the site was to grow an audience big enough to prove that there is enough demand for stereoscopic 3D displays to justify better technology and actual software support so gamers like me would be happy.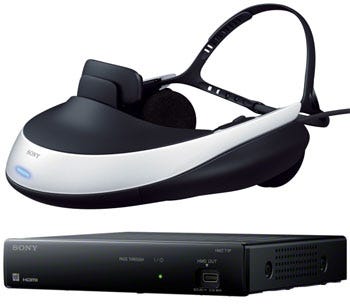 Sony HMZ-T1 HMD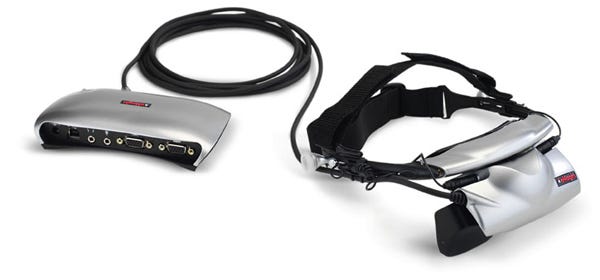 Emagin Z800 HMD
The book describes MTBS as a stereoscopic 3D website and we were actually much more than that. Today, when we think of stereoscopic 3D we think of monitors and brand name 3D HDTVs (unfortunately, not sold anymore). When MTBS was founded in 2007, the concept of stereoscopic 3D was ironically more diverse because there were so few options to work with. We had no choice but to look beyond shutter glasses at options like head mounted displays, 3D projectors, and so on. Anything and everything to get those 3D images in front of our eyes was valuable to us.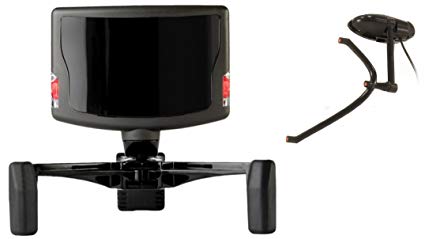 TrackIR Head Tracker
Members were equally enthused with trackers and other forms of immersive tech. So even though MTBS was labeled as a stereoscopic 3D website, it had a growing virtual reality community. People didn't just show up one day excited about VR; it was a long-term process and investment that made the MTBS community possible.
Still, we wanted to achieve more than the existence of a community - we wanted a community of action; a place where people were empowered to influence the industry in a positive and meaningful way. This is why Meant to be Seen became a "wisdom of crowds" 3D marketing gorilla.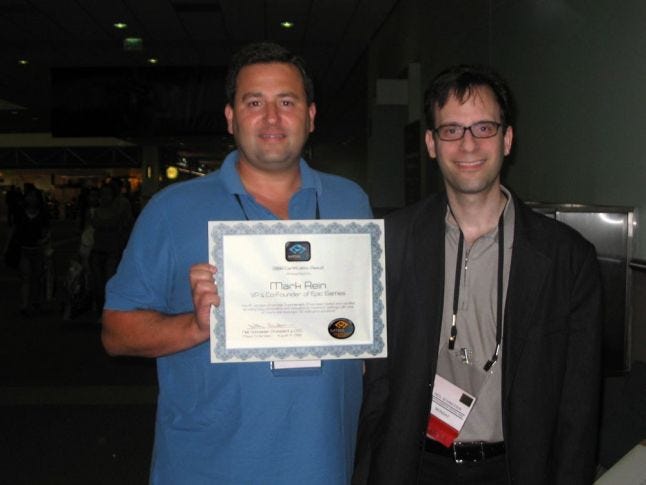 This picture with Mark Rein, VP of Epic Games, was taken after a special Unreal Tournament 3 exhibition at SIGGRAPH running the iZ3D stereoscopic 3D drivers in 2008. Loads of fun!
We devised 3D game certification programs, we half-joked with our sponsors about sending game developers wall-sized certificates to commemorate them when their games worked with different software drivers, we came up with all kinds of novel ways to market the benefits of stereoscopic 3D gaming through our forum communities, we did a lot of journalistic coverage of 3D conferences (we helped build some of those conferences), we wrote 3D research reports, and we even put on technology demos and crazy stuff to get the word out there about stereoscopic 3D technology and gaming. I did the speaking circuit too – even to the point of inspiring Blitz Games Studios to get the first modern stereoscopic 3D console game made for PS3 and Xbox 360. Our members were also partly responsible for Youtube adding stereoscopic 3D support to their player.
A mentor once taught me that there are two pillars in life: love and money. If you have money, you can hire mercenaries and they will do your bidding as long as the dollars keep rolling in. If you have love (in this case love for 3D), you don't need the money (which we didn't have), but you can still get a lot done. MTBS was built for the love and growth of all 3D technologies, and that's the spirit that made it tick so well.
Virtual Gets Real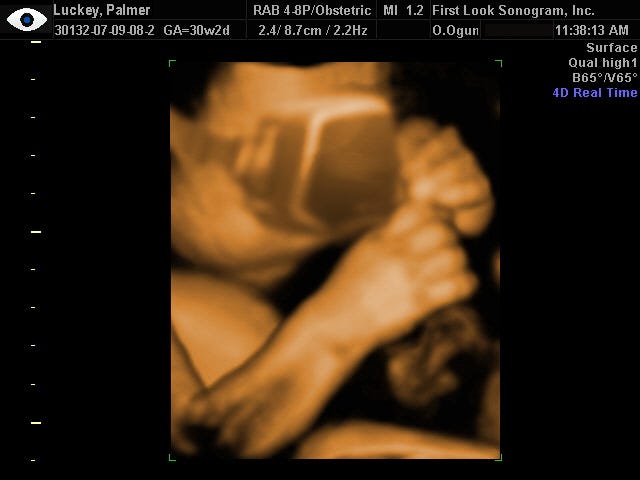 Submitted by "Destiny", this was a picture from the MTBS VR Caption Contest. Just another example of the community knowing how to have a great time!
The opening chapters of "The History of The Future" speaks to Palmer Luckey's early days as a tinkerer and innovator before his infamous Kickstarter for the Oculus Rift DK1. In turn, Harris' book paints a romantic picture of Palmer, and that's not how I remember him. Back then, it was far more charm than romance – and it's the charm that made the story appealing and worth writing about.
Also, the book is written as though Palmer joined MTBS with a master plan for virtual reality. For its part, MTBS is portrayed as a generic online community, and I think this really under-represents what was achieved, who worked hard to achieve it, and why MTBS was so strategically important to Oculus and the industry as illustrated by the book.


Ever wonder where The Void's tracking technology came from? Part of the answer is on Meant to be Seen. Bet you didn't know! That's the power of community.
I'm very proud of MTBS, and I'm even more proud of the people and names that volunteered their time to make the community work. Even now, people volunteer their time. Palmer began as a forum moderator in MTBS in October of 2010, and the first thing we did was create new VR forums and move a bunch of existing VR threads to the new areas. Although I never knew he had a destiny in mind for revolutionizing VR, I'm proud to know that our community and our community's culture proved itself as pivotal as it was to the birth of Oculus and the VR industry to follow.
Like others, I've only been able to read the first four preview chapters of Harris' book, and I've enjoyed it so far (waiting for my copy!). I'm hoping the author gets to the good stuff that shows how Oculus and the modern era of VR was made possible by a whole lot of people. I think the story would get a lot less interesting if it was portrayed as just an army of one.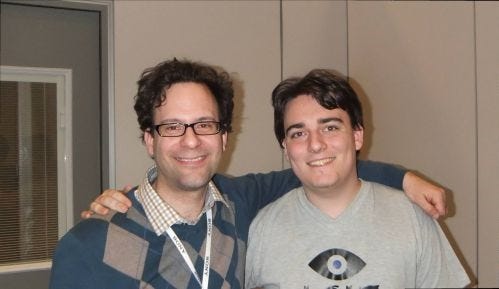 L-R: Neil Schneider (MTBS) and Palmer Luckey (Oculus)
One of my favorite stories to tell is in 2011, Palmer Skyped me out of the blue asking if he could sleep on my hotel room floor during the CES conference. He wasn't poor or anything; that was just the kind of guy he was and he felt like he could contact me for such a thing. My wife said nothing doing, and she spent the time researching and getting him registered in a room of his own. Now imagine how amazing it was a year later at the same conference to have Palmer sending me a limo for pickup so I can check out his latest stuff at a posh luxury suite Las Vegas hotel. Now that was cool! I should have asked to sleep on his floor that year (actually I did as a joke later, and there was a pregnant pause in the chat window as he thought about it).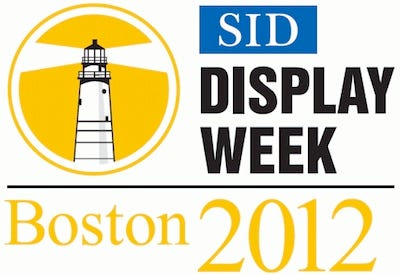 A crazier story is how I first got wind of John Carmack. I was researching for my presentation about stereoscopic 3D interfaces at Display Week in 2012 in Boston, and I came upon a video with John Carmack talking about 50ms of extra unwanted latency in existing HMDs and stereoscopic 3D HDTVs (it didn't click what the video was really about at the time!). I desperately wanted to reach him as a lead-up to my presentation, but I couldn't find his email anywhere. I literally went through my rolodex asking people if they knew him or how to reach him – and I know my fair share of people. Nobody knew him.
When I got back to the hotel after the conference, I decided to give another go at trying to find him. Lo and behold, Meant to be Seen came up in the search engine. Then other things came up. Before I knew it, an army of articles were exploding on the Internet about VR and Meant to be Seen and John Carmack showing off a new VR HMD prototype at E3 Expo. It was at this time that I Skyped with Palmer and he excitedly caught me up – it was an amazing time! I was so proud of what our community was ultimately able to deliver.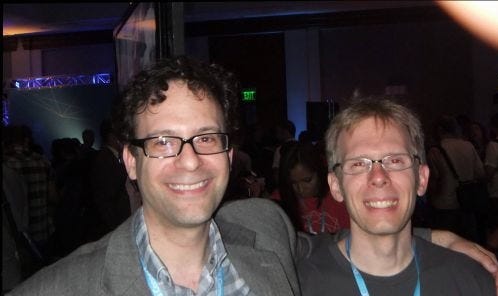 Finally got to meet John Carmack in person at Oculus Connect!
Of course, I did eventually connect with John Carmack through email. When I met him at the first Oculus Connect, it was really cool when he gestured at the crowded ballroom as we were pictured together and he said "Neil, you were a very important part in making all this happen".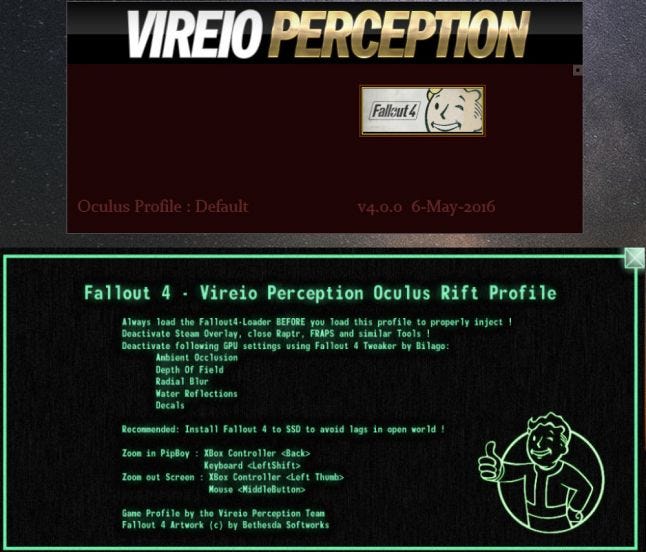 Image sourced from VR Heads: this is MTBS' open source Vireio Perception VR drivers running Fallout 4 in VR form...before Zenimax.
The magic went well beyond Palmer and Oculus though. StarVR, Vireio Perception, FreePIE, Minecrift, Cloudhead Games, Virtuix Omni and oodles more all found their roots on Meant to be Seen. Even The Void licensed some of their earliest technology from a member in the MTBS forums. Beyond this were the tinkerers, all working on finding the right solution for the most immersive experiences since the beginning of MTBS.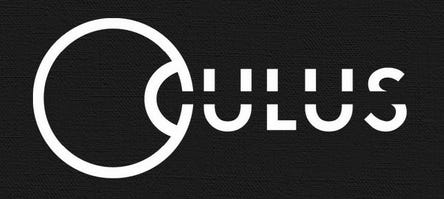 This was the logo created by MTBS community member Denny Unger (CEO of Cloudhead Games).
As for the Kickstarter which got Oculus their start, everyone had a hand in it. Denny Unger of Cloudhead Games (which was also born on MTBS), helped develop Oculus' first corporate logo, and others from MTBS contributed social media and all sorts of VR expertise.
An Organization for Industry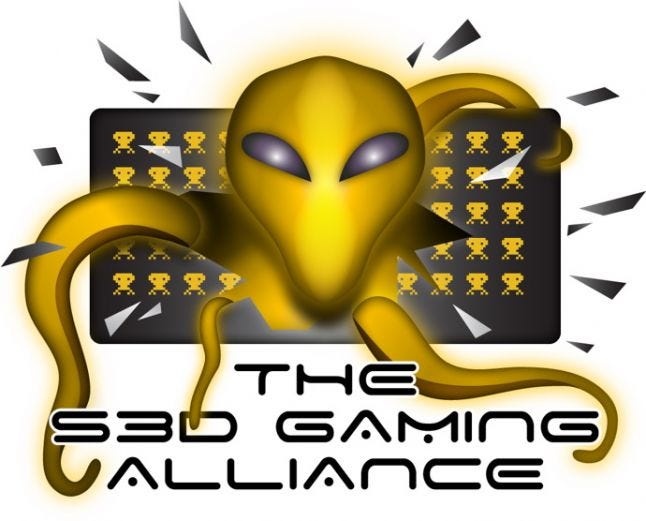 The Stereoscopic 3D Gaming Alliance (S3DGA) was founded in 2009 to represent the needs and interests of the stereoscopic 3D gaming industry. Palmer Luckey first contacted me to join S3DGA in 2009, but I didn't think he was qualified at the time because there were basic membership fees required and we weren't yet outfitted for start-up companies.
S3DGA had an important part of the Oculus story because MTBS had no advertisers and we didn't want the place swamped with Google banner ads. If it wasn't for the non-profit S3DGA financially supporting the Meant to be Seen community, MTBS would have been unable to exist and Oculus may have never happened. To this day, I don't think people realize just how important S3DGA was in making this all possible.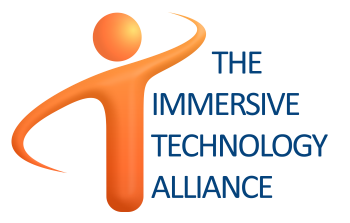 By the time 2013 rolled around, we knew that the organization could achieve a lot more if we went beyond the confines of stereoscopic 3D displays and gaming. So we got key people together and had the org renamed to The Immersive Technology Alliance (The ITA). Palmer was one of the first people I Skyped with to decide on the name, and he liked it.
I'm proud that MTBS ultimately set the bar for everyone to aspire to. Reddit's Oculus forum proudly promoted when their community grew larger than Meant to be Seen, Oculus hired our community manager in addition to several members, and a bunch of other immersive tech orgs formed up after The Immersive Technology Alliance made its mark and defined the model.
Future Computing is Born
The culmination of all this was the realization that there is always something next, and there needs to be an infrastructure in place for the industry to get together and lay down the groundwork for building what's next.
MTBS is proof that with the right mix of people and expertise in a community, it's possible to create something valuable and positively influence the world around us. The community got together and launched a modern era for virtual reality and immersive technology through a myriad of devices and content choices. That collaboration was the magic that really made things happen.

In 2018, it was decided that The Immersive Technology Alliance would merge with another tenured organization called The Open Gaming Alliance (The OGA). The OGA was headed up by Wanda Meloni, CEO of M2 Insights. Our groups had already been working together since 2010, and we realized that we could accomplish even more as a single robust association. Our ambition was more than a merger; we wanted an organization that would effectively get things done and grow the industry far into the future.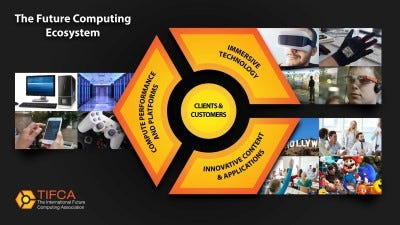 To achieve this, we worked closely with our Chairs and Boards of Directors to identify the commonalities needed for building what's next in computing and computing media. These pillars include compute performance and platforms, immersive technology, and innovative content and applications. While each pillar stands on its own with its own interests, they are very much interdependent.

The International Future Computing Association (TIFCA) was launched last March during Game Developers Conference, and its mission is to lay down the groundwork and enhance the viability of building what's next in this future computing ecosystem. We achieve this through influential membership meetings, stakeholder education, market-building events, special initiatives, and more.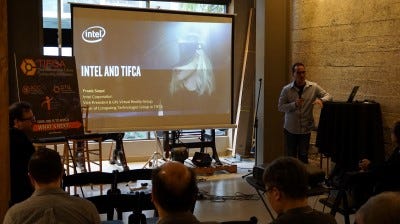 Frank Soqui, VP and GM of the Gaming Division for Intel speaking at TIFCA meeting during GDC 2018
I'm especially proud of TIFCA because we've got some true market leadership attached – people that know these industries and have experience far greater than mine. Frank Soqui is Chair of the Computing Technologists Group and he is the VP and General Manager of Intel's Gaming Division. Daryl Sartain is Chair of the Immersive Technology Alliance and is the Director and Worldwide Head of XR, Displays, and Wireless Ecosystems for Advance Micro Devices, and of course Wanda Meloni is Chair of the Alliance of Content Creators and is CEO of M2 Insights.
While the story of Oculus was the proud result of a grassroots movement, the top tiers of industry need a different format to move forward. TIFCA has developed a process and infrastructure for industry leaders to efficiently collaborate, overcome problems, and meet the necessary challenges in building what's next.
Conclusion

I will end by saying that I owe a lot to the Oculus story. After years of work, it brings me joy to know that the MTBS community was a catalyst to bring forth innovative ideas and a new vision for future media like virtual reality. The fact that the magic that happened here gave people and corporations of all sizes the ability to try something new and work in a field they feel very passionate about is invigorating for me and I'm sure everyone involved in those early days.
On that note, I look forward to reading the rest of "the History of the Future", though I really do believe the book is still being written!
TIFCA will be having a meeting during Game Developers Conference which means I will be there. If anyone wishes to catch up and discuss building the future together, be sure to contact us through the TIFCA website.