TV networks in the video game space? Nothing new about that. Large media companies like Disney and Warner Bros. practically invented the word "convergence" by promoting their shows, movies, and characters through licensed games.
However, recently, some networks have begun publishing original games that don't repurpose their programs. What's motivating them? That depends on who you ask.
At Turner Broadcasting System's Cartoon Network, Adult Swim -- a late-night destination aimed at 18-34-year-olds -- has chosen to create original video games while practically banning anything that smacks of convergence.
"We refuse to do anything that even vaguely resembles an advergame," says Jeff Olsen. "To me, asking people to give us money in exchange for what is essentially a piece of advertising just doesn't seem right." Olsen is the creative director of the AdultSwim.com Web site, including its video game hub, and oversees its day-to-day operations.
In addition, he believes that original content translates into better gameplay.
"If you have to worry about whether every character is going to be 'on model' and whether the animations are going to be true to the TV shows on which they're based, you're hamstringing the developers who are really smart, really talented, and can usually come up with something better than a video game version of what you see on TV. And it's just more interesting for our audience, which is a pretty savvy one; I think they are naturally suspicious of show-based games which have a history of not being very good."
Armed with what senior games producer C.J. Johnston calls AdultSwim.com's "limited budget", the site first published six web-based games in 2007 (beginning with Five Minutes to Kill Yourself), then 13 in 2008, 25 last year, and plans another 25 in 2010. It released Radioactive Teddy Bear Zombies last month and Tofu Hunter this month.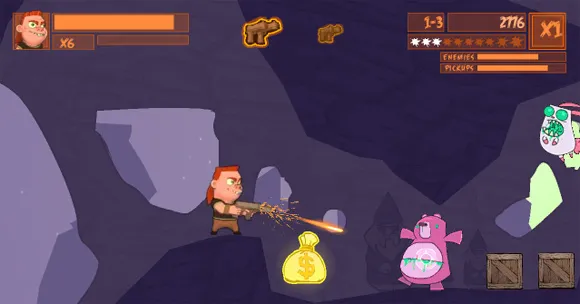 Radioactive Teddy Bear Zombies
The result -- and the reason why the Adult Swim team feels it made the right decision to publish original content exclusively -- is that the web site, which is ad-supported, averages over 26 minutes per month per visitor compared to the more typical under five minutes, reports Olsen.
"That is huge," he says, "and it enables us to not only generate good advertising revenue, but we're also selling some of the games onto the iPhone platform, where every paid game has made it to the Top 50 Paid Games section." He also intends to syndicate some of the Adult Swim games in order to find a larger audience.
In effect, says Ross Cox, Adult Swim no longer thinks of itself as merely a TV network, finding that games are good business too. "We think it can be a real complementary business," says Cox, who is the senior director of advanced platforms.
With no in-house game development of its own, Adult Swim has thus far worked with eight independent developers -- from Spiritonin, Mediatonic, ThisIsPop, and Pixeljam Games to Ham in the Fridge, Tiny Mantis, Smashing Ideas, and THUP Games. But it is always on the lookout for new talent.
"We'd love to get the word out that we want to hear from more developers, especially those who are passionate about some personal project," says Johnson. "If they have something to pitch, we'd like to know about it."
Indeed, the Adult Swim site makes it easy for developers to pitch and submit games.
"We have three major goals," says Olsen. "Number one is to make money, number two is to grow the Adult Swim brand, and number three... well, to make sure our games don't suck."
---
Meanwhile, in the UK, Channel 4 -- a fully commercial, national TV broadcaster -- is finding it more cost-effective to create educational games than educational TV programming.
"We used to spend anywhere up to £6 million a year on educational programming for 14 to 19-year-olds, and then broadcast it in our morning schedule," recalls Alice Taylor, the station's commissioning editor of education.
"The problem was that most of our target audience was either in school or at work, which meant we were spending somewhere in the region of £100,000 for an hour's programming and had no idea what portion of our intended audience we were reaching; I'd guess 10% would be generous."
Three years ago, the station's head of education had a brainstorm -- his entire budget would be spent on the internet, which is where the teenagers were, rather than on TV programming, where they weren't.
"We decided that we weren't just TV people," said Taylor. "We were media people."
Approximately half of its internet budget -- or between £4 and £6 million annually -- has been allocated to video games, and Taylor expects that strategy to continue.
Typical subject matter includes sex education, relationships, mental health, and encouraging teenagers to become interested in science. The only "rules" are that the games need to be fun, useful -- and free, for now.
"A lot of people are looking at how big our audience is getting and saying, 'But you could be making money,'" says Taylor. "So that's in the back of some peoples' minds but we're not monetizing anything yet. We'd also love to put out free games for phones, but the problem is that most teenagers here own really crappy phones. When smartphones become more widely distributed, that'll be our next target."
The success of Channel 4's games strategy is evident from the size of its growing audience. Typically, 100,000 viewers watch one of its morning TV shows. In comparison, the game 1066, which focuses on cultural history, racked up over 10 million plays in six months, which was later dwarfed by Routes, a set of minigames about genetics, which has been played 20 million times and has had 700,000-plus site visitors.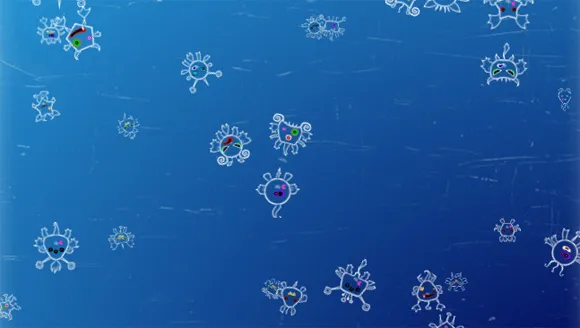 Routes: Breeder
"You also need to consider that most TV programming runs once and then may be repeated once again," says Taylor. "But we buy a five-year exclusive license for each game followed by a non-exclusive license. So technically I'm spending once and getting at least five years' worth of use. Obviously, the fact that we're beating the TV numbers so significantly really isn't that hard a thing to do."
Development of all of Channel 4's games is outsourced, which fulfills another of the station's goals -- to support and grow the indie game industry inside the UK.
In addition to the four games it has already published, at least a dozen more are on the drawing board from such UK developers as Zombie Cow Studios, Little Loud, Beatnik Games, Tuna Technologies, and Somethin' Else. Taylor says she is always interested in hearing from others, including startups, as long as they are UK-based.
Given the success of Channel 4's gaming efforts, Taylor suspects that a larger percentage of its budget will be redirected from TV to video games as time goes by.
"The games have delivered not only larger audiences but also really great qualitative feedback from teachers, parents, and gamers," she explains. "We've also won all sorts of awards -- our first game, Bow Street Runner, about the origins of the police force, won a BAFTA, while Routes and 1066 were both BAFTA-nominated.
"Those are really big deals for us. So I'd say our video games are giving us a lot of bang for the buck. The kids love them, they are engaged, and hopefully they are learning stuff. I know there are a lot of people who say education shouldn't be fun and games are distracting and blah-blah-blah. But the fact of the matter is that we are finding that games can teach an enormous range of things... and do so very, very well."
---
Back in the States, one developer that's creating crossmedia games for TV is Manhattan-based, five-year-old Area/Code whose clients include MTV, A&E, The Discovery Channel, CBS, and The History Channel. Unlike the games published by Adult Swim and Channel 4, Area/Code's games do promote their clients' TV shows. But they also allow the TV networks to extend their programming into other media.
Take for example, the game The Sopranos A&E Connection, developed by Area/Code in 2008 for the premiere of The Sopranos on A&E TV. According to Area/Code co-founder and managing director Kevin Slavin, it represented "the first time a game was ever designed wholly for synchronous dual-screen entertainment. Players could not only watch the live broadcast but also turn the one-way TV experience into something that was quite social."
Area/Code co-founder and creative director Frank Lantz described the gameplay: Players used cell phones to collect pieces and compose an online game board to anticipate what might happen that night on TV, much like Fantasy Football works with sports.
When the The Sopranos TV show started, the players' online game boards came to life and animated in synch with the TV signal. As the characters, settings, and objects appeared on TV, the corresponding pieces on the game board animated and scored points.
"For example, if you had selected a 'Tony Soprano' piece for your gameboard, whenever Tony appeared on your TV screen, the piece on your browser screen lit up simultaneously and you got points," said Lantz.
"If you had placed your Tony piece next to your Carmella piece, then whenever Tony and Carmella appeared on the TV screen at the same time, they both lit up and you scored even more points. Not only did it increase the enjoyment of watching the TV show, you were able to compete with other players who were watching the show and playing the game simultaneously."
The Area/Code team thinks there's tremendous potential for extending TV programming into other media and is exploring other opportunities, including a property called Sports Stream that would allow a sports audience to watch competition on TV and then engage with it online. They chose not to go into more detail on the project -- whose client may turn out to be Sports Illustrated.
Game developers may discover business opportunities as TV networks either migrate into the online space or extend their traditional programming into new media. Potential clients, like Adult Swim Games and Channel 4, are on the lookout for developers to sign on for future projects.
Area/Code, on the other hand, is playing it close to the vest, and sees available opportunities in what it calls "dual-screen entertainment" limited to developers with the necessary specialized "hybrid expertise," according to Area/Code's Slavin.
"There are some very very difficult problems to solve from design and technical perspectives," he explains. "For instance, how do you deal with time zones? How do you synch up a game with a TV show that is on at 6 PM in LA, 9 PM in New York, and then again at 9 PM in LA? I think that is something that is not in the core capabilities of most conventional game developers.
"This sort of entertainment is going to grow and become important," he adds. "But I don't think it's the kind of thing you're going to see coming from really big game publishers or developers simply because they don't have what it takes to create and optimize it."