The TurboGrafx-16.
If you mention the system to hardcore retro game fans, they'll know it -- but these days, 25 years on from its launch, it's barely even a footnote in the histories of the console wars. People still talk about the knock-down, drag-out battle between Nintendo and Sega. But NEC…
NEC made video games?
Now best known as a provider of network infrastructure, the Japanese giant was once a consumer electronics and personal computing force. While Sega and Nintendo battled for supremacy with the Genesis and the Super Nintendo, NEC provided a third option -- one that was smaller and sleeker and, in the West, almost totally ignored. By now, it's just about been forgotten.
Just about.
The TurboGrafx-16 went on sale in the U.S. in August of 1989. By the middle of 1994, it had been discontinued. I've spent weeks interviewing people who were there at the time, major players and minor, each of whom had a connection to the system.
They speak of a console that performed great in Japan. With a strong software lineup and an eye-catching design, it was assumed it would be a "slam dunk" in the West. But with a team that didn't understand the video game market, and major tactical mistakes, the TurboGrafx never even got off the ground. Its fans were passionate, but they were few in number, and Japanese management lost faith in the console, choking off support years before finally withdrawing it from sale.
This is the story of the TurboGrafx-16.
The Prehistory: "Weird, Wonderful, Wild"
Just like in the United States, Nintendo was all-conquering in Japan's 8-bit era. As with the NES, hits like Super Mario Bros. meant that its Family Computer, or Famicom, reigned. But the system had been introduced to the Japanese market in 1983. Its technology was creaky. Even as it ascended to the heights of global popularity, some developers were beginning to worry.
One company did more than worry about it. Hudson Soft, the first third party publisher for the Famicom and developer of the Family BASIC programming software and keyboard set that Nintendo released in Japan, turned its hand towards creating a new generation of NES.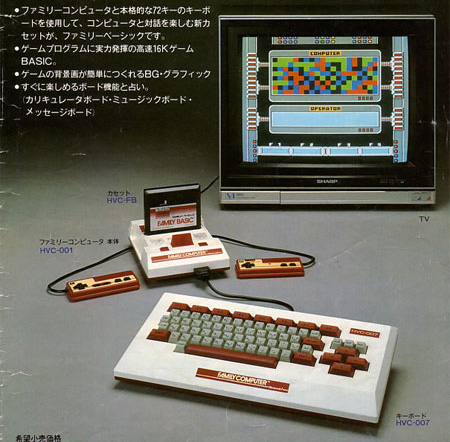 Family BASIC
"They were worried that the Family Computer was starting to go a little bit stale," says Rich O'Keefe, an engineer who worked at NEC in the U.S. on the TurboGrafx's development tools and developer relations.
Hudson was an unusual, experimental company that tried a lot of different things in the 1980s. Based in Sapporo, on Japan's northernmost island of Hokkaido, it was founded by the Kudo brothers, Yuji and Hiroshi.
Despite its early successes, Hudson wasn't as buttoned-down as many Japanese companies. "These guys are not the straightforward Japanese business types as you would think," says O'Keefe, a veteran of the 1980s Japanese game industry. He traveled to Japan to pow-wow with Hudson staff on technical issues prior to the TurboGrafx's U.S. release, after joining NEC. After he quickly showed that he understood the tech, one of the Hudson founders took him fishing -- in the December snow. "Hudson's a pretty unusual company," O'Keefe observes.
"They made a few mistakes, but basically they really did things that were always different, strange, weird, wonderful, wild. It was a real game company as opposed to a marketing company," says John Greiner, Hudson Soft's first American employee.
The Family BASIC relationship is "why they thought they could get away with designing Nintendo's next video game system," O'Keefe says. Problem was, Nintendo wasn't interested in Hudson's design, and the company wasn't large enough to manufacture a console on its own -- just engineer one.
Undaunted, Hudson approached Sega and other companies with its console. It finally found a buyer in 1980s home electronics giant NEC. The two had an existing relationship, because Hudson had built productivity software for the company's PCs.
"NEC said, 'Well, we're looking for a way to get in with kids, so we'll call this thing "heart of the computer," or the PC Engine,'" says John Brandstetter, who worked on the TurboGrafx in the U.S. "I think they got talked into this deal by Hudson Soft, and then it looked like a good market to them because they saw how much money Nintendo was making," O'Keefe says.
But the PC Engine's origins made it unusual in the marketplace: designed by Hudson and manufactured and marketed by NEC, it had two masters -- and distributed decision-making. Both companies supported it as first party software studios, though Hudson was more a force for original software, while NEC frequently released ports of games from other platforms.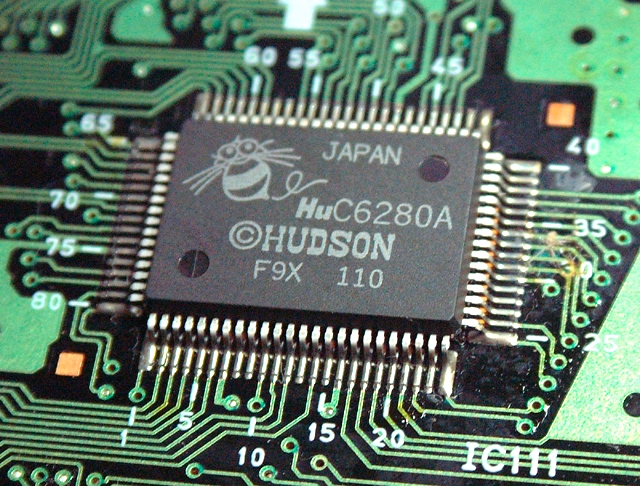 The Hudson-designed PC Engine CPU, a derivative of the NES' processor.
Photo credit: Wikipedia
The business relationship between the companies was unusual, too. Hudson got a royalty for every PC Engine manufactured, since it designed the CPU and GPU that powered the system; it also got a royalty on each and every game sold in the PC Engine's HuCARD cartridge format, which it also designed. The games were manufactured in Japan by Mitsubishi on behalf of Hudson, while NEC handled hardware production, and made its profits from selling systems.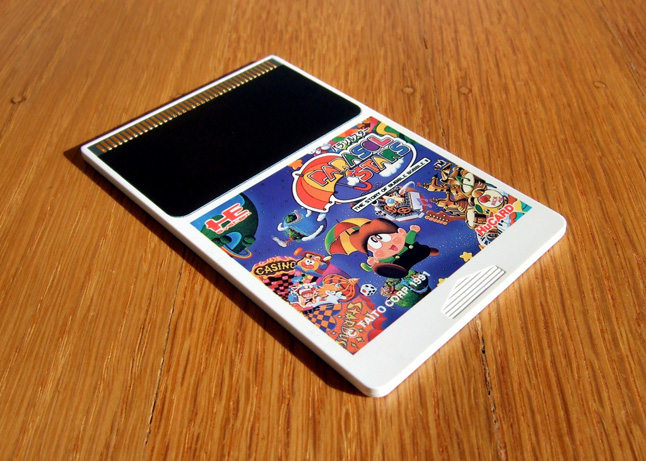 A Hudson HuCARD, PC Engine's sleek cartridge format.
The size of a credit card, It was retained for the TurboGrafx-16.
Photo credit: Bryan Ochalla
In October 1987, NEC launched the PC Engine in Japan. The system was an instant success; according to Steven Kent's book The Ultimate History of Video Games, the PC Engine outsold Nintendo's Famicom in 1988. Once the company was sure it had a hit on its hands, it decided to launch the system in the U.S. But it needed a team to do it.
1988 - 1989: Moving West
It wasn't just NEC that needed to staff up to sell the PC Engine to Americans. In 1988, Hudson began to put together a team to help it market the PC Engine in the West.
In January of '88, Hudson co-founder Yuji Kudo hired John Greiner, an American who was traveling in Sapporo after college, to act as a liaison and product manager, and also recruited bilingual Japanese staff to handle other duties. The company needed English-speakers to interface with NEC, interpret for its staff, choose the games to send West, and localize them.
"They had no foreigners, they had very little English skill, so they needed somebody to help them," Greiner recalls. "Hudson created this international division because when NEC brought the system over to the United States, they needed expertise of Hudson Soft to market the software, and they needed to translate the text," says Sonoko Saito, who was hired to translate games and interpret for meetings between NEC and Hudson Soft.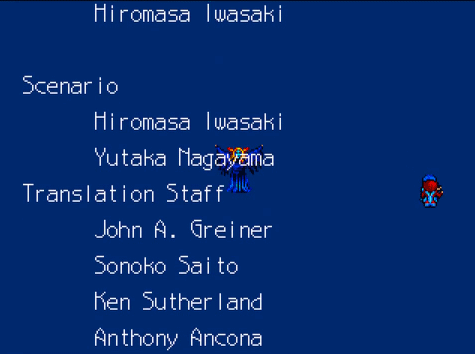 The credits for the U.S. version of Ys Book I & II. In Japan, at Hudson Soft, Saito translated the text and Greiner polished it.
NEC Japan had directed its U.S. branch to sell the PC Engine, so in Chicago, NEC Technologies boss Keith Schaefer put together a launch team. Schaefer, along with Ken Wirt and Bob Faber, had joined the company after having fled Atari's home computer division. "At the time we went to NEC, we didn't have any idea about doing video game stuff anymore," Wirt says.
Under Schaefer's direction, Wirt shifted gears from NEC's PC business to become the general manager of the TurboGrafx unit, with Faber working on the project too. As Wirt has it, "it just turned out they had these three guys who knew a lot about the video game business -- they were already working for them!"
The problem: The Atari team had worked in the company's home computer division, which mostly sold hardware; its game business was based on ports of arcade games that were already successful. The management team's expertise in the home console market was very limited. "They needed the software expertise. They were not software people," Greiner remembers.
I asked Carol Balkcom about NEC's strategy for the TurboGrafx. After conversing for awhile, I began to get the idea. I asked her, "The people at the company were not generally very well versed in the game business, in other words?"
"That's a very good way to put it," she replied.
The team did, however, have a bead on consumer marketing. Wirt and his team began to put together plans to launch the PC Engine in the U.S., and that included focus testing the system and its games with U.S. consumers. "The good news was we had a product that had already been introduced in Japan. So we were able to test that in the United States," he says.
Initial results were mixed, but promising: "People liked the gameplay, it was very fast, and it was the first system with 16-bit graphics," Wirt says. "But there was not a lot of enthusiasm for the name. People thought it was confusing."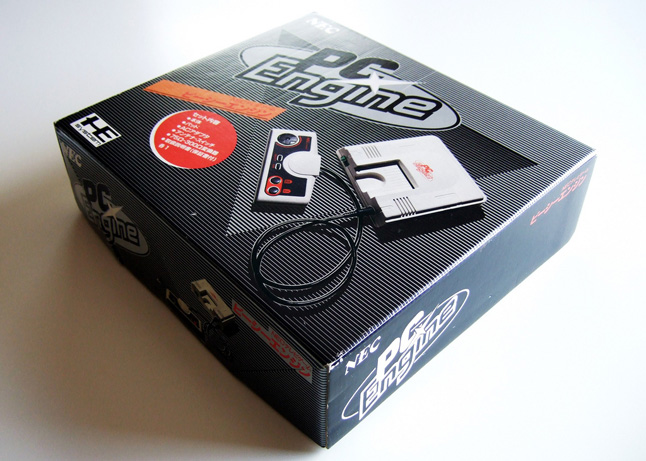 The PC Engine box. Take note of the control pad, and compare to the TurboGrafx-16 on the next page.
Photo credit: Bryan Ochalla
The company made the decision to redesign the PC Engine's casing for its introduction to the U.S. Compared to other consoles of the era, the PC Engine was tiny, thanks to its well-engineered internals and the credit card sized HuCARD format. However, "there was a feeling" that American consumers wanted something bigger -- and something more futuristic, Wirt says.
"We did a bunch of research around the name and we decided we had to change the name and the industrial design," Wirt says. The name was a simple change: "TurboGrafx" to refer to the system's speed and the strength of its visuals, which were clearer and much more colorful than earlier systems; "16" to refer to its 16-bit GPU, as "16-bit" was the keyword for that console generation. (Accessories became "Turbo" everything: TurboPad, TurboTap, TurboStick, and the HuCARD now the "TurboChip.")
"The marketing and advertising company came up with some sketches, and they conducted focus groups," says Carol Balkcom, who was part of NEC's launch team. Once the externals were designed, engineering began: "it takes time to do a redesign and a re-layout of stuff," says O'Keefe. "Plastic's not exactly a quick-turnaround item, especially if you're changing the design every so often."
---
The redesign of the hardware dragged on. O'Keefe says that the company wasted months trying to create a rubber-textured cover for the console's rear expansion port -- work which was abandoned when a usable solution could not be created. "It would have been nicer to have the same form factor as the Japanese. It would have cured a lot of problems, issues," O'Keefe says.
Hudson Soft wasn't thrilled with the look NEC selected, either. "They wanted to make it look like something you'd find on your stereo rack, where we prefered the small intimacy of the PC Engine," says Greiner. But NEC, he says, had its eyes on pushing its way into American living rooms, and wanted a different aesthetic. "They were marketing experts in The States, and they chose the look and the feel that they wanted."
Another former NEC staffer, who came on much later in the system's lifespan, has a different take: "Their idea was a dumb American stereotype: Bigger is better. That's all it is," says John Brandstetter, who joined NEC in 1991. O'Keefe (who worked for Atari in Japan prior to NEC) chalks the redesign up to "Atari mind-think," comparing it to the disastrous Atari 5200, which the company's marketers felt needed to be physically larger than its hit 2600 console to be successful (which it wasn't.)
"They wanted this to be big. They wanted to get into the living room, and this was a great opportunity to do so. They had already done so in Japan," says Greiner. The PC Engine's success made NEC complacent; the size of the opportunity masked its dangers.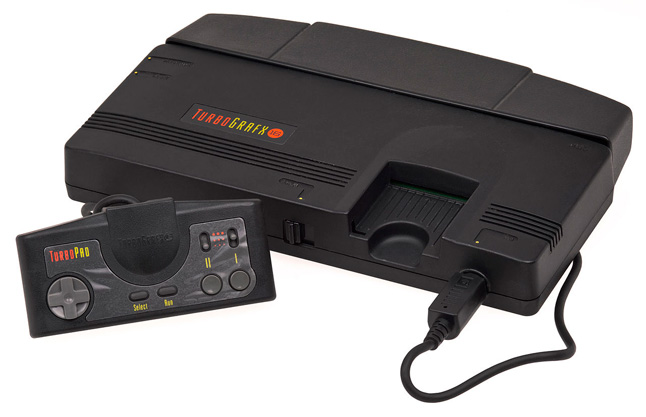 The U.S. version of the PC Engine: The TurboGrafx-16.
Photo credit: Evan Amos
The Software Conundrum
While NEC was handling the hardware side, Hudson worked on software. Having designed the console, the company produced a huge number of games for it, which it began to localize. In fact, Hudson titles dominated the system's lineup in the U.S., even more so than in Japan.
The PC Engine had plenty of Japanese support; with a U.S. launch imminent, it was time to get Western publishers and developers on board with the TurboGrafx-16. Hudson, naturally, created the development tools for the platform -- which were ported from NEC's Japan-only PC-98 format to the Western standard, MS-DOS, under O'Keefe's watch.
Hudson staff flew from Sapporo to Monterey, California, to throw a two-day developers conference that covered everything from the financials of producing games for the system to how to develop for the TurboGrafx-16, and its upcoming CD-ROM add-on, which had launched in Japan in 1988.
"We invited, I'd like to say, 25 to 30 of the top publishers at the time. And spent, I think it was about a two-day event. So we hosted them and just had a coming-of-mind of how we were going to roll the system out, what kind of games we were looking for, how we run the business," says Greiner. Hudson controlled game production, thanks to its deal with NEC.
At the conference, Hudson didn't generate much publisher interest in the TurboGrafx. But it did succeed in alienating Electronic Arts.
"Basically, there was a kind of weeding-out of developers who could actually participate in development of the first round of CD-ROM games," Greiner says. "We wanted the kind of emphatic push that we would get from somebody who really knew how to use that kind of space -- in other words, really great game developers."
In a meeting, Hudson staffers asked EA's team if it was up to the task of developing great CD-ROM games -- "we didn't think EA was that at the time, obviously, or otherwise we wouldn't have to ask them so deeply," says Greiner. "EA took offense to that -- they kind of walked out of the meeting and said, 'How dare you question us?'"
Neither Hudson nor NEC was able to convince third-party publishers to work with them in the West prior to launch. In Japan, it was a different story -- Namco was an early supporter of the system, and many smaller companies hopped from NEC's dominant PC-98 over to the console space. Yet NEC published their games in the West. "NEC decided to create a brand new business in the United States and do it all -- to distribute the hardware and the software," says Balkcom.
The delay in introducing the PC Engine to the U.S. wasn't just thanks to the hardware redesign or software localization. NEC was unsure about the viability of the PC Engine in the U.S., and began the expansion project late. "By the time I think they got into the game business, I think they were a little bit nervous, and I think they wanted to see how well they did in Japan," says O'Keefe.
Preparing for Battle
If Japan had cold feet, it wasn't apparent at NEC in the U.S. The team had built up a head of steam with the project, and at that point, external reactions to the TurboGrafx-16 were promising, too: "the press reaction to it and the retailer reaction to it were very good. They thought we had good marketing, they thought the product was good, we had a big enough lineup of games," Wirt says.
Wirt told me that retailers were impressed by this commercial. Really.
Retailers were happy to have an alternative to Nintendo, which had a stranglehold on the video game market. Sega's 8-bit Master System had completely failed, and the company was an underdog rolling into the next generation; meanwhile, NEC had a reputation as a reliable consumer electronics company. "We got all the major retailers to carry the product," Wirt says.
If anything, NEC in Chicago was overconfident. "There was this hype they had built over the war that made everybody think this was going to be a slam dunk from the beginning," says Greiner. The PC Engine had been a proven success, and early signs for the TurboGrafx-16 were promising. NEC had big expectations.
Ironically, however, NEC Japan's caution about entering the U.S. market created only problems for the TurboGrafx-16. In truth, the delay in introducing the hardware in the West simply erased whatever advantage NEC had over its chief rival, Sega.
Sega's 16-bit system, the Mega Drive, launched in Japan in October 1988, a year after the PC Engine, but the U.S. version, called the Sega Genesis, arrived on shelves two weeks before the TurboGrafx-16, in August 1989 -- disastrous timing for NEC. Sega of America hadn't wasted time redesigning its console -- only minor cosmetic changes were made.
Keith Courage in Alpha Zones
Sega's pack-in game was a conversion of proven arcade hit Altered Beast; NEC's pack-in was Keith Courage in Alpha Zones, a completely unknown Hudson home title. The hero, called Wataru in Japan, was renamed "Keith" in an attempt to butter up NEC boss Keith Schaefer.
"The pack-in should have been R-Type. If it was R-Type, it would have made a bigger splash," says Brandstetter. In fact, NEC could have had Irem's hit arcade shooter; Hudson's port was a launch title for the TurboGrafx-16. However, rather than catering to an arcade-playing core, NEC wanted a game that scored with both girls and boys in focus tests.
It made some sense -- but not to early adopters of expensive new consoles. The TurboGrafx-16 launched at $189. Adjusted for inflation to 2014 dollars, that's roughly $365.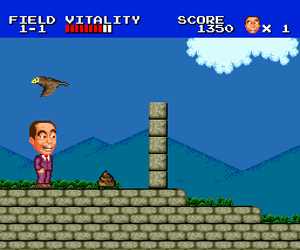 Kato & Ken
The company's original choice had been a vaguely Super Mario-like platformer called Kato & Ken, but concerns over its scatological humor meant that it would miss the system's launch while Hudson re-developed the title.
After a lot of headaches, it was eventually bowdlerized and released as J.J. & Jeff well after launch. "We messed that game up by changing it so drastically," says Greiner. "I think they [parents] would have seen the humor in it. They worried about the wrong things, I think," says O'Keefe -- speaking not just about J.J & Jeff, but more generally about NEC's attitude.
---
"Worried," however, isn't the word to describe the mood at NEC in the U.S.
"The reality was, in terms of the graphics, the hardware, and the graphics that the hardware could produce, the TurboGrafx was superior to the Sega Genesis," Balkcom told me just weeks ago, reciting 25 year old talking points.
In truth, while the system's 16-bit GPU was speedy and offered excellent color depth, the TurboGrafx-16's main processor was 8-bit, and an evolution of the one in the NES. It was underpowered for the era.
Doug Snook, who worked at TurboGrafx-16 developer ICOM Simulations, talks of struggling with the TurboGrafx hardware: When developing Beyond Shadowgate, he says, "We ran into trouble with sprite drop-outs when the sword was extended, and more significantly we were forced by memory limitations to flip the character graphics horizontally for walking left and right."
The Tragic Number
Very soon after the console hit the market, however, it became apparent things were not going to plan: "the sales were kind of disappointing," says Wirt.
Though Nintendo steamrolled Sega in the 8-bit war, Sega's arcade success was tough to contend with in a fight based on graphics as much as gameplay. NEC was an upstart, and soon an underdog. The near-simultaneous launch -- "which we didn't know was going to happen till it got right pretty close," Wirt says -- was particularly damaging, given the circumstances.
But what really hurt the TurboGrafx-16, says Greiner, is the fact that NEC produced a huge number of consoles off the bat -- 750,000 units. (Brandstetter claims 735,000; Wirt called Greiner's estimate "probably a reasonable number." In 1991, Wirt told Computer Gaming World there were 750,000 TurboGrafx units in the U.S., but the article doesn't specify if these were simply produced, shipped to retail, or sold to consumers.)
"I think, as I said, the hype had a life of its own. And I think that it probably infected the thinking of management at NEC when they made that order: 'This is going to be big and we better be prepared. Let's make as much as the market needs so we're not caught short-handed,'" says Greiner.
Retailers, used to being starved by an arrogant Nintendo, asked for more hardware than they actually wanted. "That was their way. And we should have known that, right? That was our job to have known what that was going to do, and that we should have cut them back as well," Greiner says.
While both Sega and NEC started out with roughly the same amount of marketing money at launch -- $10 million for Sega, says this report; $10-15 million for NEC, according to the New York Times -- Sega's initial success meant that it soon felt comfortable investing more heavily in marketing. Its confrontational "Genesis does what Nintendon't" campaign is still remembered by all who were around at the time.
"It was really Sega that really had some great marketing that really trumped Nintendo at the time, if you remember. It was something that I think probably, more than anything else, is what got them into position to actually win," Greiner says.
Soon, Sega was trouncing NEC with marketing: "they outspent us probably 4-to-1 in marketing, or even higher -- I don't know, maybe 10-to-1," says Wirt. But NEC wasn't moving units, and had paid out an extraordinary amount of money to Hudson in royalties on its initial allotment of systems and games: "When they created 750,000 units, we were paid royalties on those 750,000 units. We were also paid royalties on each sale of each HuCARD. So Hudson did not hurt from the poor showing that they had against Sega," says Greiner.
NEC's Japanese management was hesitant to invest more money into the TurboGrafx-16 until it saw some return. It was also complacent. "To do some of the things we wanted to do, we needed support from Japan, from NEC corporate. And they didn't have a great understanding of why we were having problems, because they were doing quite well in Japan," says Wirt.
In Japan, Sega was never a force in the 16-bit war; the Mega Drive was a niche product. NEC had captured a lot of market share by launching the PC Engine early, and it had a better lineup of games for the market. Now, that situation was reversed in the U.S.
"They're all in Japan and they understand the Japanese market. They didn't see the problems we were having. They were kind of like, 'Give it more time, there's more titles coming, you're going to have these other products,'" says Wirt. NEC Japan expected the launch of the CD-ROM add-on and the TurboExpress handheld, which boasted a bright, color screen and used the same HuCARDs as the TurboGrafx, to make a splash.
However, it was quickly apparent that things were not going to plan: "let's say that after the first month, it was pretty clear," says Wirt. By Christmas 1989, says O'Keefe, it was obvious that "the sell-through just wasn't that good," and as soon as six months after the console shipped, it was "very apparent" how bad things were, Greiner says.
"I think they had some serious problems. ... I don't know what the market numbers were. Whatever they were, they were not good," says O'Keefe.
Dark Times
The problem wasn't just the software lineup, though it did contribute. Third parties were still making PC Engine games in Japan, but NEC couldn't attract publishers in the West. Only a few released games for the system. Those that did didn't tend to stick around.
"Basically, the economics were very difficult for publishers because the little HuCARDs -- they use a technology called chip-on-board," says Wirt. The minimum order was high and so was the cost of fabrication; the medium was "spectacular," says Wirt, thanks to the fact that it worked well for both portable and home games, but it just didn't work for publishers when taken in combination with the TurboGrafx's sluggish sales.
The economics were difficult for consumers, too. The system launched at the same price as the Sega Genesis, but its games were more expensive, broadly speaking. The most idiosyncratic thing about the PC Engine's design is the fact that it has only one controller port. Though it makes some sense given how small the system is, that feature was carried over to the much larger TurboGrafx. An adaptor was needed for two- to five-player play, adding unnecessary expense in the price-sensitive U.S. market.
And while NEC Japan thought the CD-ROM add-on would change the console's fortunes, NEC America began to get cold feet. "I think by that time, we were already pretty cautious because we knew it was going to be pretty expensive," says Wirt. Despite a fight to reduce its cost "below a normal kind of margin" for NEC, the add-on launched at $399 with no pack-in game.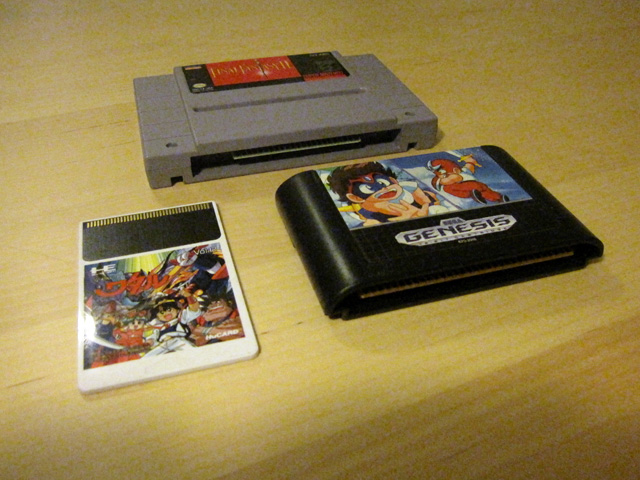 16-bit rivals: The PC Engine HuCARD, as compared to Sega Genesis and Super Nintendo cartridges
NEC U.S. "knew it was expensive," says Wirt, so "we did not produce that many systems, and there wasn't that much software." In fact, evidence suggests the company shipped around 20,000 units of the TurboGrafx CD hardware in the U.S.
TurboGrafx CD launched at the end of 1989 with just two games available at retail: Fighting Street, a Hudson-developed port of Capcom's original Street Fighter, well before the series' explosive popularity, and Monster Lair, a solid but very obscure arcade shoot 'em-up. Neither was a showcase title.
A 1990 episode of Computer Chronicles, broadcast nationally on PBS. A segment on the TurboGrafx-CD begins at 17:26.
The CD-ROM unit does boost the system's capabilities drastically, and it was the first console to get such a unit by several years. But it had no reach in the U.S. "It was all new. TurboGrafx was new, the games were new, the notion of a CD-ROM was new, and because of that there was so much education of the market involved in order to make them choose TurboGrafx," says Balkcom.
"I mean, the hardware was decent enough, right? When we added the CD-ROM we should have been able to do a lot more with that. But, we didn't pursue it that much, because it just added too much cost to the game unit, I guess," O'Keefe says.
The Software Problem
More CD-ROM titles didn't arrive until the back half of 1990, and the system's obscene cost didn't attract many takers. Even staunch PC Engine supporters that had U.S. presences ignored the TurboGrafx; NEC began to localize and publish CD games by Nihon Telenet -- despite the fact that the company had established a U.S. arm that same year and steadily released Sega Genesis games.
In fact, it was almost entirely up to NEC to support the TurboGrafx-16. With system sales failing to take off, companies were happy to let NEC take the risk. "In some cases they'd say, 'You know, we don't really want to publish ourselves.