Inti Creates was founded by Capcom expats in 1996 -- and spent the 2000s making games for the publisher, providing the backbone of the Mega Man franchise from 2002 through 2010, with the Mega Man Zero franchise and the successful revival of its 8-bit in Mega Man 9 and 10.
But that's not all there is to the studio; it's an accomplished work for hire developer, but it's also branched out into publishing and original IP, with last year's 3DS cult hit Azure Striker Gunvolt -- which marries the best of the Mega Man X ethos with original ideas that wouldn't be possible inside the IP.
Recently, though, the story has got more attention for backing up Japan's highest-profile Kickstarter successes: The studio is developing Mighty No. 9 for Keiji Inafune, and also Bloodstained: Ritual of the Night for Koji "IGA" Igarashi.
Gamasutra recently had a chance to speak to the company's CEO, Takuya Aizu, about the shifting landscape for independent Japanese developers and the direction the company's headed in, as it embraces crowdfunded projects.
Azure Striker Gunvolt's announcement trailer
You've branched out into publishing, with Azure Striker Gunvolt.
Takuya Aizu: We've been developing games for a long time -- like the Mega Man titles, and things like that. Fans have always seemed to appreciate that sort of thing.
As a matter of why we weren't a publisher -- it's very difficult. It's difficult to go from being a developer, only, to publishing a game. Inafune-san and I work really closely, and seeing him start his own company and successfully publish games, we thought, "We can do this too."
When we decided do this, we received a lot of support and feedback from fans. We definitely felt like we could do this, and we're looking forward to doing this -- and our next games, too.
Were you planning this, or were you kind of forced into this, by the way the market has changed?
TA: Game sales in Japan are not doing as well recently has they have in the past. And the game development world has gone so global. You can't just sell in Japan anymore. We, as a company, want to sell our games around the world. We thought, "Let's do this."
We would be perfectly okay with being a company that just develops games. That's fine. As we get new technology and a bunch of different programmers coming in from all sectors of the game industry, deciding to publish a game just works. It comes together.
One of the things that struck me about Gunvolt was that since it was an original game, you were able to explore new ideas more than with established IP. Would you agree with that?
TA: There's no doubt that, since we're publishing the game, we can use our ideas more freely. But when Capcom asked us to do Mega Man games, they also gave us quite a bit of freedom with those, too.
So now when we get to publish our own games, it's really not that much different from working with Capcom games, or now. A lot of the things we can do are very similar.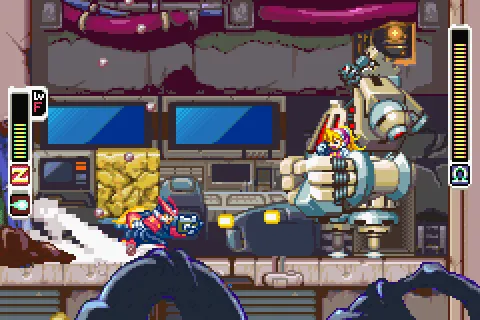 2002's Mega Man Zero, for the Game Boy Advance
Do you think it's similar to what you'd be doing if you sought work nowadays? Or is it similar to when you were making the Mega Man Zero games, for example? Wouldn't it be more difficult now?
TA: When working on all those different Mega Man games, Inafune was the boss of the Capcom sector working on the Mega Man games. Inafune believed in us and what we would do. Because there was that trust, and he just believed in what we could do, that gave us a lot of freedom to develop these games the way we wanted to.
We also work a lot with Bandai Namco Games, as well. They, as well -- it's different company, a whole different situation -- they rely on us. They ask for our feedback and trust in our ability to make games. For us, having that pretty high level of freedom to make these games is kind of normal for us. Maybe that would be a pretty abnormal or rare experience for other companies, but for us, having that freedom feels normal.
Mighty No. 9, the studio's first Unreal Engine project
What's it like being an independent studio in Japan right now?
TA: Console game sales in Japan are dwindling. A lot of game developers in Japan are starting to focus more on the mobile scene -- that's very much what's going on right now. A lot of these companies have been making games for consoles forever, so I think they still want to do that, but there is that focus on the mobile too.
A lot of the managers and company presidents of these console game companies see a lot of different paths you can take. We've been challenging ourselves by doing things like Kickstarter. As you might know, Kickstarter hasn't really caught on in Japan yet, so for us, especially, that was a new thing for a Japanese developer to do.
The people in charge of these companies see a lot of different paths they can take. It's almost like they want to challenge themselves, now, to make good console games -- despite that the state of things is maybe not as good as it used to be.
Sometimes Kickstarter doesn't really get all that much money, and people know that too. Maybe it's why not as many people are using Kickstarter.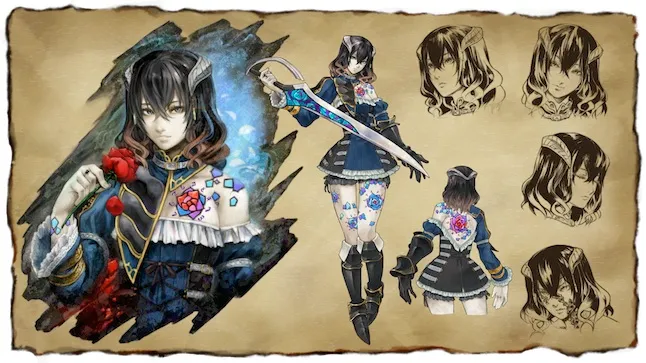 Bloodstained's main character, Miriam. In addition to development, Inti Creates' staff is handling artwork, including character designs
Now that you've worked with Unreal Engine for Mighty No. 9, has that changed your perspective? In the past, I'm sure you've used your own technology up till now, but it's more common to use engines like that, off the shelf.
TA: As you may have guessed, a lot of companies in Japan use their own in-house development engines. Up to now, Japanese developers have all generally used in-house engines. This was an effort to boost their own technological skills, and it's the truth that everyone tried to use their own in-house engines.
But it takes a lot of time and costs a lot of money to use your own in-house engine. A lot of times, they don't hold up to quality that Unreal and Unity offer these days. So yeah, it's the first time we're starting to take notice of that.
Now that everything has changed from console to mobile games, the scene is a lot different. There's a lot of clients who want these mobile games -- that's what they're after. So now they're asking companies to use middleware like that to help cut down some of the costs and time -- instead of everyone using their own separate in-house things. So now there are a lot more developers in Japan using things like Unity and Unreal.
Inti Creates has a very identifiable style of games -- like Mega Man Zero and Gunvolt. Is it possible for you to maintain your style as a studio when using off-the-shelf engines?
TA: We're translating our own Inti Creates stuff to using Unreal Engine. We think that our personal style doesn't really change, even though we're working with new development technology.