At Slamdance 2007 in Park City Utah, I heard filmmakers describe games as "active, while films are passive" about fifteen times, and the phrase "yeah yeah" about forty. The rest was less predictable.
Looking at the initial program for the games competition, I was struck by how strong a line-up it was. Each title read with prestige and anticipation, one day consisted of flOw and Everyday Shooter, another of Braid and Castle Crashers, with Super Columbine Massacre RPG! bringing it to a close. But that program, due to controversy earlier in the month, was not to be.
The screenings began on Saturday, with Jason Rohrer's Cultivation setting a fine precedent for an independent game. Rohrer lives with his wife and child in a small cottage in northern New York, where a combination of organic gardening and home insulation allow them to survive on $800 a month. He's a designer that codes every part of the buffalo. He presented Cultivation as being inspired by local disputes over Wal-Mart, and cited Koster's theory of fun as an impetus. His goal: tell a story through the game's mechanics and metaphors.
The result is a gardening game where altruism, environmental politics, unprotected sex and generational transcendence unfurl from genetically generated content. It's art, it's free, it has a positive message; you can almost see the "If/Then" logic in the festival's programming.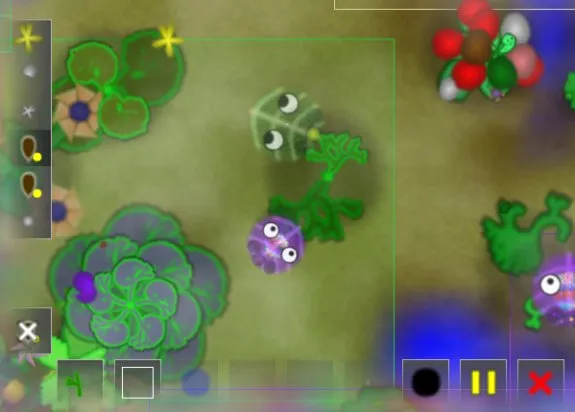 Cultivation
The Base Invaders presentation laid out a stark contrast from Rohrer's. While Cultivation was the experimental work of an individual with an academic background, Base Invaders was designed around the "tower defense" sub-genre of real-time strategy and produced by an extensive student team. The game involves cartoon invaders parachuting and marching toward a central tower, with the player controlling a disembodied hand capable of manually dispatching invaders.
I missed the Toribash presentation, but I did get a chance to talk about it with Hampus Soderstrom, its creator. The game takes a turn-based approach to fighting, which coupled with a robust physics engine allows for a great variety of calculated maneuvers. The game has been selling well for an indie game distributed solely online, and Hampus' Singaporean team is already working on a sequel.
Toblo did not have a presentation, because the DigiPen students who produced the game were absent in protest of SCMRPG!'s removal from the festival. Because DigiPen automatically owns the IP of whatever students design and implement (teaching a sick, implicit lesson for working in the industry), the game was entered despite their protest. They were seeing films at Sundance.
Steam Brigade's presentation was complimented by a well done video, set to the 1812 Overture, romanticizing the trials and breakthroughs of creative design with a three person team. Their design presentation touched mostly on minimalizing the patterns of real-time strategy games, which most of the audience didn't get. Their presentation on the art and writing, however, seemed to go over well with filmmakers in attendance, in part due to my guerrilla promotion minutes before the presentation began. The presentation had the highest attendance of the entire festival.
An interesting point was raised about people skipping the cut-scene narrative, I countered that you'll always have a split audience that likes the narrative or skips it to game out the system - it's clear, however, that the prior is an under-penetrated audience. Over the happy hour blocks, many commented on the game's art, incidentally done by a guy with story boarding experience for Universal pictures.
---
The panel on controversial games, and Super Columbine in particular, was host to much truth and reconciliation. Danny Ledonne noted that he was more surprised at the game being courted than it being pulled, while Peter Baxter noted that despite the press' spin, his organization did not have the resources to fight potential litigation. I asked game competition organizer Sam Roberts if Ian Bogost is more press-savvy than then entire Slamdance organization put together, and he confessed in no uncertain terms.
D.R.O.D. programmer Mike Rimer echoed the opinion of many developers by noting that he has no inclination to play or make such a game, but he respects its existence, while King Of Kong producer Ed Cunningham took the stance that an organization dedicated to showcasing the cutting edge of art should take risks to defend that function - even if that means risking the festival's very existence. A woman wearing hip frames commented on Ledonne's rationale for making the game, saying "This was you purging that anger out of your body through art! I know people who need that outlet to survive."
Ledonne later commented that it was a weak band-aid at best, and was a bit annoyed at Baxter's lauding of Cloud as an ideal example of an indie game; he felt it implied that games should be oriented towards positive messages only.
Roberts and the developers in attendance agreed that a great opportunity was missed in the wake of Baxter's pulling of SCMRPG!. If the ESA had been called in the wake of the game's nomination and asked to cover Slamdance Inc. should any legal issues arise, it could have allowed a precedent to be set for games to be recognized as an art form, rather than simply as "free speech" which is a subtly different classification.
Ed Cunningham and Peter Baxter
The Slamdance Games competition is not a shambles, it is very much alive in cocktail conversations between game and film creators, in people playing, in the lessons each culture can teach the other. For example, the game business can learn a lot from the movie business, about financing projects independently using private equity investment and the value of prestige as a compliment to purely commercial endeavors. On the other hand, filmmakers can draw a lot of rich conceptual material from the cutting edge of game design, and in the case of a Sundance film (Chasing Ghosts) and a Slamdance film (The King of Kong), from game culture.
Peter Baxter and Danny Ledonne
It's a lot like the last episode of the excellent, prematurely canceled TV dramedy, Freaks and Geeks. James Franco plays a freak with poor grades and a dim future, and in the last episode he meets a geek who invites him to play Dungeons and Dragons. The Franco character awkwardly rolls a dwarf named Carlos, but goes on to have a lot of fun wrecking orcs and saving the princess. At the end of the game, the geeks wonder if they're now cool by association, while the freak has had the most intellectually satisfying experience of his life.
Film people are freaks, and game people are geeks. It'd be a real shame if we didn't continue to play in the snow together, once a year, in Park City.