Introduction
The decision to shutter Wolfpack Studios came as a surprise to most of those working there. When Ubisoft made the announcement on April 1 that the Austin, Texas-based developer of Shadowbane had six weeks of life left, community manager Sean Dahlberg said he wasn't sure right away if it was an April Fool's joke.
It wasn't. Just a month past Shadowbane's third birthday, and two years and change since Wolfpack's acquisition by Ubisoft in February 2004, the publisher had apparently decided to refocus on its console offerings. After a disappointing launch and two expansion packs, Shadowbane seemed like a low priority.
And yet it was the game that brought the team together. As Dahlberg tells the story, not long after the announcement came, Wolfpack Studios general manager Frank Lucero made the rounds of the 30 people working at Wolfpack at the time. He wanted to know if they would be willing to stick together as an independent studio and stay in Austin.
"One by one, pretty much everyone said yes," Dahlberg said.
By the time May 15 rolled around, the financial backing for a new studio was secured. Marketing themselves as a ready-made team and experienced in massively-multiplayer games in a way that few are, those on board with the new team took a two-week vacation after Wolfpack Studios officially closed, only to come back to the same offices in northwest Austin on June 1, with a new name: Stray Bullet Games. This week, Stray Bullet announced their newest addition, CEO Mark Nausha, most recently director of development at Sony Online Entertainment with credits at development studios owned by Sega and Interplay.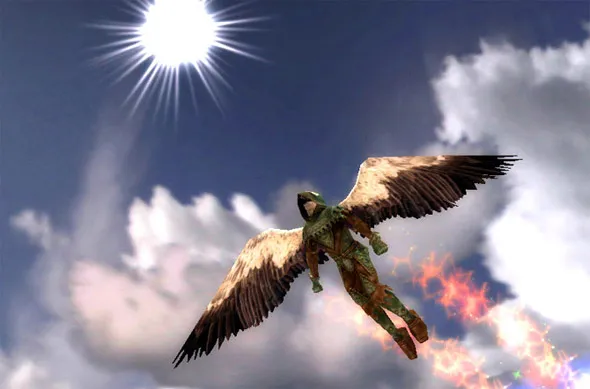 Hungry Like the Wolf
Wolfpack Studios was founded in 1999 as an independent studio, though the last of the founders departed after selling the company to Ubisoft (two of them, Todd Coleman and Josef Hall, helped found King's Isle Entertainment not far away, employing several former Wolfpack employees). Its product, a massively-multiplayer game that would come to be known as Shadowbane, was released in the spring of 2003 after a series of mishaps that included being dropped by what would have been its North American publishing partner, Gathering of Developers. Several GODGames principals claimed this was a decision by their parent company, Take Two Interactive, and moved to Hong Kong to found En-Tranz Entertainment, Shadowbane's Asian market publisher, before it eventually closed.
Though the promise of purposeful combat between in-game "guilds" of players who could build their own cities and lay siege to those of their enemies was an early draw for many aggressive MMO gamers, post-release bugs and design inadequacies proved too much of a strain for player patience. Behind the scenes, Wolfpack Studios attempted to acquire new licenses and development deals, but nothing was sustainable. Within a year, Ubisoft moved to acquire Wolfpack and Shadowbane outright, moving it under the purview of its other notable development property, Red Storm Interactive.
---
Expansion
Through two expansion packs (Rise of Chaos and Throne of Oblivion) and many updates offered for free bolstered the guild-on-guild warfare model, offering new character races and development paths as well as resources that could be harvested and defended in real-time-strategy style, first impressions still linger among Shadowbane's early fans. Dahlberg, who was hired as community manager straight from IGN's Vault Network of fansites, knows this well, but insisted that there's still enough about Shadowbane to work with. And as Stray Bullet Games, the team will continue a working relationship with Ubisoft.
"We're very excited to keep working on Shadowbane," he said. "Some of us have put years of our lives into it ... the key thing is, and what we want people to know is, we want to rejuvenate it. We want to find ways to shake things up and make it more fun."
Dahlberg, better known to fans as Ashen Temper, has been working toward a designer role for some time now, said he and the rest of the design team have several ideas in the works for Shadowbane, and have been working closely with the art and programming teams at Stray Bullet to see how best to implement them. (Disclaimer: The author was heavily involved in Shadowbane's pre-release community as well as projects listed on his biography page linked at top left.)
As with many MMO changes, some might bother fans in the short term, Dahlberg warned, but he's confident that they'll improve the game long-term. He's also confident in his ability to communicate with players, whom he said can be a useful resource for designers when trying to decide what's best for the game.
"We've learned a lot of lessons from Shadowbane. In some cases, we've learned what not to do," Dahlberg said with a laugh. "If you don't make mistakes, you can't learn from them."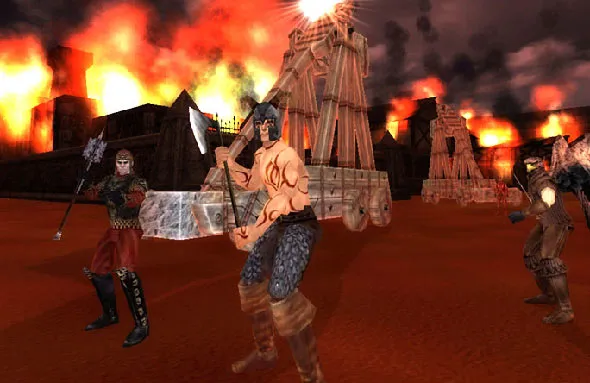 Free Shadowbane
In March, Ubisoft announced that Shadowbane could be played for free, with no monthly fees attached. Dahlberg said that could continue, though "alternate revenue methods" such as in-game advertising or even going back to the classic monthly fee are under consideration. Both present challenges to design as well as business, but Dahlberg said Shadowbane's upkeep was "not very expensive right now."
For the better part of two years before its closure, Wolfpack Studios had also been working on a second MMO title based on a Ubisoft-owned license. That project, based on Unreal 3 technology, has been shelved, Dahlberg said, but Stray Bullet Games retains the experience of many who worked on that project and plans to market that experience to land development contracts for MMOs. Besides supporting and developing Shadowbane with Ubisoft, Stray Bullet has landed contract work to provide art and programming for another MMO in development by another studio, and has plans to work on a MMO of its own.
What will Stray Bullet's own MMO be like? Well, it won't be Shadowbane 2, Dahlberg said, but it might have elements that appeal to aggressive gamers. It might have in-game quests, something Dahlberg said could have offered Shadowbane players something to do besides laying siege to each other's towns. Stray Bullet is also smaller than many development teams, so their range might not be wide enough to offer every sort of gameplay to every sort of player. And in a market when World of Warcraft dominates, Dahlberg said Stray Bullet is well aware of the risk.
"We're going to do what we do best," he said. "These games should be fun, not something to be a slave to, or like a second or third job."