An extensive climate impact report published by Saltsea Chronicles developer Die Gute Fabrik (DGF) shows how the project's near four-year production cycle affected this little blue dot we call home.
The Danish studio commissioned Benjamin Abraham, author of Digital Games After Climate Change, to produce the report with a view to understanding its own climate impact compared to other studios across the industry; identifying its main sources of emissions and learning how it can reduce its climate impact; and demonstrating to other studios what's involved in the calculation process behind climate impact assessments.
The report [Google Drive download] shows the total footprint of Saltsea Chronicles is estimated to be around 47,196 kg CO2e (CO2 equivalent), or just over 47 tonnes of CO2e. For context, that's approximately 0.000058 percent of what some of the biggest game companies in the world said they emitted during 2022.
Saltsea Chronicles production highlights the environmental challenges posed by event attendance
Breaking that figure down DGF—which is currently fully remote and works with employees and contractors in nine countries—said the energy used by devs while working from home amounted to around 1.8 tonnes of CO2e, with an additional 7.2 tonnes being created by employees seeking to regulate the temperature in their home.
Purchases by the company in the UK and Denmark, which house the bulk of DGF's workforce, amounted to 13.1 tonnes and 7.2 tonnes of CO2e, respectively. Travel was responsible for 15.7 tonnes of CO2e, the vast majority of which was produced by just four international flights.
The charts below provide a visual breakdown of those emissions, again highlighting just how much of an impact international air travel had on the studio's overall footprint during production.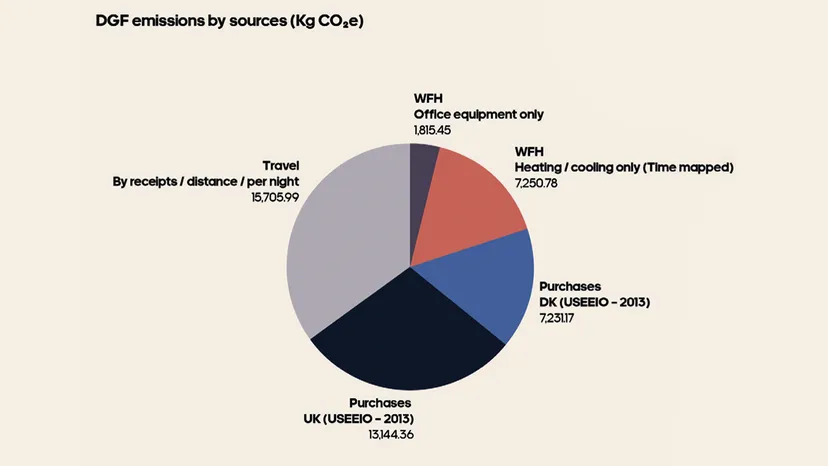 To highlight how alternative forms of transport can massively offset emissions, the report shows that studio director Hannah Nicklin's decision to travel to Gamescom 2023 in Cologne, Germany, from the UK by train instead of plane helped the studio avoid around 266kg of CO2e.
"A further breakdown of the travel emissions by mode of transport illustrates just how significant an emissions source international flights are, dominating the category. This is despite being only two trips (four total flights): one from LHR to SFO and return for the industry conference GDC in 2022, and one from MCR to MEL with a return from SYD to MCR to exhibit at Melbourne International Games Week and South by South West Sydney in 2023," reads the report.
"Hotel and AirBnB stays, as well as travel by taxi and rail pale in comparison to just four flights. It does, however, show the potential savings that can be made by substituting flights for other transport modes when possible."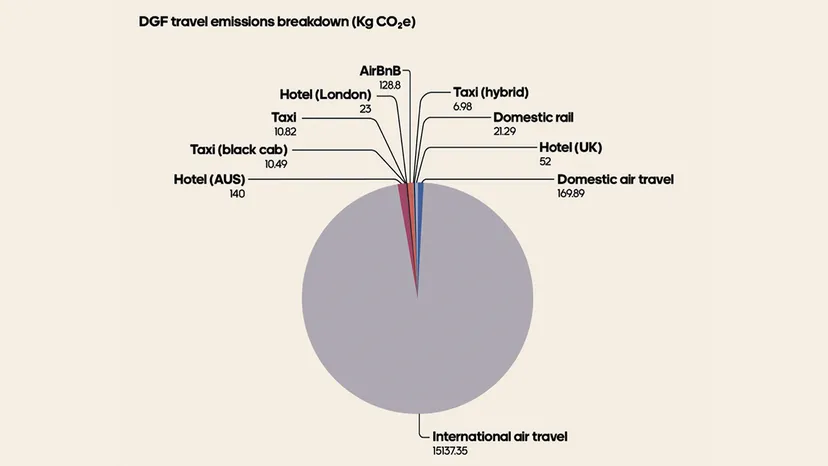 Overall, DGF said the report shows work-from-home indie production is "very low impact" relative to the rest of the industry, and probably lower impact than work-in-office indie development.
It also highlights that flights and travel are a major source of emissions and a "tough challenge to face in the context of the power differential of indie developers and their need to go to the publishers and platforms' own playing fields to meet and develop funding opportunities."
The studio noted that the report itself was enabled by effective "unusually detailed record keeping" for an indie studio, suggesting other companies looking to produce a similar climate impact assessment should implement comprehensive record keeping practices sooner rather than later.
"The relative impact of Die Gute Fabrik on climate-damaging emissions was therefore largely limited to the amount of air travel undertaken. Work from home and the studio's four-day week were both factors in reducing their emissions," continues the report. "However future work could be done to support individual workers in transitioning their home offices to lower-impact heating and cooling."
Collective climate action "desperately needed" across the game industry
As for where DGF can improve, the report recommends the studio target annual emissions accounting and disclosure, incorporating annual emissions reporting into its development process. The studio was also advised to set a target for zero emissions operations by understanding and articulating a goal for total reduction.
Turing to the wider game industry, the report advises companies and collectives of all shapes and sizes to consider normalizing annual CO2 emissions calculations and disclosures while also setting decarbonization targets. Notably, it adds that four-day weeks and work-from-home practices should be considered for their "effectiveness in reducing climate impact."
"Where business travel by train is possible, that it be proactively encouraged and promoted over flying by studio policy," continues the report, before suggesting that all workers and studios should collaborate on reducing the impact of home offices.
"It is understood that in the relatively up-and-down fiscal environment of single-project indie video game development that supporting annual reporting and prioritizing zero emission operations is a challenge, but as is articulated throughout: some action is better than no action," it reads.
"Finally, the report proposes a system of ecolabeling that would allow a benchmark for climate impact to be established in all scales of game development, and which would hold the game development community to account for their journey towards the zero emissions operations which need to be standard across all scales of development within the video game industry."
Ultimately, the report suggests that "collective, transformative action" is needed across the game industry if studios hope the make the practice of developing and shipping games sustainable on an environmental level. "It will take more than any one studio or company to make these changes, but it takes just a few to begin them," concludes the report.
"There has to be joy, play and artistic expression in any sustainable future, and video games can be a part of that. But to be so, their makers must act. We hope this report offers a useful, actionable, achievable set of findings and recommendations to that end."