Once again, Rovio's 2015 release Angry Birds 2 has built on several quarters' worth of increasing gross bookings to give itself a record-breaking quarter. That one game saw a 68 percent year-over-year increase in gross bookings to bring in €30.8 million (~$35.2 million) during the quarter ending September 30.
That marks the third consecutive quarter Angry Birds 2 has seen an increase in gross bookings, but, despite the strength of it and Rovio's other live games, the company isn't putting all of its eggs in that one basket. In reports detailing the results of Rovio's third quarter, CEO Kati Levoranta specifically called out that, while live games remain important, "it is clear that we need new games in order to accelerate growth."
Just for Rovio's game business, gross bookings across all games were down 1.7 percent year-over-year, coming in at €63.1 million (~$72 million) for the quarter, though the company notes it is expecting those to pick up next quarter. Adjusted earnings before interest, tax, depreciation, and amortization (EBITDA) meanwhile came in at €12.7 million (~$14.5 million) for the quarter, meaning the game business alone was responsible for 20.1 percent of the company's overall revenue.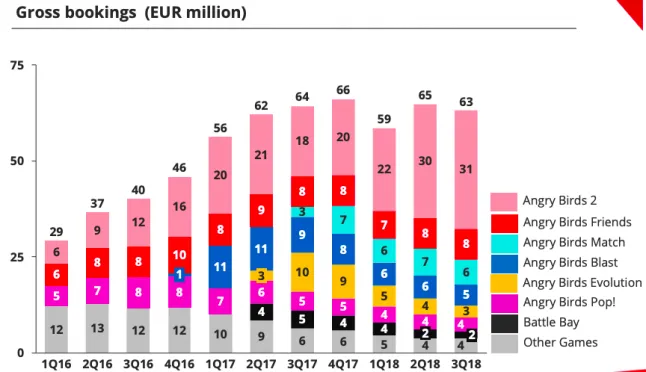 For the company as a whole, revenue remained largely static at €71 million (~$81 million), a 0.5 percent increase year-over-year. Operating profit meanwhile managed a more sizable increase, coming in at €10.4 million (~$11.9 million) this quarter compared to 2017's Q3 operating profit of €1.6 million (~$1.8 million).