This interview is part of our Road to the IGF series. You can find the rest by clicking here.
Chambara is a visually striking combat game from Team OK [Overly Kinetic], a group of USC students. Its limited color palette doesn't simply look beautiful--it's an essential feature of the gameplay. Players control monochromatic fighters that can be perfectly camouflaged if they stand against a backdrop that matches their color.
The game is carefully conceived to yield uniquely frantic and kinetic local multiplayer action, right down to a special mechanic that prevents opponents from screencheating--peeking at the other half of the splitscreen to help them determine exactly where there opponents are.
In addition to being nominated for an IGF award for Best Student Game, Chambara won a BAFTA Ones to Watch award, and was an official selection at IndieCade.
Designer and team lead Kevin Wong answered some questions about the making of Chambara.
What's your team's background in making games?
Prior to Chambara, Catherine Fox, Esteban Fajardo, Tommy Hoffmann, Alec Faulkner, Austin DeVries and I worked on small games in pairs for game jams and for classes. We came together to compete in 2014's Dare to be Digital game-making competition at the recommendation of our game studies professor, William Huber. Over the course of eight weeks in Scotland, we competed against teams from all over the world to win one of three nominations for the BAFTA Ones to Watch award. When we won that award in the spring of 2015, we were selected to be one of five games to be developed in the USC Advanced Games program, where the team grew to take on an expanded scope. We come from a wide range of backgrounds and interests, and that has made us uniquely strong in that we have a diversity of experiences that has made the game what it has become.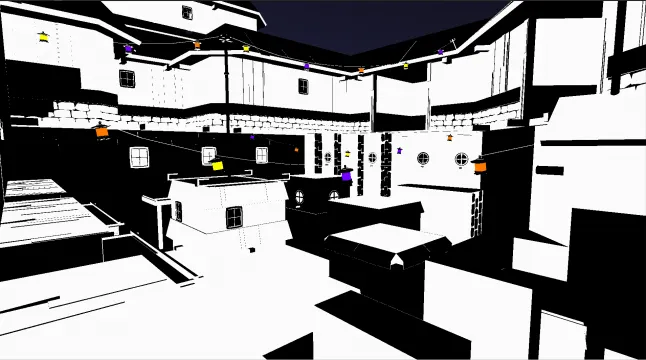 What development tools did you use to build Chambara?
We built the game in Unity, using Maya for 3D art and Wwise for interactive audio. Chambara's flat shaded surfaces nullify the need for complex texture work and UV mapping, which has given us the flexibility to create a striking and unique aesthetic.
How much time have you all spent working on the game?
All in all, we've been working on Chambara at varying levels of intensity for about two years. We started conceptual work as early as February of 2014, and initiated development at Dare to be Digital in June of 2014. When the competition concluded early that August, we ceased intensive development work until we were brought into Advanced Games in April of 2015. We started another phase of preproduction in the USC Bridge accelerator, and kicked off expanded development with a large team that August.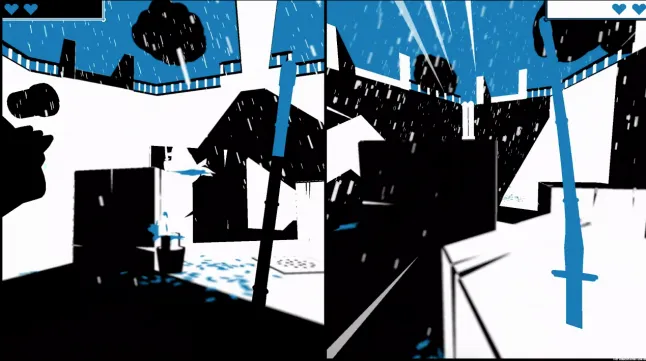 How did you come up with the concept? What are some of the things that you drew inspiration from?
The game's primary inspiration was the iconic Jack vs. Ninja sequence from Genndy Tartakovsky's animated series Samurai Jack, from which we drew our primary mechanic. We saw that episode together in our freshman year and found it exhilarating.
Other creative inspirations include the films of Akira Kurosawa, modern Japanese art movements like Mono-Ha and Metabolism architecture, and the local multiplayer games of our youth. These inspirations manifest in things like stage themes and style.
What elements of the game have been there since the initial conception, and what has emerged from iteration and refinement?
Chambara's core mechanic of disappearance, eye-closing, and melee combat were conceptualized on paper in Spring 2014, and iteration and refinement brought us to decisions regarding tone, theme, and balance. For example, the game we pitched featured large splatters of blood coming from human characters killed by sharp swords. We were uncomfortable with the violence the game displayed and did not feel like it accurately reflected who we were and what we believed, and could not in good conscience build that for festivals where we knew families with young children and parents would be present. Iterative design at Dare to be Digital changed the human character into an anthropomorphized bird, which allowed us to turn blood into feathers and swords into kendo sticks. When Austin delivered us our first musical piece, we were able to develop many elements of the game's overarching tone.
Can you tell us about the challenges and the surprises you encountered working with a very limited and simple black-and-white game world?
Navigability has been the biggest design challenge in Chambara. A limited color palette and no lighting makes it difficult to distinguish walls from floors when there is no visual difference between the two, creating situations where players would walk into walls without knowing it and getting lost without landmarks. UI readability has also been an interesting challenge, trying to make UI elements stand out while maintaining a visual consistency.
The "eye closed" element is particularly interesting to me. Can you describe how that works, and then tell us how your team hit upon that and refined it?
Chambara was designed to be local-multiplayer from the start, and we realized that the split-screen nature of play would compromise stealth. The "close-eyes" mechanic prevents screen-cheating by blocking off the player's ability to see their surroundings, thereby preventing opponents from being able to screen-cheat. We knew that players would try to screen-cheat anyway. Rather than trying to ignore it, we embraced it as an emergent behavior in local multiplayer games and integrated it into our design as a means of player interaction. We planned this mechanic during preproduction, but could not test or implement it until the competition began. When we finally got around to it, we realized that there was potential for fascinating mind games and emergent play in it. It has consistently been named by our playtesters as one of the most interesting and unique elements in Chambara.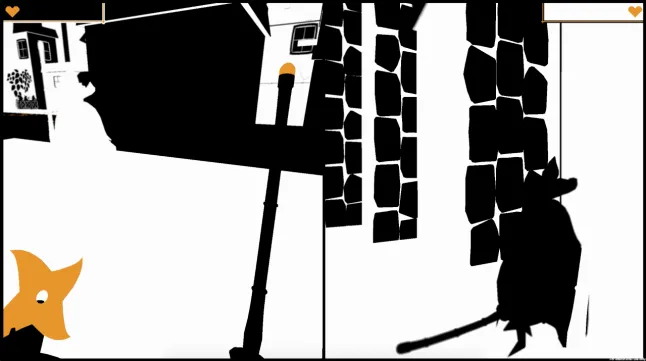 What has the experience of making and showing the game taught you?
One thing Chambara has taught me is importance of communicating well and regularly. Being honest, mature, trustful, and thoughtful creates the stability that the team needs to do their best work. The team is blessed with amazingly talented and interesting people who love their craft and want to perfect it, and it shows in the game. Chambara is made possible by the team pooling their talent together and working in close communication. As a lead, it is critical that I communicate well to teammates and stakeholders to minimize stress and confusion.
Don't forget check out the rest of our Road to the IGF series right here.