Smartphone owners spent $41 billion dollars on mobile games in 2016, according to analytics group SuperData's annual Year in Review.
That's a huge increase on the $24.7 million mobile games pulled in last year, highlighting the upward trajectory of the nearly decade old market.
The free report reveals that, collectively, mobile games engaged 2.6 billion monthly active users (MAU), while the platform's single biggest earner was Monster Strike with revenues of $1.3 billion.
That was followed up by Clash of Clans ($1.2B), Clash Royale, ($1.1B), Game of War: Fire Age ($0.91B), and Mobile Strike ($0.9B).
Another notable release, Pokemon Go, fell just outside those top 5 titles with revenues of $788 million. During its best month (August), Pokemon Go peaked with earnings of $203 million and 290 MAU.
As shown below, SuperData expects mobile game revenue to hit $44.8 billion by the end of 2017, and $54.5 billion by the end of 2019. As it stands, Asia continues to pull in the most mobile revenue by a country mile.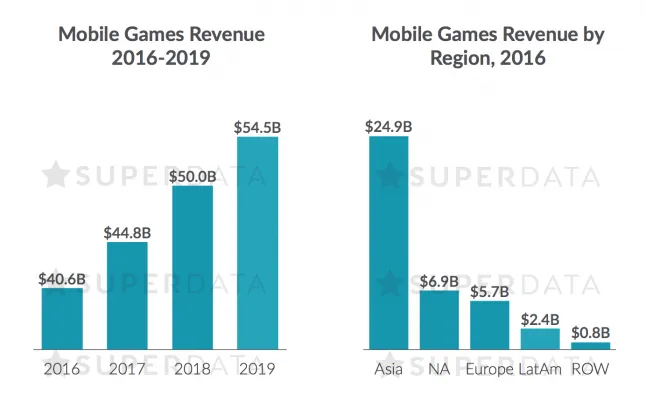 The report also contains some interesting takes on the debut of consumer VR, and suggests the first year for virtual reality was "sobering."
Digging into the data, this year the VR market generated revenues of $2.7 billion. Focusing specifically on headset shipments, Google Cardboard led the way with 88.4 million units shipped.
Making up the top five were the Samsung Gear VR (2.3M units), PlayStation VR (745K units), HTC Vive (420K units), and the Oculus Rift (355K units).
"Now that the numbers are out and the industry realizes its still a long way from mass adoption, investors are looking toward the promise of enterprise applications, with HTC Vive being a lead evangelist for design, educational and medical applications," reads the report.
"The hope for more HoloLens and Magic Leap demos in 2017 has gotten investors excited about what's next on the horizon for virtuality."
As shown below, SuperData expects the virtual reality market alone to be pulling in yearly revenues of $17.8 billion by 2019, and anticipates that the augmented and mixed reality markets will also grow significantly in the next three years.

You can find out more about the current state of the video game industry by downloading the full report.