Spending on the Epic Games Store rose by 20 percent to $840 million in 2021, according to the latest figures from Epic.
Breaking that figure down, Epic noted that third-party spending reached $300 million, representing a 12 percent increase on the $256 million that was spent during 2020.
In terms of engagement, the storefront saw daily active users peaked at 31.1 million, while peak concurrent users reached 13.2 million.
Epic added that December's monthly active user peak totalled 62 million users, representing an increase of 11 percent on last year's peak of 56 million users.
The number of games on the marketplace also rose to 917, which is roughly double the amount on offer to customers in 2020.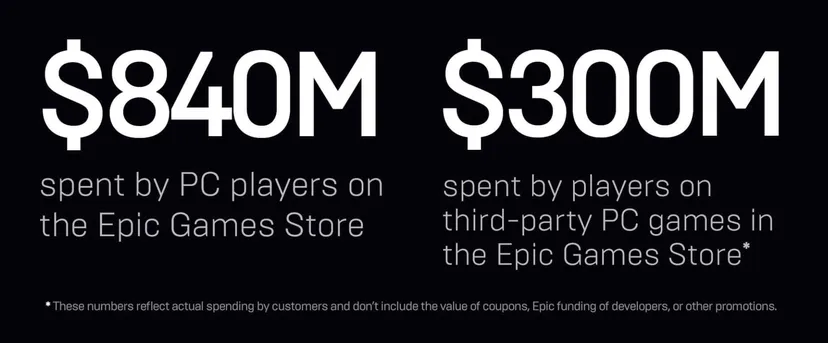 Although keen to talk numbers, Epic also pledged to continue improving the storefront's developer and publisher tools in 2022, outlining plans to upgrade the Developer Portal and use Epic Online Services to implement PC Store Cross Play.
"We welcomed hundreds of new titles to the Epic Games Store in our Closed Alpha and Closed Beta Programs for these new Self Publishing tools. Epic Games Store partners can expect a full release in 2022, which will make the process of launching a game on the store more efficient and seamless," wrote the company.
"Players on Epic Games Store will benefit by having more great games to choose from as we continue to grow the catalog of games available on the store."
If corporate infographics are your thing, check out the full Epic Games Store 2021 Year in Review for even more metrics.