While political ideas have often made their way into the content of games and talks on offer at PAX, it's rare that electoral politics takes center stage. Occasionally, a local politician has wandered the show floor, but this year PAX West made history by hosting its first sitting member of Congress for a proper talk.
Congresswoman Pramila Jayapal (D-WA), the newly elected representative for Washington's 7th District, spoke on Monday afternoon in a dialogue with veteran game developer, and lead curator of PAX Dev, Lone Shark Games' founder Mike Selinker.
The framing of the conversation was "Gamers & Political Consciousness," promising to talk about "current issues that affect games and the internet, and how to engage with political representatives." In a significant way, it met that goal, though perhaps not through the tech-politics-heavy discussion some might've been expecting.
"You know how in the history books there are some decades that get a paragraph and others that get a whole chapter? We're in one of the decades that gets a chapter," ArenaNet's Jessica Price noted in her introduction, which emphasized the gravity of the moment and the importance of getting involved--a theme repeated throughout the larger conversation, which focused on a range of marquee political issues.
"You have this enormous voice as a community, and we need it. We are at a crossroads on so many levels and issues, really the very soul of our country."
The Congresswoman drew loud cheers when she talked about how excited she was to be the first of her office at PAX West, before she launched into an introductory speech that built on Price's remarks about the importance of our political moment and explained why she wanted to talk to gamers specifically, saying that she believed in "creating communities that have innovation, creativity, diversity, and that's what this community [at PAX] is about."
She added she was especially interested in "how we use the incredibly powerful voice that you have as a community… you have this enormous voice as a community, and we need it. We are at a crossroads on so many levels and issues, really the very soul of our country."
Her preamble was an eloquent barn burner that touched on key progressive causes, including reform of the Democratic Party itself.
"I want a proposition agenda," she said, "not just an opposition agenda. Let's also say what we're for." Net neutrality and single payer healthcare drew loud cheers as well from this broadly sympathetic crowd.
***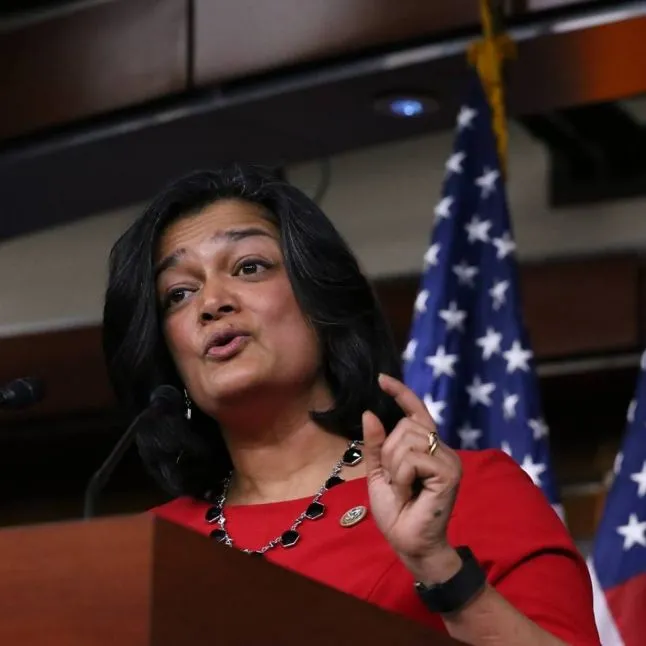 Early discussion was generally focused on broad events; Selinker's first question was about whether Jayapal was in any way surprised about recent events, including the election of Donald Trump.
"I wasn't surprised... I spent the last 20 years of my life fighting for immigrant rights," she said, noting that during her years working for immigrant advocacy groups like OneAmerica, "I got enormous hate mail directed at me, death threats, lynching threats, just because I was standing up and speaking out in defense of civil liberties."
We are, she said, in an age of "presidentially sanctioned white supremacy and hate," adding, "It's not a question of whether or not we're surprised by it, but what we do now." This became a theme of much of the discussion, talking about specific issues to organize around advocate around. She asseverated her faith in the idea that communities around the country were more engaged than ever, in response to a question from Selinker about whether it was possible to get back to where we were before Election Night 2016.
"We're at a low point, but we're also at a high point in terms of the potential for engagement. That's why this community is so important. "
"You have to be an optimist in order to be an organizer. …If anything, this has showed us what's at stake. The thing that gives me the most hope is that the resistance is alive and well. I mean, who would've guessed that the word 'emoluments' would become so popular?" she said to much laughter.
"We're at a low point," Jayapal added, speaking of the terrors of recent months. "But we're at a high point in terms of the potential for engagement. That's why this community is so important."
The scale of recent events--from the repeal of DACA, to the growing North Korean crisis, to the resurgence of Nazism--is so vast that it pulls everything into its orbit, with Jayapal and Selinker's conversation hitting those marquee issues repeatedly. As a consequence, the conversation rarely descended into gamer-specific issues, but the broader purpose of the talk--animating and exciting a PAX audience into taking part in progressive politics--seemed to be served. Given the magnitude of our chapter-worthy age, that felt appropriate.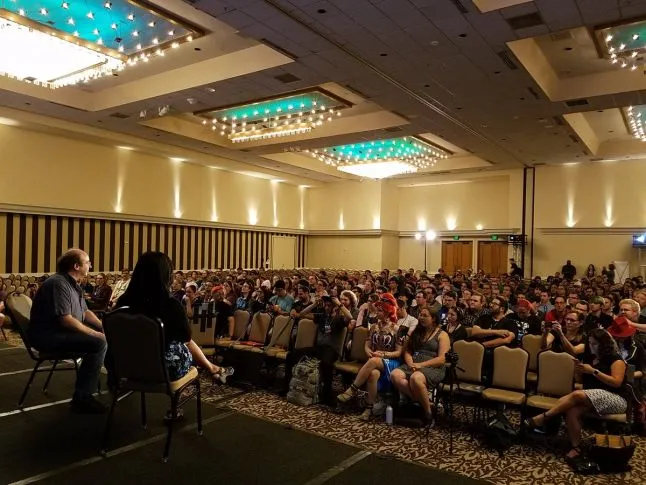 Tech and science were addressed directly, however. "Is net neutrality dead?" Selinker asked pointedly.
"It's not dead! Everything comes and goes in waves," she said, arguing that no progressive change in this country has ever come automatically or by fiat, and adding that everyone in the room with friends in Republican districts could begin the process of organizing letter writing campaigns. In response to a question about possible hacking of voting machines, she emphasized the importance of transparent investigations and using paper ballots as a backup.
"Net Neutrality is not dead! Everything comes and goes in waves."
Jayapal also lent her support to the idea of alternative-voting, where voters rank their choices rather than making a binary choice a la the first past the post system. More than a few in the audience lent vocal support to the notion. And tied it to other innovative democratic reforms like Seattle's Democracy Voucher program that gives every citizen $100 to donate to political campaigns, as a way of using a tide of small donations as a bulwark against the influence of larger, corporate gifts.
"The average donation to my campaign was 23 dollars, so we beat Bernie," Jayapal said, laughing a bit.
"Well you're not the only one to beat Bernie Sanders," Selinker joked, clearly unable to resist.
"Too soon!" yelled a man from an audience consumed in equal measure by laughs and groans.
The discussion began to come to a close as Selinker asked, "Is it necessary to be the world's number one superpower?"
"It's about how you use the power you have," Jayapal replied handily, saying that the U.S. has been giving up its "moral leverage" in recent months, concluding that she wants this country to be "a superpower for human rights, for dignity, for respect."
Applause filled the hall. The discussion went over time, preventing Selinker from asking the PAX audience's questions that had been handed to him on a thick stack of cards. Jessica Price handed them off to Representative Jayapal who then suggested to the audience that she should perhaps do a Reddit AMA soon. There was no small amount of enthusiasm for that.