At PAX Prime we upped the stakes from PAX East. The Boston show was hard enough with a small team managing a large floor space, and nobody having any experience in exhibiting at shows. We managed East pretty well, mostly thanks to an "improv everything" approach and us renting equipment vs buying it.
PAX Prime in Seattle was a different story. We wanted to do something special. Something orange. Our main HQ is in Seattle (which consists of Luke's house), so we decided to fly everyone into Seattle to show their games, buy all the equipment we'd need for coming years, and make everything orange.
tinyBuild is an indie game dev/publishing company, we partner up with other indie devs, and make our own games in-house. We do our business things from Seattle, and development in Amsterdam. I am the happy "commuter" between the two locations.
Day 0. Shopping. Weeks leading up to Prime.
Amazon makes it extremely convenient to buy anything, as long as you're in the US. We bought the following things:
4 large TVs (3 for SpeedRunners, 1 for Lovely Planet)
4 stands for the TVs, including shelves to host the PCs
3 large backwalls for SpeedRunners, Lovely Planet, and BOID
Lots of folding tables and chairs
Lots of monitors
Several micro PCs, alongside with Gigabyte powered BRIX boxes
A ton of orange tiles we'd use for flooring
10 orange bar chairs. So comfy
Speakers, cables, power cords, hundreds of T-Shirts, a bar stand, banners, a cut-out of Unic, etc
2 oversized beanbags. Bean bag chairs hold a special place in our hearts, as they were an incredible success during PAX East. Also they're orange. Branding!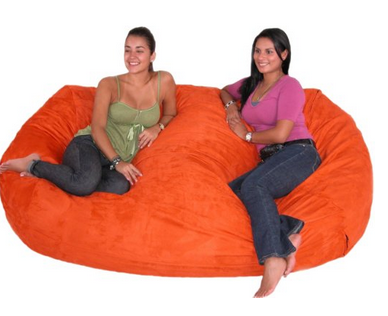 We had a lot of stuff. I flew into Seattle when most of it was delivered.
Day 1. Monday. Landing in Seattle.
I was the first to arrive to Seattle and we spent the first day messing around trying to assemble a TV stand and fighting jetlag. And hangout with Unic, drinking some BOOST.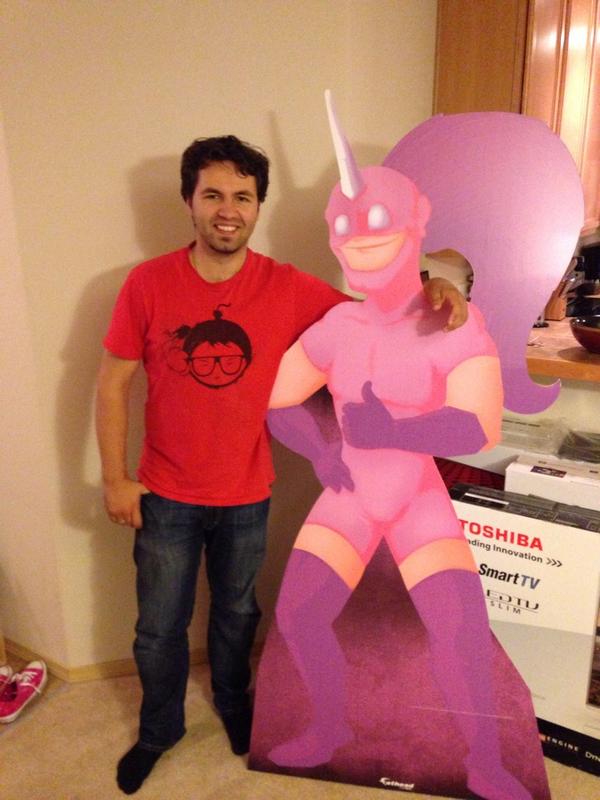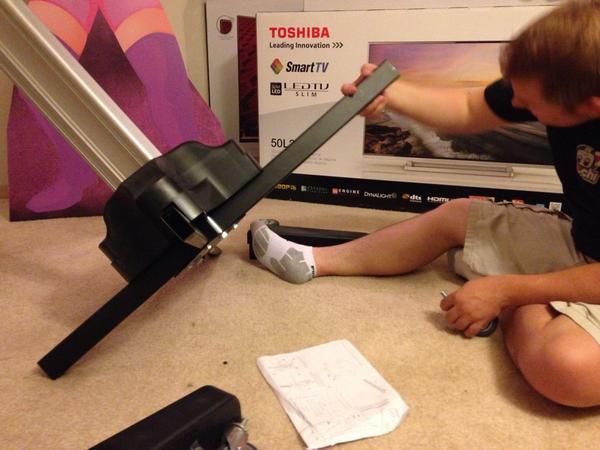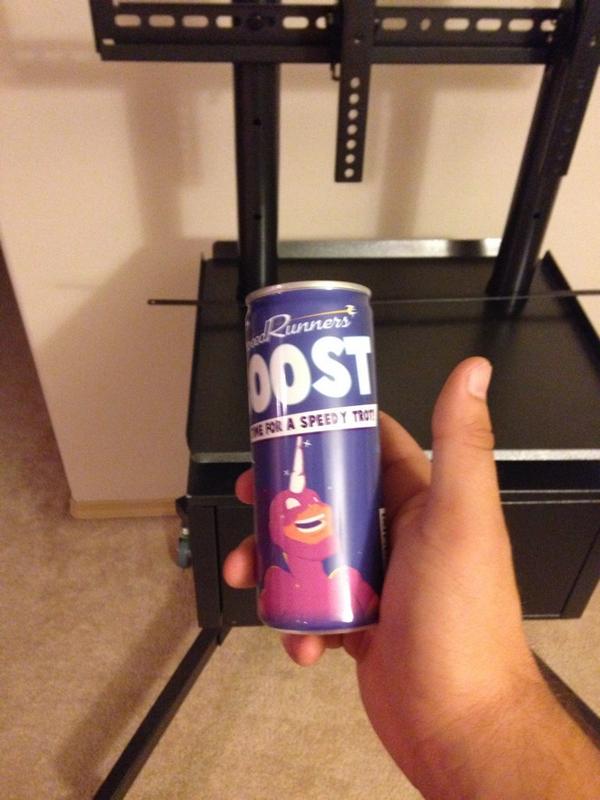 Day 2. Tuesday. Build up day 1.
On Tuesday we rented a truck which seemed insanely huge. Also fun to drive. Makes you feel like a man. We loaded it up to the max and realized it would take at least 3 trips to get everything in. It did take 3 trips.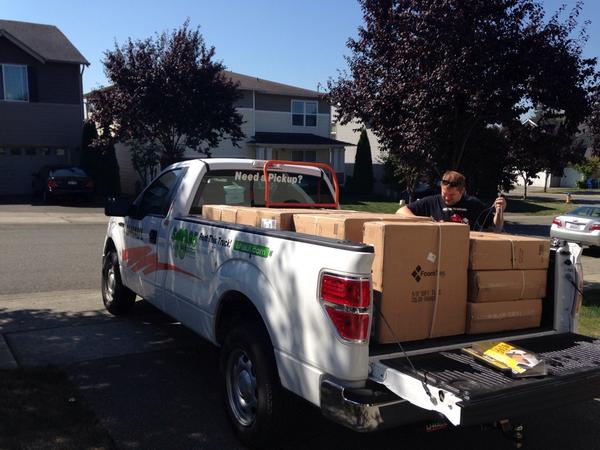 It was interesting to try and figure out how to get things into the Seattle Convention Center. As you can see on the picture, we had our own cart loaded up in the truck which turned out very useful. I was driving the loaded truck, while Luke took the car so we could use it to meet Vidhvat at the airport later. From what I understood, if you want to unload your own truck, you get 30 minutes in the loading dock. The loading dock is a big-ish space with loading docks and a freight elevator. I spent 10 minutes running around talking to people, figuring out what I can and can't do. Turned out you can simply get a cart there, offload your stuff, and take it up to your booth space via the elevator. You can park there for 30 minutes max, and the loading dock itself is next to impossible to find unless you've parked inside of it (no easy foot access from same entry point). So Luke ended up sprinting around the building while I was unloading the first cart. This is when my back popped and it suddenly became an unpleasant experience. As I was getting the cart into the elevator, Luke showed up and we were well on our way to the booth space. The booth space turned out to be in a slightly different location than we expected. The map showed us being next to a main entrance, which wasn't the case -- the exit was an emergency one. We were both super worried about traffic flow, and as always decided to rearrange the booth layout. (de ja vu since the same thing happened at PAX East - full rearrangement of the layout, last-minute) We dropped off the first cart, quickly got a second one upstairs, and went off to the airport to meet Vidhvat (Lovely Planet's developer). Got him, went back to pick up the truck, and drove 2 cars back to the HQ. After some rest and food, we loaded up one more batch and went off to build the booth.
Day 2.5: Alone at PAX At about 11pm
I was the only person on the 6th floor of PAX Prime. Nobody was there! Luke came over and we started to build up the floor. The tiles laid down very nicely, and we felt like it was a great idea -- getting tiles instead of carpet. There was already carpet on the floor, so why not do something special and orange?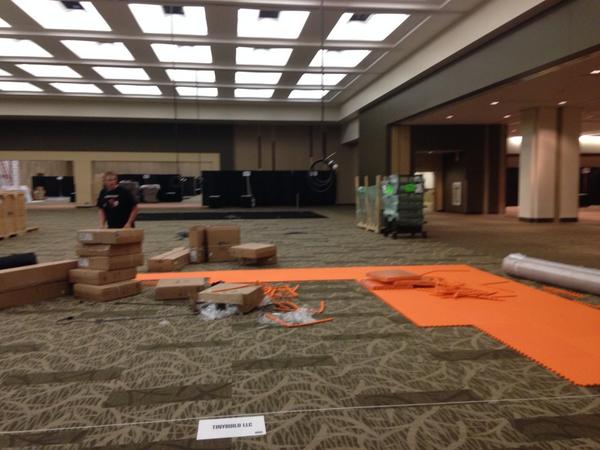 It took us well over an hour to lay down the floor, and it shaped up really well.

My caffeine-redbull face
By the time we were done, my jetlag was escalating. At 1 am we went to the airport again and met Max Hryniv - the developer of BOID, and drove back to the HQ to get some sleep.
Our initial layout was supposed to be centered around a cube in the middle, with 3 backwalls facing each way.
Day 3. Wednesday. Full Build Up Day.
We met the rest of the Dutch SpeedRunners dev crew and Spoiler Alert's Jeff at the airport and went onto packing the final truck, and picking up an insanely big SUV as our secondary transportation for the weekend. The build up went fine, we ditched the cube layout and decided to build a wall-style booth - where everyone can walk in freely from all sides except one. Also the beanbags turned out to be much bigger than advertised.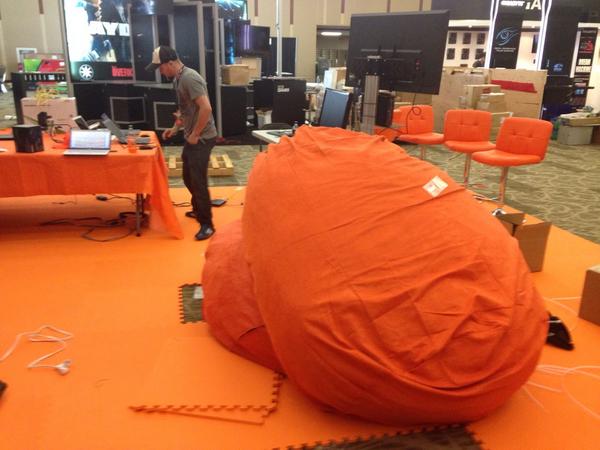 It took us a fair amount of time to set everything up. All the chairs had to be unwrapped, all monitors, TVs, everything -- unpacked, connected to each other, etc.
Day 4. Thursday. Pre-PAX Day. Build up and [email protected] event.
On Thursday we were finishing up the build up and getting ready to go to the Microsoft [email protected] event.
This was a freakout day for me and Max since we initially envisioned BOID to have 6 stations, to run 3 1vs1 matches, via wi-fi. Max setup a local server with a wi-fi connection and it was all supposed to work fine. Turned out that wi-fi didn't work as we'd hoped. It was just dropping connections during matches. It'd get worse with thousands of people around us, each with a wi-fi enabled smartphone. Had to switch to a wired connection.
Urgently rushed to Radioshack, also to pick-up random small things which you always forget. Turned out I picked up the wrong ethernet switch, and the router we bought was also having issues. Gert-Jan from DoubleDutch helped out setting the network properly, while I rushed back to buy proper switches. They didn't have proper switches. Later that night we found out 2 of the 6 machines we're showcasing BOID on don't have Ethernet ports. All-round chaos and panic.
We went to the Microsoft event to showcase Lovely Planet, SpeedRunners, and No Time To Explain. It was fantastic. The floor was packed, the food was great, and the Microsoft campus area is a great place. I snuck out during that event for 30 minute to take a power nap in the SUV. It had seat heating for the lower back, so that's how I healed it. Why does nobody like seat heating? It's awesome. Late night we went out searching for the USB to Ethernet adapters for BOID Laptops -- with no luck.
Decided to call it a night and get it at radioshack next morning.
Day 5. OH MY GOD PAX IS LIVE?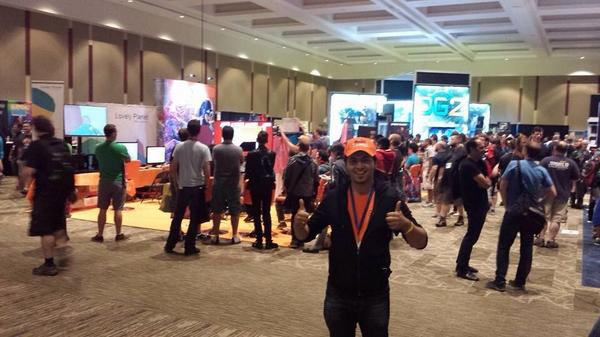 On Friday PAX Prime opened. Quickly our worries about traffic were gone. Insane crowds and an overwhelmingly positive reception. We had the following games showcased at the "I AM BLIND, SO ORANGE" booth:
SpeedRunners - 3 stations with big ass TVs, 4 per person
BOID - 6 stations, enabling 3 1v1 matches on 26" monitors
Fearless Fantasy - 4 Kindle Fire HDXs on a bar stand
Lovely Planet - 3 stations, 2 sitdown keyboard+mouse setups, and one controller setup on a big TV.
Additionally, Spoiler Alert was showcased in the Indie MEGABOOTH, and SpeedRunners had a spot in the Xbox One booth. Here is a picture gallery of the chaos at the booth:
Day 6. Maker/Polaris event.
On Saturday we attended the SpeedRunners Youtube event where 6 popular youtubers competed with each other. We gave away T-Shirts, panicked when the game froze, drank BOOST, and had great fun. Videos from the event will start popping up soon.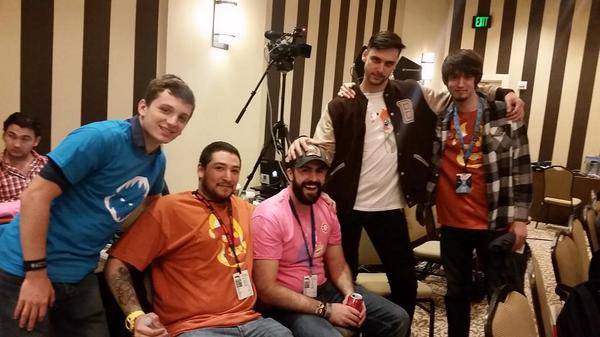 Day 7-8 are a blur.
Between parties every night at PAX, the exhaustion of setting everything up - and running it - the days are a blur. We sold lots of T-Shirts, had hundreds of people complete the tinyQuest, and had a SpeedRunners tournament at our own booth.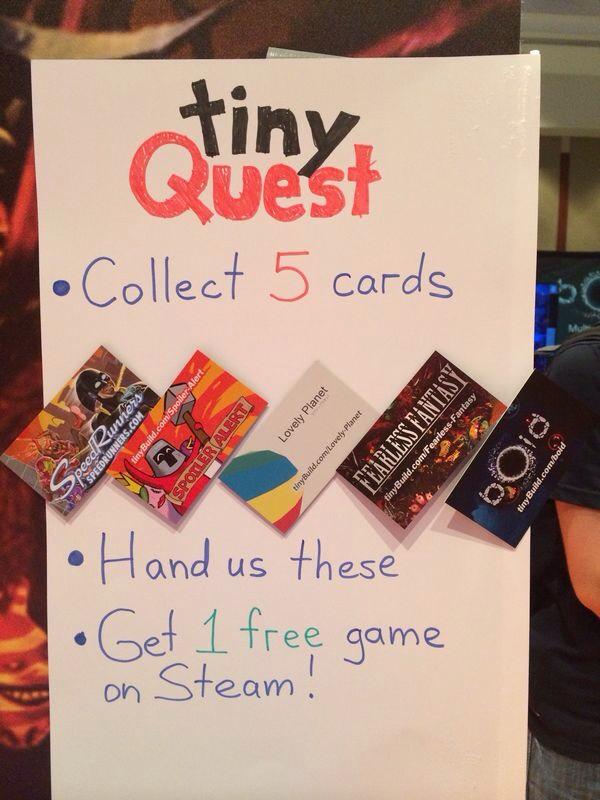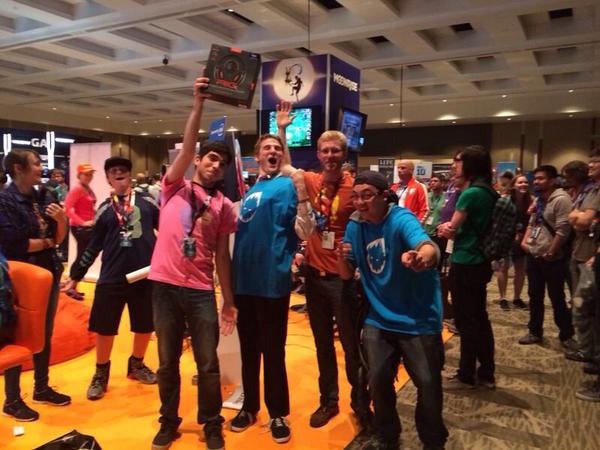 People won T-Shirts and headphones (thanks Plantronics!), and the crowd was very passionate about it.
Day 8 on it's own presented the challenge of getting a U-HAUL (a big moving van) to the convention center. We didn't want to take 3 more trips with a truck, so rented this van. It turns out that parking a huge car isn't that hard in Seattle. We tore down the booth, managed to get everything back in assembled form with about 6 carts total. I got to ride on top of the cart while singing Surfin' Bird. I convinced Luke (same way as The Rocket from the Guardians did with the leg) that we need to take the oversized bean bags back home with us. This is the result
And then we went break dancing. Technically, Max did all the dancing and we stood watching in shock.
Day 9 & 10 we spent packing and unpacking, and I'm writing this on Thursday evening in Europe after 2 days of no sleep and airplanes. Hope you enjoyed the read!
Main takeaways:
- Be sure to have a really good show build. SpeedRunners had a custom made build that runs itself, with bots taking over inactive controller slots.
- If you do a game that requires networking, set it all up a week in advance. Test it thoroughly. Never rely on wi-fi, do everything wired.
- Having a "let's just wing it" mentality helps a lot with complex logistics. You can go crazy with having everything planned out ahead, and schedules shifting constantly. Have a general idea of what your day will look like, and take the opportunities presented to adapt on the way.
Now SpeedRunners is getting ready for TGS, BOID is getting closer to a Steam release, Fearless Fantasy is closing in on a re-release on Steam with a new engine -- along with a mobile game release, Spoiler Alert is super close to mobile release, and Lovely Planet needs some figuring out for console controls.
We will be showcasing some games at EGX London as well. BOID, SpeedRunners, No Time To Explain, Spoiler Alert, and Fearless Fantasy will be there in the Rezzed area. tl;dr we pulled off an impossible booth/show presence at PAX Prime with 10 people and a super orange booth As a side-achievement - we fit 10 people into the SUV. Ten people. And forgot Casper in the trunk of it as the car was about to be valet'd (is that a word?) to the parking lot. I saved him! Now imagine how big that car was. Murica!
You can view this post with the twitter timeline embedded at the tinyBuild blog
That's all I got. Thanks for reading!