Think about it: Your virtual reality startup is bought by Facebook and given the resources to make all your dreams come true. That doesn't just come in the form of money, but also in media reach: With such a huge, well-known company behind you, suddenly you can even get on the cover of Time magazine.
The question, then, becomes: "Should you?"
Based on the reactions of game industry Twitter today, the answer is: Probably not.
That's all because of this cover image -- an awkward shot of Oculus VR founder Palmer Luckey, who can generally look a heck of a lot more respectable.
Luckey appears to be jumping while wearing a Rift headset, superimposed over a still image of a beach. It's hardly inspired, and incredibly awkward.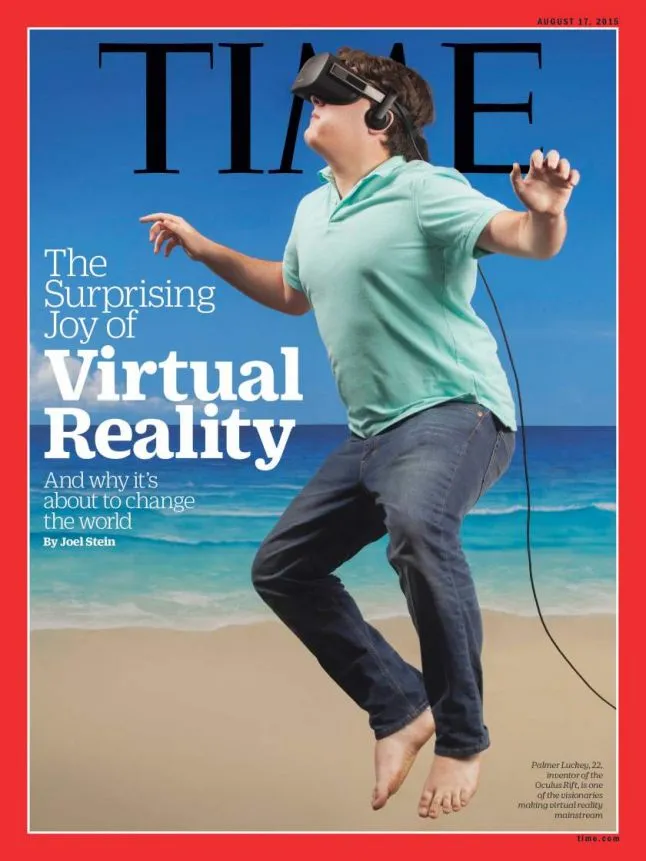 Naturally, Twitter had a field day. (We won't embed every tweet that posed the thought, because they tend to include the cover image.)
Here's Canadian indie Noodlecake Games asking, "Did @TIME just kill VR with this cover photo?" The question was answered by former Joystiq journalist Alexander Sliwinski: "And that's when TIME killed VR with one cover. Everyone go home. It's over. Embarrassment is making my skin crawl." 3D Realms co-founder George Broussard had a similar take: "Everyone back to mobile games. TIME just killed VR."
"Dear @TIME, stop helping," writes Ryan Hewson.
There's a smart observation from startup CEO and former Bejeweled executive producer Giordano Contestabile: "One day tech entrepreneurs will learn that when a magazine asks you to pose for a "quirky" cover photo… IT'S A TRAP." Susan Arendt points out Time's treatment of Luckey in text may actually be worse:
Hey, @TIME, quick question - were you actually trying to sound hopelessly out of touch and/or offensive? pic.twitter.com/MghWccFb6f

— Susan Arendt (@SusanArendt) August 6, 2015
Then, of course, come the (desrved) assassinations of the quality of the cover itself:
"Pretty sure this TIME cover is the best piece of art humans have created this century," writes Capy Games co-founder Nathan Vella. If you're not a fan of irony, Pat Baer offers a theory on the cover's creative process: "'Make it look like he's underwater' 'I'm not good with photoshop' 'Just do whatever.'" So does BioWare Montreal's Manveer Heir:
"How do you want me to act?" "Yeah, so pretend like you are flying and sort of pooping your pants at the same time" https://t.co/wRAR7Qhe4o

— Manveer Heir (@manveerheir) August 6, 2015
Many, of course, got revenge on the cover by using that very same weapon likely employed to create it: Photoshop.
Also this one (from @rpgwhitelock) pic.twitter.com/x2Ggfpi8r7

— Paul Mode7 (@mode7games) August 6, 2015
Am I doing this right? pic.twitter.com/ZmCx969V1e

— Chandana Ekanayake (@Ekanaut) August 6, 2015
August 6, 2015
.@patbaer @kobunheat @TIME All fixed, much better now pic.twitter.com/drI4YelByx

— Addison Webb (@RwebbA) August 6, 2015
That last one brings us to another observation: The history of bad, mainstream images of virtual reality is far from new; in the 1990s, when VR first took off, we were routinely treated to images like these:
Virtual Reality, from virtual to reality pic.twitter.com/QTfySRnMMS

— Paolo Pedercini (@molleindustria) August 6, 2015
@Papapishu pic.twitter.com/GmEqZjWMu3

— Matthew S. Burns (@mrwasteland) August 6, 2015
Or the 1993 Murder, She Wrote episode involving VR game developers (yes, really), which has been, well... updated:
August 6, 2015
And of course, as Bennett Foddy points out, it's easy to make a medium look asinine on the cover of time, if you just select the right image:
August 6, 2015
And if you want an idea what an actual cringe-worthy Time cover on tech looked like during the 1990s, here's a fantastic 1993 example:
August 6, 2015
As a bonus, here's a 1996 PC Gamer cover: Not much better. Maybe we got off easy this time. Thought it's highly possible, of course, the cover was made to be memed. Here you go, if you're so inclined.
If you're a Time subscriber, you can actually read the story online. If you're interested in what Time actually thinks of VR (and you want to see a slightly less bad picture of Luckey) you can read this one for free: 11 Things We Learned By Trying Every Virtual Reality Headset Out There.