[Gamasutra's in-depth analysis of November's NPD U.S. game retail sales numbers looks at year-to-date highs and lows, the Xbox 360's surprising sales reversal against the PS3, Wii's 2009 individual Top 10 domination, and much more.]
Each November all of the parts of the video game industry play important roles. The big publishers push out their biggest releases of the year into a frenzy of holiday buying. Retailers across the country offer discounts and deals to lure holiday shoppers.
The platform manufacturers issue chest-thumping, post-Black Friday press releases touting how quickly their systems were flying off the shelves after Thanksgiving. And consumers, the engine behind it all, spend money on games like they never have before.
In a down year – and that is certainly what 2009 will turn out to be – November is the kind of month that one hopes will bring at least a glimmer of hope that things aren't as bad as the past few months have suggested.
Despite phenomenal sales of Call of Duty: Modern Warfare 2, the biggest videogame release of all time, the industry still didn't generate more money than it did during November of last year. Even with 16.5 million more current-generation consoles on the market, monthly software sales were down 5% from 33.9 to 32.2 million units.
In this month's survey of the latest U.S. retail data from the NPD Group, we'll check in with the latest hardware figures and just how Microsoft's Xbox 360 moved ahead of the PlayStation 3. We'll then examine how Nintendo's software fortunes have declined from 2008 to 2009, leaving an opening for Microsoft to take the lead.
Finally, we'll look at the top 10 software titles going into the final month of the year and take a final measurement of where the industry will finish the year.
The Top-Line Figures
Before we begin looking at larger trends, we get our bearings by looking at the key revenue figures for November 2009.
The hardware segment was hardest hit in November 2009, down 13% from the same month a year earlier. As we have explained previously, lower unit sales and price cuts have driven hardware revenue lower in previous months and the same was in November. Hardware accounts for 35-42% of the revenue in any given month.
The accessories segment – which covers items like controllers and points cards for online purchases – has been relatively robust this year, but actually dropped more relative to last year than did software. However, accessories are a small part of the market and therefore the loss in dollars was not as significant.
Other than a brief increase in year-on-year software revenue in September, the U.S. game console retail software segment has seen double-digit declines in every month since February 2009. By this measure, the 3% decline in software revenue in November compared to the year prior can actually be considered a modest positive sign.

We remind readers that the data above, as with almost all data from the NPD Group, does not cover videogames sold through online distribution services, downloadable content, nor subscription fees.
Such revenue is tracked with varying success by some companies, including the NPD Group, but most data about digital distribution sales is not yet public, and none of it is accounted for here. Some undetermined but potentially significant fraction of the revenue declines in the NPD Group data here is no doubt accounted for by this parallel market.
---
Hardware Fortunes for the Big Three
One of the more interesting twists in this month's figures was the reversal of fortunes for the Xbox 360 and the PlayStation 3. We (and others, like analysts for EEDAR and Wedbush Securities) expected Sony's console to post higher hardware sales than its rival, yet the final tally showed that Microsoft had sold better than 100,000 more systems.
Ultimately the decision to purchase a console probably comes down to what the consumer feels is the best value for his gaming dollar. Sony spent its time in purgatory building value into its console when it was not able to lower the price. Once Sony was able to drop its price, it effectively relaunched the system at $300 using a new Slim design in August of this year.
Given that the $300 model of the Xbox 360 has recently outsold the cheaper one, we felt that consumers would view the similarly priced PS3 Slim as a better value. In both September and October, that concept appeared to play out as the PS3 outsold the Xbox 360.
So the question becomes: What changed in November? Furthermore, one must ask what we can expect in December and beyond.
As with almost everything in November 2009, a key factor was the launch of Call of Duty: Modern Warfare 2. Clearly the Xbox 360 is the preferred platform for this game, and Microsoft has made multiplayer games and Xbox Live a key selling point for its system.
While we are not privy to the number of Xbox 360 systems bundled with the Modern Warfare 2, we can observe that the average price of Microsoft's system appears to have seen a significant increase in its average selling price in November.
That suggests that consumers were buying the Modern Warfare 2 bundles and possibly a higher proportion of the $300 Xbox 360 Elite systems, the ones geared for online gaming out-of-the-box.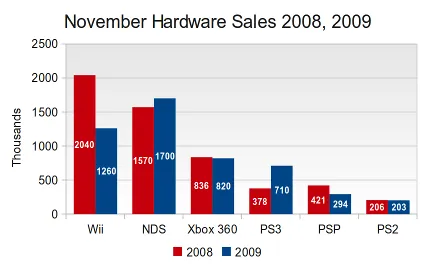 In this context, we believe that it wasn't so much that we overestimated the PlayStation 3 – that system's sales were quite strong, historically – but rather that we underestimated the Xbox 360. As the effect of Modern Warfare 2 diminishes in December, so too may the advantage for the Xbox 360.
Back in September of this year, while reflecting on PlayStation 3 sales in August, we suggested that Sony's current-generation console could reach 2.0 – 2.5 million systems in the final quarter of 2009. Entering December, the console is already halfway to that goal and we now expect the PlayStation 3 will reach the lower end of that estimate.
As for Nintendo's Wii, its year-to-date sales are down 28%. Even with the system's price cut to $200, the demand in November simply wasn't as frantic as it was last year. However, with over 1.2 million systems for the month, there is simply no reason to be bearish about the system's future. Look for Wii sales of around 2 million systems in December, which will again be healthy by anyone's standards.
We remain baffled by Sony's strategy for the PlayStation Portable. With a new model on the market and a strong software push, both at retail and online, one would expect the handheld to have at least some traction with consumers. However sales are down 34% for the year and, as the figure above shows, over 30% in just the month of November.
---
Xbox 360 Software Leads as Nintendo Falters
Amazing Wii growth drove much of the surge in software sales through the end of 2008. Some of the year-on-year decline in 2009 must be attributed to the failure of Nintendo's platform to repeat that performance.
According to Michael Pachter, an industry analyst for Wedbush Securities, Wii software revenue in November 2009 declined 18% from the same time in 2008. The only systems to see more dramatic decreases were Sony's PlayStation 2 and PlayStation Portable (PSP), which were down 69% and 21%, respectively.
While that certainly paints a dire picture for Sony's decade-old system and its star-crossed handheld, we find it especially troubling that the industry-leading console saw its software sales fall so far.
It is possible, although unlikely, that Wii software unit sales remained roughly the same from November 2008 to 2009. Given that software prices have, on average, declined over the past year, we suspect that there was a modest decline in Wii software unit sales, between 10-15%.
Unfortunately for Nintendo, software sales for its Nintendo DS also fell in November. As a result, Nintendo's total share of the software market declined significantly.
According to data released by Microsoft and comments made by analysts, the following picture of the software market in November emerges. As the figure below shows, Nintendo's two key platforms – the Wii and DS – claimed nearly 47% of all software dollars in November 2008.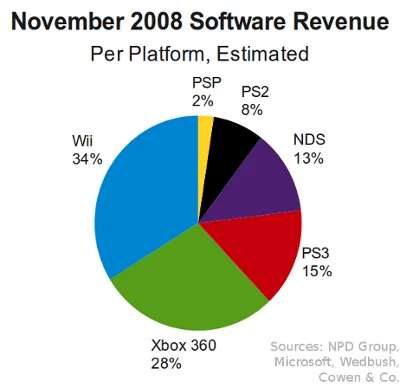 The share we can attribute to the Xbox 360 amounts to 28%. Sony accounts for exactly one quarter of the software revenue with its three platforms: PlayStation 3, PlayStation 2, and PSP.
After 12 months, the picture has shifted dramatically. As the following figure shows, software revenue from the Wii now accounts for under 30% of the market. Combined with the share from DS software, Nintendo now holds only around 40% of the market – a drop of 7 points from the previous year.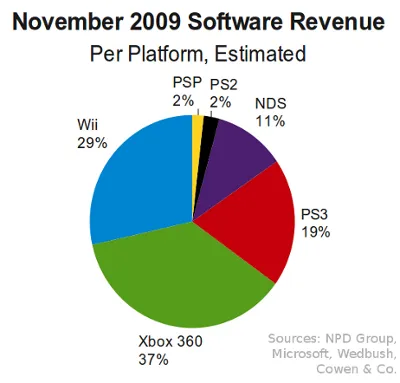 Software performance for the PlayStation 3 has improved throughout the year, and it was one of the two platforms (along with the Xbox 360) to show year-over-year growth in November. Unfortunately for Sony, revenue from PlayStation 2 software has nearly collapsed. We now estimate that Sony's total share of the market contracted slightly to around 23% in November of 2009.
Microsoft's Xbox 360 has stepped into the gap left by its competitors and increased its share of the November software market almost 10 points, from 28% in 2008 to 37% in 2009.
In raw dollar terms, that's an increase of over $100 million. Given that the Xbox 360 version of Call of Duty: Modern Warfare 2 brought in at least $260 milllion by our estimates, all of the growth of Microsoft's software revenue can be attributed to its commitment to making the Xbox 360 the platform most associated with the best-selling game of the year.
---
Year-to-Date, Nintendo Software Dominates
While Nintendo's platform may have lost some of its overall force from 2008 to 2009, the fact remains that several Wii and Nintendo DS titles continue to sell well month after month. This evergreen software may not rank in the top 10 every month, but it does continue to sell at modest levels over an extended period thereby racking up impressive long-term totals.
We previously saw this effect when we examined the year-to-date (YTD) top five titles on each platform at mid-year. At that time LEGO Star Wars: The Complete Saga was the #5 title on the Nintendo Wii in 2009, even though it only appeared near the bottom of the top 20 all-format software chart for the first quarter and then fell from visibility.
Nintendo has claimed the best-selling software title in four months of 2009. Three of those were for its Wii Fit software-and-balance-board package.
In addition, the fourth was for Wii Sports Resort, the update to its seminal pack-in software package. Unsurprisingly, these two titles placed highly in the year-to-date top 10 software list.
We note here that the NPD Group has not released an official YTD top 10 software list. However, Nintendo publicized which of its titles are on the list and we used public data to fill in what we believe are the remaining titles.
(The original version of the following chart was based on comments made to the press by Nintendo. In those comments, Nintendo identified Pokémon Platinum as the #6 best-selling game of the year. In fact it is #7, and we have updated our chart to reflect that.)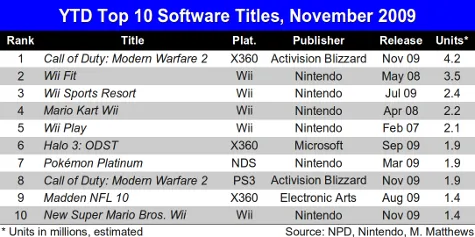 Notice that of Nintendo's six places on the chart, three are for titles released prior to 2009. Along with the aforementioned Wii Fit (released in May 2008), Nintendo's Mario Kart Wii and and Wii Play have repeatedly appeared in the monthly top 20 since their respective April 2008 and February 2007 releases.
All three of those titles appeared in the top 10 software list for last year, and appear to be good candidates for the list in 2009 as well. We also note that the Pokémon title for the Nintendo DS is a rerelease of a pair of titles originally released in 2007.
Of course the list is topped by Activision Blizzard's Call of Duty: Modern Warfare 2 for the Xbox 360. Not only will it top the software list for 2009, but it will likely hold its record of 4.2 million units on a single platform for the foreseeable future.
The release is made more impressive when one also considers the 1.87 million units on the PlayStation 3, thousands of copies bundled with Xbox 360 hardware, nearly 170,000 units at retail for Windows PC, and an untold number sold through Valve's Steam distribution service.
The other title which leapt onto the list in a single month was Nintendo's New Super Mario Bros. Wii, with 1.4 million units. Rounding out the list are two additional Xbox 360 titles: Halo 3: ODST from Microsoft and Madden NFL 10 from Electronic Arts.
One can sense the trends that occupy much of the industry by observing this list. There are many recognizable brands here: Call of Duty, Mario, Pokémon, Halo, and Madden. There are also at least three games which have been on the market for well over a year, and a couple which fall well outside what has been traditionally considered the hardcore gamer demographic.
We believe these offer a sign of what publishers will face in the coming year. Every publisher wishes it could generate the kind of evergreen titles that Nintendo has created for its Wii. Every publisher would also like to claim at least one big hit game – if not like Modern Warfare 2 at least some approximation of it – that grabs the headlines and drives a huge boost to revenues.
And as companies like EA pull back on original games and invest in more reliable genres and brands, the industry will face the eternal question of how and when it will create original experiences for consumers.
The first quarter of 2010 will offer the first indication of how those different strategies will pay off. Will New Super Mario Bros. Wii turn out to be another evergreen title whose effect will be felt again on next year's top 10 list? Will any of the blockbusters pushed out to 1Q 2010 generate enough sales to make the cut at the end of the year?
Finally keep in mind that the top 10 is not the entire industry. These 10 games account for a mere 12.5% of all software units sold at retail in the U.S. this year. There are many million sellers just below the given ranking, and several games that will be profitable for publishers.
---
The Final Month
As 2009 comes to a close, all eyes are on the end-of-year totals. The official figures are still a month away, but we can take an educated guess at where we think they'll end up.
Hardware over the past three months have been down over 13% from the same period in 2008. In addition to the price cuts already in place, we think it likely that retailer-driven discounts could keep hardware revenue lower through the end of the year.
Software prices have crept up modestly since August, showing some gains over the end of 2008, regardless much of the bounce afforded software sales by the big hits of this past November may not carry over through December.
Furthermore, the appearance of two discount value software bundles in the most recent top 20 software list (one for the Wii and one for the Nintendo DS) suggests that consumers are seeking out inexpensive software. Keep in mind that the average price of software dropped from nearly $43 in November 2008 to just under $40 in December 2008.
We expect software revenue to drop approximately 10% from high level achieved in December 2008, for a total of about right around $2.5 billion. We expect that could represent a nearly 10% drop in monthly software unit sales.
The final total, we expect will be in the range of $18.9 - $19.1 billion. Were that projection to hold, the industry would have experienced an 11% contraction from its high in 2008. As a matter of transparency, we note that as recently as last month we expected full-year revenues of $19.5 billion.
For comparison, revenue in the $19 billion range would still represent more than a 5% increase over annual revenue from two years ago, in 2007.
We are not the only ones pessimistic about December and the full year figures. Michael Pachter of Wedbush Securities highlights software bundling (particularly with the Xbox 360) as a drain on catalog (i.e. not new release) software sales. Furthermore, he points out that the music game software which was such a strength in 2008 has shown significant erosion in 2009.
Doug Creutz of Cowen & Company also suggests that the software market is in for a rough patch in December. Hypothesizing that Modern Warfare 2 sales will "decline meaningfully" in December, he expects software revenues to decline "in the mid-teens range" year-over-year.
The chart below shows actual revenue for every month from January 2005 through November 2009 as well as our prediction for industry revenue in December 2009. When the final, official figures are released in January we can revisit our estimates and discuss what the latest data may mean for coming year.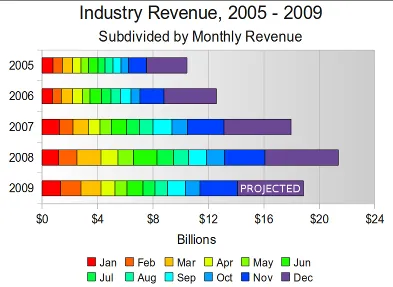 [As always, many thanks to the NPD Group for its monthly release of the video game industry data, with a special thanks to David Riley for his assistance and Anita Frazier for her analysis. Additional credit is due to Michael Pachter, analyst for Wedbush Morgan Securities, for his perspective and information. We also thank Doug Creutz of Cowen & Company for his comments and perspective. Finally, many thanks to colleagues at Gamasutra and commenters on NeoGAF for many helpful discussions.]