Prior to the release of the NPD Group's March 2009 sales data on Thursday, which tracks U.S. retail console video game sales, most analysts and observers expected that the industry would eke out another month of growth.
With the results in, and industry sales down nearly 17% overall, the discussion has shifted to look for explanations for the drop.
Below we cover some essential features of the retail landscape in March 2009. Read on for details about first-night sales of the Nintendo DSi, price drops for PlayStation hardware, Capcom's strong software sales, and the fate of third-party software on the Wii.
Hardware Generally Down
Other platforms have seen sales growth while Sony's PlayStation hardware line has suffered a few months of year-on-year declines.
Yet in March 2009 Sony's systems were joined by the Nintendo Wii and DS in weaker sales. Only the Xbox 360 saw a year-on-year increase from the rate in March 2008.Here's the last year's weekly sales rates: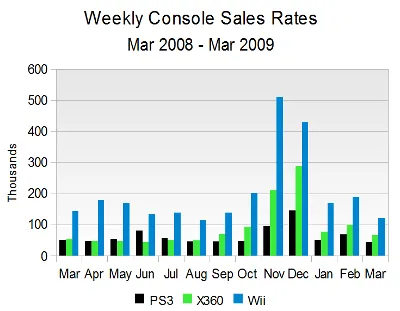 The Wii dropped to 120,000 systems per week in March 2009, down from 144,000 per week a year before and from 188,000 in February 2009. That's the weakest showing for the Wii since August 2008.
Despite year-on-year growth (from 52,000 units per week to 66,000 units per week), the Xbox 360 did see a month-on-month decline from almost 98,000 per week in February 2009. Like the Wii, the last time the Xbox 360 had a weekly sales rate this low was in August 2008.
The PlayStation 3 hit 43,600 systems per week in March 2009. The last month that the PlayStation 3 sold so poorly was October 2007, when it hit 30,250 systems per week, right before the introduction of the 40Gb PlayStation 3 at $400. This is the fifth straight month of year-on-year declines for the PlayStation 3.
As we have suggested since the last quarter of 2008, Sony is enduring an extremely painful period, one in which it feels immense pressure both to cut the price of the PlayStation 3 and simultaneously to remain profitable.
One suspects that Sony wishes to wait until its E3 presentation in six weeks to announce a price cut. In that case, Sony will deny any price cuts are forthcoming until the very last moment and, consequently, suffer yet again for at least two more down reports for April and May.
The PlayStation 2 finally got a cut to $100 during the last week of the March 2009 reporting period, and so the NPD group recorded four days of sales at that new price. Sales of the system were down to 22,400 systems per week for the month – the very lowest sales rate for the system since its launch in October 2000.
We stand by our conclusions last month: the cut achieves little. (Incidentally, this is also the view voiced by SCEA's Jack Tretton in July 2008 and last week by GameStop CEO Dan DeMatteo.)
---
Enter the Nintendo DSi
The Nintendo DSi officially launched in the U.S. on the day after the last day of the March 2009 reporting period. However, units sold at midnight sales were included with the March figures reported by the NPD Group. According to Mr. Michael Pachter, analyst for Wedbush Morgan Securities, the Nintendo DS figures for March 2009 included 58,000 units of the Nintendo DSi from those midnight sales.
According to Nintendo, the updated handheld went on to sell 435,000 systems during its first week on sale.
If one excludes the Nintendo DSi from the sales figures, the original Nintendo DS system only sold 101,000 units per week during March 2009.
That would be the weakest showing for the Nintendo DS since January 2008, when the system suffered widespread shortages after extraordinary December 2007 sales.
According to the NPD Group sales of the Nintendo DSi and the Nintendo DS (i.e. the Nintendo DS Lite) will be reported together.
First Quarter Gains, Losses
Despite the slip in March, first quarter hardware sales were up significantly for all but the PlayStation line of systems.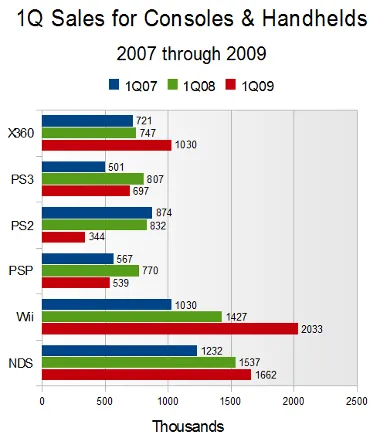 The Wii was up 42% from the first quarter of 2008, while the Nintendo DS (including the 58,000 Nintendo DSi sales) was up a more modest 8%.
After a nearly flat performance from 1Q 2007 to 1Q 2008, the Xbox 360 gained almost 38% year-on-year in the first quarter of 2009.
In fact, 1Q 2009 was the first non-holiday quarter during which the Xbox 360 broke the million system barrier. (It had previously come within 25,000 systems during 3Q 2007, during the launch of Halo 3.)
Sony's systems have started 2009 with far lower sales than it saw in 2008. The PlayStation Portable (PSP) saw a decline of 30% from its sales in 1Q 2008 while the PlayStation 3 dropped almost 14%. The ailing PlayStation 2 dropped a staggering 59% in 1Q 2009, year-on-year.
---
Top 20 Software for March 2009
On Friday the NPD Group released the top 20 software titles for March 2009 period.
The list provided by NPD includes both handheld and console software. However, in its comments to the press, Microsoft claimed four titles in the top 10 console games, and as context later provided Gamasutra with the sales figure listed below for the Xbox 360 version of Activision Blizzard's Guitar Hero: Metallica (at #11 on the overall chart, but #10 on the console-only one).
Moreover, all 20 titles on this list sold more than 100,000 units, according to notes from Wedbush Morgan's Mr. Pachter.
These refining data points help us get a grasp on range of sales figures for the titles shown below. Note that NPD combines collector's editions, guitar bundles, and other multiple-SKU games into one listing.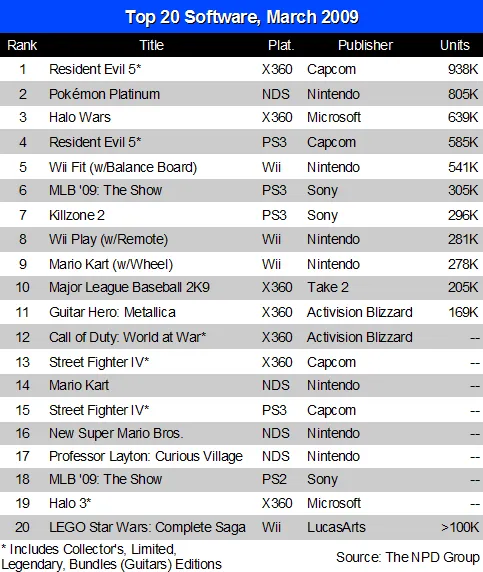 There are quite a few interesting points to make about this list of software:
Capcom has had extremely good sales for two months running. Resident Evil 5 for the Xbox 360 knocked Wii Fit from the #1 spot it had enjoyed for the first two months of 2009. The PlayStation 3 version of Resident Evil 5 was not far behind at #4. Last month's #2 and #3 games, Street Fighter IV for the Xbox 360 and PS3 (respectively), hung on for another month at #13 and #15 (again, respectively).

Pokémon Platinum took #2 for the month with 805,000 units sold. It is an enhanced remake of Pokémon Diamond and Pearl which launched in April 2007 with combined sales of 1.76 million units.

Halo Wars sold exceptionally well, giving Microsoft reason to believe the franchise may have a long life outside the original trilogy.

Recent promotion by Nintendo may have pushed up sales of Professor Layton and the Curious Village for the Nintendo DS, even though the game launched over a year earlier. It will be interesting to see if similar publicity of Rhythm Heaven will push that April release onto the charts.

The biggest first-party PlayStation 3 release, Killzone 2, still managed to hit #5 during its first full month of release. It also appeared in the top 10 for February 2009, but only on the basis of two days of sales. Its launch-to-date (LTD) total stands at 620,000 units.

While the Guitar Hero series appears to be doing fairly well (but down relative to 2008), Rock Band is nowhere to be seen. In fact, the last Rock Band appearance on the top 20 list was in December 2008 when the Wii version of Rock Band (not the sequel, Rock Band 2), hit #13

The two publishers – Activision Blizzard with Guitar Hero and MTV/EA with Rock Band – have taken starkly different approaches to the market.

MTV and EA appear dedicated to a single big Rock Band release each year, with smaller track packs available at retail but not heavily promoted. Activision Blizzard, on the other hand, is pushing several Guitar Hero products per year, each with significant promotion. Both franchises are dedicated to regular updates through the online stores, making them key pioneers in serial downloadable content to extend profit margins.
In other data released by the NPD Group, MLB '09: The Show for the PSP took #8 on the top handheld software list for the month. That is the first PSP game to break into the top 10 handheld games chart in at least half a year.
---
"This business requires a certain amount of finesse"
Industry watchers know that first-month sales don't always determine a game's final sell-through. Both Madden NFL 08 and Wii Music serve as examples of this phenomenon on that platform.
The Wii version of Madden NFL 08 started 220,000 units behind the PlayStation 3 version during the launch month, but ended 2007 behind by only 160,000. More recently Wii Music sold 65,000 units during its October 2008 launch, but leapt to 4.5 times that number during November.
Some Nintendo DS software follows a similar pattern. Denise Kaigler, Nintendo of America's vice president of corporate affairs, revealed to Kotaku on Friday that Call of Duty 4 for the Nintendo DS launched in November 2007 with only 36,000 units by had now reached LTD sales of 500,000.
Regardless it is natural to be concerned when several high-profile Wii games fail to crack into that platform's monthly top 10 lists.
Looking over the past two months, Capcom's Dead Rising: Chop Till You Drop wasn't a top 10 game on the Wii in February 2009, while Sega's House of the Dead: Overkill and MadWorld fell short in February and sneaked in at #9 in March, respectively.
(House of the Dead: Overkill did 45,000 in February. According to figures given to Gamasutra, March sales for MadWorld totalled 66,000. Even the updated Mario tennis game, ported from the GameCube to work with the Wii motion controls, moved more units.)
On the Nintendo DS we can now add Grand Theft Auto: Chinatown Wars to the list of big names that stumbled out the gate. Compared to analyst expectations and online buzz, the paltry 89,000 units sold in March was shocking.
While Mario Kart for the Wii continues to sell a couple hundred thousand month after month, new third-party Wii games – even well-known and heavily promoted ones – can't manage to break 75,000.
On the Nintendo DS we've seen several recent months of 100,000 units of Mario Kart DS, originally launched in November 2005, yet the biggest third-party game for the system doesn't break 90,000.
Of course, what unifies the third-party games mentioned here is the M (for Mature) rating assigned to them by the Entertainment Software Rating Board (ESRB). While Call of Duty 4 was also rated Mature on other platforms, the Nintendo DS version cited by Nintendo for its enduring sales was rated T (for Teen).
And the games that populate the Nintendo DS and Wii top 10 lists month after month are typically rated E (for Everyone) for E10+ (for Everyone 10 and older).
While M-rated software can make a tremendous amount of money (the Halo trilogy, for example) the writing is on the wall right now for publishers and developers: there is a limited audience for these games on the Wii.
Publishers are likely to concentrate on genres and franchises that guarantee solid sales, and those will more than likely be E-rated. Electronic Arts appears to quietly be doing precisely this, as it managed to hit #8 on the Wii top 10 in February 2009 with its own spin of the Mario Kart genre, NASCAR Kart Racing.
---
Software Units and Dollars
Software sales in March 2009 dropped relative to both the prior year and the previous month. Data from the NPD Group shows that year-to-date software dollar sales were up by 9.5% as of the end of February.
Moreover, comments made by Mr. Pachter of Wedbush Morgan revealed that unit sales were up year-on-year in both January and February of 2009.
Despite these gains, year-to-date software revenue was down 1.7% year-on-year by the end of March 2009 on a nearly 1% drop in year-to-date software unit sales.
The larger drop in revenue indicates that average sale prices of software were down in 2009, possibly on lower sales of big ticket items like Guitar Hero and Rock Band bundles.
As noted in her comments with the data release to the media, NPD analyst Anita Frazier suggested that the Easter holiday may have had some impact on sales. Whereas Easter fell in March during 2008, it was held during April in 2009 and thus any holiday-related shopping bump will be shown when April's data is published.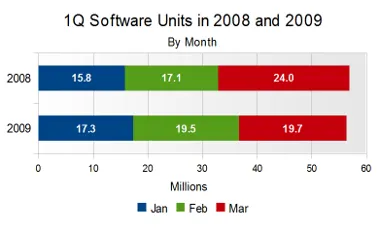 We are not completely convinced of this explanation. The release of Super Smash Bros. Brawl during March 2008 seems a more salient data point. That game alone accounted for 2.7 million software unit sales and $120 million dollars during March of last year.
For two platforms we have additional software sales data: the Xbox 360 and the Nintendo Wii.
Microsoft had $220 million in third-party software sales last year during March 2008. In March 2009, its third-party software sales were only $185 million, a drop of 16%.
This is in line with the drop in all software collectively. Combined with what one presumes are stronger first-party software sales for the month (on the back of Halo Wars and Halo 3, both in the top 20) it seems natural to conclude that Microsoft's software sales overall were up year-on-year.
Moreover, Wedbush Morgan's Mr. Pachter commented that, taking the difference of Wii Fit and Super Smash Bros. Brawl sales into account, it appears that Wii software sales were flat year-on-year. This is particularly striking because, as he notes, the system's installed base has more than doubled in the last 12 months.
[As always, many thanks to the NPD Group for its monthly release of the videogame industry data. Additional credit is due to Mr. Michael Pachter, analyst for Wedbush Morgan Securities, for his industry analysis. Moreover, thanks to my colleagues at Gamasutra and on NeoGAF for many helpful discussions.]