One cannot simply sugarcoat the results of the past year and a half in the U.S. retail videogame industry. During that period, the market has shown year-over-year growth in only four months, according to the latest figures for July 2010 reported by the NPD Group, a retail industry tracking firm.
To put it in raw number form, the industry generated around $25.8 billion in revenue. In the 18 months prior to that, the figure was $33.7 billion. There is no spin for a 23% drop in revenue.
Regrettably, the downturn is not yet over. Even as we pore over the July figures, analysts like Wedbush's Michael Pachter and Cowen and Company's Dough Creutz are already expecting software to show a significant decline in August.
Below we'll discuss the industry figures in detail, with a special focus on hardware where there are many points to discuss. The Xbox 360 S model appears to be doing exceptionally well for Microsoft, and each of the other main platforms has its own interesting details we'd like to call out. In closing we'll discuss software for a bit and attempt to provide some perspective on sales of Blizzard's Starcraft II: Wings of Liberty and EA's NCAA Football 2011.
Industry At a Glance
For the second month in a row hardware sales were up significantly while software declines dragged the industry into an overall drop in revenue. In particular hardware unit sales were up 5.4%, from 1.35 million to 1.42 million systems. At the same time hardware revenue rose an even steeper 11.6%, signaling an increase in the average price of the systems sold.
Except for average software prices, it's hard to find any measure by which software isn't in the red. Consider that revenue declined by 7.7% year-over-year while unit sales fell 8.2% from last July.
The only solace one might take from these figures is that software prices are up slightly; the average price for software stands at $38.81 so far in 2010, a 2.4% increase over the comparable figure of $37.88 from July 2009. We attribute this rise to the strength of Xbox 360 and PlayStation 3 software in 2010 relative to Wii software.
Even the reliably buoyant accessories category recorded a decline in revenue for July. Regardless, it is the only segment which still can claim year-to-date growth over 2009.

These figures refer only to retail sales estimates provided by the NPD Group and therefore do not include other sources of revenue from subscriptions, downloadable console games (e.g. through Xbox Live or the PlayStation Network), or in-game content purchased through online services.
This other content and service may be purchased directly through debit or credit card transactions or through services like PayPal. Accurate data on these services is generally available to a limited number of parties, and therefore a comprehensive measurement of overall industry revenue remains elusive.
---
Xbox 360 S Model Takes The Lead
After Sony introduced the new Slim model for the PlayStation 3 in August 2009 the momentum in the industry shifted subtly. Having finally broken the $300 barrier, the platform seemed poised to close the gap between itself and its nearest competitor, Microsoft's Xbox 360. Exclusive titles like Uncharted 2: Among Thieves and God of War III came and went and the gap did not close appreciably. Sony confessed to shortages from February to June of 2010.
If we believe Sony's mea culpa, then its failure to execute resulted in a momentum shift that was not so much from one side to the other, from Microsoft to Sony, but rather to a delicate balance between the two.
And with its launch of the Xbox 360 S Model, Microsoft has again gained the initiative. In just two months the Xbox 360 has increased its lead over the PS3 by over 350,000 units. The entry-level Arcade unit was upgraded this month (August) to include 4GB of storage and 802.11 wireless functionality while maintaining its $200 price. And the launch of Halo: Reach should help push additional units in September.
While we remain dubious about the prospects for Kinect, we give some weight to the whispers among retailers of strong pre-orders. An industry which once collectively gasped and clutched its pearls when the Wii and its motion-sensing remote were revealed ought to be thoughtfully wary of predicting what consumers will demand.
The figure below shows the history of the installed base gap between the Xbox 360 and PlayStation 3, annotated with salient events.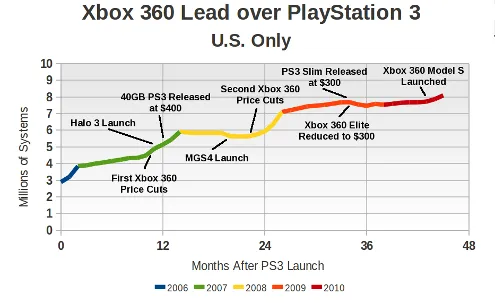 With a second month of strong Xbox 360 sales, we should take some time to examine how this renewed vigor will affect sales of the system through 2011. We can look to the introduction of the PS3 Slim, with its restyled hardware and price, as a model. The figures are startling: from August 2009 through July 2010 Sony sold 4.90 million systems, up from 2.95 million in the prior 12 months, an increase of 66%.
(Note that the Xbox 360 S model and PS3 Slim comparison isn't perfect, but it is similar enough to justify the exercise. Sony piled features into its hardware earlier and later lowered the price and revamped the system stylings. Microsoft hit the lower prices earlier and subsequently worked to improve the feature set and restyle the hardware.)
In the 12 months prior to the introduction of the Xbox 360 S model, Microsoft had sold around 4.86 million systems in the U.S. That's a relatively strong rate historically, since the previous record for Xbox 360 sales in a 12-month period was 5.04 million between October 2008 and September 2009.
The Xbox 360 S has already bested that record after only two months, pushing the system's sales for the past 12 months to 5.32 million. (The Wii sold 5.04 million in its first year on the market and peaked at 10.8 million in the April 2008 through March 2009 period.)
A mere 33% growth rate over the next year would suggest Microsoft could move 6.5 million Xbox 360 systems between June 2010 and May 2011. Given the momentum the system currently has, its improved feature set, software library, and impending launch of a Halo game, that rate is conservative. It seems likely that by the end of this calendar year the American Xbox 360 installed base will have exceeded the lifetime worldwide sales of the original Xbox.
While Microsoft has the guaranteed hit of Halo: Reach later this year, its software sales saw a meaningful bump in July. According to a Microsoft press release, software sales for the platform reached $125 million. Wedbush analyst Michael Pachter noted that this was a 16% year-over-year increase, and we would further add that Microsoft's one platform claimed 40% of all console software dollars for the month. (Sony's PS3 took 29% share while the Wii captured 30%.)
---
All in the Family
While the Xbox 360 is the current star of the hardware scene, we would do well to keep a focus on how the other systems are performing. Year-to-date, only the Xbox 360 and PlayStation 3 have demonstrated both hardware and software sales increases. Below we break down the figures for each system and then make a rather unique comparison to hardware sales from February of this year.
Nintendo Wii – System sales for Nintendo's flagship console are down 17% year-to-date, although sales for just July were practically flat year-over-year. The average price of the system has declined from just under $220 in September 2009 to just over $200 in February 2010 and has finally settled in just under $200 as of July.
Even more alarming for Nintendo, however, is that software sales for the system have declined more than 20% so far this year compared to the same seven month period in 2009. As we saw last month, almost all of the decline has come from third-party Wii software.
To address this point more directly, we note that Michael Pachter of Wedbush Securities highlighted comments made by Electronic Arts during its latest earnings call with investors. The publisher lauded its gains in the overall market, attributing this strength to its larger relation position in the "high definition console" market. Pachter added that he expects "to hear similar statements from virtually all third party publishers in the coming months, as the weakness in Wii software is likely to spook all but the most fearless."
Certainly Nintendo's own release schedule in the back half of 2010 will help bolster its console's software position overall, but that won't necessarily address the woes of third-party publishers. In fact, big first-party titles will likely drain dollars that Wii owners would otherwise spend on third-party software.
The figure below shows the decline in the Wii's YTD hardware sales in 2010.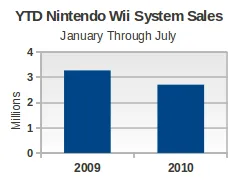 Nintendo DS – This platform now consists of three systems: the Nintendo DS Lite, the Nintendo DSi, and the Nintendo DSi XL. According to pricing data provided exclusively to Gamasutra, the system's price has risen yet again.
Six months ago the system had an average price of just over $150, indicating that the Lite and original DSi model were selling approximately the same units each month. The average price now stands at over $165, more than $15 more than the launch price of the original Nintendo DS back in November 2004.
We believe that this dramatic rise in the average price can be attributed directly to the introduction of the $190 DSi XL and a sharp decline in the popularity of the Lite model.
(The figure below shows the decline in the system's YTD hardware sales.)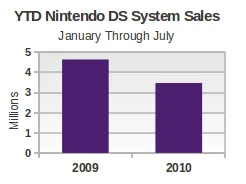 While the system's unit sales are off by more than 25% year-to-date, its software dollar sales have shown a rather modest 6% decline so far in 2010, which compares favorably with the 8% drop across the entire industry.
PlayStation 3 – Sony's lead console is just finishing up a full 12-month of year-over-year increases, and its year-to-date sales are up 45%, the best showing of any system. In September 2009, the average price of the system was right at $300, the price of the PS3 Slim 120GB system then available. (The figure below shows the growth of the system's YTD sales.)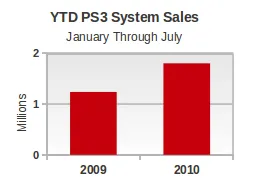 As the $350 model (with a 250GB hard drive) came along, the average price rose to just over $315 in February of this year. In July, however, that average price had fallen to right around $308.
These figures suggest to us that Sony may have reached its full growth potential with its current hardware and pricing. If it falls into year-over-year declines as its runs headfirst into comparisons with last year's PS3 Slim launch, it will need to renew its pitch to consumers to accelerate hardware sales. If this last year is the best that Sony's console can do, then it will never even reach the rate the Wii achieved in its first year.
As for software, Sony's year-to-date software dollar sales are up around 40% compared to sales for the first seven months of 2009. This is roughly in line with the increase in hardware sales, but significantly behind the 61% increase in the installed base since July 2009.
PlayStation Portable – Sony continues to put a good face on the PSP's situation, relying mostly on exclusive software/hardware bundles to drive sales. Even so, it cannot hide the 35% decline in system sales so far this year, nor the corresponding 33% drop in software revenue. (The figure below shows the decline in YTD hardware sales.)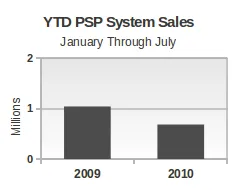 What to say of this disaster? Nothing, truly, except that until Sony itself presents a coherent plan for its system we think it will continue to lose not only consumer interest at an alarming rate, but more fatally, developer and publisher confidence – if it hasn't already lost that confidence already.
Unless fortunes change dramatically in a very short time, key titles like Square-Enix's Kingdom Hearts: Birth by Sleep (due the first week in September) and Sony's own God of War: Ghost of Sparta (November) will create headlines like those seen last month when IGN revealed that Konami's Metal Gear Solid: Peace Walker had sold only 52,000 units during its launch month.
---
How's That Model Selling?
Having examined each of the key platforms in some detail, we wish to view the hardware market one last way, by estimating where sales of each model of each system fell during July, and comparing to the market six months ago when we were able to perform a similar analysis.
Using average hardware sales prices for July 2010 provided by the NPD Group, some modest linear modeling, and our own instincts about the market based on experience, we have arrived at the estimates provided below. We hasten to stress that these estimates are ours alone, and the actual figures shown in the full NPD Group report may differ.
We have made a few assumptions about the hardware models on the market, and the prices at which they were being sold. In particular, we assumed that the Xbox 360 market consisted of three models (legacy Arcade and Elite models, at $150 and $250, respectively, along with the 250GB Xbox 360 S model at $300). Moreover, the PSP Go has seen enough discounts at retailers like Amazon, Dell, and Wal-mart in recent months to make us break the PSP category up into three prices rather than models. (As of this writing, the PSP Go is available for $200 from Amazon and Wal-mart.)
Caveats aside, our figure below reveals that the leading hardware model for the month of July 2010 was actually the Xbox 360 S model, followed closely by the Nintendo Wii.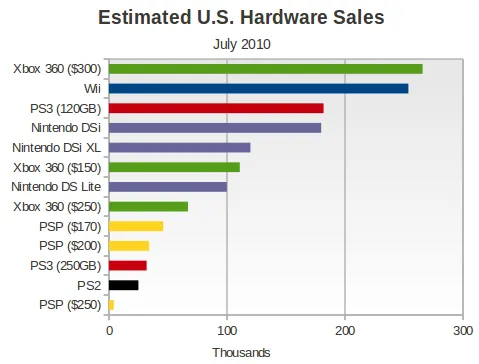 Some notable features of the estimates above:
We now believe that the Nintendo DSi and DSi XL are each outselling the older Nintendo DS Lite.

Whereas 60% of last month's Xbox 360 hardware sales were legacy models, we believe that 60% of this month's systems were the new model. This leads us to believe that Xbox 360 sales will again easily break 300,000 during August, besting every August in the system's lifetime.

If the revamped Arcade Xbox 360 S model proves popular at $200, we wouldn't be surprised by sales nearing 400,000 units in both August and September.
For the sake of comparison, let us revisit the comparable graph from our February 2010 commentary. That figure is shown below.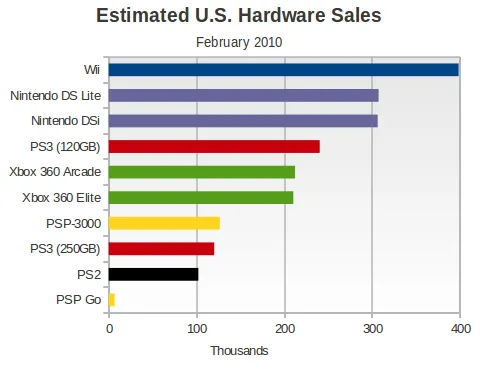 It is instructive to compare the scale on the horizontal axes in these graphs. Nearly every system has seen declines from half a year ago, and in some cases the declines are nearly unbelieveable. Note for example how PS2 sales have fallen by nearly 75% and sales of the PS3 250GB system by nearly 66% (again, by our estimates).
The Nintendo DSi is the lone exception. If we combine DSi and DSi XL (they are software-equivalent), then sales have not only stayed constant since February 2010 but also since July 2009. In all three months it appears that DSi-platform sales reached about 300,000 units.
(The observant reader will ask whether these months all had the same number of weeks for the purposes of NPD Group reporting periods. Yes, February and July are both 4-week months in this regard.)
---
Software: Starcraft and NCAA Football
While the console and handheld industry recorded a down month in July, the effect that Activision Blizzard's Starcraft II: Wings of Liberty had on the PC software market was so profound that it pushed the larger game market to a year-over-year increase.
With sales of 721,000 units and revenue of $47 million, according to Wedbush analyst Michael Pachter, Starcraft II drove PC software revenue up by 103% compared to July 2009. Pachter also suggested that an additional 300,000 units of the game were downloaded directly from the publisher.
Even with a launch this large, the overall PC market is still down year-to-date. According to notes provided by Doug Creutz of Cowen and Company, the PC game market has declined by nearly 13% in 2010 compared to 2009.
What is not clear from the data reported by the NPD Group, however, is how the PC game market is changing when revenue from downloaded games is also taken into account. According to a report published by the NPD Group in July 2010, nearly as many PC games were purchased online and downloaded in 2009 as were purchased in retail stores.
If true, and if the prices of those downloaded titles were sufficiently high, it could be that PC gaming has in fact grown in the past year, not contracted.
Outside of Starcraft II, the leading title for the month was NCAA Football 11, published by Electronic Arts. This year the long-running college football franchise was available on only three platforms: Microsoft's Xbox 360 and Sony's PlayStation 3 and PlayStation 2.
(While the PSP has gotten three previous iterations (numbered 2007, 2009, and 2010), that platform did not receive a version this year. Likewise, the Wii version was dropped last year after a poor performance of the 2009 version the year before, and no version was made for the Wii this year either.)
According to Anita Frazier, analyst for the NPD Group, 692,000 copies of NCAA Football 11 sold across the three versions available. The Xbox 360 version was the top-seller with 368,000 units while the PS3 version managed a more modest 298,000 units. The remaining 25,000 units were on the PlayStation 2.
The figure below shows the first-month sales estimates for these three platforms over the last four years of NCAA Football releases.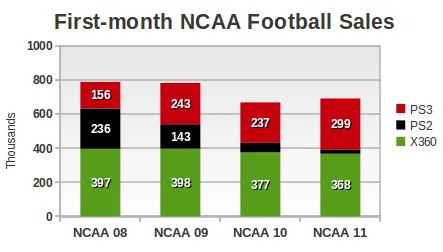 The key takeaway from these results is that the PlayStation 3 appears to offer a growing platform for NCAA Football sales while sales on the Xbox 360 have generally declined over the past two years. The modest growth of the franchise this year was provided entirely by the PS3 version, which more than made up for the 50% decline in sales of the PS2 version.
As analyst Doug Creutz of Cowen and Company astutely observed, the franchise actually generated somewhat more revenue this year than it did in 2009. Specifically, sales of the cheaper PS2 and PSP versions from a year ago were replaced by sales of the more expensive PS3 version.
[As always, many thanks to the NPD Group for its monthly release of the video game industry data, with a special thanks to David Riley for his assistance and Anita Frazier for her helpful analysis. Additional credit is due to Michael Pachter, analyst for Wedbush Securities, for his perspective and instrucive conversations. We also wish to thank Doug Creutz of Cowen and Company for his insights. Finally, many thanks to colleagues at Gamasutra and particularly regular commenters on NeoGAF for many helpful discussions.]