In 2008 the NPD Group would release each monthly measurement of retail video game sales in the U.S. and most subsequent discussion would center on the extraordinary growth rate and the billion dollar monthly take. The latest figures for July and 2009 overall show a very different industry, and conversations focus on how far the revenues may yet fall, and whether the total sales for the year will be flat compared to 2008.



The silver linings this month are very company-specific. For Microsoft, the year-to-date Xbox 360 hardware sales are still up over sales in 2008. Electronic Arts is in the midst of a very strong summer season, led by its sports franchises. Nintendo's evergreen titles continue to do well on the Nintendo DS and Wii. And we shouldn't forget that the Nintendo DSi has achieved an installed base of 2 million units in just over four months.
For each bright spot, however, there are some dark signs elsewhere. We'll look at the drop in third-party software sales for the Xbox 360 as well as the contraction in EA's NCAA Football franchise. And along with other pricing discussions, we'll examine whether the Nintendo DSi may well be in line for a price cut sometime this year as its sales have reached parity with the Nintendo DS Lite.
Industry At a Glance
According to the NPD Group, total retail sales of video games, video game hardware, and accessories totaled nearly $850 million in July 2009, a drop of 29% from the same month in 2008. The hardest-hit sector was hardware, down 37% to $281 million. In terms of dollars, software makes up a larger portion of video game product sales at retail, and it fell to $437 million during the month, a decrease of $155 million from last year's sales.

Year-to-date, the U.S. video game industry's retail sales are down 14% compared to the same point last year. However, a growing installed hardware base helps drive software and accessory sales, and therein lies some of the worst news: year-to-date hardware sales are down an even greater 16% year-on-year. Slowing hardware sales now could have a dampening effect on software and accessories later this year.
To get a feel for just how much slower the market is this year compared to last, we can look at the annual revenue totals segmented by month.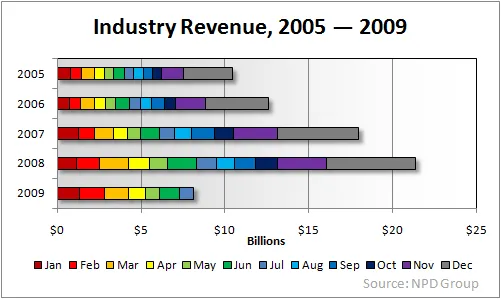 As the graph above clearly shows, the total revenue from the first seven months of 2009 is approximately equal to the revenue from the first six months of 2008. Falling behind incrementally has finally put 2009 an entire month behind by this measure.
Looking two years back, we're at the same point now at the end of July 2009 (in terms of overall revenue) as the industry was at the end of August 2007.
While retail sales are still the largest share of video game industry revenues, online sales and distribution – as well as subscription services – are an increasing segment of the available market, one not covered by the retail data provided by the NPD Group.
Regrettably, sales figures for games and content distributed through channels like Microsoft's Xbox Live Arcade, Nintendo's Wii Store and WiiWare, and Sony's PlayStation Store are still mostly kept private, although we expect more transparency in this market as publishers and distributors begin to tout concrete sales data to investors and the press.
For example, Electronic Arts' DICE-developed Battlefield 1943 sold 600,000 copies in its first two weeks on Microsoft's Xbox Live Arcade and Sony's PlayStation Network. If even half of those sales were in the United States, and such sales were ranked alongside retail sales by the NPD Group, at least one or both versions of the game would have made the top 10 list in July 2009.
Industry revenues would look better if we could include sales of games on Microsoft's, Sony's, and Nintendo's online storefronts, but those figures are not comparable to the figures reported by the NPD Group. Retail figures include retailer markups and clearance discounts, concepts that don't have obvious analogues in the online market.
---
Time to Cut the DSi Price?
After only four months, the Nintendo DSi has reached an installed base of 2 million units in the U.S. faster than any system for which we have data.
The PlayStation 2 reached 2 million units in March 2001, five months after its October 2000 launch. Microsoft's original Xbox didn't reach the 2 million mark until its sixth month while its successor, the Xbox 360, took seven months, mostly due to supply issues in early 2006.
Nintendo's Game Boy Advance and GameCube each took four and a half and eight months, respectively, to achieve an installed base of two million units. The original Nintendo DS took nine months, while its successor, the Nintendo DS Lite, took between four and five.
The Nintendo Wii comes close, with essentially four and a half months required to reach an installed base of 2 million systems.
With that said, the Nintendo DSi also faces a very strong competitor which has slowly claimed market share over the past three months: the Nintendo DS Lite.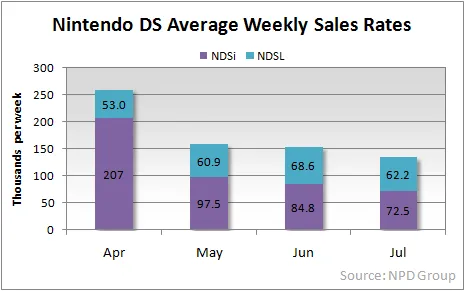 Consider the figure above, which shows average weekly unit sales for the Nintendo DSi and Nintendo DSLite from April through July 2009. While the Nintendo DSi started in April with over 200,000 systems per week in April, its rate has dropped considerably down to 72,500 systems per week in July.
Over the same period the Nintendo DS Lite has risen from 53,000 per week to over 68,000 per week in June and then down to 62,000 per week in July.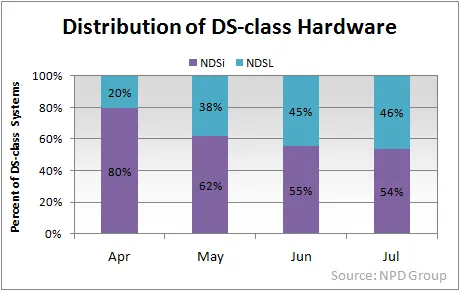 Think of it this way: in April there were four Nintendo DSi systems sold for each Nintendo DS Lite. That ratio dropped to roughly 2-to-1 in May, and then approximately1-to-1 in June and July.
This trend suggests to us that Nintendo could consider a shuffle of its handheld line sometime later this year. One option is to drop the Nintendo DS Lite entirely and reduce the Nintendo DSi price to $140 or $150. Another would be to keep both systems on the market but reduce their respective prices.
From Nintendo's perspective, we prefer the former plan. We believe the Nintendo DSi provides more barriers to consumer copyright infringement (commonly but imprecisely termed "piracy") and that it is in Nintendo's interest to spur uptake of the newer system even at the expense of some of its hardware margin.
We note that Mr. Michael Pachter, analyst for Wedbush Morgan Securities, came to similar conclusions in his notes on Friday after the release of the NPD Group data. He suggests that Nintendo will cut the DS Lite to $100 and the Nintendo DSi to $150 or lower before the Holiday 2009 season. We concur, but would consider the price cut of the DS Lite to be of the fire sale variety as the focus shifts entirely to the Nintendo DSi.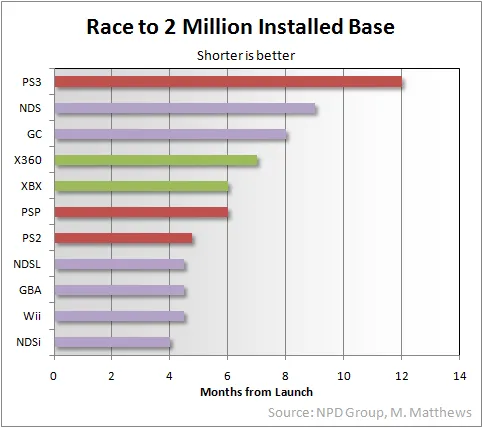 Mr. Pachter goes on to suggest that Sony may reduce the price of its PSP-3000 model to $130 (although the timing is unclear), and that the PSP Go will see a price drop sometime in 2010.
Nintendo and Sony's handheld price drops would be independent of each other in the near term. A Nintendo DSi at $150 or lower should hold its own against a PSP-3000 priced as low as $130 and certainly against a PSP Go at $250.
Of course, Sony has made it clear– through pricing and its download-only software model – that it is focusing on the early-adopters to prime the PSP Go market. So Nintendo's pricing strategy on the low end may not affect the PSP Go in the early months, but it does set a price target that Sony will have to watch as it offers less expensive PSP Go systems in 2010.
---
NCAA Football Sales in Context
July is the traditional launch month for EA Sports' college football franchise, NCAA Football, and the Xbox 360, PlayStation 3, and PlayStation 2 versions of the 2010 edition ranked well enough to make the top 20. Only the PSP version didn't rank in the top 20 for July, although we estimate it was the top PSP game for the month.
Unlike last year's NCAA Football 09, the new version of NCAA Football was not produced for the Nintendo Wii. Given that the Wii version launched with only 43,000 units in July 2008, the choice to cut it from this year's schedule was understandable.
In comments accompanying the release of the NPD Group data on Thursday last, analyst Anita Frazier commented that NCAA Football sales across all platforms totaled 689,000 units, down 20% from last year's version of the same game. However, those figures include the Wii version in last year's data, so we felt it might be illuminating to look at the data slightly differently.
Considering just the three core versions – Xbox 360, PlayStation 3, and PlayStation 2 –unit sales of NCAA Football 10 were down around 15% from the previous year's version. (In these figures we've had to estimate the PlayStation 2 version's sales based on the available data and some inference.)
Given that software dollar sales overall for the month of July were down 26% while unit sales were down 18%, it would be fair to say that NCAA Football 10 sales held up somewhat better than average.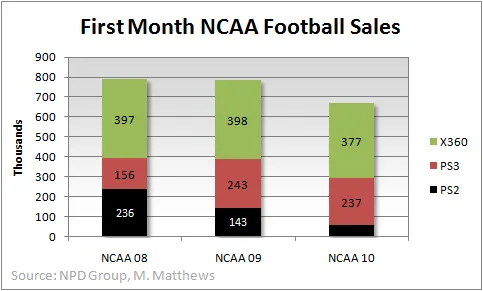 Sales of the PlayStation 3 version eroded only 2.5% while the Xbox 360 version dropped 5%. Most of the sales loss appears to be in the PlayStation 2 version.
More broadly, we note that Electronic Arts is in the midst of a strong run of hot software. The streak began in April with the Xbox 360 and PlayStation 3 versions of The Godfather II in April, which ranked #5 and #10 (respectively) in that month.
Then the sports titles began to hit. EA Sports Active for the Wii landed in May and has ranked #2, #3, and #10 on the charts each month through July. In June, EA Sports launched both Tiger Woods PGA Tour 10 and Fight Night Round 4, each for multiple platforms, several versions appearing in the top 20 software lists for June and July.
According to Mr. Pachter of Wedbush Morgan, EA's revenues in April were up 2% over the year before, and then up again 10% year-over-year in May. However, its June and July revenues were down 15% and 27%, respectively, relative to the same months in 2008.
With NCAA Football 10 doing relatively well, given the market, we will return in a month to consider the August sales of Madden NFL 10.
---
The Bright Spots
After the release of the NPD Group data on Thursday, Microsoft was quick to point out that its Xbox 360 suffered least in the monthly unit sales comparison to last July and that it is the only console whose YTD sales have grown over last year.
Moreover, Microsoft highlighted that $101 million in third-party software for the Xbox 360 was sold through retail in July, more than the third-party total for any other system. In this tough market, Microsoft's Xbox 360 was – to use their term – the industry's "sole bright spot" in 2009.
While it is true that Microsoft's Xbox 360 has shown year-to-date growth over 2008, it must be noted that during the first seven months of 2008 the system was priced significantly higher than it has been during the same time in 2009.
The average price of the Xbox 360 has, we believe, dropped to between $260 and $265. Until September of last year there was no model of the Xbox 360 available for under $280. Prior to July 2008, the average price for an Xbox 360 had been over $375, and for the month of August 2008, the average price was around $335.
So the average sale price (ASP) of the Xbox 360 has dropped at least 20% compared to its sales last year, and its sales during the same period are up 18% year-on-year. As a result of the drop in ASP, Microsoft probably has a net decline in its hardware revenue in 2008 despite increased unit sales.
Also, the $101 million in third-party software that Microsoft noted is actually a 17% decline over last July's third-party software sales of $121 million. That's still not as severe as the whole industry's 26% decline in monthly software sales, but it does show that even Microsoft's historically strong games sales have softened significantly.
Moreover, Microsoft does not have first-party software revenue that can compete with Nintendo's first-party revenue.
Just from the titles in the top 20 all-platform software chart for July, Nintendo's first-party Wii software took in an estimated $55 million. Given that third-party software sales on the Wii have been robust in previous months, the Wii was most certainly the top-selling software platform in July, even if it wasn't the top platform in third-party sales.
This isn't to say that Microsoft doesn't have ample reason to tout the Xbox 360's success, but each stakeholder has its own bright spots as well as low points it would rather not point out.
Hardware on the Brink
Looking back at mid-2008, the fortunes in the hardware market have shifted dramatically. The Nintendo Wii was still barely meeting consumer demand and the PlayStation 3 was coming out of a strong six-month sales run, capped with the June 2008 release of Konami's Metal Gear Solid 4.
However the Xbox 360 was clearly in need of another price cut, which it did finally get coming out of the summer season. After that, its sales increased significantly, and it has ridden a wave of robust sales since that point.
Today all eyes are focused on a price cut for the Nintendo Wii and the PlayStation 3, while the Xbox 360 is seen as having a strong year so far.
If we focus on the last four months – April through August – there is an interesting dynamic at work in the hardware market.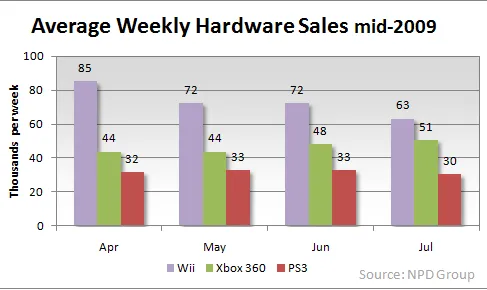 First, the Nintendo Wii has seen diminishing average weekly sales rates, down 26% since April. While it is true that summer is not necessarily a period during which sales should grow, the comparably priced Xbox 360 has actually seen its weekly sales rates increase 16% over the same period.
---
Software could be the essential factor behind these shifts. While Nintendo continues to do well with its older first-party software, it has been several months since the Wii received a significant first-party title. Combined with Wii Sports Resort, we expect New Super Mario Bros. Wii to help sweeten the Wii's appeal through the end of the year. The success of third-party titles like EA Sports Active and Tiger Woods PGA Tour 10s should also help round out the library.
By comparison, Microsoft has always focused on leading players to its platform with first-rate third-party software. Combined with the availability of the $200 Xbox 360 Arcade unit, Microsoft has made the case to the consumer that its system is well worth the cost.
And if consumers have become even more cost-conscious as a result of the ongoing recession, the consumers willing to spend $300 on a game system may feel they get more value from a $200 system and two inexpensive games than they would from a Wii and a single game (other than the pack-in, Wii Sports).
Should recent reports of the Xbox 360 Elite replacing the Xbox 360 Pro at the $300 price turn out to be true, that should continue to improve the value projected by Microsoft's platform.
If the Wii were to receive a price cut -- we consider it somewhat unlikely -- then the edge may be taken off any increase in Xbox 360 sales.
As for Sony, the PlayStation 3 has seen relatively stable unit sales rates since April. It is possible that 30,000 units a week is the base level that the system can move at its current price. Historically, we note that this is precisely the same level of sales that the PlayStation 3 experienced right before the introduction of the $400 40GB model back in November 2007.
Combined with the persistent rumors of a new, slimmer model of the PlayStation 3 hardware and Sony's stated sales goals for the current fiscal year, timing is right for a price cut. An announcement is widely expected this coming week at GamesCom 2009 in Cologne, Germany. As we have said before, we believe that market share and mindshare considerations may now outweigh the need for putting its game division into the black, and consequently we favor a $100 price drop.
Looking Forward to August and Beyond
Conventional wisdom holds that August 2009 will mark a turning point in this year's sales. On the strength of Madden NFL 10, Call of Duty: Modern Warfare 2, Guitar Hero 5, The Beatles: Rock Band, and possible hardware price cuts, the negative trends are expected to turn neutral and head positive.
We remain cautious. If Sony does not cut deeply enough, then sales of its PlayStation 3 may remain lackluster despite the increasingly rich software portfolio that the company has developed. It remains to be seen whether consumers are ready for a $250 disc-less handheld gaming system, but the PSP Go will make a run for it in October.
Should Nintendo decline to cut the Wii's price until 2010, then its sales through the holiday will still see a significant bump but may be flat or down compared to last year. Last year's Wii sales were so strong that even a modest drop would represent a significant volume of hardware and software.
Coupled with Wii Sports Resort and New Super Mario Bros. Wii, the Wii should continue to top the console hardware and software charts. We also think that Call of Duty: Modern Warfare for the Wii (a port of the Xbox 360 and PlayStation 3 game from 2007) has the potential to do extremely well, considering that the Wii version of Call of Duty: World at War was a strong seller.
Microsoft's Xbox 360 seems positioned very well. Its software library is very mature (and will add another Halo title in a couple of months) and its online capabilities are extremely robust. It also happens to be the only console with a model retailing for $199.99 and one suspects that Microsoft has some flexibility to drop the price further should the need arise.
[As always, many thanks to the NPD Group for its monthly release of the video game industry data, with a special thanks to David Riley for his assistance. Additional credit is due to Mr. Michael Pachter, analyst for Wedbush Morgan Securities, for his perspective and information. Finally, many thanks to colleagues at Gamasutra and commenters on NeoGAF for many helpful discussions.]