From 2005 to 2008, the U.S. retail videogame industry has seen annual revenue grow. During that period the market for consoles and handhelds doubled in size from $10.5 billion to $21.4 billion, and memories of the modest contractions of 2003 and 2004 have faded.
With the announcement of final U.S. figures for 2009, the NPD Group reported that retail videogame sales for the year were down 7.9% from 2008 to $19.66 billion. That a decline was all but inevitable was clear even before the beginning of the fourth quarter – the only question was how far down the total market would fall.
The events of 2009 will provide much fertile discussion in the coming years, but for now we should make a first read of the figures we have.
For example, one of the big platform holders, Sony, lost $1.3 billion of revenue in the American retail videogame market during the year, despite increased software and hardware sales for its flagship PlayStation 3. We'll attempt to say where the money went, and what to expect for Sony's fortunes in 2010.
Before we're done we'll also look at software unit sales for the final quarter of the year, and reveal an important shift in lifetime software sales for the three big consoles.
Industry At A Glance
When compared with 2008, only four months in 2009 showed year-over-year growth: January, February, September, and December. Even in December, which showed a nearly 4% increase in revenue from the previous year, not every segment saw growth.
Whereas hardware and accessories both saw revenue increases, the biggest single segment of the industry – software – saw its monthly revenues decline by over $190 million. According to Doug Creutz of Cowen & Co., within the larger software category both console and handheld software lost revenue, $173 million and $19 million, respectively.

Given the very strong hardware market in December 2009, it is not difficult to understand the bounce in the accessories segment. While the Nintendo Wii was selling a record 3.8 million systems in a single month, "7 of the top 10 accessories items in December were for the Wii", according to Anita Frazier, analyst for the NPD Group.
While hardware still ended the year down – losing over 8% from its high point in 2008 – the accessory market was essentially flat, down less than 1%.
With software revenue contracting in 9 out of 12 months during 2009, it ended down nearly 10% for the year.
Analysts like Michael Pachter of Wedbush Securities point to a very strong slate of software releases in the first quarter of 2010, and suggest that we should see a turnaround in software revenue.
Pachter notes that January may well be another down month, but that fortunes should reverse in February and March. We share this optimism, but are also concerned that consumers may have concentrated their video game purchases during holidays and that could well affect revenues through the end of the first quarter.
---
Sony Loses a Billion
In press releases last week, both Microsoft and Sony touted total platform revenues for 2009 -- including first-party hardware and software sales and third-party games, plus accessories -- based on figures provided by the NPD Group.
We have combined those figures with analogous figures obtained in 2007 and 2008 to obtain a better picture of how fortunes of these platform stakeholders have shifted over time.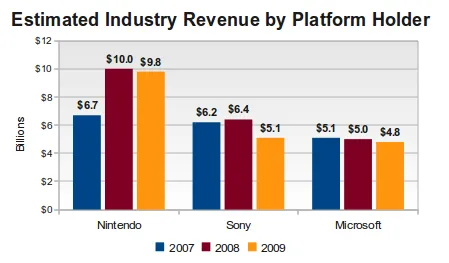 As the figure above shows, the total revenue for each stakeholder's platforms dropped. For Microsoft, whose only platform is the Xbox 360, this is the second decline in a row.
We will show later that Microsoft sold more hardware and software on its platform in 2009 than it did in 2008, so we expect that Xbox 360 hardware price cuts drove most of that drop in revenue. Similarly, the Wii price cut no doubt explains most of the fall in Nintendo's revenue, which also includes DS hardware, software, and accessory numbers.
The truly alarming figure here is the $1.3 billion drop in Sony's revenues from its line of PlayStation systems.
According to comments made by Wedbush's Pachter, we estimate that PlayStation 2 software revenues dropped by around $700 million in 2009, compared to 2008. That decline alone would explain more than half of Sony's loss. The PlayStation 2 hardware also received a price cut in 2009, which could have contributed another $150 million in lost revenue.
Another $225 million or more have come from the annual loss of 1.3 million PSP system sales. According to Creutz of Cowen & Company, the handheld software segment shed $200 million in annual revenue from 2008 to 2009, and we estimate at least half of that loss can be attributed to declining PSP software sales.
Without more precise figures, we cannot illuminate the situation further. However, the general outline is clear: The PlayStation 3 platform -- albeit the subject of a recent price cut -- is still growing (more on this later), but the contraction in Sony's legacy and handheld segments has overwhelmed those gains.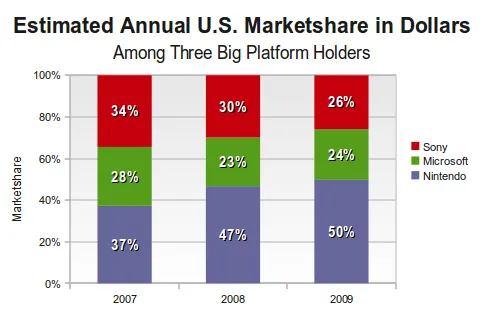 Sony cannot revive the PlayStation 2, and that system's revenue contribution is on a terminal trajectory. (To use Pachter's terms, the PlayStation 2 will "cease being relevant in 2010.") We furthermore remain skeptical that Sony can reverse the fortunes of the PSP, at least at retail.
By mid-2010 we should know more about whether Sony will continue to back the PSP platform, and in particular the premium PSP Go model. We would not be surprised to hear of a successor to the PSP in 2010, especially if it provides backward compatibility to first-generation PSP software and network integration comparable to modern mobile devices.
---
Console Hardware Fortunes
Sony essentially relaunched its PlayStation 3 platform with the introduction of the PS3 Slim in August 2009. In September we suggested that Sony should be able to sell between 2.0 million and 2.5 million systems in the last quarter of the year, with the system coming in toward the low end of that range.
In fact, Sony hit the upper end with sales of 2.39 million systems in all of October, November, and December 2009. It's been a long time coming, but it now appears that Sony actually has a price/value combination that can reach a much wider consumer market.
During the same October – December period Sony's prime competitor, Microsoft, sold nearly the same number of Xbox 360 systems (2.38 million). For the sake of comparison, 2.65 million units of Xbox 360 hardware were sold in the final quarter of 2008.
The decline in final quarter sales comes in spite of Microsoft's modest shifts in model and price positioning.
The Xbox 360 Pro model was eliminated in August and the Elite model was simultaneously reduced in price to $300 while the Arcade remained at $200.
Here's a look at sales for each year since 2005 across all models of console hardware: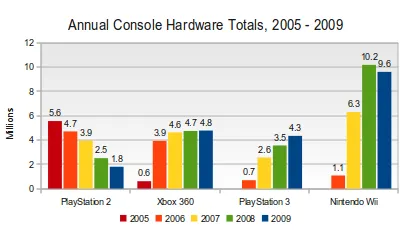 We feel that the pressure is now on Microsoft to avoid losing too much momentum. The last two years have shown that Sony means to be extremely aggressive with cutting its costs and the PlayStation 3 will eventually drop to $250 or lower.
Microsoft could conceivably afford a modest price cut of its entry-level Arcade model to $175. Combined with its strong library of software – both old and new – Microsoft could justifiably tout the value of its system over the competition during the period when Sony is unlikely to announce any further price cuts.
While the Wii experienced a drop in hardware sales from 2008 to 2009, we are actually optimistic about Wii hardware sales in the coming months. The key here is timing. Recall that as of the end of September 2009, the system's year-to-date (YTD) sales were 22% behind those of the same period in 2008. By year's end the Wii was only behind its 2008 total by 5.7%.
The takeaway here is that the right kind of price cuts can shift the playing field dramatically. After its price cut the Wii went from 22% behind to only 5.7%. Sony's Slim moved PS3 hardware sales from a 32% deficit at the end of July to a 22% gain by year's end.
In the handheld space, the reverse has been happening. Nintendo introduced the DSi and Sony launched the PSP Go, both priced higher than existing models.
At our last reading, we estimated that the Nintendo DSi had achieved life-to-date sales of 2.8 million units and would hit 5.0 million by the end of 2009. Given figures for the final two months of the year, we now expect that the DSi has actually exceeded 5 million.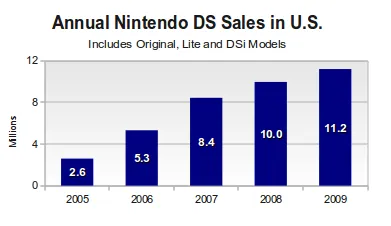 The 11.2 million Nintendo DS systems sold in 2009 and referenced in the above table is a record for any handheld or console. While it is difficult to comprehend a second year of Nintendo DS sales at the 11 million unit level, we hesitate to speculate about the effect that a DSi price cut could have.
---
Software: Wii Overtakes Xbox 360
When we examined software sales at the end of September 2009, we noted that year-to-date Wii software sales were essentially flat at that point when compared to the same period in 2008. With the figures for the full year now in, and further illuminating comments from Michael Pachter of Wedbush Securities, we now estimate that Wii software sales grew by a modest 1.0 – 1.5% in 2009.
While the Wii had been showing year-over-year declines in both October and November, we expect that December sales more than made up for those misses. By our estimates, well over 30 million units of Wii software were sold in the final quarter of 2009.
In fact, Nintendo's utter software dominance becomes manifest when we combine our software sales estimates for all platform stakeholders, including Microsoft and Sony, during the last quarter of 2009.
With Sony claiming an estimated 22% (across three platforms) and Microsoft 20% (with only the Xbox 360), the remaining 58% of all software units we estimate were sold for Nintendo's console and handheld.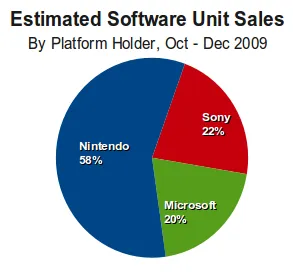 Perhaps the bigger story that we perceive in our estimates is that Nintendo Wii has finally overtaken Microsoft's Xbox 360 in life-to-date sales.
Recall that the Xbox 360 launched a year prior to both the Wii and PlayStation 3. With that headstart Microsoft has often touted its strong record in selling a high number of units of software per system owner (also known as a tie ratio). According to Microsoft's latest press release on Xbox 360 sales, the system now has a tie ratio of 8.8, suggesting LTD software sales of 164 million units after 50 months on the market.
While the Nintendo Wii has historically had a lower tie ratio, even when sales were launch-aligned, the system's extraordinary hardware sales have yielded similarly strong overall software sales. According to our estimates, the Wii has now sold in excess of 175 million units of software in a mere 38 months.
After 38 months on the market (December 2008), the Xbox 360 had achieved software sales of around 112 million units.
The diagram below makes clear just how the Wii has achieved this feat. With annual software unit sales tens of millions of units above the competition, it was merely a matter of time before the Wii surpassed Microsoft's console.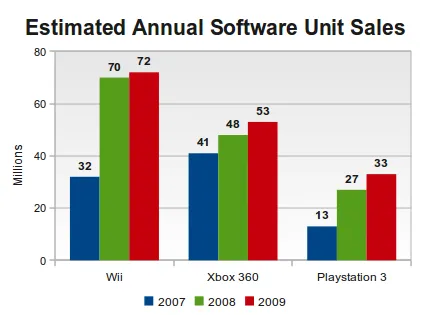 Again, going by our own estimates, we believe the PlayStation 3 is closing in on LTD sales of 75 million units of software. This suggests total Wii software sales exceeded PS3 sales by 100 million units in the same period of time.
As Michael Pachter is fond of saying, strong hardware sales can drive software sales. Both the PlayStation 3 and Wii experienced accelerating hardware sales at the end of 2009, and both also saw increasing software sales. Should robust Wii and PS3 hardware sales continue through the beginning of 2010, we fully expect the software sales to follow.
Furthermore, the Xbox 360 has a dedicated hardware base who are enthusiastic about buying software. Therefore, Xbox 360 software sales should be strong through much of 2010.
This would set the stage for increasing total software sales in the coming year.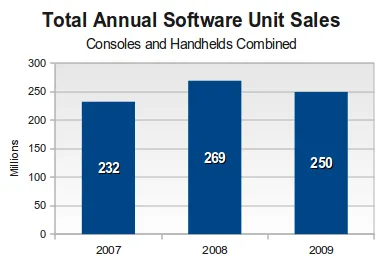 As the figure above shows, the industry experienced a contraction in software unit sales in 2009. However that loss was modest – about 5% – and we can easily see sales matching and even increasing beyond the 2008 level during 2010.
We caution that the rise of digital distribution, sales of software through each system's online store, could temper any growth in software sales. With the exception of the Nintendo DS Lite, every system currently on the market permits owners to purchase and download software.
We sincerely hope that in the coming year some party – if not the NPD Group itself, then individual publishers or platform stakeholders – will begin releasing reliable information on digitally distributed sales and not the facile top 10 lists that are currently available.
---
One Final Look at 2009
As we step fully into 2010, we wish to look back one last time at 2009. There are several reasons to hope for growth in 2010, perhaps enough to regain and surpass the records set in 2008.
The November 2009 launch of Activision's Call of Duty: Modern Warfare 2 appears to have helped push many games out of the holiday window and into the first quarter of this year.
This avoided the mutually assured destruction we observed at the end of 2008 (when far too many big games launched in a short span of time), and we hope that it will also result in a timely pattern of releases throughout the beginning of 2010.
Moreover, this could well be the year that some console actually breaks the $150 barrier. (Wedbush's Pachter argues that the Wii saw a de facto $150 price in December 2009 when Wal-mart offered the system at $200 with a $50 gift card.)
Accelerating hardware sales at lower prices may result in somewhat lower revenue – cutting prices almost always does – but the subsequent increase in software sales could more than offset that loss.
Finally, the overall economic environment is widely expected to improve in the next year. Reversing the unemployment trend in the United States should put more people in a position to become console and handheld owners, as well as increase the population of active software consumers.
Here's the total U.S. retail game industry totals per year from 1997 to date, for some perspective into how this year turned out: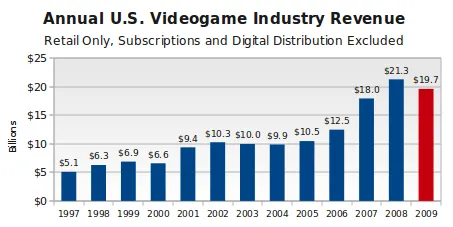 When, in a year's time, we add another bar to the graph above, let us hope that we do so with a year of growth on the books.
[As always, many thanks to the NPD Group for its monthly release of the video game industry data, with a special thanks to David Riley for his assistance and Anita Frazier for her analysis. Additional credit is due to Michael Pachter, analyst for Wedbush Morgan Securities, for his perspective and information. We also thank Doug Creutz of Cowen & Company for his comments and insight. Finally, many thanks to colleagues at Gamasutra and commenters on NeoGAF for many helpful discussions.]