Nintendo's latest annual results, announced last week, were disappointing in many ways. On Thursday its global president Satoru Iwata used his presentation to investors, along with the subsequent question and answer session, to explain his vision of where the company is and where it is going.
In expectation of the results, I had written that Iwata would "likely focus on its upcoming first- and third-party titles for the 3DS and Wii U" and then "attempt to reassure investors that its basic business model is still viable." That's essentially what happened, although the details matter. I'll get into those below.
My outlook beforehand wasn't rosy: "I don't think their arguments will reassure anyone." Now that I've had a chance to look at the numbers, read over the president's comments, and think them over a bit, I'm not significantly more optimistic.
I would break down Iwata's comments into three parts:
1. The Nintendo 3DS has a strong slate of software this year, and that should help keep the system's hardware and software sales robust through this fiscal year. Nintendo has raised its hardware estimates for the 3DS to 18 million, up from 14 million in the past couple of years.
2. Iwata has committed the company to increasing support for the Wii U, after what he admits were some stumbles so far. This includes dealing with the system's identity, which he admitted some consumers felt was "just [the original] Wii with a pad for games." He also explained that the system still doesn't have a title comparable to Wii Sports which could help "people immediately comprehended its product value." On top of better communication, Nintendo will make up for "lost momentum" by launching key titles for the system starting with Pikmin 3 in July or August of this year, nearly three months from now.
3. Nintendo plans to expand its digital business, and showed some of the clearest digital sales data we've seen from any platform holder. On top of this digital initiative, Iwata discussed some interesting new angles, with Nintendo's Web Framework and the use of the Unity engine to get games to the Wii U quickly.
Hanging over all of this, the company restated its goal to reach operating income of ¥100 billion ($1.02 billion) by the end of the current fiscal year, ending on 31 March 2014. In discussing this in previous sessions with investors, Iwata has used language that suggests he would step down if that goal were not met.
If Nintendo executes well on each of these points, it should post positive results for the current fiscal year. However, I'm doubtful that Nintendo can accomplish all these goals. Let me take them one at a time, and tell you why.
---
Nintendo 3DS: Holding Steady
The Nintendo 3DS is, by far, the brightest part of Nintendo's business right now. After that awkward first few months, and the subsequent price drop, the company has done reasonably well with its current handheld system.
I argued last year that Nintendo's global handheld business was stable, shipping around 17 – 19 million systems every 12 months. Since that time, the annual rate of handheld system shipments has dropped to 16.3 million, the lowest rate for Nintendo in a decade. The last time the company's handheld business fell that low was September 2004, right before the introduction of the original Nintendo DS.
Out of the 16.3 million systems sold last year, 14 million were Nintendo 3DS systems. For the current fiscal year, ending in March 2014, Nintendo has set a goal of 18 million systems, an increase of 29 percent.
The U.S. market presents a significant challenge to reaching that 18 million unit goal. So far this year, Nintendo 3DS sales are actually down 20 percent in the U.S. In Japan, it appears that 3DS hardware sales are also down, but not nearly as far as in the U.S. (I'm not aware of a reliable source of hardware sales for Europe.)
While a strong slate of software can help turn hardware around, it's hard to say how far Nintendo can go. At the very least, Nintendo has some good news in the 3DS software department. In the U.S., my figures indicate that 2013 retail software revenue on the Nintendo 3DS is up about 6 percent, and that doesn't include all the digital revenue from Fire Emblem Awakening, which has seen extremely robust sales through Nintendo's eShop. On the other hand, my figures indicate that 3DS software sales in the UK so far in 2013 are down about 20 - 30 percent in terms of both units and revenue. It's possible that some of that loss is due to eShop sales, but I don't think that you can say that's all of it.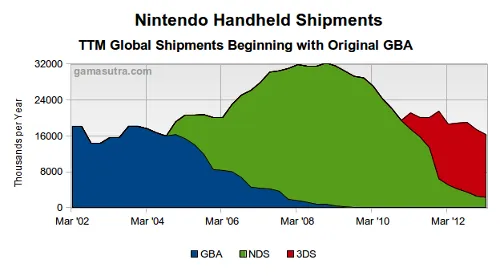 To reach its hardware goal for the year, I think that Nintendo will have to do more than just offer a great lineup of software titles. More than that, it will have to show some movement on hardware pricing.
At a comparable point in its lifetime, the Nintendo DS hardware line got its first revision, the immensely popular Nintendo DS Lite. Lifetime shipments of the Nintendo DS are about to well exceed the current 3DS shipments. As the graph below shows, the Nintendo 3DS is now even behind the Game Boy Advance at a comparable point in its lifetime, and will remain there even if Nintendo reaches its 3DS goal for this fiscal year.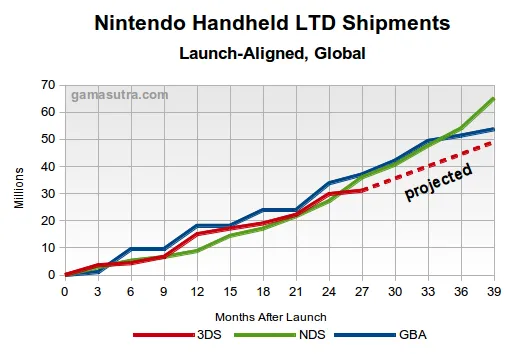 I've made it clear previously that I favor adopting annual hardware revisions to push out older models and keep the system looking fresh against the nonstop rise in mobile hardware improvements. For example, a $130 price for the original Nintendo 3DS, then $170 for the Nintendo 3DS XL, and finally a newer model at $200.
That would provide a straightforward way to increase the user base without sacrificing too much of Nintendo's hardware margins, since any margin loss when dropping the price of the low-end models could be mitigated by a top model's inflated price.
There are other possibilities, like a great software bundle that attracts new consumers, but I think lowering the price of entry is the most direct way to stimulate consumer demand.
---
The Wii U Summer and Digital Business
While I think it's a step forward for Iwata to show that Nintendo has a messaging problem when it comes to the Wii U, I don't think Wii U owners -- or potential Wii U owners -- will be encouraged by his proposed solutions.
Iwata appears to be saying that Nintendo will reinvigorate the Wii U starting with Pikmin 3 in July and August of this year. That alone is cause for some concern, because Pikmin might be a fine game, but it isn't really a system-seller. And on top of that, what are consumers to do with their Wii U in the intervening three months?
According to the release schedule Nintendo has provided, just looking at the U.S., Nintendo itself will release Game & Wario in late June and it has three other titles penciled in for Summer 2013: The Wonderful 101, Wii Fit U, and Wii Party. From third parties, the Wii U can expect Fast & Furious Showdown, Resident Evil Revelations, Sniper Elite V2, and LEGO Batman 2. That's all that's scheduled before August of this year, and outside of the Nintendo games, none of these are exclusives.
Now, Iwata has repeatedly said that there are unannounced games still coming for the Wii U, but I really doubt that many (or any) of those are due out before this big push. So for at least the next couple of months, through what will be already a dry summer for the industry overall, the Wii U will be particularly weak, in a way that may make the PlayStation 3 in 2007 look healthy.
Beyond the summer, Nintendo can begin a very strong push with its own software and what will hopefully be a near-parity for many major ports. While Madden 25, Battlefield 4, FIFA 14, and Call of Duty remain unannounced for the Wii U at this time, I think that both EA and Activision will continue to support the platform with some version of these games.
Beyond the base of traditional games, Nintendo also hopes to boost its Wii U support through its Nintendo Web Framework, which provides an HTML5, CSS, and Javascript environment familiar to web developers, and Unity engine support for more independent game development.
While these are important areas to address, they are nontraditional areas for Nintendo. In fact, I would argue that the game development area Nintendo now says its going to court is one it previously criticized as potentially corrosive to the existing industry. Specifically, at his GDC 2011 keynote presentation, Iwata seemed to argue against the devaluation of video game software, criticizing platform holders like Apple and Google for whom the "value of video game software does not matter." I believe he was saying, in a guarded way, that 99¢ games would threaten a game developer's "ability to make a living."
Yet these very games -- web games, which are often free-to-play and survive on in-app purchases, and mobile games which use the Unity engine -- are now part of the broader swath of the industry that Nintendo hopes to attract to the Wii U.
More importantly, appealing to developers and publishers with new game technology is only half of the problem. In order to make any software like this successful for third parties, Nintendo needs to make it as painless as possible to find and buy software. On a mobile device, the user is always 30 seconds or less from downloading a new application. Consumers buy and try lots of applications on those platforms because it's fast and easy to do so.
Will the Wii U make it just as easy to get these new Web Framework and Unity applications? Unless that problem is also being solved, great software from a range of developers won't be nearly as effective as it could be.
Even if the company executes well on software, it remains to be seen whether Nintendo can reach its 9 million system goal before April 2014. In the five months that the system has been out, including its first holiday season, the company shipped 3.45 million units worldwide, down from the 5.5 million it originally expected to ship.
Keep in mind that the shipped figures are still not a true measure of the units sold to consumers. For example, in the U.S. Nintendo says it has shipped 1.52 million systems. However, through the end of March, it had sold just shy of 1.2 million systems in the U.S. Even if we count Canada, which accounts for probably another 150,000 systems at most, the company still has nearly 300,000 systems to sell through.
At its current rate, just in the U.S., that would take through August to clear. In other words, a major new shipment wouldn't be needed until after the first quarter of the fiscal year is over.
To get an idea of how the Wii U shipments so far compare to historical precedent, let me show you what Nintendo's console shipments have looked like at the launches for the GameCube and Wii. Those are pictured below.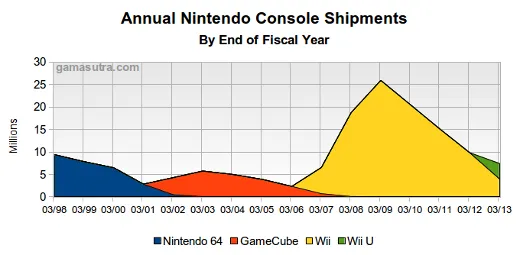 Notice that during the past fiscal year, the year in which the Wii U launched, total console hardware shipments actually went down rather than up. In the previous two launches, total console hardware shipments went up during a launch year.
---
Making an Operating Profit
And where will all of this put Nintendo in a year's time? Nintendo probably needs all, or nearly all, of the pieces to fall into place to reach its ¥100 billion operating profit goal. It needs the Nintendo 3DS business, which is likely very profitable, to increase to 18 million systems and 80 million units of software. It needs to do that without cutting into the system's price too much, but also need to keep consumers interested in the face of increasing attention on mobile platforms.
Nintendo needs to relaunch the Wii U, with a huge push for software, and it probably also needs to do so without a margin-killing price cut. That means that the Wii U will have to stand on its own, in its current state, along with whatever software Nintendo can get out for it. And any money that it puts into promoting the system needs to be effective immediately, even in the face of the impending launches of the PlayStation 4 and next Xbox. It won't help that Nintendo may not have the software to really push the system until July or August, after four out of eight months of the fiscal year have already slipped away.
And Nintendo needs to push its digital initiatives, even if some of that software comes in the form of lower-priced Web Framework and mobile-like software titles. Because these titles may carry a much lower price, Nintendo will have to relinquish some of the licensing fees that it has traditionally relied upon to produce strong annual results. That will be an additional layer of income that Nintendo will want as it also pushes higher sales of retail software through its eShop on the 3DS and Wii U.
It's entirely possible that the Nintendo 3DS will light up the sales charts for the remainder of this year and that the Wii U will make a U-turn and sell extremely well throughout the end of this year. Iwata has made his plans and will no doubt have some surprising unannounced software titles to help him along his way. But just looking at what we know now, I really don't think Nintendo is going to make it.