Nintendo has prevailed in another patent suit, this time against a patent for handheld system. An outfit called Quintal Research brought the patent, which Nintendo alleges is "a patent-assertion company run by the named inventor of the asserted patent, who is also a patent lawyer."
The patent itself is for something that sounds not unlike Nintendo's popular handheld systems:
"A portable, handheld communication device for rapid retrieval of computerized information, the device having a generally rectangular shape with a display screen on one side that has a frame with an ergonomic placement of finger controls including a pair of thumb controls on the top of the display with at least one of the finger controls being a cursor or pointer control."
The plaintiff's complaint includes pictures of the company's Game Boy Advance and Nintendo DS (which it calls the "Game Boy Dual Screen") and asserts that they violate the patent: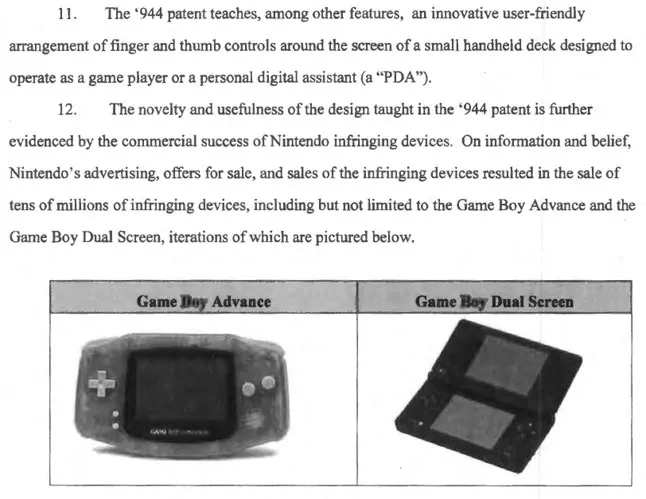 You can read the plaintiff's complaint, including his full patent.
It's unclear how or why this patent would be granted, given the proliferation of portable handheld devices with control mechanisms that predate even the original 1989 Game Boy -- and that may, in fact, be what Nintendo's argument hinged on.
"The result in this case continues to prove that Nintendo will vigorously defend its innovations against patent lawsuits and will not pay to settle cases simply to avoid litigation. Nintendo continues to support patent reform efforts that reduce the unnecessary and inefficient burden cases like this one place on technology companies in the United States," Nintendo of America's general counsel Devon Pritchard said in a statement.
Nintendo is a vigorous defender of its patent rights and very frequently wins its cases: earlier this year it defended its Wii Balance Board and last year its Wii Remote, among others. Nintendo has even even nabbed the rights to patents from companies that sued it.
Nintendo did, however, lose a protracted battle with Dutch electronics giant Phillips last year.