Hardware sales are down at Nintendo, despite the Switch finally claiming the Wii's record as the best-selling Nintendo home console of all time.
According to Nintendo's fiscal report for the nine months ended December 31, 2021, net sales fell by 6 percent to 1.3 trillion yen ($11.3 billion) and profits declined by 2.5 percent to 367.3 billion yen.
Cumulative sales of Switch hardware declined by 21.4 percent year-on-year to 18.95 million units, with Nintendo pointing to the meteoric success of Animal Crossing: New Horizons -- which drove hardware sales during the previous fiscal year -- as the reason for that downturn.
Despite that drop-off, the Switch has now achieved lifetime sales of 103.54 million units, passing the Switch's record of 101.63 million units to become the best-selling Nintendo home console in history.
Commenting on the state of the Switch family in general, Nintendo said the OLED model "got off to a good start" and praised the "sustained sales momentum" of both the original Switch and handheld-only Switch Lite.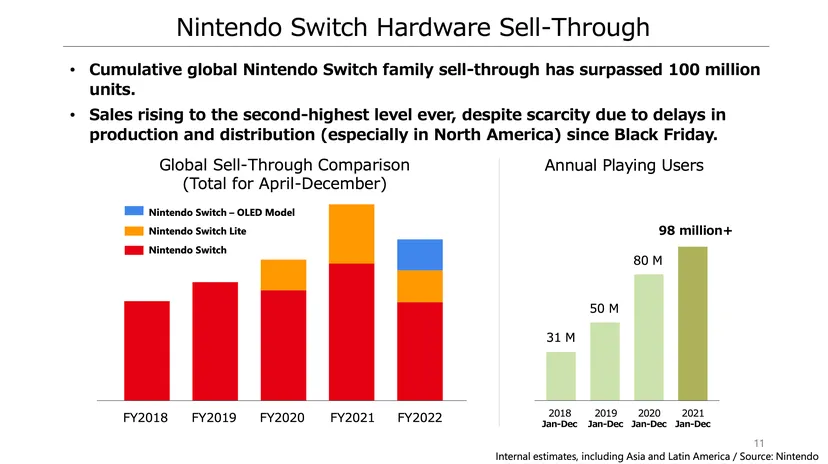 Software sales, meanwhile increased by 1.8 percent year-on-year to 179.29 million units. That uptick was achieved with the help of newer releases like Pokemon Brilliant Diamond and Pokemon Shining Pearl (13.97 million units) and Mario Party Superstars (5.43 million units), and catalog titles such as Mario Kart 8 Deluxe (7.96 million units) and Animal Crossing: New Horizons (4.99 million units).
Revenue in Nintendo's digital business remained steady, decreasing by a marginal 0.4 percent year-on-year to 255 billion yen. Mobile and IP related income decreased by 5.2 percent year-on-year to 39.8 billion yen, although Nintendo suggested players are still engaging with its mobile roster and that royalty income is "stable."
Looking ahead, the Japanese company believes new and upcoming releases like Pokemon Legends: Arceus and Kirby and the Forgotten Land will help expand its install base, and outlined plans to "strengthen sales through the combination of existing popular titles and a continuous stream of attractive new titles."
It also acknowledged the extended impact of both COVID-19 and the ongoing semiconductor shortage has created a state of "continued uncertainty" that could impact production and shipping. As such, Nintendo has modified its consolidated forecast, and now expects Switch hardware sales to reach 23 million units (down from 24 million units) by the end of the fiscal year on March 31, 2022.