The FTC is currently suing Microsoft over its proposed $68.7 billion merger with Activision Blizzard in a bid to block the deal.
Microsoft, predictably, wasn't thrilled with that decision and responded to the FTC's lawsuit by claiming the entire agency violates Article II (among others) of the U.S. Constitution and the separation of powers. The Xbox maker also described the FTC's lawsuit as "invalid" as a result of that alleged violation.
Now, as reported by Axios, the company has furiously back-peddled and claims the FTC actually has an "important mission to protect competition and consumers."
In a revised court filing submitted on January 4, 2023, the console maker continued to advocate for its purchase of Activision Blizzard, but notably removed a series of statements that claimed the FTC's structure as an "independent agency that wields significant power" flew in the face of the constitution.
Those claims were made in Microsoft's original filing (a snippet of which can be seen below), which was submitted on December 22, 2022.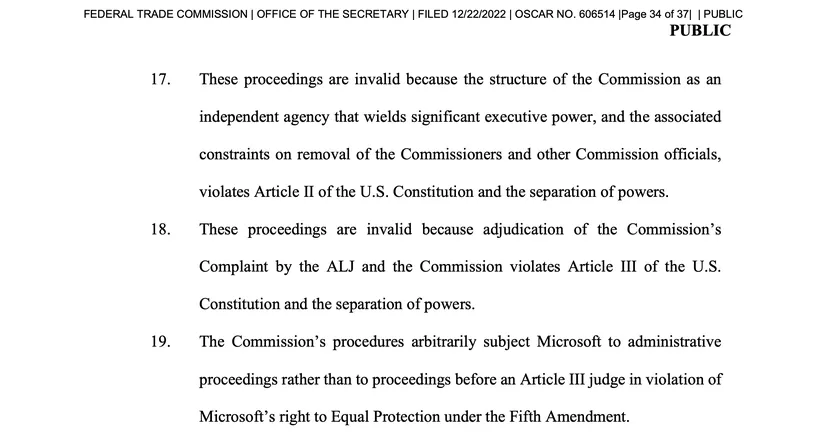 Speaking to Axios about the change of heart, Microsoft public affairs spokesperson David Cuddy said the company should never have made those claims in the first place.
"The FTC has an important mission to protect competition and consumers, and we quickly updated our response to omit language suggesting otherwise based on the constitution," said Cuddy.
"We initially put all potential arguments on the table internally and should have dropped these defenses before we filed. We appreciated feedback about these defenses and are engaging directly with those who expressed concerns to make our position clear."
Activision Blizzard has also amended its own response to the FTC lawsuit to remove those same allegations.
Microsoft is currently attempting to help its Activision Blizzard deal clear regulatory hurdles in multiple countries, but has faced some opposition. For instance, UK competition regulator the CMA is also investigating the deal over concerns it could harm rivals, and earlier this week explained it wants more time to to assess the situation and publish its findings.