The biggest franchises that led the music peripheral boom last decade are going head-to-head once again later this year.
Activision today confirmed that Guitar Hero Live, the reincarnation of its dormant guitar-based rhythm game series, is on the way this fall. It's developed by DJ Hero studio FreeStyleGames, and features full motion video crowds (seen in the video above).
With Guitar Hero Live on the way, the game will be competing against Harmonix's previously-announced multi-instrument Rock Band 4.
Those who remember the music peripheral boom will also remember the music peripheral bust, brought on by a saturated market and a recession that aided in shying people away from expensive controller/game bundles.
But years after this burnout-induced cool-down, Activision and Harmonix think there is new opportunity, hoping to appeal to the nostalgia of previous fans, as well as the interest of a "new generation" (as Activision put it) of players.
The billion-dollar Guitar Hero franchise was created by Harmonix and RedOctane, and originally released in fall 2005 (yes, nearly a decade ago). When Harmonix spun off following Activision's acquisition of RedOctane, it took Guitar Hero a step further with the multi-instrument Rock Band, achieving big financial success (it's also a billion-dollar franchise). Activision's now-defunct Neversoft initially took over Guitar Hero.
Guitar Hero Live is introducing a new guitar controller that caters to players of various skill levels (below), according to Activision. Also new to the Guitar Hero franchise is "GHTV," described as "a 24-hour mode that lets fans play along to a continually-updated collection of official music videos." Mobile versions of Guitar Hero Live are also on the way.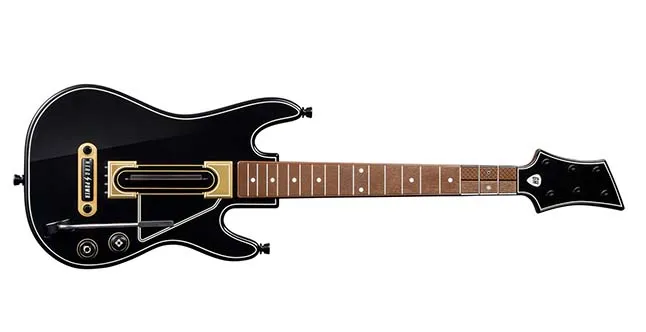 The game is also featuring a new first-person perspective meant to terrify players: "Our goal was literally to give people stage fright," said Activision Publishing CEO Eric Hirshberg.
Guitar Hero Live is due this fall for PlayStation 4, PS3, Xbox One, and Xbox 360, with Wii U and mobile releases to follow; Rock Band 4 is announced to arrive some time later this year for Xbox One and PS4.