We gathered in Microsoft Building #33, awaiting a day of panels, networking and game pitches. No press, no fans, no pressure to impress anyone. Just grab a hot coffee, learn a thing or two, and have a chat with fellow geeks.
The lay of the land
The event spanned a full day, from breakfast to evening drinks on the house. The space was divided in two: big conference room, where the panels took place, and adjacent hall where all of us indie devs got a chance to showcase our latest creations. Well, technically, there was a third area, the negative space between (where all the snacks and coffee teased as you passed by) but if we count that, we might as well count the bathroom. I went to that bathroom a lot.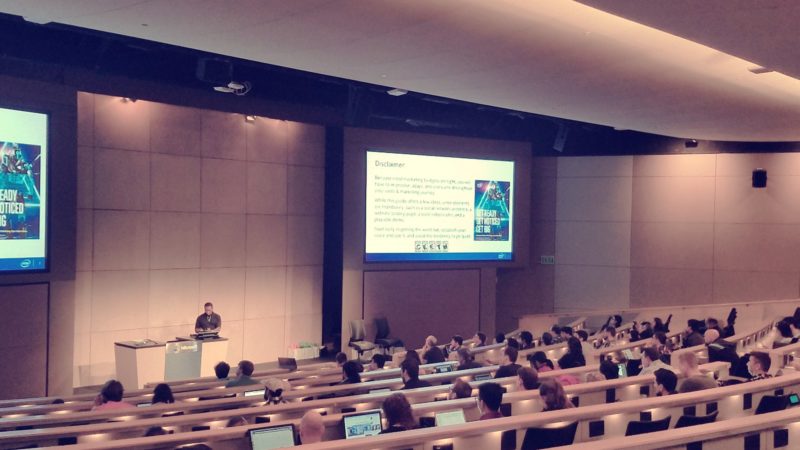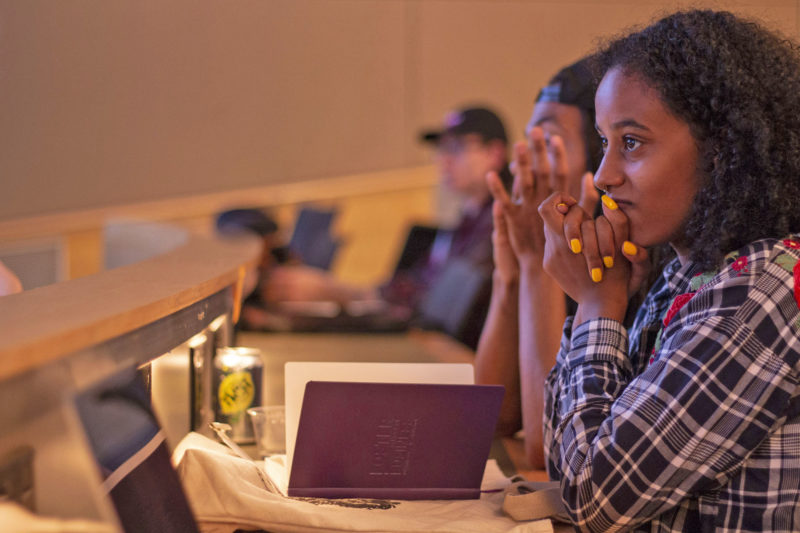 The full agenda is on Intel's Website, but the gist was a very "success-oriented" program, for lack of a better term. The talks centered around marketing, budgeting, and leveraging 3rd party assets in your project, rather than game design or art. Personally, those are topics I've been most interested in recently, as marketing and exposure have been one of the hardest challenges of running a small indie game studio (especially in post-greenlight Steam market).
The event never felt busy or packed, leaving plenty of opportunity to mingle and get to know anyone you'd like, including a number of prolific speakers from publishers to Unreal engine evangelists. The indie game showcases consisted of 10 games carefully chosen from the pool of applicants.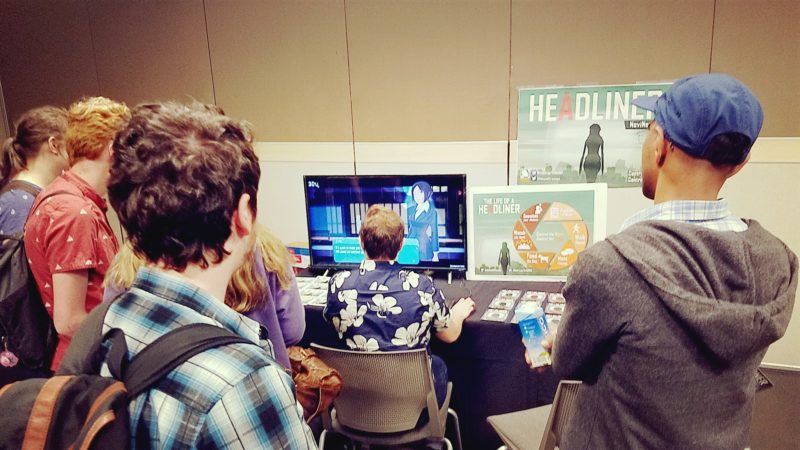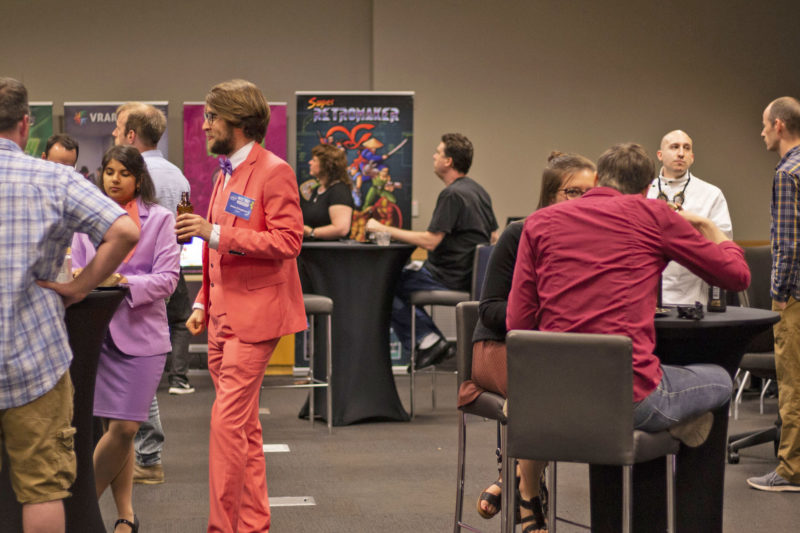 I was exhibiting Headliner: NoviNews, short media bias adventure where YOU control national news and its impact on your career, society, and family. Some of my neighbors included the judicial dating-sim Supreme Courtship, make-your-own-NES-game creator Super Retro Maker, all the way to puzzlers such as Puzzle Depot and a coloring-couch-arena-game Collidalot. Intel did a great job of representing a variety of genres.
The pitch
At 5:30pm sharp, we were ushered into the conference room. Every team had 5 minutes to pitch their game to the audience and panel of judges, competing for several awards. Remember when I said "no stress" in the intro? Well, I lied :P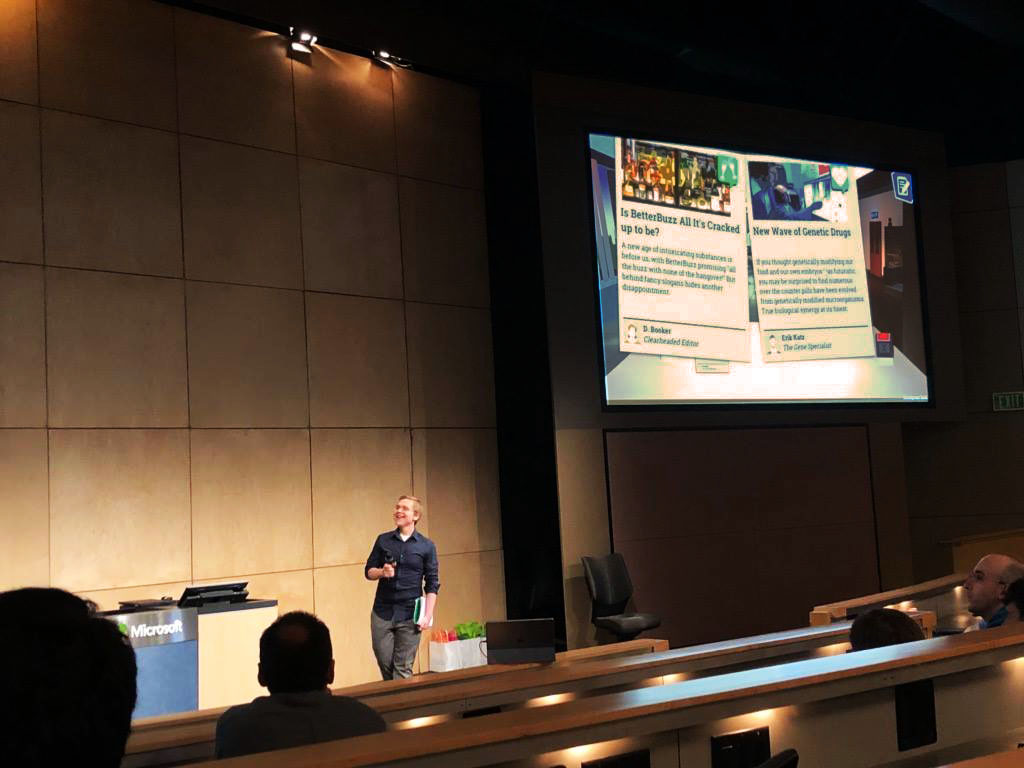 The pitches took on a variety of formats, from simply talking over a gameplay video, to mini-performances with devs in full costumes. Props go to Supreme Courtship team for a detailed powerpoints and clear breakdown of their process and goals. I've seen their team skip panels just to rehearse and perfect everything.
As for me, although I've exhibited numerous times before, it was the first time pitching Headliner: NoviNews to a seasoned jury. Tired of my typical expo spiel, I decided to mix up the formula pretending the event to be an orientation for the job of a Headliner. It was pretty fun, even if I stumbled at a few points (oh, hi anxiety!)
Wherein I do a bit of humble bragging
After an hour of judgmental deliberations over taco salads, the votes were in and decisions announced. Headliner: NoviNews won the "Best Overall Game" of the Intel Buzz Workshop! After 30 years and 4 games, I can finally call myself an "award-winning" game dev ;D

Big thanks to Intel for the humbling honor, as well as my team, all my close friends, and the ever-so-amazing Seattle Indies for creating a wonderful community that supported us all along.
The "Best Artwork" award was given to Puzzle Depot, "Audience Choice" to the VR title Run Dorothy Run, "Most Unique Game" to Gravia, and Supreme Courtship had a whole new "Best Pitch" category invented just for them!
Congrats to everyone, including those who didn't win anything. Stellar games all around!
(Photos courtesy of Constance Chen and Seattle Indies)