When Justin Ma & Matt Davis released FTL all the way back in 2012, they had no idea it would wind up being a bona fide blockbuster of an indie game, heralding a new age of roguelikes and leaving the world to wonder what their next title would be.
After a six-year gap, the pair recently released Into the Breach, a spiritual successor to FTL that embraces the roguelike mission structure but shifts its science fiction combat to a mechs vs bugs warfare system that feels more puzzle-like in nature.
With so many interesting aspects to compare and contrast, we were excited to bring Ma and Davis onto the Gamasutra Twitch channel to discuss what lessons from the development of their first game could apply to their second. While a lot of their experience was founded on the notion that it would be nearly impossible to replicate FTL's level of success, the pair did share a number of insights on topics from game design to marketing that indicate how they absorbed lessons from their first game.
For your convenience, we've gathered some highlights from that conversation below, in case you're also trying to learn lessons from one game while gearing up for another.
Stream Participants
Bryant Francis, Editor at Gamasutra
Alex Wawro, Editor at Gamasutra
Justin Ma, Art and Design of FTL and Into The Breach at Subset Games
Matt Davis, Programming and Design of FTL and Into The Breach at Subset Games
The Subset Games design/playtesting process
Wawro: It's probably impossible for you to walk us through the four years of prototyping, design and playtesting that went into making that panoply of choice manifest, but, how did you test [the loop of Into the Breach] to make sure that it works? I'm curious how you went about playtesting this, and how early did you start in order to get a sense of where you were able to create interesting choices, and where it became too easy or too difficult?
Davis: There's never really a point where we're not playtesting. We can't sit and try to build up something complex and hope that the pieces line up as we thought they would. We like to take one small piece at a time and making sure each is fun and can be played immediately.
"We can't sit and try to build up something complex and hope that the pieces line up as we thought they would. We like to take one small piece at a time and making sure each is fun and can be played immediately."
There was a problem with the strategy layer outside of the combat; that design...to follow something like what XCOM or Total War does, requires a little bit more for everything to come together at once later in time, and we found that process to be quite frustrating because we wanted it to be fun immediately. And so we always chase those micro progressions, and we're always double-checking what we're doing, and if it's enjoyable at every step of the process.
Wawro: I imagine you must have had a mix of fellow developers, and just people who play games mixed in. I'm curious to know, because other developers I know who are working on games like this, or games that are very strategic and thoughtful, how early did you start sending out builds to get feedback, and who did you start with and how did you expand from there?
Ma: We maybe do this less than some people. We're pretty used to just working within our own cave, and just sort of stewing in our heads for a really long time. That said, we got immeasurable benefit from asking other developers. I think I showed it to Nathan Vella (Capy Games) once or twice a year, when I saw him, Brandon Chung (Blendo Games) and Andy Wynn when I saw them at PAX or GDC, and we'd just get very basic, "Is this a game that works?" sort of questions.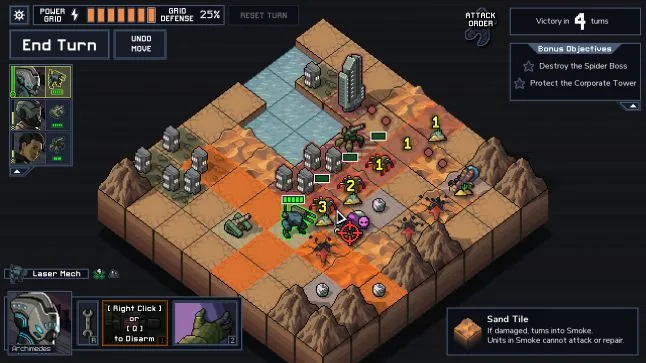 We'd also have some close friends, or just people who happen to be coming by out house at a given point, where we just stick the game in front of them, largely to see what they don't understand. That's what we want to get the most out of those kinds of playtests. In terms of being able to perfectly balance the game, and get a feeling really right, that was more our own gradual intuition and iterating process.
Davis: Yeah, our first goal is usually to find more fresh faces to put it in front of; that is of the most useful things for us in playtesting. Balancing it takes so long, so many hundreds of hours, that expecting anyone to put in the time necessary to get useful feedback there is rough.
Ma: A lot of the questions that we have require that you have a great knowledge about the game. For a lot of the design-challenging things, you need to really understand what we're going for for your feedback to be worthwhile. We had that with FTL with a couple of guys. They played the crappiest version of FTL to death, it was just a terrible, awful game, and they just completely played it forever. That was immeasurably helpful, but we didn't really have that so much with this game.
Davis: We had it towards the end, the last three or four months of development we had some community testers, people who pulled in from previous FTL testing and the like, who did put in the necessary hundreds of hours of testing. They were super helpful.
Managing expectations when following up a hit game
Wawro: How did you manage the expectations that you knew players might have after the deep love so many expressed for FTL?
Ma: One way is, we tried to not give them any expectations! (laughs) Though that's part of the reason we didn't announce the game at all during development. Like, show examples or anything like that. We didn't want people to have any sort of expectations of the game based on early imagery that could change. We didn't want people to build up to feel like, "Ah, this is what I'm looking for in the game!"
Instead, we just waited until we knew exactly what the game was, and tried to say, "Here is the exact game it is. Don't have any sort of expectations beyond what we're showing."
There's also the general sophomore issue, of releasing after a hit-ish game. We tried to approach developing this game with the same mindset we had with FTL, which was, make a game that we ourselves would find fun, and focus entirely on that. My personal strategy was to tell myself, and accept the fact that FTL will be the most popular thing we do, ever. Done, that's what happens. Don't worry about trying to top it, none of that matters. Sit there and try to make a good game.
"My personal strategy was to tell myself, and accept the fact that FTL will be the most popular thing we do, ever. Done, that's what happens. Don't worry about trying to top it, none of that matters. Sit there and try to make a good game."
I think that same sort of approach towards what the next game is influenced the way we talk about it with other people. So we don't set the expectation for fans to be "We're topping it! It's going to be bigger and better!" We did none of that, so I think that may have had some subconscious implications about the game.
Davis: Yeah, it's scary to release a game that has high expectations. The last thing we wanted anyone to do was to buy this, thinking how they loved FTL, and then hated it. Obviously we wanted to set up to make something new any different. It's hard to do that while simultaneously keeping older fans happy. So we had to trust that our designed sense, that it would shine through in terms of having a similar ethos in the design approach to this and FTL.
Even now, while they're quite different, there are elements that our older fans would still appreciate. Luckily so far I haven't seen too many horribly disappointed people about this after playing FTL. I don't think we disappointed the majority, but of course you can't get everyone, and there are definitely people who angrily post that FTL was so much better.
Ma: It was obviously a concern, whether or not this game would appeal to the same crowd. But we tried our best to not have that be a primary influencer in our decision-making process. I feel like if I tried to design for a specific person, I would fail. I can design for myself, and sometimes I can design for Matt, but by-and-large we can only just make what we want to play. Like Matt was saying, it just so happens that the types of games that both Matt and I would want to play have some common design principles and threads between them like that, and have a lot of crossover for fans.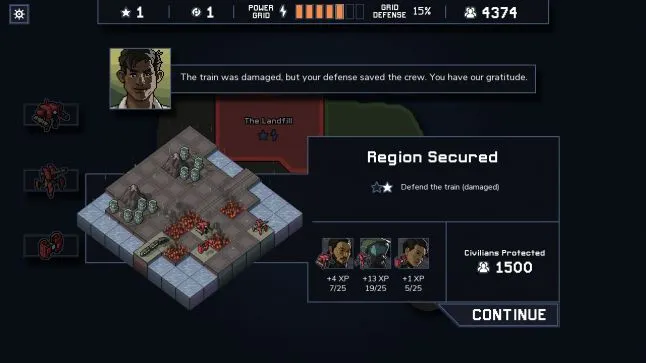 Wawro: I just want to apologize for breaking in earlier. I just saw Bryant about to punch a bug into a building, and I just wanted to scream, "No, stop!"
Francis: Hey! No backseat mech-piloting!
Let's talk about that final battle sequence
Wawro: (A reader) felt like the last mission of the game was a little underwhelming. I actually thought it was nice, I appreciated it because it's not as overwhelmingly challenging as the final mission in FTL, which I found to be very scary.
So let's talk through how you went about designing and tuning that encounter, because it's got multiple stages, and it builds upon everything you've been doing, but it purports to dynamically adjust its challenge based on how many islands you've completed.
Davis: The final mission was a huge question mark, and a very difficult design decision for this game. It was something that we didn't feel good about for a long time, and we did a lot of iteration on it. It took us a while to get to this point.
"I feel like if I tried to design for a specific person, I would fail. I can design for myself, and sometimes I can design for Matt, but by-and-large we can only just make what we want to play."
A lot of it was because we were informed by the choices we made with FTL, and the reaction to those choices. A lot of people felt that the FTL boss kind of came out of nowhere in its difficulty. It took an already hard game and put a ridiculously difficult cap on top of it. They felt that it broke too many rules, that it was too much, that it wasn't playing the same fights that they were used to, that it was introducing too many new mechanics and game-breaking elements that you couldn't prepare for it the way you could the rest of the game, so it was inherently unfair.
We tried to avoid making those same mistakes. We wanted something that, once you got to the end of the game, you had a stronger change of beating it. We wanted something that would ask to perform the same skills that they had been asked to perform for the rest of the game, that it should be a culmination of knowledge, that it shouldn't be coming at them from the side with something brand new.
We were also presented this challenge that fundamentally this game was about defense, not offense. That providing a super-big baddie to kill doesn't work for most of the squads. A squad that relies on freezing enemies can't kill something. You can't ask the player to spend the whole game not needing to kill, only needing to defend, then suddenly in the very last mission say, no way, here's a 15-health enemy that you have to kill. It doesn't work, it would be the most unfair element of the final mission.
So, lacking a final baddie, it's a little harder to come up with that kind of epic scenario for the final mission. We did what we could with the multiple phases and the classic volcano atmosphere, with the fire an explosions and lava, the tropes you get for this kind of thing. We think it does have a nice culmination, an epic conclusion, while only asking the player to engage with mechanics they're familiar with. But we do acknowledge that we seem to have disappointed at least some people about that. It falls under that I'm not really sure how to make them happy. If they don't like FTL's end, and they don't like this one, then I'm not sure what the right answer for a boss mission is.
Ma: On that specific point, it's probably that the people who like this one are different from the ones who like FTL. You're not going to please everybody, it's a real problem.
Wawro: And some people don't like both, because some people don't like anything! (laughs) I personally found it to be really satisfying, because the real challenge to my playthroughs was in deciding whether or not to take on additional islands and risk failing, in order to enter that final battle with a higher grid defense.
Davis: The multiple island thing, I didn't even cover that part of it, that was a whole another issue! I wanted, in the beginning, to have, when you set out when you started a mission or a run, you'd choose how many islands you'd do. I like the idea of customizing a play experience, like a board game.
FTL, I always felt, got a little longer than we expected it to, and asking the player to commit to the two or three hours to finish it wasn't great. I wanted to be able to let the players to be able to customize the play length a bit more. Justin had the really cool idea to let it have a dynamic play length, of selecting if you wanted to do the final mission immediately, or play the game more. I thought it turned out nicely in that it lets you choose at the time, are am I having fun doing this one? Am I doing well? Am I doing poorly? And letting all those factors figure into whether to do the final mission or not. It creates an interesting choice, while giving a lot of room for how long you want to be playing it.
Ma: It goes back also to what you were saying before, if it's a decision, it should be a decision that you don't make the same choice every single time. So when you put that island thing from what kind of game do I want to play, into a design choice where the current situation can impact your decision. Then it becomes one of those more interesting design elements, that lets the player shift based on their own experiences on each different playthrough, instead of just playing through two islands because that's what the player likes to do.
This conversation is continued in our full stream with Ma & Davis, which you can watch here.
Be sure to follow the Gamasutra Twitch channel for more developer interviews, editor roundtables and gameplay commentary.