Mike Bithell, the British developer behind
Thomas Was Alone
, has managed to bag actor Andy Serkis for the voice of villain Guy Gisborne in upcoming stealth game
Volume
. You'll likely know Serkis for the many movie roles he's played over the years, most recently as Gollum in the Lord of the Rings franchise, Captain Haddock in The Adventures of Tintin, and for his upcoming role in Star Wars Episode VII. So how on earth did an indie developer get a Hollywood actor onboard for his game -- and could other indie devs consider trying to grab big-name actors for their own games? "We'd been looking for an actor to play Gisborne for a while, and even come close to casting it with different folks," Bithell tells me. "After one of those attempts fell through, it was a back to the drawing board moment, and I decided to stop compromising, and go for my dream actor for the role - who I'd get if practicality and reality weren't an issue." Serkis was said dream actor for the role, and with a gushing letter to Serkis, plus the help of British casting studio Side, who also recorded the voice-over for
Thomas Was Alone
, Bithell had his villain. "Thank god he said yes, and had some time clear in his busy schedule," says the dev. Notably, Serkis already has plenty of experience with recording video game voice acting -- as Gollum in Lord of the Rings games, but also for parts in games like
Risen, Enslaved
and
Heavenly Sword
.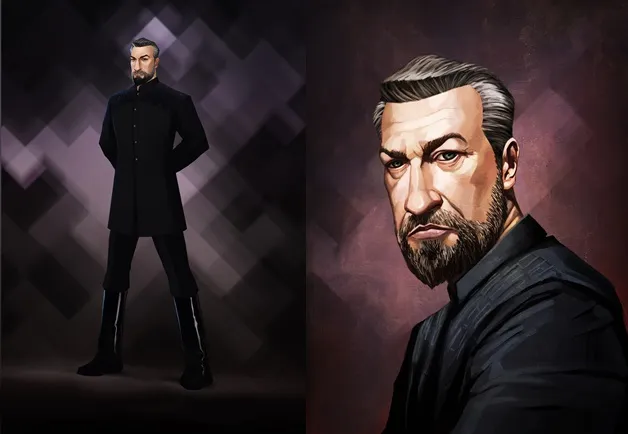 Guy Gisborne, the character that Andy Serkis will voice in Volume
"I knew I wanted a larger than life villain, someone who would fill the game out," Bithell says, "so I knew I needed someone of Serkis' gravitas. Getting 'Hollywood' actors is pretty much just a scaled up version of getting any voice actor - conversations with agents, sending over scripts, and if the times and interests align, you have a cast member." So could another indie developer hoping to grab a big-name actor to voice a character in their game do so, or do they need a hit under their belt already, like Bithell has? "Of course, having a game with some awards and success in the field of VO helps, as it shows how seriously we take the actor's craft," says the dev. "It certainly opens doors." "I think I've told the story of me casting Danny [Wallace] in
Thomas Was Alone
a few too many times now (got drunk, found his email address, sent him a rough build and a script)," he adds, "and that was with nothing to point to. It's always possible that you'll catch an actor or agent's attention with the right project, it does no harm to try. Failing 99 times and succeeding once is still a win."