Half a year after the launch of Splatoon, the lobby rooms for eight player matches still tend to fill up in under a minute.
This multiplayer squid-based ink battle game has been a
sales success
, but it's also managed to build and maintain a deeply engaged community of players.
It was easy to be skeptical about the game. It was a new intellectual property, and many were particularly dubious of how
Splatoon
could take off
with no voice support
. For the vast majority of multiplayer games, in-game voice chat is vital for player communication, efficient teamwork, and trash talk. But in
Splatoon
matches, players can't talk beyond simple "C'mon!" and "Booyah!" commands triggered on the GamePad.
Nevertheless, players proved to be quite chatty with each other in between matches. And Nintendo's image-centric social media board Miiverse, as well as regular themed Splatoon events called Splatfests, have helped to facilitate that conversation.
Splatoon's
thriving community suggests that Nintendo has not just figured out how create a
unique and compelling
online multiplayer shooter, but how to encourage players to create a global community that's as welcoming and family-friendly as it is competitive and clannish.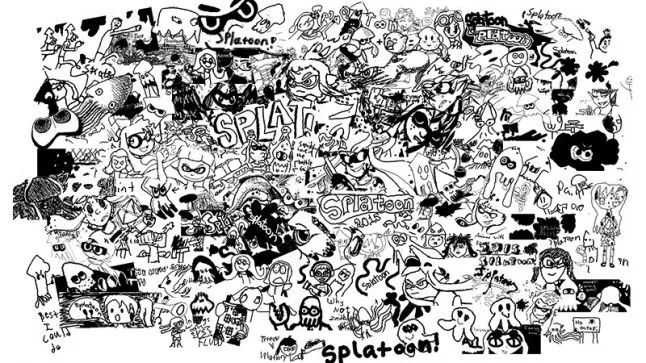 Splatoon lets players express themselves
Miiverse is a place for players to broadcast their feelings on equipment and stages in
Splatoon
, but it's also the perfect venue for
fanart
.
The art is viewable in the game, but it's also surfaced for the broader audience of
Wii U owners. Nintendo fans who weren't predisposed to try out the mulitplayer ink shooter are thus continually re-exposed to the game through drawings that mash
up the game's "squid kids" with Mario and
Sponge Bob
and the latest meme du jour.
Splatoon's competition brings the community together
Another reason why players return to
Splatoon
is for themed matches called Splatfests, which are sort of like the apotheosis of the surprisingly popular
Everybody Votes Channel
available on the original Wii froom 2007 to 2013.
Just like Everybody Votes, Splatfest presents players with simple choices, like cats versus dogs. But now, they're not simply asked to choose sides--they battle to defend their position.
The game's two fictional announcers, Callie and Marie, introduce each Splatfest theme. Past North American themes have included roller coasters vs. water slides, art vs. science, even Autobots and the Decepticons.
Callie and Marie each pick a side as well, tossing mild verbal barbs at each other.
It's a clever way to create ever-shifting rivalries and alliances between players. The themes are simplistic and broad enough that just about everyone has some kind of opinion on it.
Splatoon encourages players to be united in fandom
Personalizing your outfit is a vital part of Splatoon's appeal, but players happily don the official shirts for their respective side. For that day, players are a part of a team rather than an individual who happens to be connected with three others to play in a regular match.
Naturally, rivalries ginned up by Splatfest play out in debates and artwork in the Miiverse. In the lead-up to a Splatfest, the Miiverse posts shown from players are usually pieces of art or short text posts celebrating their team or teasing the opposing team.


A Redditor collected some Miiverse images from the "Rice vs. Bread" Splatfest
There's a shared sense of community, of fighting for something you believe in and doing that with other people who feel the same.
With Splatoon, Nintendo delivered a fun game that embraces its silliness. Its encouragement of Miiverse postings gives a space within the game to share that fun with others. Fandom is a significant part of the online culture; people like to talk about the things they like. Rivalries generate conversations: just listen to fans of opposing sports teams. Developers should spend time thinking about communication around their game as well as inside it.
Carly Smith is a freelance writer whose work has appeared in Paste, The Escapist, Polygon, and other publications.