It isn't often that an individual -- let alone an entire studio -- packs up and moves from a quiet, conservative place like Salt Lake City straight to a liberal out-all-night party town like Austin, but that is exactly what Dylan Jobe and his entire team at LightBox Interactive -- the team behind Sony's just-announced Starhawk -- did. And astonishingly, they managed to pull this off in the middle of delivering milestones, without losing a single employee, and with only 48 hours of network downtime.
"We got really, really lucky," LightBox president and founder Dylan Jobe tells us. He sounds tired -- we're not sure if the media tour to announce the game, which took him from Austin to London, is wearing him down, or if merely recalling the logistics of the move is mentally exhausting him all over again.
"If we were bigger we probably would have lost more people, but we were a very tight group."
LightBox Interactive spawned from the remains of Incognito Entertainment, a company founded by Scott Campbell in 1999 to work on the Twisted Metal series for Sony. Pleased with the studio's output, Sony purchased the studio in 2002, and put it to work on games like War of the Monsters and Downhill Domination.
Incognito's biggest product would be its last -- Warhawk, a third-person, online multiplayer combat sim that incorporated simultaneous on-foot, in-vehicle, and in-the-air combat with up to 32 players online. The game was an early show-off title for Sony's then-new PlayStation 3; specifically, it was chosen to introduce the capabilities of the system's Sixaxis motion-sensing controller. If you happened to catch Sony's press conference at E3 2006, that was Jobe flailing the controller around on stage.
At the conclusion of the project, Campbell left to found Eat, Sleep, Play with longtime contributor David Jaffe to, again, work on the Twisted Metal series. Jobe, who acted as artistic director on Warhawk, was also looking to go independent.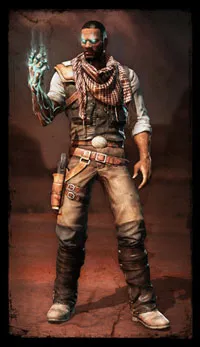 With a team of only 10 people, LightBox was formed, and its first project was close to home: still on good terms with Sony, the studio developed expansion packs for Warhawk, all the while trying to find a new home.
"We knew we wanted to build a good triple-A studio, and we didn't feel like Salt Lake was the right match for us," Jobe recalls. "We very much wanted to be in a city where there was more nightlife, more bars and clubs, and music, and more sports, and all of that stuff."
Austin was on the short list of possibilities: not only for the nightlife, but for its development community.
"There are an enormous number of games studios in Austin, and part of our business plan required us to have very aggressive growth," he says, saying that it was difficult to recruit talent in Salt Lake -- the engineers and artists he tried to recruit "wanted to work in LA or other places, something that might match their lifestyle a little bit more."
If our conversation with LightBox's exciteable lead designer Josh Sutphin is any indication, it didn't take much to convince the team to make the move.
"Ah, it's amazing," Sutphin tells us over beers at Austin's famous Alamo Drafthouse. "I love Austin so much. That was the best decision ever.
"There's a creative vibe here. There's a little game development community and a small creative community in Salt Lake City, but it's totally dwarfed by Austin."
Plus, the bars are better, right?
"Oh my God. Bars at all! Beer with alcohol in it!" He pauses. "I'm sorry. I probably shouldn't denigrate Utah."
---
Convincing the staff might have been easy, but the actual logistics of moving an entire company 1,300 miles is another matter altogether.
"It was a super pain in the ass," says Jobe. Not only was the studio in the midst of delivering Warhawk expansion milestones to Sony, it was also in the early stages of developing Starhawk. There just wasn't enough time to shut down for a move.
"What we ended up doing was having two teams, two smaller teams, one team in Austin doing production, one team in Salt Lake basically there to turn off the lights," Jobe recalls. "And then we worked with the crew for a very organized labeling and teardown of our whole data center and all of our assets, put it on a shipping container truck, moved it all down to Austin, over, God, it was 30 hours. I think they drove it overnight."
The Austin team unpacked its stuff and set up its new studio of the course of a very busy weekend, just in time for its five new Austin hires to start filing in that Monday.
"We were up and running with what amounted to 48 hours of downtime," Jobe gloats.
LightBox made good on its promise to staff up, and did so rapidly. When it left Salt Lake, the studio had 13 people; now it has 45, thanks to the readily accessible talent pool in the area. It's an interesting middle ground to be in: not quite small, but not quite triple-A either, kept down thanks to art outsourcing and substantial music and audio support from Sony.
"We have a very close relationship there that allows us to do a little bit more production than you would otherwise think from the size of team that we are," says Sutphin.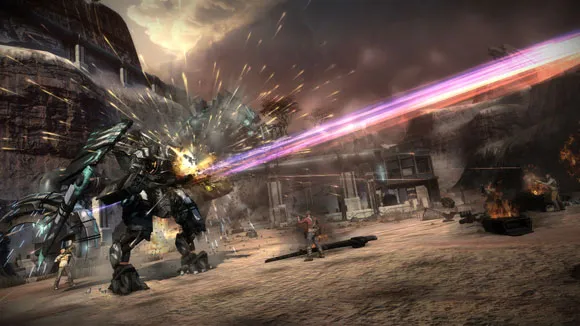 Development in Austin has more benefits than just its talent pool, according to Jobe.
"There's a lot of intangibles," he says. "I think we pride ourselves on our kind of fun creative camaraderie. Austin has that, and we didn't really feel that that was available to us in Salt Lake. It's really kind of that intangible vibe."
"I'm a firm believer that with the employees that you have working for you, the energy that they have is imparted in the product you're developing, and they get that energy from you know their life, whether it be their family or their nightlife of their dating scene or whatever, and Austin allows us to use some pretty energized employees."
LightBox's studio is in the heart of downtown Austin, on Seventh Street -- not quite the town's infamous Sixth Street, which Jobe describes as "debauchery central," but only a few hundred feet away.
"Whenever you have a late night crunch it's just like, so wonderful to walk just a block and drink it all away," says Sutphin.
"The art team has a flag on a pulley system and a little horn they play when it's beer time," Jobe tells us, though he says he doesn't join them as much as he used to. "They probably don't want to be bar-crawling with the boss," he says.
Beer isn't the only thing fueling the team, of course. Austin has a thriving development community, particularly in the indie scene, something that Sutphin and his design team -- all of whom have independent and/or modding community backgrounds -- try to stay connected to. They all participate in the Juegos Rancheros indie game collective with studios like Twisted Pixel and Renegade Kid, getting together to talk shop and get inspired.
"It's a really great way to keep up inspiration and morale, to cross-pollinate ideas," Sutphin says. "It can be tricky, especially for game designers, when you're working on a title that spans many years. You know, you're working on something that's really awesome, but it has a particular focus and sometimes game designers -- with all creatives, really -- your mind has a tendency to want to wander around a bit, and I think in Austin we have a really great opportunity for that to happen."
"A lot of us referred to working in Salt Lake as kind of like a snow globe," recalls Dylan. "We just get exposure to way more ideas, culture, people and industry stuff in Austin. Austin is kind of an electric town. There's good nightlife, good social scene, Austin music -- always great stuff to do."
It will be interesting to see how Austin's energy feeds into Starhawk. Despite is base level similarities, Starhawk is a very different animal than Warhawk. For one, unlike its predecessor, it has a dedicated single player mode -- something that was originally specced for Warhawk, but canceled for quality reasons.
"We were trying to look at the single player missions to a certain extent in terms of the multiplayer goals, as opposed to being this completely separate thing," Sutphin recalls. According to him, unifying the game's multiplayer and single-player components came too late in the project,.
"We didn't want to ship a single player mode that felt like a strap-on, and so we decided we would rather keep the game focused on the really strong multiplayer," he says.
This time around, the team is developing both the single and multiplayer modes simultaneously. And rather than shaping the single player component around the needs of multiplayer, they have the interesting effect of feeding each other.
---
The game's relatively unusual "Build & Battle" system -- allowing players to literally drop strategic buildings and vehicles on to the playfield in real time -- provides what Sutphin describes as an "interesting challenge" for the design team.
"With a traditional shooter there's a lot of reference out there. We can grab a lot of the top triple-A games right now, and play them, and take all this information about what works and what doesn't -- but there's not a lot of games out there doing the Build & Battle kind of thing," he says. "So we've devoted a lot of time to doing a lot of prototypes, trying out a lot of different directions. We've steered all over the place with Build & Battle to bring it to the point where we're at now."
"We've learned a lot, for example, from playing in multiplayer where everybody's just doing a lot of weird shit with the buildings, and we're like, 'Hey, that was actually fun,'" he says. The team then takes that information and feeds it back to enhance the single player component. But what about the inverse? What has single player taught multiplayer?
"The visual language, mostly," says Sutphin. "We did a lot of work, for example, to focus the player's attention as we're going through the mission -- focusing the player's attention on where the enemy's coming in and where the objectives are. And some of the same visual language rolls over into multiplayer. That cross-pollination is really effective."
The biggest design challenge so far, says Sutphin, has been in balancing the three combat types -- up to 32 simultaneous players might be running around on foot, driving around a ground vehicle, or piloting an aircraft in the same frantic scenario.
"You have a huge scale difference across those three, and you have a huge speed difference across those three," he says. "When I'm the dude on the ground running around, I'm running relatively slowly. I care about things like the rock I'm going to hide behind, the doorway I'm going to go through... things on this scale. When I'm in a tank, that one rock, I drive over that. I'm not even thinking about it. Now I really care about the building that's in my way. I care about the big hill that I have to crest to get to the enemy base.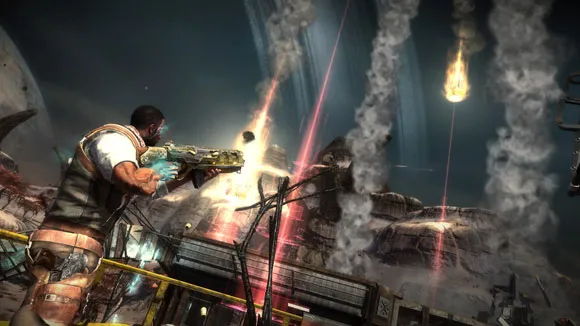 "And then when I'm in the Hawk and I'm flying around, I don't care about that stuff as much, because I'm looking at the whole battlefield stretched out underneath me. I'm looking for optimal strafing and bombing runs, right? I'm looking for a spot to land and start messing up an enemy base. I'm moving across the map in a Hawk in fifteen seconds, whereas on foot if I'm running it's going to take me a minute and a half, and so that's always kind of tricky."
There a lot of effort going into Starhawk. Certainly, it adds up to the triple-A level studio that Jobe hoped for, but it puts the design team at an interesting crossroads, with keeping its "indie" mentality in the face of developing a rather complex first-party Sony game.
"I don't know that we're seen yet as the faceless, corporate triple-A kind of thing, but it is kind of interesting the position we find ourselves in where we are kind of halfway between the two," says Sutphin.
Starhawk ships for the PlayStation 3 in 2012. With any luck, Sutphin and his pals will still be hanging out with the Juegos Rancheros crew well past then.