Crate Entertainment's recently released Grim Dawn, an action-RPG in the style of Iron Lore's 2006 hit Titan Quest, began development in the hands of former Titan Quest developers. After a successful Kickstarter campaign and Early Access period, the 1.0 version of Grim Dawn garnered solid reviews and over 400,000 sales, according to Steamspy.
At first glance, the trajectory of Diablo-inspired Grim Dawn looks like the now-familiar "spiritual successor" scenario, in which fans rally to fund a project that promises to get the band back together and recapture the magic of a classic PC game, even if it doesn't have access to the original property (see: Broken Age, Pillars of Eternity, etc.).
But Grim Dawn is not exactly like those other spiritual successors. As Arthur Bruno, CEO of Crate and former lead designer at Iron Lore, tells it, Grim Dawn's development process began long before Kickstarter existed. And thanks to Titan Quest's unusual publishing deal with THQ, Grim Dawn was built on the same game engine as the title that inspired it.
Still, the success of Grim Dawn demonstrates why this model of game development works, and what conditions developers need to pay attention to if they want to succeed with a "spiritual successor."
Getting the band back together (then losing them again)
Bruno emphasizes that Grim Dawn isn't entirely an ex-Iron Lore developers project. Though he himself wanted to keep working on action RPGs after his time on the Titan Quest, his first real step in bringing Grim Dawn to life was in realizing that his former colleagues who ran Iron Lore studios still owned the rights to the Titan Quest engine.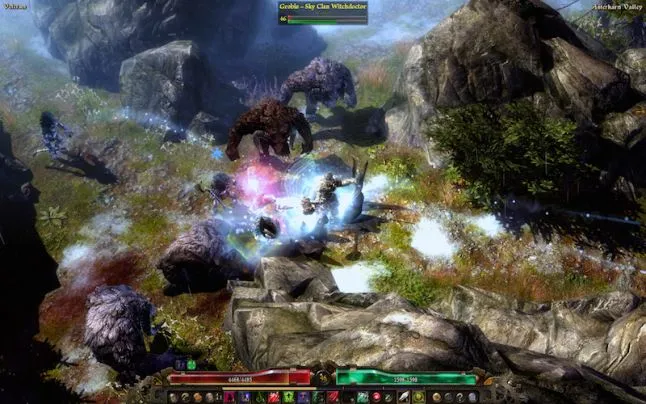 "Unlike a typical publishing deal," he says, "THQ owned all the art, animations, and IP, but Iron Lore still owned the code base."
With access to that underlying feature, Bruno was confident that he could create something that would feed the hunger for a new PC action RPG. "There's a million-plus people who bought Titan Quest who want something new," he says. "Since we'd used this to release commercial RPGs, I figured I could do something small-scoped."
Bruno gathered some friends and fellow contract developers, and began pushing at this small game. But from 2008-2012, Torchlight, Path of Exile, and rumors of Diablo III began reinvigorating the action RPG genre, and Bruno realized a small indie-version of this type of game wouldn't survive on the market.
That was what lead to the May 2012 Kickstarter. At this point, many of his former Iron Lore friends had moved on to different stages in their lives, and a new team was hired to sheperd the game through crowdfunding and beyond.
What's changed with action RPGs?
With two big competitors already reclaiming the market, how was Grim Dawn going to carve out its own niche in the same audience? By sticking close to what fans liked about Titan Quest, and giving them some of the features they had clamored for in the 2006 game.
Bruno says he was able to apply the feedback he was never able to act on while working at Iron Lore. Since he was working off the code base for the same game, he was able to update many of the general concepts, he was able to finally take feedback his former bosses on Titan Quest had strictly forbidden.
"On Titan Quest, one of the owners was really opposed to having blood and gore in that game--they wanted to keep it E for Everybody," he says. "The result is you hit enemies and there's no hit animations—no blood spatter or gore when you kill them. We kind of went nuts adding all that stuff to Grim Dawn."
The toughest thread to navigate proved to be the balance between developing story and dialogue systems while maintaining a central experience around combat, looting, and character building. According to Bruno, "Looking at the new action RPGs, we realized we needed to do something that would make people want to play our game. The areas I feel Diablo and Path of Exile covered really well is more of the hardcore multiplayer competitive aspect."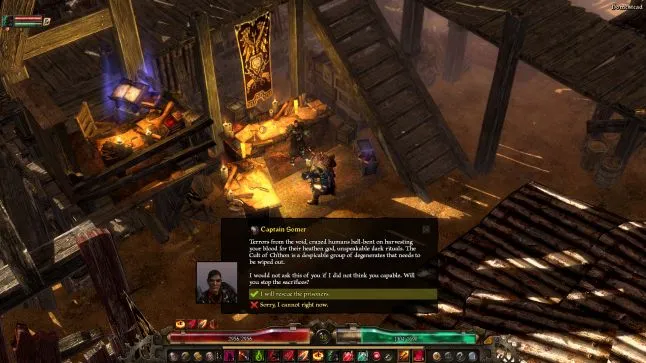 "Titan Quest didn't have that though, and a lot of the audience that was attracted to Titan Quest was interested in the single-player [experience]," he says. "I thought we could move Grim Dawn in more that direction for that growing generation of gamers who don't have as much time as they used to."
The trend here then, is specialization—with action RPGs no longer being a mass market genre, reviving your place in that genre means focusing exclusively on what your precursor did best. It's a trend that leads to interesting splits in revivals, with different modern incarnations sustaining themselves by shedding supposed 'core elements' to sustain an identity.
Why Early Access worked
After raising money on Kickstarter, Crate Entertainment was able to launch Grim Dawn on Steam Early Access. Despite some of the volatility around the platform, they were able to launch a 1.0 version successfully in February this year.
Bruno makes some comparisons to the Early Access survival genre titles, which frequently don't see similar patterns around their 1.0 launch, but what's interesting about Bruno's experience is that Early Access fundamentally becomes a different kind of seeding ground for so-called "genre revivals" than it does for other titles.
Bruno says the action RPG genre mostly occupies a special space that lets it benefit from Early Access testing and the finality of a 1.0 launch. The end result of developing for fans who have been around for 10+ years is a core base of playtesters who are eager to interact with developers and contribute feedback on a genre they consider themselves experts in, and a wider audience of fans who will be happy to shell out for the final version.
"I think that games that have a more linear story content are less likely to see the majority of their sales in Early Access because a lot of people don't want to spoil the story," he says. "We saw that for years, with either online comments or at PAX East, people would come up and say even though they'd backed the game and could have started playing it, they wouldn't. They held off, because they didn't want to spoil the game."