My name is Will Dubé and I'm the creator of Jotun, an action-exploration game for PC and Mac that takes you on an epic journey through Viking purgatory.
In January 2014, I quit my job as a mobile game designer to follow my dream: to make an indie title. My plan was to launch a Kickstarter campaign within two months (ha ha ha).
I spent about two months brainstorming and iterating on different game ideas until I had something solid. I then collaborated with a friend to determine the art style while I fleshed out the design and razored the creative vision.
The game started to take shape: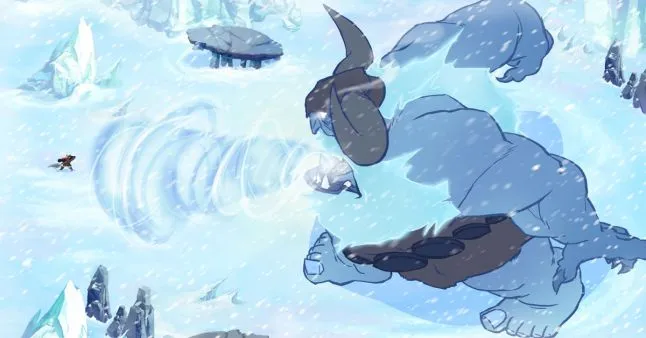 About two months later (May 2014), we started working on the Kickstarter campaign itself: assets, animations, music, text and video. At this point, I'm the only person working full-time on the project. I received tons of help from friends (4 artists, an illustrator, musician, director/editor) who helped put the campaign together in their spare time.
Throughout this entire process, I put together a marketing plan based on the dozens of articles, blog posts and post-mortems I read and the hundreds of campaigns I watched.
For pre-campaign marketing, I focused on:
Spreading the word at local developer gatherings
Sharing on various Facebook indie gaming groups
Posting to the TIG Source Forums, Twitter and Reddit
Launching a short teaser trailer for the game
Preparing interviews with a few websites
Planning early momentum with friends and family
Sharing the pre-campaign private link
Starting out with 0 followers was a daunting task. You really feel like you're talking to an empty room. This is important though, since it helps establish a backlog of content and a certain credibility once your Kickstarter campaign actually goes live.
I cannot stress enough the importance of talking to other developers. Even though I didn't have much to show, talking to people who had gone through Kickstarter, both successfully and unsuccessfully, provided invaluable insight into the process.
After sharing the preview link with as many people as possible, the campaign went through many different version, page placement, rewards, text, all went through the blender several times.
Once I was happy with the page (and the Steam Summer Sale had finished), we were ready to launch. Getting to this point had taken seven months.
Launch Day - Monday July 21st 2014, 7:59 pm
I knew I needed tremendous momentum right at the start to stand even the slightest chance of getting funded. I spent the week leading up to the project calling (by phone!) every single person I knew to make sure that they knew about Jotun's Kickstarter launch date and time. I am extremely lucky to be surrounded by such supportive and generous family and friends. I also coordinated simultaneous posts to the various Facebook groups I was already posting in.
Thanks to this initial momentum, we reached $10,000 within the first 24 hours and $15,000 within the first 48 hours (30%). At this point, Kickstarter chose Jotun as a Staff Pick, increasing our visibility. We were also previewed by Rock Paper Shotgun and several other sites.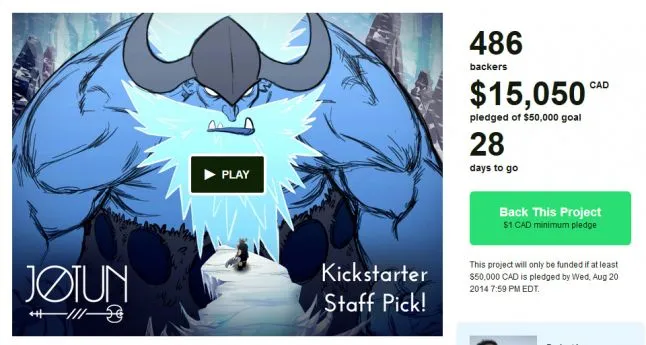 On Thursday, four days into the campaign, we were already losing momentum. The steady trickle of incoming backers was slowing to a drip. After the high of the first few days, I experienced a gut-wrenching low. I could not believe that we were already stalling out and hitting the "Kickstarter slump".
Out of the blue, I received a KS message from the creators of Timespinner saying they wanted to give us a shout-out in their next update. They were just finishing their campaign and had over 5000 backers at that point. Uh yeah, that's fine with me. Thank you so much Bodie for that mention, it helped push us past the $20,000 mark.
On Monday, a week after the start of the campaign, we were featured as Kickstarter's "Project of the Day". It gave us another boost and we reached $25,000 and 50% of our total funding goal.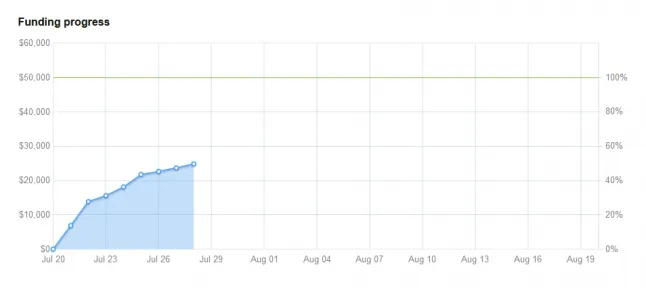 The Slump
At that point, things slowed down once again and we officially entered the "slump". The slump is the two week period in the middle of the campaign where nothing much happens. You're done with the initial excitement and, at that point, a lot of people just wait until the end of the campaign to pledge.
Thankfully, we were able to get some traction with press which gave us some more backers. To keep our existing backers interested, we started revealing a Norse God every 100 backers and asking people what kind of powers the Gods could provide in-game. This proved to be a great way of encouraging comments. It also gave us interesting content to post to Facebook and Twitter. We also released high quality updates with additional details and new content.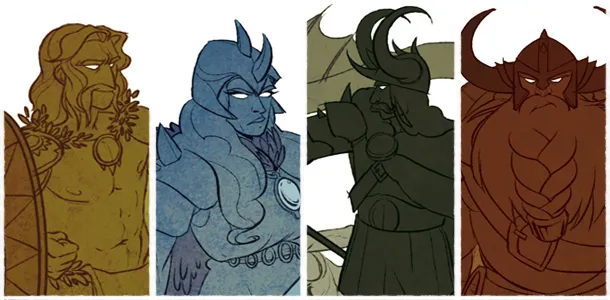 We cross-promoted with several other active Kickstarter campaigns as well.
Greenlight
Concurrent to our Kickstarter campaign, we submitted Jotun to Greenlight. To be perfectly honest, Greenlight was more of a "fire and forget" campaign for us. There's no time limit to how long your game stays on there. As long as people keep voting "Yes", you'll eventually get through. Gamers ended up voting "yes" quite a bit and we were chosen 49th out of 50 games on August 1st in under 6 days (I lost the last day's screenshot unfortunately).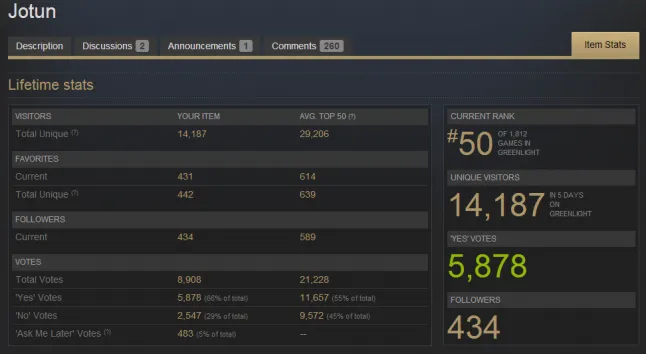 Final Stretch Plan
At the time of writing, here are our stats:

Some Observations:
We successfully pushed back the slump three times (24th: Timespinner shout-out, 28th: Kotaku post by Luke Plunkett, 1st: Greenlit)
5.65% of people who saw the video backed the project (1423 backers / 25,171 video plays)
18% of the money raised comes from the $15 tier, 17% from the $250 tier and the rest is pretty evenly split (between 8% and 12% each)
Conclusion
We have a huge final week ahead of us, with tons of stuff to try before the end of the campaign including:
Writing a Gamasutra blog post ;)
Posting to Reddit (art, animation, final stretch, our story)
A Thunderclap campaign - simultaneous social media blast on Sunday night (EDT)
Targeted pay-per-click Facebook ads - not too promising yet
More cross-promotion - a few planned with bigger campaigns
Do another press blast (~300 emails) - 48 hours left, campaign highlights
Greenlight - announcements to drive traffic to the KS page
Facebook groups - keep announcing Gods and updates
Twitter - shamelessly use hashtag trends
Kickstarting a project is a full-time job. From the month leading up until the end of the campaign, expect to spend all of your time on the campaign. It is full-time marketing and community management. Depending on your team size, you can forget about development. The first week and, I predict, the last week are insane emotional roller coasters. Though we tend to hear the negative stories about Kickstarter, the truth is I could never do this project without Kickstarter, the amazing support of family, friends and our backers across the globe. I love you all.
-Will
PS: Jotun is live on Kickstarter and you can follow me on Twitter!