The UK consumer games market grew by 1.9 percent to £7.16 billion ($9.39 billion) in 2021, surpassing the previous record of £7 billion recorded during the height of the COVID-19 pandemic in 2020.
That's according to a valuation provided by UK trade body Ukie that was compiled in tandem with data partners ABC, The BFI, Gfk Entertainment, Kantar, OCC, Omdia, Nielsen, and NPD.
According to Ukie, the valuation "provides a detailed examination of the size, scale and make up of the country's consumer games market."
Breaking that total down into hardware and software spending, the report indicates that hardware spending increased by 17.4 percent year-on-year to £2.66 billion in 2021.
Console hardware was the main growth driver, with sales in that category increasing by 32.9 percent to £1.13 billion, marking a new record.
As shown in the chart below, there was also significant growth in the virtual reality market, with sales of VR hardware increasing by 41.9 percent to £183 million.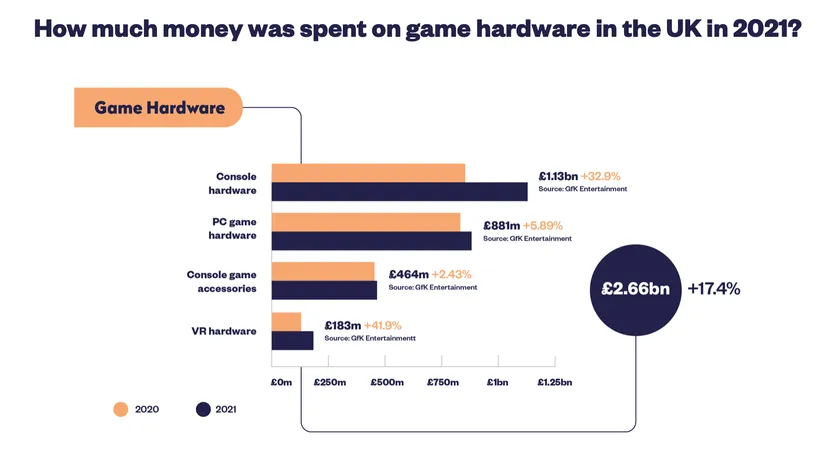 The game software market, meanwhile, was valued at £4.28 billion in 2021, meaning overall spending declined by 6.32 percent compared with 2020.
Digging into those figures, spending on digital console games decreased by 5.59 percent to £1.65 billion, with digital PC revenue down by 7.02 percent to £620 million. The report cites the lack of major releases such as Animal Crossing: New Horizons and The Last of Us Part II as having a "downward effect" on the market, and notes the downturn "should be seen in the context of the impressive performance of software during the pandemic."
"The important story here is of how much of the lockdown-related boost seen in 2020 has been successfully retained during 2021's year of correction," said Steven Bailey, senior games analyst at Omdia, commenting on the digital games market.
"We expect a return to growth for most digital areas in 2022, as game-makers continue creating new standards of compelling content, and explore combinations of business models that can help keep people engaged and connected even during unstable times."
Sales of physical titles also dipped year-on-year, with sales of new boxed software falling by 20.9 percent to £511 million. Mobile game revenue remained flat, however, at £1.46 billion.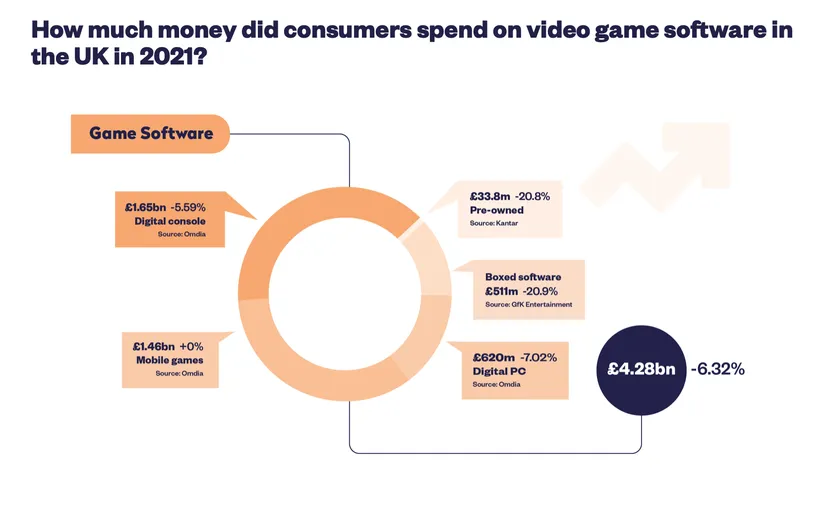 For more insights, check out the full report on the Ukie website.