A few days ago, Jason Hiner, Editor in Chief of TechRepublic put out a Christmas message entitled "Stop Being Duped by the 3D Scam". Instead of credibly investing some journalistic time, Hiner just republished this months-old blog, with a caption that the 3D industry is losing momentum and calls 3D "a transparent attempt to bleed more money out of people". Forget peace on earth and good will to all men! TechRepublic cautions that "not everyone is doing enough to stop it (3D)." Merry Christmas indeed!
Just to clear the air, nobody has been pushing or forcing 3D on anyone. Modern 3D cinema started off as being an experimental release (Chicken Little in 3D) that was very well received by moviegoers. Modern 3D video games were sparked by a growing community of S-3D gamers that suddenly got noticed. The 3D industry didn't just happen – it was a process that could be mapped out from point to point to point. Furthermore, with nearly every 3D movie release, there has always been a 2D version available, and 3D games have never been exclusive to 3D displays. 3D product use has always been optional.
"I've always been a fan of 3D, and so Avatar didn't disappoint in this area; in fact, the 3D experience just keeps getting better and better." - TechRepublic
That said, I do think that the last year marked a period where the 3D industry lost sight of its roots. The native 3D movies that sparked consumer interest were replaced by drab 2D/3D conversions. Avatar which was expected to mark the beginning of creativity in 3D seemed to mark its end – temporarily at least. That reminds me…I thought TechRepublic loved the 3D in Avatar?!?
3D video games have faced their challenges too with toned down 3D settings based on 3D movie expectations. Some developers adopted 2D+Depth shortcuts which undermined the excitement of 3D, and recent AAA 3D games were released with shockingly awful 3D quality results. Work needs to be done in this area, though this has nothing to do with 3D itself.
The good news is 3D is redeeming itself. First, we are starting to see quality 3D movies hitting theaters again with credible names like Steven Spielberg and Martin Scorsese adding 3D as part of their artistic canvass rather than an afterthought conversion. I hope to see more of this.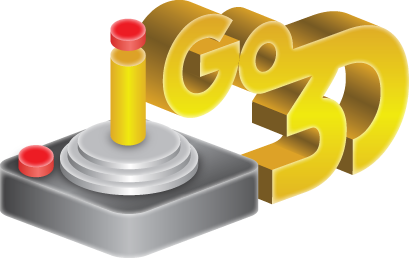 In the 3D gaming world, the Ontario government funded iGO3D initiative has been doing very well, and preliminary results are starting to take shape. iGO3D is a university developed and industry backed 3D gaming research initiative. Its goal is to determine which 3D experiences are most effective amongst gamers, and will ultimately deliver research based guidelines for future S-3D game development on multiple platforms.
In the PC 3D gaming arena, MTBS recently unveiled GameGrade3D, a community driven library of games and their compatibility with DDD, Nvidia GeForce 3D Vision, and AMD HD3D/native 3D options. The idea is that all games are rated for quality assurance and visual flexibility with a fixed scoring system, and then stored in a large database. In addition to scoring games, users can share screenshots, driver profiles, and comments. Even though it's a beta release with work still being done, it has over 400 submissions to date. We are hoping that this tool will help game developers self-check their work to maximize their results and scoring in the press.
Last but not least, 2011 marked the release of some innovative stuff. TechRepublic was too quick to criticize 3D for its drop in brightness and blurry image, because much has changed in this area – especially in the consumer space. For example, we recently tested Samsung's latest round of 3D monitors based on AMD's HD3D / DDD partner spec. It features a bright image and little crosstalk or ghosting thanks to a new shuttering technique which is much brighter than what we have grown accustomed to. Extra glasses are also inexpensive. Nvidia has done a great job too. Their GeForce 3D Vision 2 glasses combined with Lightboost has similar results, and it's a remarkable difference in brightness compared to their first glasses release which have already been well received.
Passive 3D (polarized) is also more readily available thanks to display makers like LG Electronics and Vizio. Passive displays used to be limited to the professional markets, and this is now accessible by consumers.

As for 3D games, there are positive stories to tell here too. Under normal circumstances, I would expect that Elder Scrolls V: Skyrim would perform similarly well on console and PC (with the exception of resolution). However, even though it wasn't intended, Skyrim's biggest victory is in stereoscopic 3D because it is an extremely immersive and memorable game on both the DDD and Nvidia 3D platforms. Batman: Arkham City HAS to be played in 3D on Nvidia – you're just wasting your Bat-time otherwise. Now that DICE has patched Battlefield 3 with more 3D flexibility, I'm starting to test that out too.

If you're strictly a console gamer and don't want to spend on a new 3D HDTV, Sony's PlayStation 3D TV (24") is a competitive option. In addition to supporting 3D games, it lets two gamers play in full resolution on the same screen – a creative use of 3D technology for 2D purposes.
AT&T hasn't released the Gingerbread firmware update for the LG Thrill 4G yet (LG's 3D smartphone), so I can't comment from experience. However, it's very exciting that the new firmware will include a stereoscopic 3D driver. A stereoscopic 3D driver lets you play existing games in stereoscopic 3D by extrapolating a left and right view. This is how most PC 3D games work, so we'll have to wait and see how the results turn out on mobile.
Clearly, there are a lot of positive things happening in the 3D space, and I think the industry is moving ahead in a positive direction. January marks another year for 3D innovation with CES 2012, and I look forward to seeing what the new year has in store!
On that note, happy holidays and best wishes for the new year (TechRepublic too!)!