Introduction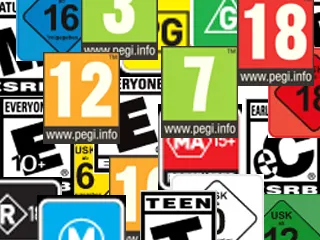 When we first released Nutjitsu on the Xbox One, we only released it in the United States. One of the most common questions we have received since then is, "When are you going to release Nutjitsu in my country?" I know a lot of NinjaBee fans outside the US really want to play this game.

I get it, I've been there myself. Growing up in the UK, it was frustratingly common to be handed a different release date than elsewhere. While I'm not about to solve the problem here, hopefully, sharing my experience with some of the many ratings boards will help expedite the process for other developers wanting to share their content worldwide.
The Kit
First up, let's put you in a scenario that you are likely to encounter at some point during your professional career. You are stranded on a desert island and the only way to get off is to get your latest game rated by every ratings board across the world. Likely, see? In fact, I hear the cries now, "I get stuck on that island twice a year!" Good, you should all share how you got off it!
I can't speak for others but here is my ratings board survival kit:
Playable, feature-complete build with dev cheats enabled
Build installation instructions
Cheats and hints document
Profile and login information
Gameplay video – 30 mins
Game design document
Help manual
Box/cover art
Now, not every ratings board is going to require all of this. Some of the boards will want printed copies of these files and some will want them on a DVD or Blu-ray. However, you will want to have all of this on hand as it will make things a lot easier.
The Details
While not explicitly asked for, a build with all of your development cheats enabled allows the reviewers to access the game more readily. If a block surfaces for the reviewer, cheats can often help them overcome the issue. If your game has a lot of content to unlock, the profile and login information you send can also help here. The account should have plenty of unlocked content.
When writing the installation instructions, it's a good idea to assume the person reading them will have no basic technical knowledge and they don't know how to use game development kits. In my experience, this hasn't been an issue but I like to play it safe. Write them in such a way that the individual reading the instructions can get your build running even if it's their first time seeing a console or running an executable.
If your game doesn't have a help manual to send to boards that require it, your GDD may be sufficient as long as it is detailed enough. However, I would also recommend including a separate copy of your controller map and any how-to-play screens your game might have.
Timing
It's important to leave enough time to get your game rated. If you are not paying additional fees for the expedited ratings process most of the boards offer, it can take up to six weeks to receive a classification decision. This is, of course, taking a risk in assuming the process goes smoothly. Certain boards, such as Australia's, have a four week turnaround and will only accept physical submissions. It doesn't matter what size your game is, you need to send it to them via mail. In addition to a slow turnaround, you will also need to register with them. This can add another week or two to your timeline.
If at all possible, I would recommend allowing three months for ratings board submissions. You can probably get it all done in two but three allows some room for error – especially if it's your first time through the process.
Cost
Depending on the kind of game that you have made and the distribution method, costs will vary. For example, if your game is digital download only and less than 450MB total size, it will qualify for PEGI's casual game fee which is a fraction of the normal price.
During the submission process, there are some additional costs you may incur. One example is in dealing with the Japanese classification board. If you don't have someone who can read and write Japanese, you will need to hire someone to help you.
Roundup
While this information isn't groundbreaking, until you've been thrown on the desert island and had to fight your way off, it can be a daunting task. Hopefully, this brief guide will arm you with the information you need to be prepared and help your stay on that island to be quick.