Reiner Knizia Games has published hundreds of board games, and over 40 mobile games. Dr. Knizia says that the junction of physical and digital games is accelerating, giving rise to a genre he calls "hybrid games." "As we know from history, there have been two arms coming up in the games business -- we have classical and traditional board games, and then there's the rise of electronics and computer games," Knizia says. "They were relatively isolated from each other for a while, and I think now there is a very strong tendency for both sides to move toward the middle." Why move away from digital games? "If you look around, this becomes a more integrated world," Knizia says. "If you look at Google Glass, there is augmented reality integrated with our normal world. With Kinect, you integrate the whole body into the game. Oculus' products give you a three-dimensional world. This all evolves us into a world where we become more involved in the gameplay if we do physical actions, if there are physical elements as well." Knizia has been working with Dice+, a bluetooth die that acts almost as a controller for iPad games that involve dice rolls. It provides a number and a color: "We can do very primitive race games: You roll the die, you get a number, and then your figure moves along the board. If you were to leave that die away, it becomes a very boring game. From a logical point of view, nothing changes if you have this die in your hand, but it changes a lot psychologically." Knizia's Dice+ game,
Supremacy
, understands the data from the dice rolls and implements it into a larger system, so that pure luck becomes less of a factor. The game has been popular since its release ("I want to thank Angela Merkel for liking the game!"), and for him this proves the strength of the concept of integrating digital and physical elements.
"You roll the die, you get a number, and then your figure moves along the board. If you were to leave that die away, it becomes a very boring game."
"We all have board games at home, and it's important to understand these games draw a lot of people, particularly if we have hybrid products that come from the physical side of the game. Why would we move from the purely physical boxed game to a hybrid game? The first basic thing is that we live in a world of electronics. It's just there, it gives a better user experience and better features, so why would that not naturally go into our games as well?" Electronics can do the grunt work of handling the rules, and motor tasks like shuffling and dealing cards. "But also, it enriches the context and the atmosphere of the game, because of course, I can put in more aspects and more background information through electronics, through loudspeakers and display." There are nearly a thousand new board games released every year, and hybridization with electronics offer opportunities to stand out. But they also necessitate designing for certain limitations, a necessity for designers leaving a familiar framework. "You get a lot of interface challenges: Input -- how do I go from the physical world to the electronic world -- and the output. How does the electronic world feed back into the physical world, and how do I keep that world in sync?"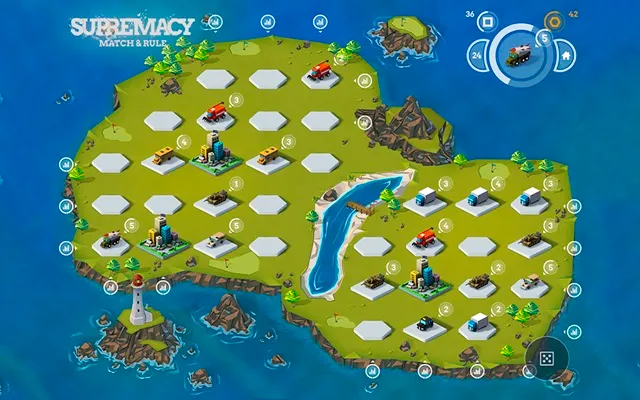 Players are less interested in these theoretical questions; they simply want an integrated and intuitive experience. Knizia Games first started exploring electronic enhancements to board games years ago, beginning with the board game like King Arthur, where players travel a board in the aspiration to become nights and retrieve the sword from the stone, the board is framed in many pictures of characters. How would you tell the electronic who you are, where you are and what you're doing? "We started out with a so-called 'new technology', which is conductive ink. It says if you put one of your hands onto the battery, and if you put your other hand onto the board, then the electric circuit goes through your body -- we are not getting electrocuted! -- and you get a bell ringing, and a light going on. And that is now at the level of a two-year old, where the excitement would hold for a few minutes, and we needed more. So can't we introduce at least three lights? Can't I influence the lights based on where I am?"
"We live in a world of electronics. It's just there, it gives a better user experience and better features, so why would that not naturally go into our games as well?"
The colored play figures on the board can also have different resistances, so touching your green figure produces a green light, and touching a red one produces a red light. "So now we've essentially found out who I am and where I am, because I can move with my figure and it detects my location." But players are wary of touching a battery and soliciting an electrical current, so it is hidden inside a mysterious panel. "I need to give people the reason for that other touch; we don't have one, we have several buttons. So now the electronic also knows what I'm doing, because that depends on which pad I touch. Therefore I get different reactions, now, depending on what I touch." It can feel like magic, to have a game that responds to touch with light and sound that seems to read everything the player does. Knizia's King Arthur was successful, so the company followed up with strategy game The Island, navigating the complicated electronics and printing process involved in conductive ink. Not only was it elaborate, but there was a complication in trying to use similar technology to make games for kids, who can often play rough with their toys.
"If you are in a creative business, the best thing that can happen to you is change. We just need to redirect ourselves, be open, and we can do new things."
So with children's game
Whoowasit
, Knizia's most successful game ever, the electronics were placed outside the board, in a "magic chest," and the elements were carefully synchronized for clarity and appeal, rooted in visual language that appeals to kids. Synchronization with the electronics had to form the core of all the other design elements.
Whoowasit
won multiple awards in Germany across 2008, 2009 and 2010, and was a big seller. But time has moved on across the last five years. Creating bespoke hardware for every game is an expensive proposition, but today, nearly everyone has a mobile device. Last year, Knizia Games released
The Three Investigators
, where an iPhone with an associated app replaces the hardware bundle created for the hybrid games of years ago, and offers inputs that enhance the design the game. "Whatever you do on the board is seen or is taken in, so you have a fantastic input situation," Knizia says, predicting the future will bring even more experimentation of the design junction between physical and digital games.