[With layoffs hitting the allegedly 'recession-proof' game industry, Gamasutra talks to employees from Pandemic, Eidos, and Ensemble to find out the human story behind the corporate announcements.]
For an industry that's supposedly "recession-proof," there seem to be an awful lot of video game developers feeling the same pain as others laid off in so-called "more vulnerable" industries. Perhaps even more pain, if that's possible, because the games sector is supposed to be doing just fine, thank you.
Take artist R.C. Montesquieu. For him, being handed his walking papers was like crossing the street and getting hit by a Mack truck. He just never saw it coming.
Montesquieu had worked at LA-based Pandemic Studios for almost six years and was feeling "pretty secure" in his job as a concept artist. "I really didn't worry about layoffs," he recalls. "It wasn't a company prone to that sort of thing."
Then, the day before Halloween, he and his team members at the Electronic Arts-owned studio were told that almost 25 percent of the staff of 250 would be laid off.
Indeed, while no one has compiled the figures, headlines testify to the cutbacks by some of the industry's biggest players -- THQ making significant staff cuts and closing studios, LucasArts having layoffs, troubled Midway announcing a 25 percent headcount reduction.
Even the mighty Electronic Arts has been cutting back its global workforce by about 10 percent (or approximately 1,000 employees) and consolidating or closing at least nine studios and publishing locations.
How is this possible given the fact that the NPD Group recently described the pace of the industry's sales growth as "blistering"? Year-to-date total industry figures were up a whopping 22 percent to $16.04 billion, the research firm said in November.
And a recent report by Gamasutra sister publication Game Developer Research found that the current economic downturn had yet to really affect jobs in the games industry at that time. "While the effects of the current financial crisis and credit crunch could manifest itself in the longer-term," it observes, "there are no current signs of it in the aggregate numbers of people employed in game-related sectors."
No wonder few developers expect to be handed a pink slip.
Montesquieu and the Pandemic team had wrapped up The Lord of the Rings: Conquest for a mid-January release when word came from management that it "would be consolidating some studios, cutting some projects, basically shrinking the size of the company," he recalls. "They blamed the economic climate."
Had Montesquieu any early inkling? He remembers having heard smatterings of talk from his peers about layoffs elsewhere. "Just like everyone else, I have friends throughout the industry and had heard rumors about companies where things didn't seem to be going well."
"But I'd been at Pandemic for almost six years and didn't feel vulnerable. Still, there were these hints. Everyone was excited about a corporate meeting that kept getting scheduled and then postponed, and rumors started swirling that that wasn't a good sign. I remember saying something about it and people told me I was just being paranoid. Guess I wasn't."
Montesquieu admits he probably should have started looking around. "I don't want to sound like I was unprepared, but to tell the truth, I can't say I started looking for work," he says. "I mean, I really liked the company and everyone I worked with, and I didn't want to believe that anything bad was going to happen."
But when his office phone rang and he was summoned to an unplanned meeting, he began to suspect something was up.
"There were a lot of people in the room," he recalls, "and we were all told at the same time that we were being laid off. When it was over and we returned to our desks, practically everyone was gone. We were told we could come back and collect our things that Saturday."

Montesquieu is thankful he's got a severance package that will keep him going for a while. "My first reaction was that this would be a good time to kick back and relax, maybe work on a project I had never had time for," he confides. "But then your responsibilities kick in. I recently got married and didn't feel right sitting home. So I started contacting companies to see what jobs are available."
Then reality set in. "You realize that EA owns a lot of the studios and they're still laying people off," he says. "Suddenly, your options are fewer. I even tried calling some of the contacts EA handed us when we left, but when I started getting turndowns, it hit me -- this is going to be more difficult than I thought."
---
Meanwhile, in Dallas, David Lewis has one foot out the door, having been similarly laid off from his job as a software test engineer at Ensemble Studios. Lewis has been there for 11 years, starting four years prior to Microsoft's acquisition of the company in 2001.
But, in September, Microsoft confirmed that it would be shuttering Ensemble with its team of 90-or-so developers following the completion of Halo Wars -- which is said to be scheduled for an early March release. It was a "fiscally rooted decision that keeps Microsoft Game Studios on its growth plan," said the company.
"It was kind of a shock, a little bit numbing," confides Lewis. "I came to work, we had a company meeting where we were told what would happen, and then everyone spent the day wandering around, talking about the day's events and what they planned to do."
Lewis admits that while he felt secure in his job, he wasn't completely surprised: "In our industry, there's a relatively high chance that once your game is finished, the studio will make some cuts. But I had no reason to suspect that the whole studio would be closed."
He says that some of his team members are looking for jobs within Microsoft, others are looking outside, and a few are hoping to start their own studios. Unfortunately, he says, there's little time for job hunting given the fact that almost everyone is in crunch mode in order to meet the Halo Wars deadline.
"We're working 50-55 hours a week," he says. "At least we still have these jobs until Halo Wars ships."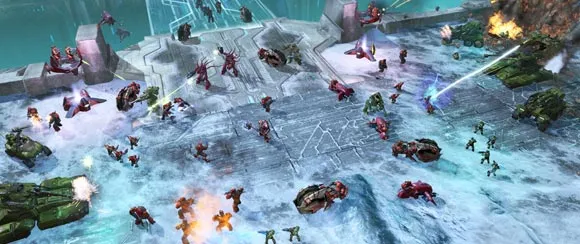 Ensemble Studios' Halo Wars
In the meantime, Lewis reports that there has been a wave of headhunters calling and e-mailing the soon-to-be-unemployed developers. "They know a whole studio is about to be closed and that there are people who will need jobs," he says. "While they may not have actual openings available, at least they can set the process in motion for when jobs do become available."
Given the fact that Ensemble had been one of the relatively small number of game developers in Dallas, Lewis says he expects there will be more opportunities elsewhere, perhaps Austin, perhaps California, maybe even Australia.
"I have to look at this as an opportunity to find something better," he says. "We have quite a large number of employees here who are married with kids, so I'm sure they have a different take on things. I have none of that. So I'm trying real hard not to get depressed. Sometimes when you're given a shove into the water, you learn to swim."
Speaking of swimming, the situation doesn't seem much different on the other side of the pond. Over in the UK, Michael Souto had been at Eidos Interactive for nearly 10 years, his last post as executive producer.
"I must say that I felt pretty secure, as I had been there for so many years, survived a number of 'consolidation periods,' and had put in a lot of great work," he says. He knew that game companies were increasing their cost-cutting measures and that Eidos was no exception. But what he hadn't expected was the degree of cost-cutting.
"I had actually experienced four 'headcount-trimming cycles' during my time at Eidos," he says. "Unfortunately, the last one resulted in my demise, as well as that of about 250 others out of a workforce of about 1,000. The day Eidos announced its intention to cancel 14 games -- some of which were in my care and early in development -- then the writing was on the wall, for me.
"It's a really tough and life-changing event if you don't find a replacement job quickly," he says. "It's tough in the best of times, but to go through it now in this sensitive economic climate only makes it worse. It's shocking when it first happens, but you have to take stock and move on."
---
But "moving on" hasn't been easy, reports Souto, who has been on a few interviews via conventional job advertisements, none of them yet successful. He's also signed up with several recruitment agencies which has resulted in a few leads.
"I'm still looking," he says, "but it's far harder than I expected. While there seem to be quite a few jobs out there, there are also quite a few people hunting, which means that employers are now able to find the perfect candidate who ticks all the boxes."
"In the past, a candidate could fulfill 90% of the role and it would be understood that the remaining 10% could be worked on. However, that '100% candidate' is potentially out there in the large job-seeking pool. So the difference between getting that job and missing out could be a very minor feature or attribute."
Souto had interviewed for one particular spot, and was one of the last two finalists. But he says the deciding factor wasn't his skill as a game developer, but his perceived lack of interest in a particular sport. "It was enough to sway the job in the other direction," he says. In another interview, he was informed that he had worked too long at Eidos.
"It's unbelievable!" he says. "I also have friends who didn't get jobs because they were told they had moved around too much. I must say that it's rather disheartening. All I can say is that if you're reading this and looking for a job, keep the faith and I sincerely hope that you find one soon. Good luck!"
But Marc Mencher, president of Fort Lauderdale, Florida-based GameRecruiter, says luck has nothing to do with it. Job seekers just need to buckle down and apply for the myriad of job openings that exist, he says.
"These layoffs are not the result of the economic downturn that is affecting other industries," Mencher maintains. "Our industry is having record sales. What we're seeing is a combination of the not-so-unusual year-end layoffs that we see every year at this time when games have been shipped... plus a few companies that are having troubles, like EA, which has been struggling for some two and a half years."
"Those companies are going through some much-needed restructuring, just like the banking industry, which had to restructure after the problems they encountered."
On the opposite coast, T.J. Summers, a senior partner and co-owner of LA-based recruiter Digital Artist Management, suggests that the industry -- especially the console sector -- is going through a "reset" regarding how it is using its developer resources.
"Distributed development and outsourcing are becoming more of a predominant part of the industry," he explains. "Publishers are taking a hard look at their portfolios, determining what they can do in-house, giving their core games to their best people, and handing off some of the others to outside resources. As a result, a lot of people are being let go."
"In the case of some publicly traded companies -- like EA, THQ, and Midway -- it's part and parcel of their need to prove to their stockholders that they're being fiscally responsible. And given today's economic times, they are making significant cuts quicker than they ordinarily would."
Summers' best recommendation to developers who see obvious layoffs coming at their companies is to start collecting their work, updating their resume, and reconnecting with old colleagues, because networking is of primary importance.
Summers reports that, yes, companies are hiring... but not necessarily the ones that are on the top of developers' lists.
"If someone is passionate about creating games only, particularly console games, it's very hard to replace that type of satisfaction," he admits. "But there's a lot of good stuff going on elsewhere now in web, in mobile, in the simulation industry, in the Web 2.0 area. And these companies, many of which are hiring, have quite a few ways with which they can use game developers' skills."
Summers' bottom line is that while everyone should, without question, have a reason for concern, there are a lot of opportunities if you're flexible, if you're willing to adapt your gaming skills to some of the new growth sectors, and, particularly, if you're willing to relocate.
"Relocating cannot be overlooked," he says. "Some of the geographic regions that have traditionally been big gaming areas -- like Austin, Dallas, and Chicago -- are having their business slowly trickle away. People who reside there and want to stay there ought to either think about other options outside of games... or consider moving elsewhere."
---
Title photo by Kevin Dooley, used under Creative Commons license.