It's been an interesting week for videogaming in both Australia and New Zealand, but more than the Tasman Sea divides the two countries.
Over in Canberra, the Australian federal government has issued a long awaited official response to a 2016 Senate inquiry into the games industry.
The inquiry, a weeks-long deliberation that consulted with stakeholders across the country, culminated in eight official recommendations, including a suggestion that the government reinstate the defunct Australian Interactive Games Fund, which the Liberal government had cut from its 2015 reform of arts funding.
The government's response after a year and a half of dithering? It "noted" the recommendations but refused to commit to anything of substance.
As Kotaku AU noted:



'Only one recommendation - that the government "facilitate dialogue between video game industry associations and groups that use, or could potentially use, serious games" - was supported "in principle" by the government, although the response notes that such dialogue was "an initiative for industry to pursue".'
The issue of "serious games," as I've pointed out in this column, is a significant avenue of growth for Australia's dev community. The government response, chiefly, suggested that industry and state-level governments take the lead on the issue, however. That was also how they responded to most of the other suggestions, including the report's recommendation to reinstate the Australian Interactive Games Fund.
"State and territory governments also offer a range of funding and other incentives that support interactive game businesses in their jurisdictions," the government response reads.
But this paints a misleading picture of the Australian landscape. Victoria does remarkably well in this regard, yes, and the Australian Capital Territory (i.e. Canberra) is catching up quickly; Queensland and Tasmania are taking some tentative steps onto the stage of videogaming as well.
Yet so many Australians I spoke to over the last year have complained about pressure to move to Melbourne, widely regarded as the epicenter of the Aussie industry. It's not an easy choice in a field made up almost entirely of solo or small-studio indie developers (Melbourne ain't cheap), and such concentration also robs other Australian cities of the chance to nurture their local talent. The entire point of a national program would be to spread the benefits of the industry to the entire continent rather than one (admittedly lovely) city.
That could, in turn, prompt states and territories to compete on more favorable terms for talent--which has the added benefit of supporting the most distinctive thing about Australia's game dev base: its independence. Such tax breaks and grants are the path to a living wage for people who might have to leave their home states or even leave Australia entirely, and ensure that the industry continues to produce independent content without the filters sometimes imposed by large multinational studios.
In addition to all of that, it provides an incentive for developers to stay in what remains a geographically isolated part of the world.
As Objects in Space developer Elissa Harris wrote on her Twitter: "It'll be exciting the see where the future takes the Australian Games industry. But by 'takes us', what I mean is: overseas. Lots of us will move overseas." Mallow Drops dev John Kane, meanwhile, borrowing a satirical image from Satellite Reign, another Aussie game, said:
Maybe this year at pax, all the games from States with no government funding can put up a little banner at the top of their booth signage. pic.twitter.com/kO2d3qQVEd

— John Kane (@gritfish) 31 January 2018
The Game Developers' Association of Australia's response was more diplomatic, highlighting one concrete commitment from the federal government to set aside 17,000 AUD to fund the Australian Showcase at this year's GDC. That's not nothing, but it's a far cry from what it could be. The people represented by the GDAA feel, to judge by the reaction on Twitter, abandoned and underappreciated by the Australian government.
At a moment when the conservative Turnbull government made a big splash by declaring that Australia should become one of the world's leading arms dealers, it's especially glaring that it simultaneously brushed aside an already-successful homegrown industry that has real potential to become a global player (with the added benefit of, you know, not murdering anyone).
***
Across the Tasman Sea, at first blush, the picture isn't much different. New Zealand lags behind many countries when it comes to supporting interactive arts. But then, that country has just had a dramatic change of government. In what just might be an auspicious sign of things to come, no less than the Prime Minister herself, Jacinda Ardern, flew down to Dunedin to visit a studio I recently wrote about: Runaway Play. She was there to support their Girls Behind the Games campaign, which celebrates women in gamedev and seeks to encourage more to join the industry.
In a Facebook post, Ardern herself called the initiative "brilliant."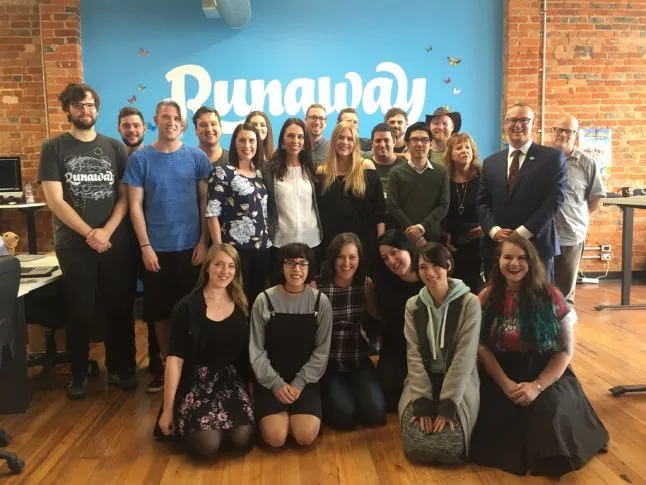 Arden stands in the second row, fourth from the left
Of course, photo ops aren't dollars, but a sitting-PM's willingness to visit a studio and stand with its developers while proclaiming her goals to be aligned with theirs, isn't a small step as symbolism goes. Seeing a gaming studio as an incubator for positive change worth celebrating? Well, it's good PR for the industry if nothing else.
Whether that'll translate into material support for NZ's talented gaming community remains to be seen, but if Ms. Ardern is looking for a way to capitalize on recent events her coalition government could do worse than creating a Kiwi Interactive Games Fund, and lifting the current prohibition on videogames receiving national arts funding.
Ardern's Labour Party had advanced a novel proposal in last year's election campaign, namely to create a Centre of Digital Excellence (CODE) in the city of Dunedin. The city is located on the lower end of NZ's South Island, well away from the population centres of Auckland and Wellington on the North Island, but hosts two universities with strong technical backgrounds and studios like Runaway. CODE would fund a chair of Computer Gaming at Dunedin's Otago University and create a space in the city that would have, among other things, motion-capture facilities. It has the advantage of building up a regional centre, which already has a pool of educated technical students and professionals, while also giving local talent up and down the country a ladder into the industry.
For now, it remains an unfulfilled election promise, but Ardern's visit to the Dunedin-based Runaway Play studio is auspicious. If NZ Labour keeps its promises, it'd be a rosy contrast to Canberra's fecklessness.
The long and short of it is that neither Australian nor New Zealander game devs should feel like they have to go to America to reach their full potential. These are people who, after all, made magic in the wake of a financial crisis that should've destroyed game development in Oceania, giving the world a unique artistic incubator that, for all its flaws, still shines with creativity. Those developers deserve governments that will stand behind them.