Last year, we only picked five trends. This year, we went crazy. There are so many exciting and relevant changes happening in the game industry right now, it's difficult to keep abreast of them. With that in mind, we created a list that covers the breadth of the industry as best as possible -- an industry that is going through a major evolution.
And while we have selected 20, know that it's pared down from an initial list of over 40. We probably could have thought of many more. We realize that, especially as the industry expands to encompass everything from casual online games to Facebook applications and support three dedicated consoles and two handheld platforms, there's too much diversity to make choosing simple.
That said, we have identified and explained -- with relevant links to further information, where possible -- 20 trends that have risen to the level that they cannot be ignored as 2008 draws to a close.
1. The Continued Rise Of Outsourcing
Speak to any number of developers these days about asset generation, and the topic of outsourcing is never far from the discussion. Some companies, such as Alex Seropian's Wideload Games and American McGee's Spicy Horse Games, have built their business models around a "core" team, while using contractors for much of the process.

Whether or not you do, however, it's becoming increasingly relevant in these cost-cutting times. Major publishers, like Electronic Arts, Ubisoft, and Konami, among others, maintain their own fully-owned outsourcing studios in China, which primarily handle art requests.

Though it's most prominent, it's not just Asian outsourcing that is necessarily the most relevant. Wideload's model suggests finding the most talented and experienced practitioners to produce the components of the game.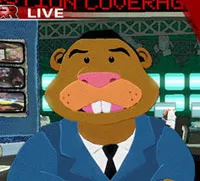 For example, in the case of Hail to the Chimp, the creators found a firm that had worked on actual news programs to do the game's faux-newscast motion graphics. In this sense, it's as much about talent and relevance as it is about savings, and points to another sign of the "Hollywoodized" future the industry continuingly hints at.
2. Casual MMOs? For Kids!
This market, which began under the radar and burst into headlines last year with the $350 million plus incentives acquisition of Club Penguin by Disney, continues to maintain its relevance in important ways.

Chief among them: MMO mavens' firm belief that the kids playing Club Penguin and other kids' MMOs today will demand services that offer similar (but improved) functionality as they outgrow these sites.
When their first taste of the power of social gaming technology is a Disney online world and not a Wii or Xbox 360, the expectations that drive the industry's possibilities for online interaction are being set outside of what is often considered the "norm".

Daniel James, president of casual MMO developer and publisher Three Rings (Puzzle Pirates) puts it this way: "People talk about the digital generation or whatever you want to call them... but I think there is a genuine shift when you have access to something at a young age. It changes your way of looking at the world."
With perhaps a glut of cute, original IP, venture-funded kids worlds out there, but a number of major brand-based and consumer-friendly projects (FusionFall from Cartoon Network, Gaia Online's zOMG!) yet to completely launch, it's a space that's still rapidly expanding.
---
3. You Don't Want DRM - You Want Services
As piracy grows ever easier, and as users become more and more vocal about the measures publishers take to try and stop it -- witness the Spore DRM controversy -- the appeal of user-friendly DRM lumped into a subscription service seems like the best solution.
After all, very few players complain about the fact that World of Warcraft is tied to a unique account that costs a constant $15 per month fee to keep playable -- because that's the very point of the game.

But even for games that don't require online interaction, the tied-to-an-account model can work a charm: Valve's Steam service is typically extremely well-regarded, thanks to its selection of games, its appealing community features, and most recently, the addition of its Steam Cloud service.
This makes online integration all the more relevant, as user data is stored on servers and accessible on any PC the player logs into. Surely, providing a tangible benefit for users to tie themselves to a verification system is the way to make to help the copy protection-related medicine go down?
4. Downloadable Content - A Cure For All Game Ills?
Whether or not GameStop's management wants to admit it, many developers and publishers consider the used game market to be, well, less than benevolent. Whether it should or can be stamped out completely is not the issue; few would disagree that at least discouraging players from selling games back quickly is a good idea.


One of the best current tools for doing so is downloadable content -- or as Xbox Live group program manager Alvin Gendrano put it at Microsoft's GameFest this year, "Using [premium DLC] we can keep your games being used over a long time. The longer your users play your titles, the less chance they give those titles away to retailers and sell them for used."

Moreover, stats Gendrano released suggest that games with strong DLC retain their market value for longer: "Games with PDLC were still selling for $59 in [the second quarter of their release lifespans]; those without were selling for $56." And Microsoft's Gears of War 2 recently took a new tactic; it shipped with one-time-use coupon for free DLC that can only be downloaded by the initial purchaser.
Perhaps the boldest mover in this space, however, is EA's Criterion studio, which has launched the "Year of Paradise" initiative for the company -- its Burnout Paradise, which was first released in January, is still receiving substantive free DLC on a regular basis, with its first paid pack, Big Surf Island, coming approximately one year after the game's retail release.
---
5. The Inevitable User-Created Content Entry
LittleBigPlanet is generally viewed as the watershed moment for user-created content in console games. It's true that the game invites and champions it, and has a flexible environment for its creation.
But it's not the only example, and it's sure to be far from the final one. Heck, Microsoft's XNA Community Games experiment, while flooding its Xbox 360 channel with games that are difficult to sort through at times, at least shows the potential of handing console game creation over to high-level hobbyists -- another win for UCC.

And for conventional retail games, as professional creation of content gets ever more expensive, as the economy worsens, as the YouTube generation comes of age, the need to extend the lifespan and interest of titles continues to grow -- for retention and acquisition reasons.
Can there be any doubt that user-created content will become bigger and bigger? With the advent of the form -- big on PCs in one way and another for years -- on consoles in a truly user-friendly, 21st century way, it's going to drive the direction of the medium as much as any other recent innovation.
6. Indies Go Pro, Pros Go Indie
The murky division between indie and pro developers is getting, well, murkier. The creativity of indie developers has been recognized for years, but the proliferation of premium download services has made creating these games more financially viable and appealing.
In fact, it's got to the point that the stars shine bright enough to be pulled into the studio system. For example, consider thatgamecompany, developers of flOw and Flower, who signed a three-game-deal with Sony.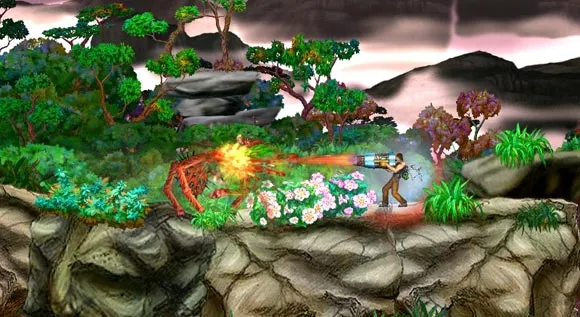 Mommy's Best Games' Weapon of Choice
But developers can go the other direction, too. Insomniac Games' coder Nathan Fouts decided he wanted out of the LA area and ended up creating Weapon of Choice, one of the most acclaimed games in the Xbox Live Community Games marketplace, self-publishing without Microsoft's assistance.
In another example, Torpex Games, developer of Schizoid, was founded by two alumni of Activision's Treyarch studio who decided that striking out as indie developers was more appealing than working on more Spider-Man sequels.

The success of games like Braid and Castle Crashers proves the commercial viability of the proposition; the flexibility of working from where you want to, how you want to, as Fouts did, proves the creative appeal.
---
7. New Retro Games + Retro Franchise Reboots = $$
New IP is tough to make work. Endless sequels become boring. Look to the past. Capcom has taken this tactic to heart, with three standout titles each taking their own angle on the tactic.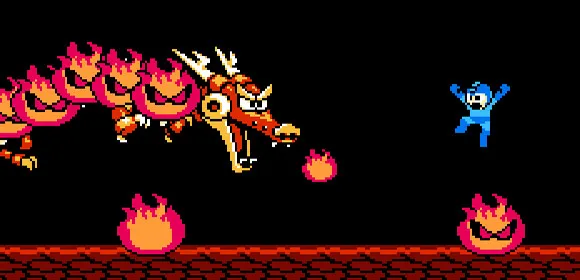 Capcom's Mega Man 9
Firstly, there's the pure approach of Mega Man 9, which works entirely within the conceptual limitations of the NES-style platform that spawned the first six games in the series. Then, there's Super Street Fighter II HD Remix reimagines the classic fighter as a hand-illustrated, more accessible online dream.
Finally, there's Bionic Commando Rearmed, which uses contemporary technology to remake a die-hard gamer classic that hasn't had a fitting followup in 20 years -- in itself a teaser for a more fully-featured franchise reboot due next year. (Capcom had less interesting examples, too: 1942 and Commando had forgettable installments this year.)

It's not just Capcom which is taking this tactic -- it's just the most significant practitioner, with strong classic IP and robust support of download platforms. With other companies such as Namco Bandai resurrecting Pac-Man and Galaga in enhanced form, and Tecmo Bowl returning on Nintendo DS, existing names that people have nostalgia for, as in many other industries, might be gold.
8. Japan - Insular? Obsolete? Self-Critical!
Japan is widely perceived as struggling this generation. Yes, Nintendo is a world-beater. But core gamers have shifted their tastes to the wares of Western developers.
In fact, very few Japanese-headquartered companies have been able to capitalize on the strong support of Xbox 360 and PlayStation 3 gamers with anything like the reliability that they had in previous generations, or find the success on Nintendo's platforms that they previously had on Sony's.

This problem is significant enough that Yoichi Wada, president of both Square Enix and Japanese industry group CESA said in October that the Japanese games industry has "lost its position" on the world stage.

The problem is multifaceted, taking in technological, cultural, and audience issues that are difficult to untangle -- or solve. A walk around the Tokyo Game Show floor this year showed that the response of many developers has been to concentrate on the platforms that are popular in Japan -- Nintendo's -- with games that cater to niches in the market: RPG and simulation titles which de-emphasize action.

Of course, this tactic keeps the developers from gaining the technological expertise or cultural currency to ship products with global appeal; it's a vicious cycle that Wada wants to see the Japanese industry break out of.
The most positive sign, though, is that Japanese developers recognize their limitations and how to work within them. This war will not be won by ignoring these limitations, but by learning to work within them to create titles, like Grasshopper Manufacturer's No More Heroes, which maintain the unique creative spirit of Japanese development while plumbing themes and gameplay enjoyable by broad audiences.
---
9. Free To Play, Pay For Items
Throughout 2008, we saw the further diversification of the MMO model in the West. While Mythic/EA's Warhammer Online: Age of Reckoning made a strong debut and Blizzard's World of Warcraft somehow continued to grow, Funcom's Age of Conan slid from a strong launch into apparent problems, and NCSoft announced the closure of its ambitious and problem-plagued Tabula Rasa.

While it's tough to draw a direct trend line through these events, the sense is beginning to grow that the MMO market needs a shot in the arm to continue expanding, and one of the major possibilities that is being seriously considered is the adoption of the Korean-pioneered free-to-play, microtransaction-based model in major western-developed and western-targeted titles; EA's shooter Battlefield Heroes being an in-development, high profile example.

An ambiguous statement made by EA CEO John Riccitiello during a conference call that seemed to imply that the BioWare MMO, Star Wars: The Old Republic, may have some microtransaction-based content, caused excited murmurs throughout the blogosphere.
Those who have experience with the model, like Nexon VP Min Kim -- who revealed at Austin GDC that his company had pulled in $29.334m in the U.S. in 2007 on the back of free-to-play in youth-oriented titles such as MapleStory -- have plenty of faith in it.

Or as CCP CEO Hilmar Veigar Petursson (EVE Online) puts it, "If you are building a pure subscription game you have to think very hard about how you build a meta economy that cannot be turned into a free to play after the fact... you will always be a victim of people doing what they want to do, and it's a losing war... you shouldn't fight your customers."
10. Game Schools Birth Hit-Ready Titles
Game education at universities isn't a new trend -- but it's interesting to see just how directly these students are transitioning into fully functioning professional teams directly from their educational careers.
Of course, the most famous example is the Narbacular Drop team, hired by Valve out of DigiPen, creating last year's breakout hit Portal. Thatgamecompany, of flOw and Flower, of course, arose from USC's interactive media program.

But these are not the only examples. Shortfuse Games, an 11-man team who recently released Colosseum to Xbox Live Community Games, transitioned directly from the game development program at Sweden's University of Skövde to professional concern with a minimal addition of staff from outside of the program. The Dream-Build-Play winner, CarneyVale: Showtime, was created at MIT's GAMBIT lab in Singapore.


Team Gambit's CarneyVale: Showtime
With IP ownership still an issue for some programs, the ability to do this may be difficult for some, but it's clear that the working relationships fostered over multi-year programs provides for a fertile ground for future collaboration -- and the refinement of ideas that may have their genesis in classroom assignments, but clearly have broader appeal.
---
11. Hollywood And Games - Equals?
Given the cinematic aspirations of so many game developers, it's surprising that true collaboration between the media has been so rarely seriously attempted or truly achieved.
To oversimplify this saga, let's simply say that it appeared that until recently, Hollywood talent never took games seriously as a medium, and that, in the context of film-related products, game developers have been too constricted, in general, to provide anything that rises to parity with the film medium.

But recent moves have shown a much more promising light. Steven Speilberg's deal with EA resulted not in an overblown cinematic project, but Boom Blox -- a game that truly took advantage of the Wii.
While the fate of next-gen followup LMNO is in flux in the wake of the EA Blueprint closure and EA LA layoffs, EA's signing of 300 director Zack Snyder to make three original titles makes it seem a little less troubled.

In other promising news, Cory Barlog, formerly of Sony Santa Monica, is working directly with original creator George Miller to bring the Mad Max film franchise to games -- in a much more collaborative way than most license-based projects, judging from his blog. The long-feted marriage of film and games may finally work.
12. Peripheral-Based Gaming Blasts Off
The explosion in popularity fostered by Guitar Hero III and Rock Band at the end of 2007 continued into 2008. Though analysts once wondered if this year's editions were selling in sufficient numbers, it appears the trend isn't dead.
Guitar Hero: World Tour, even with an increased peripheral count, has still proven extremely popular -- with almost every version of the game showing up in the NPD top 20 for November 2008.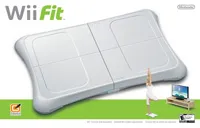 But it's not just music games that benefit from including a peripheral -- Nintendo's non-traditional Wii Fit, complete with Balance Board accessory, has been a runaway global success for the company. It's finding traction in the Japanese market, too, where peripheral-based music games are old news and no longer chart.

Recently, Activision even teased that next year's relaunch for the Tony Hawk series, which has taken a year hiatus in the face of markedly decreased sales for its most recent installment, is one where "you're not going to be playing this game with a controller in your hands."

Peripheral-based games sell for more -- and thus make more money than a peripheral-free SKU. Peripherals are also widely seen a way to make games more understandable for an audience daunted by traditional controllers. Taking these facts into account, it seems likely that until someone's burned by an warehouse of unsold Chinese-made plastic, the peripheral fad will continue.
---
13. Downloadable Console Games Get Retail-Sized
It's interesting to note that, at least in 2008, Microsoft has been hesitant in all but a few cases of allowing full-sized download games on its service. But Sony has not been so restrictive -- and consequently, has opened its service up to games that push the boundaries.
Thus, we've seen PS3 re-releases of games that were previously available at retail (Burnout Paradise), those with niche appeal (NFL Head Coach), those which couldn't support a retail release but exceed the scope of an average download title (Wipeout HD), and those that are available at retail in other territories but become download-only products in North America (Siren: Blood Curse).

Each of these cases points to an exciting future for the download market on the PlayStation 3 and, as standards inevitably change on the Xbox 360 and advance in further console generations. We may obviously see a future where games that would previously have gone to retail on discs are now available as downloads. (Microsoft does currently allow download of Xbox Originals titles on the 360, despite their prior disc-based nature as Xbox 1 titles -- an important and often overlooked facet of Xbox Live.)
This service, of course, also in full swing with Sony's PSP as well -- with Echochrome, again, being a download-only title in North America despite being out on disc in Japan and Europe. This alternate delivery mechanism will, as it has on PC with services like Steam, only continue to gain ground on consoles.
14. World Vs. WoW - Go Big Or Go Niche?
We've already talked about how microtransactions are going to become more significant to the MMO marketplace as time wears on. But the stratification of the online game market may be an even bigger and more significant trend.
With the triple-A staying power of World of Warcraft the crown jewel in the subscription-based marketplace, the games that compete with are trying one of two things -- a gigantic all-out WoW-rivaling mega product, or an attempt at an entirely different, niche experience or business models.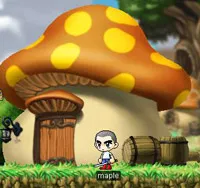 Nexon's 2D, anime-inflected MapleStory attracts a younger audience with less cash; EVE Online maintains a base of hardcore subscribers; free-to-play Guild Wars makes money on retail expansions and continues to flourish.
Other Asian MMO ports, while lacking in critical mass, can fill the cracks by appealing to niche audiences -- with games that have already been developed. So sure, there's still a core of big-budget MMOs going for a direct $15-per-month run against Blizzard. But those that are there are increasingly using existing IP (Star Trek Online, Warhammer/Warhammer 40k) to stand out.
---
15. Procedural Game Narrative - But Do Players Care?
While a great majority of games continue to use cutscenes to tell their stories, the emergence of significant new narrative forms has given game developers plenty of food for thought in 2008.
At the forefront of this is perhaps Ubisoft Montreal's Far Cry 2, which has an extremely dynamic world, with enemies that help each other to safety when wounded and an incredibly complex fire system, alongside ambitious narrative system that reacts to player actions in its sandbox world by dynamically reassigning dialogue to available actors.
According to the game's narrative designer, Patrick Redding, "If we had tried to not support that dynamic approach, what we would have ended up with is a story that really felt like it was kind of progressing along more or less independently of player action... And we felt there was no point in doing that."
With all kinds of artful, amazing events dynamically created by the randomness inherent in the game world -- such as bounding African fauna causing enemies to crash their vehicles -- it creates an expansion that's new and different almost every time.
But as the game underperformed at retail, a question that probably needs asking is -- do players really want a living world, or do they just want scripted events that convince them they are playing in one?
16. Retail Games & The Six Week Problem
While there's debate about how long games have to make an impact on store shelves before being pushed aside by bigger, shinier, and newer releases, six weeks has been thrown around as a rule of thumb. It's a problem.
We're currently in the midst, as of this writing, of a retail season so choked with high-quality releases that it's difficult for any company to feel confident about its success in the face of all the competition. And the stakes are getting higher all the time, as higher-end development continues to increase in cost and the shelves are filled with more and more competition.
The solutions to the problem seem to lie in some of the related trends we've already been discussing. Robust downloadable content is vital so that people may return to consider buying the title, months after it first debuted -- something that seems to have been working with Burnout Paradise.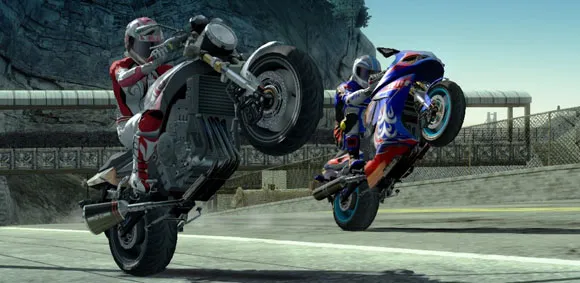 EA/Criterion's Burnout Paradise
But it may be that a robust online community to build buzz before a game's release is the ultimate arbiter of its long-term sales -- especially if it's less of an evergreen product such as the Carnival Games-style titles which will sell long-term to new console buyers, whatever. A unique proposition plus a robust fanbase equals a long-term winner.
---
17. The Rise Of Non-Games
One of the most successful games of 2008 isn't really a game at all. Nintendo's Wii Fit is an exercise program with game-like elements -- an accessible bit of exercise software that is peppered with clever game design that makes it compelling. Users go into the package expecting not a game, but a piece of software that will help them live healthier lives.

Nintendo isn't alone here. Ubisoft's My Coach series helps users with everything from Japanese language study to smoking cessation. Announced last year, the series has already blossomed into three different branches -- learning, language, and lifestyle -- on two platforms, Wii and DS. Of course, Brain Age is the granddaddy of them all.

Niches can also be filled -- as with XSEED and AQ Interactive's impressive Korg DS-10 synthesizer and sequencer software, developed in cooperation with the long-established Korg instrument company.
There's plenty of potential here, and an audience who simply want interactive information, and are hungry for new challenges. Thus, this is a market that will only expand in the future, with Nintendo advertising its DS cooking tutor software on TV and in glossy gossip magazines being just the tip of the iceberg.
18. Games & Social Connectivity, Duh
User-created content begets social connectivity, but social connectivity in games is something that is not important only in games with strong creative elements.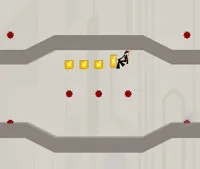 Whether it's the robust and customized leaderboards in N+ -- a game that encourages finesse gameplay and throws your friends' scores in your face every time you finish a level, encouraging replay and competition -- or Rock Band's comprehensive band rankings, these elements are absolutely compelling and will only increase.

Bungie.net has proven essential to fans of Halo 3, and this integrated and meaningful web approach is being carried forward by other games, like the Guitar Hero series and Insomniac Games' MyResistance.net - all of which provide practically a social networking experience on the web alongside your game-based social play.
What's next? Peter Ryan, VP at community site creators Agora Games, which built Activision's Guitar Hero site, believes in the future that "community will be as critical to the overall experience of a game as the game itself." And he may be right!
---
19. Franchises Vs. Regular Revenue Streams
"With respect to the franchises that don't have the potential to be exploited every year across every platform, with clear sequel potential that can meet our objectives of, over time, becoming $100 million-plus franchises, that's a strategy that has worked very well for us."

Above, you read the words of Activision CEO Robert Kotick, on the dropping of Brutal Legend and other titles after the Vivendi merger. We all hate to hear it, but there's something to his assertion that it made sense for Activision to drop Ghostbusters and others titles, due to the fact that they can't be spun into yearly franchises that will be consistent earners.

It may not appeal to our sense of artistry -- and Activision's focus on a "one size fits all" approach (can every viable game idea work on DS? Of course not) may well be overkill. But the game industry has been built on a foundation of franchises and sequels. They may not have to come every year, but they must come -- Nintendo isn't abandoning Mario and Zelda in the face of Wii Fit's success.

John Riccitiello, while still maintaining that quality is key to the "new EA" -- in fact, his company just formerly announced that it's publishing the orphaned Brutal Legend -- still agrees, in the face of a disappointing fall season: "...quality has not yet translated into enough sales," he said. Next year: titles with more "hit potential" than Mirror's Edge.

It's a tough line to walk: we're hoping that we can stay on the more appealing side of it. But there's no ignoring that repeatable success is key to keeping companies in the business of publishing games -- and bankrolling the less sure thing.
20. Game IPs, Multiple Media
It used to be that making a hit game was enough. At this point, it's not about the game -- it's about the franchise. And that franchise had better map beyond games to comics, films, viral marketing campaigns, tabletop RPGs -- whatever.
The importance is not just in creating something with recognizable characters or situations; it's creating a world with a richness that maps well to multiple media, something with texture that can be expanded without veering away from the core integrity of the original product. When Microsoft sent game reviewers Gears of War 2, it came packed with a graphic novel and a prose novel. And witness Dead Space's animated movie debuting alongside the game.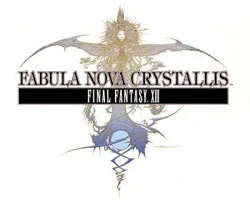 Final Fantasy VII was never intended, in 1997, to be more than a single game, but has swelled to encompass several, and a film too -- and now 2009's Final Fantasy XIII was fundamentally created not in a vacuum, but as one facet of a theme-based expandable media universe with its own name and concept (the pretentious Fabula Nova Crystallis, or New Stories of the Crystals in English -- which reveals its intent.)
These universes not only allow for new games that explore the core ethos of that universe without relying on the specific situations of any one constituent product, but allow creative satisfaction for a variety of visionaries to contribute to the health of a company's bottom line.
It's a necessary way to tackle a very contemporary impulse.