Presented by Ubisoft

I often hear game developers mention the iterative nature of creating video games. Every technology and piece of software, every design feature and breakthrough mechanic, is born out of a process of iteration. Teams build, modify, and refine with each new version, from the initial idea through to the finished product.
We've taken the same iterative approach to the future of work at Ubisoft. We are redefining the place that work has in our teams' lives, how they collaborate and build together, and even the purpose that a physical workspace has. We know that Ubisoft's teams need to be happy and healthy to surprise and delight our players with the best games possible. We want to make sure the way we organize our work supports that process.
It is now a cliché to say that the COVID-19 pandemic has upended the way most people work. In some ways, we are already facing the future of work. We started facing it that first day, when so many of us set up our computers on our kitchen tables or ordered desk chairs for our living rooms, took a call from the bedroom to avoid bothering our partner, or seeing our colleagues' children on camera for the first time. Even today, we are continuing to adapt every day to new realities, new tools and processes, new challenges and opportunities. We can all agree that it wouldn't make sense to ignore the last two years and ask everyone to go back to the office to work as they did in 2019. Our lives and our habits have changed, and the way we organize work has to change too.
The future of work is now. However, as I see it, the future of work is not an end state. It's an iterative process, and at Ubisoft, we're co-creating that future inclusively with our teams to suit their needs and their lives.
A Flexible, Diverse Approach
When talking about Ubisoft teams, we're looking at a very diverse group of individuals, teams, and projects. Our teams are distributed in more than 45 studios around the world and represent an international network of 90 nationalities. Ubisoft's production teams work on a wide array of projects, from mobile games of all types to free-to-play titles, XR/VR games and experiences, and AAA blockbusters. Some of those projects are just kicking off, with small core teams pitching ideas, while others are ready to launch in just a few weeks or months.
In this context, we decided to embrace flexibility in our approach to the future of work. We need to take into consideration the inevitable variations depending on geographies, roles, and projects. Some teams need or want to come into the office more regularly to collaborate more effectively. Not all projects are at the same stage or have the same requirements. Thanks to our co-development model, for example, many teams developing AAA games are already used to working with colleagues spread around the world (there were 17 studios working on Assassin's Creed Valhalla, and it quickly felt like a lot more when the pandemic hit). Increasingly, each team member will get to choose what's right for them and the work they're responsible for, and leaders will be entrusted to make the best decisions for their teams and projects.
At the heart of all our framework is the desire to accelerate collaboration and creativity, while fostering well-being among our teams. It's the quality of the projects and deliverables that is important, not the hours logged. Yet even more so, I would say that it's the way we deliver our outstanding games that is essential – the how. In our new ways of working, we strive to place the well-being of our teams at the center.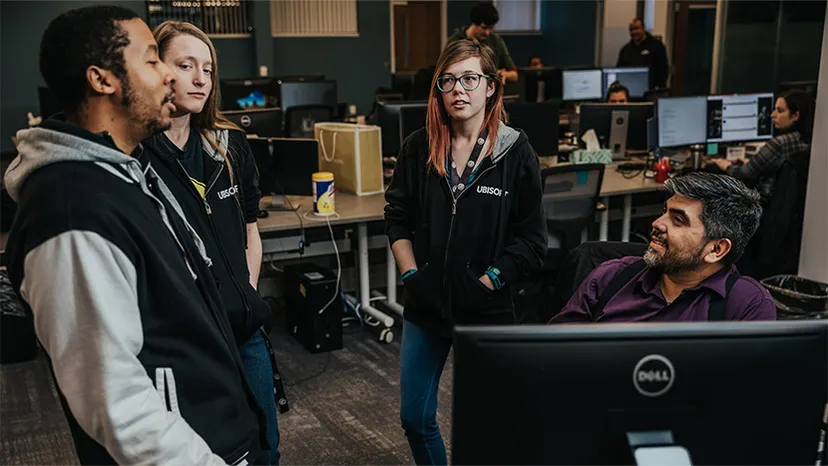 Well-Being at Work, and Outside of Work
At Ubisoft, we're accelerating our efforts to propose healthy working conditions in an ever-evolving way. We're soon to launch our Global Well-being program, spearheaded by our Future of Work Director, Kévin Bouchareb. This holistic program will encompass supporting employees' mental and physical well-being, but also financial and social well-being. Initiatives like virtual yoga classes, gyms, and mental health hotlines are all important, but they're first steps towards a deeper form of well-being, and one that encompasses more aspects of our teams' lives.
Among the concrete actions that are coming to Ubisoft in 2022, our teams will benefit from adjusted work rhythms that ensure improved work-life balance. Ubisoft's Canadian studios have already announced new benefits in line with this goal, like the right to disconnect and part-time work options, and we want to expand those types of programs globally. We've also kick-started initiatives to clarify roles and responsibilities on projects, and to avoid meeting overload (what I've heard colleagues refer to as "the tunnel of meetings"), in order to give team members space to breathe, think, get their work done in a timely way. The benefit is to decrease the unnecessary mental load, and thereby improve stress levels.
We're also giving Ubisoft team members the chance to talk to professionals to get support and advice on different aspects of their lives. In addition to ergonomists, sports trainers, and mental health professionals, our teams will have access to financial professionals who can give them tips on managing their financial situation and planning their future, and with life coaches who can help them work through longer-term goals. These kinds of initiatives can relieve the stress that comes from unknowns. It's a way of treating work as part of a bigger whole. Naturally, our team members have responsibilities and ambitions beyond work, and these don't necessarily have to be disconnected from work, because they can have an impact on their lives.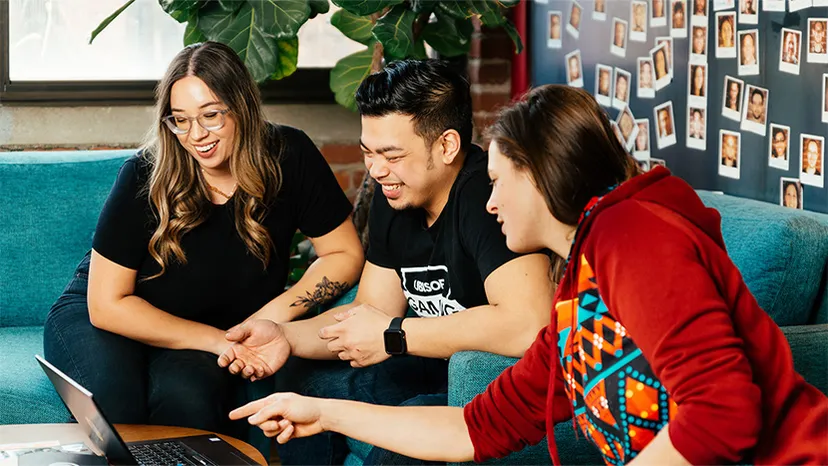 Looking Ahead: The Creative Workplace
We are lucky to work in a unique industry where mind-blowing creativity and cutting-edge technology come together. It would be a missed opportunity not to leverage the creative force of our diverse talents when building the workplace of tomorrow. We have teams working on live events, XR/VR experiences, virtual worlds, character design, tools for sharing and collaboration… We're interested in transposing that creativity and know-how into our work experience.
It's clear that the model of the single desk in the open space doesn't work for everyone. Moreover, there's little added value in coming to the office if it's to be in meetings on Microsoft Teams all day (unless there are noisy repairs going on in your building at home!). When teams come into the office, it should be to have a real experience that brings them something they can't get at home. I'm talking about collaborative spaces, convivial spaces, and even spaces for play! Conversely, when team members work from home, they need virtual spaces and tools that are tailored to their needs and projects and foster true collaboration.
How do we get there? Well, core to our values is that anyone who has ideas or skills to bring to the table to shape tomorrow's world of work are welcome to join us. Remember, we're iterating. We're testing and learning. We want suggestions, voices, and people who challenge the norm and think outside the box. I hope you will consider this an invitation to join us and help co-create this future of work.
Whatever comes next, one thing is certain: we want to create a workplace of the future that meets our needs and makes working together even more meaningful.
- - -
Andrew Saidy is an HR executive with more than 15 years of experience with publicly traded multinationals and International Organizations. Andrew has a proven track record in leading HR Organizations and Transformations and has held various roles in Talent Acquisition & Management, Executive Coaching, HR Business Partnering, Learning & Development and HR Technology. He currently leads Ubisoft's Global Talent Function to attract, engage, enable, and retain the best talents to the organization. Before his role at Ubisoft, a global leader in the gaming industry, Andrew led Schneider Electric's ambitions Talent Digitization agenda, bringing digitization, AI and machine learning to Schneider's 145,000 employees.