[This October, Lyon and Austin-based Arkane Studios celebrated ten years of creating games. Gamasutra talks with founder, CEO, and creative director of the Dark Messiah Of Might & Magic developer and BioShock 2 contributing studio, Raphael Colantonio, about the company's past, present, and its major upcoming title.]
In an industry where one dead deal can put a studio out of business, surviving two swings of the axe is something to celebrate. Throwing parties on two continents, Arkane Studios just honored its 10 year anniversary with live music, fine dining, and great vibes.
This is not at all what Raphael Colantonio imagined when he first started out. But as he now realizes, "you can achieve a lot of things with just passion and being a little naïve sometimes."
Looking Back
Before he was CEO and Creative Director of Arkane Studios -- with offices in Lyon, France and Austin, Texas -- Colantonio says he was just a fanboy.
"I would contact Warren Spector or Richard Garriott," he recalls, "and just be absolutely like a kid. 'Guys, I just want to work for you. I'll do anything. Get coffee, whatever.' And now whenever I see them... They probably don't perceive me as I was back then, because I have more of a legitimate place in the industry. But it's still a little bit embarrassing when I think about it."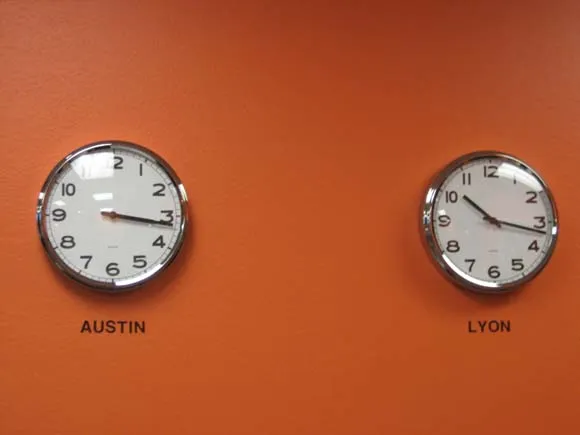 Lesson number one for those who would enter this industry: be willing to look like a fool. Colantonio's willingness to risk a little pride led to working with the very people he most admired. He was and is a huge fan of Richard Garriott and the Ultima series. "Those older games totally inspired us," he says, "and of course ION Storm with Deus Ex and Harvey."
Harvey Smith joined Arkane Studios after working at Origin Systems, ION Storm, and Midway Games. Best known for his work on highly acclaimed games such as Deus Ex, Smith -- now a partner at Arkane -- shares Colantonio's approach to game development.
"We're both creative with common sense," says Colantonio. "We're not like businessmen; we're more like creative people with a lot of passion to make things happen. And then we are practical and pragmatic to do everything we can to make it happen."
That emphasis on creativity is at the core of Arkane's success. From the beginning, Colantonio has made a point of working with the people who make the games he likes to play. "That's a privilege of owning your own business," he says, "to think, 'Hey, how 'bout I work with this guy? He's an awesome person and I really want him to be working with us.' It's like a little gift that you give to yourself."
Arkane has worked with some notables in the industry, including Doug Church (who currently works for Electronic Arts) and Viktor Antonov (the fantastic art director of Half-Life 2). "The truth is," Colantonio says, "those guys are all passionate and they're like me, you know? They're not proper businessmen. They're in the industry because they like what they do."
And everyone at Arkane Studios likes what they do. The team strives to follow in the footsteps of Looking Glass and Origin Systems, taking inspiration from games like Ultima Underworld and System Shock. "When I started to play those games," says Colantonio, "that was the moment I felt the difference between playing games as a hobby and feeling like this is really what I want to do."
---
Rise and Fall...
Thirty years ago, when Colantonio first started playing on the computer at age eight, there was not much context for that kind of behavior. "Today, everybody plays on a console," he says, "but back then, my parents were a little worried that I might turn out to be a weirdo who never goes out. They did not feel very good about it."
With a mother who worked in administration, and a father who was in absentia, Colantonio's uncle served as a mentor. "He was a business guy. He probably influenced me a lot to make a business out of whatever I knew how to do."
Having not known exactly what he wanted to do as a kid, Colantonio pursued a wide range of interests from drawing and music to computers and math.
"Part of me wanted to be somehow artistic," he says, "and part of me wanted to be more controlling. As an artist, you don't control much. You go with the wind. And so, I was confused -- until this opportunity came up with EA. That was my first job. It was just pure accident."
After finishing his studies and while serving his required term in the French military, Colantonio entered a magazine contest and answered some questions about Ultima.
Hoping to win a chance to test Ultima VIII, he wound up being offered a job in customer service. He was the eighth employee of Electronic Arts in France, where he set up their IT and customer support.
He left EA UK in 1997 to join a small studio in France that contracted for Atari. Two years later he started Arkane, which released Ultima Underworld-influenced first-person PC role-playing game Arx Fatalis in 2002.
"I think it was the most true game that we've worked on and done," says Colantonio. "It was exactly what I wanted to do. There were too many bugs, I know that. But still I am very proud of it." At a time when games were made by teams of 30 people or more, Arkane created Arx Fatalis with only nine people. "We sweated blood on that one."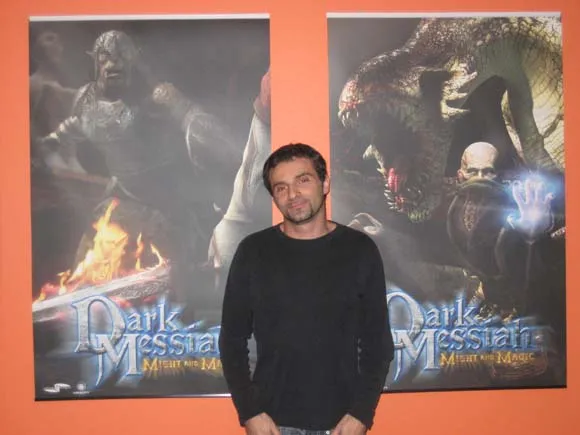 Arkane CEO Raphael Colantonio
Arx Fatalis offered more than 100 hours of great story, lovely graphics, magnificent sound, and sensible gameplay progression. It was critically acclaimed and led to the nomination of Arkane Studios as Rookie Studio of the Year at the prestigious Game Developers Choice Awards.
In 2006, Arkane opened the Austin studio and released Dark Messiah of Might and Magic, published by Ubisoft. The PC version received mixed reviews. Two years later, the Xbox 360 version, Dark Messiah of Might and Magic: Elements (which was ported by Ubisoft's internal teams) earned an even less favorable response from critics.
When Arkane wanted to continue work on its next original IP game, The Crossing, it ran into trouble. "The few deals that were available to us were just very ugly," says Colantonio, "It would have been a setup for failure."
Instead they accepted an offer from Electronic Arts to work on a different game. "The situation with them was great," says Colantonio, "so we gave up on [The Crossing], and we worked on this big game with well-known people. It was great. But then a year later when all the problems started, with the economy and all that..."
EA dropped the undisclosed project, and it took four months for Arkane to land the next deal. "That has been a financial hurt on us," admits Colantonio.
---
...and Rise Again
But then came the opporunity to be one of the four studios working on 2K's massive BioShock 2, quickly followed by an as-yet unannounced project.
"Those two recent deals we had," says Colantonio, "BioShock 2, and this other thing that is really great and I wish I could talk about it, they were not an accident. Those were the result of a long history of knowing those guys. And they knew what we were able to do and eventually the good opportunity came out -- then they contacted us.
"When those bad things happen to you," he reflects, "it's really hard. You might think, 'Why did I waste my time? I should have done something else.' You don't know yet, but there might be a consequence a few years later that makes it good.
"Even the BioShock 2 thing -- we had the opportunity to work with the creative director of BioShock 2 on one of those games that got killed. And back then, it looked like a disaster, like we wasted a year of our time on something that would never ship. But three years later, life bounces back at you. He remembered us."
The Games They Make
Colantonio cites H.P. Lovecraft as a major inspiration. "What I really like is the world he created," he says, "the world of the mid-'50s with gods and creatures that do not exist of course, but feel very real. The pace. There's nothing in-your-face in his books. It's all very subtle. It requires imagination, more than just seeing the monsters.
"The kind of games we like to make are dark and for adults and violent," he continues. "It's the easiest thing to communicate in whatever game you're doing. The easiest fantasy to sell a guy is just to beat up some other guy. War, anything. Gameplay-wise it's easy to sell and easy to play. You get into the fantasy instantly.
"At the end of the day, the bread and butter of what we sell to people... I'm not ashamed that it's simple violence in the fantasy world of whatever. Within the experience, though, we're going to sneak in a lot of deep things -- moral choice and emotional moments -- and bring all the elements together to really make the player feel like he's there."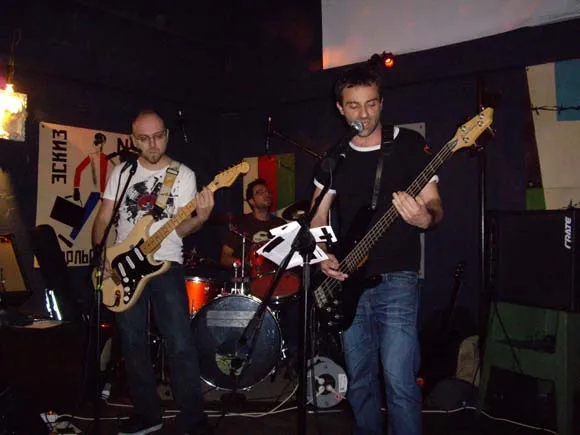 A scene from Arkane's 10th anniversary party.
It's going that extra step to make sure the player has a compelling experience that Colantonio hopes separates Arkane from other studios. "We haven't tried to go everywhere at the same time. We've always exposed the same message to the publishers and the customers in general -- you know, we're passionate and that's what we like to do. We like to do first person games with depth. It doesn't need to be dark. Usually it is, because that's our taste."
But depth is often invisible to publishers. "They don't care about that," says Colantonio. "They like quantifiable things like how many monsters you have. How many levels, how many weapons. They want to know if the graphics are better than other games. Do you have physics? All these kinds of things. They don't ask whether you have emotions of moral choices in the game. They are not qualities that are recognized as selling points."
Game studios compete on the basis of what sells. "Maybe the industry is starting to realize that we all have access to the same great technology and artists," Colantonio continues, "and maybe now it's time to start competing on other, more subtle grounds. I think there's a lot of progress to be made in AI. But not necessarily how smart is your AI -- that would not necessarily be fun -- but how much emotion can it convey and how believable is it? Anything that can represent a character in a more believable way will be a win."
---
The Future
Is that a hint about what we can expect with the next Arkane title?
"Wait for next announcements," says Colantonio. "It's gonna be exactly what we want to do. Not a compromised, marketed game. We've been lucky to find a publisher that supports us and understands this kind of game and is supportive of them. The people who like the kind of games that we like are going to be really excited.
"There are companies that do first person shooters," he continues. "There are companies that do sports games. We do first person immersive games with depth. That's what we do.
But it wasn't always that straightforward. "If I knew how hard it was going to be," says Colantonio, "I would probably not have done it. That's a common saying, and it applies to us too.
"The industry as a whole is [even] harder to get into now," says Colantonio. "It would be hard today to just come up as four people with no experience and open a company and start contacting some guys you like and hope it will work out. But somehow that's what happened to us 10 years ago.
"The hardest part is the reality and brutality of the business. The way the business is set up. We're not in an industry where one guy decides. When you meet now with the publishers, you don't really know who makes decisions. Is it the stockholder? Is it the marketing guy? Who is it? That makes it very, very, very difficult. There are probably other activities where sales are straightforward.
"We only have 10 or 15 possible clients, if you think about it. Because maybe there are 50 publishers in the world, or something of that magnitude. But the ones that are targeted for us, the ones that can publish the kind of game that we like to do, the kind of budget that we are needing, there are maybe not even 15. Maybe 10. So imagine an industry where all you have is 10 clients. And for some reason they right now do not need what you're doing.
"And then, when you try to talk to them, you don't really know inside the organization who decides. And it takes forever to decide. It might take six months. Or a year. And then the guy you've been talking to goes to another publisher. So it's not the same guy anymore and you have to start again from scratch.
"This business is really, really hard. And we've tried different options like working with agents. The truth is, it's just the way the business is set up. It's set up with a lot of people that are paid not to take any risk -- because it would go against their career. So it's easier to say no to something than say yes to something that might not turn out good. So you have to break through doors to have access to the right people.
"Working with our very first publisher was very good. We were a very small developer and they were a small publisher, so it didn't feel like a company of three people talking to a company of 10,000 people. That's how it felt a lot after that.
"But that's not the case now. Again, we cannot talk about it. We can't say who it is. But it's a great publisher and I am in contact with the direct decision-makers. If you can talk to the people who directly make the decision, then you can understand the way they think. Everything goes smoother, faster."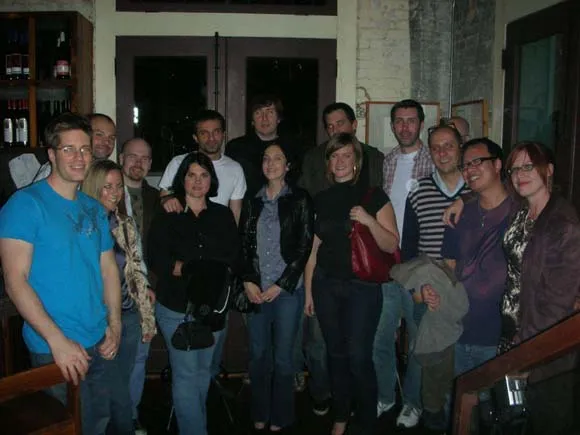 A scene from Arkane's 10th anniversary party.
No Accidents
"What I've noticed is there are no real accidents," says Colantonio. "All those -- what I call almost successes, as opposed to failures -- they led us somewhere. There were a lot of reasons to fail, and we somehow made our way until now. When I look at the people we have, that's what I'm really proud of."
"Over the past 10 years, we've had a lot of people stick around no matter how hard it's been sometimes. The team in Austin is really strong. Those guys are great. I've got some awesome people as well in France. Some of the people who've been with us since the beginning, like Julien [Roby] (our producer) and Sebastien Mitton (our art director) are pretty cool. Christophe [Carrier] (our audio guy, level designer, etc). Too many to mention. Everybody has a strong impact.
"There are other people with me and we all believe in the same thing and we really want to make it work. We've decided we're on this mission, and as much as we could push we'd just push. There's no reason to not try at everything. So many things that are successful are just controlled accidents. Most of them are, 'Guys, there's really no chance that this will work. Let's just believe it will work.' That's how it works. Otherwise you just don't do anything."