Epic Games is about to go toe-to-toe with Valve by launching a digital storefront to rival Steam.
The Fortnite and Unreal Engine maker claims the Epic Games Store will deliver fair economics while allowing devs and publishers to form a direct relationship with players.
The store will launch with a hand-curated set of games on PC and Mac, and will eventually open up to other games and to Android and other open platforms throughout 2019.
Notably, the nascent marketplace will grant developers an 88 percent cut of revenue, with Epic taking the remaining 12 percent.
"There are no tiers or thresholds. Epic takes 12 percent. And if you're using Unreal Engine, Epic will cover the 5 percent engine royalty for sales on the Epic Games store, out of Epic's 12 percent," reads a blog post.
"We've built this store and its economic model so that Epic's interests are aligned with your interests. Because of the high volume of Fortnite transactions, we can process store payments, serve bandwidth, and support customers very efficiently."
It's a bold and rather timely move, with Valve having come under fire recently for changing its own revenue sharing rates so it can give a bigger cut to developers who hit certain sales milestones.
Even with the introduction of those new rates, the biggest revenue share developers could hope to achieve on Steam is 80 percent -- and that will only kick in once a game has earned over $50 million.
As Epic eagerly points out in the graph below, it's a far cry from the 88 percent rate its own storefront will offer all developers.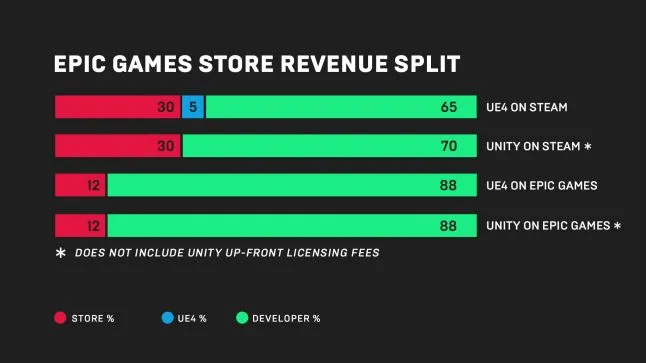 Although revenue sharing was took center stage in Epic's announcement, the company also explained how it hopes to bring players and developers together.
For starters, anyone who buys a game via the Epic Game Store will be automatically subscribed to that developer's newsfeed, making it easy to inform players about updates, news, and upcoming releases.
Devs will also be able to directly control their feeds and game pages, with Epic explaining there won't be any store-placed ads or cross-marketing of competing games, or paid ads peppered throughout search results.
What's more, the Epic Games 'Support-A-Creator' program will help unite developers and content creators, with the initiative encouraging streamers and YouTubers to spotlight the games of participating devs by granting them a share of sales revenue.
Epic said the store will launch "soon," but neglected to share a specific date. You can find out more over on the Unreal blog.