Street-dancers were hanging out near the entrance to the 2017 BIG Brazilian Independent Game Festival, held earlier this summer. Spinning energetically on the concrete, they set the tone for the scene to follow downstairs.
"We have Brazilian games. We are a Latin American hub. We take elements from everywhere and shake them up," said Gustavo Steinberg, who cofounded the annual festival in Sao Paulo.
With 768 indie game submissions from around the world, BIG is positioned as an international festival. Yet nearly half of those entries originate from South America, and nearly all of the 18,000 people in attendance were from the southern hemisphere.
"We have a responsibility to foster indie games, because we're never going to have triple-A development in Brazil. If games are going to be strong here, it's going to be an indie industry," Steinberg said.
BIG has been on the map for five years. During its tenure, a young, hungry, and not-untalented bunch of indies throughout Latin America have flocked there. The creators seem to have emerged out of nowhere, but in my experience, the scene is largely comprised of unknown developers, people who got tired of doing the dirty work for large studios and want to taste success for themselves.
This was a story I was told time and again. Most of these studios are just reaching the level of skill where they feel confident in taking a chance with funding their first game. 99.9 percent of the time, this is a calculated risk. Rare is the developer who says they are making a game strictly for artistic merit in Brazil. They approach development pragmatically.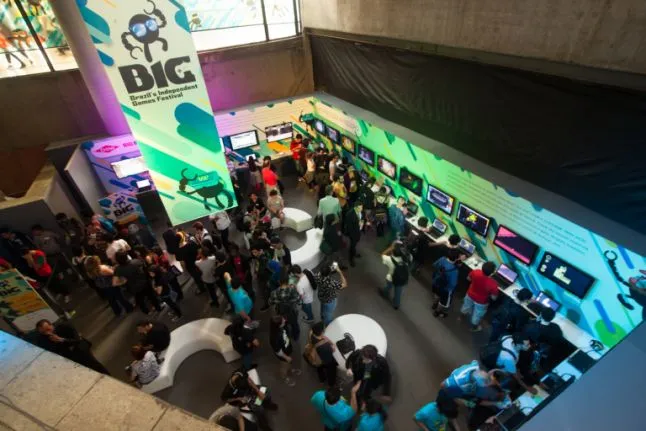 Here are some of the interesting projects on display at the BIG fest.
GUTS
Flux Game Studio
São Paulo, Brazil
Tucked away in Vila Madalena, a chill side of São Paulo with samba clubs and surreal street art, Flux Game Studio was the site of the festival's largest afterparty. The slender, candlelit, two-story building was flooded with around 350 friendly game people. They overflowed onto the terrace and out into the road. The crowd was exuberant.
"I strongly believe Brazilian game development is in a moment of ascension. We struggled for a long time, but now things are looking up. "
"I strongly believe Brazilian game development is in a moment of ascension. We struggled for a long time, but now things are looking up," said Paulo Luis Santos, the studio's head and CEO.
Flux's story is common among Brazilian developers. They learned the ropes doing work-for-hire projects. Now they are funding own.
Due out on PC and consoles by year's end, GUTS is a gory fighting game with goofy grindhouse humor and a dead-serious meta. The game has a complex mutilation mechanic, where the character gradually loses the ability to attack as their arms and legs are lopped off.
Currently, the team is in the extensive process of playtesting. Of late, they have been coxing professional players into playing it, so they can learn how the game looks through an expert's eyes. At BIG Festival, the former Brazilian Street Fighter champ ChuChu took everybody down. Even more recently, the game was exhibited at EVO, the prestigious fighting game tournament in Las Vegas.
Santos, who also serves as the vice president of Abragames, the Brazilian gaming association, believes this kind of visibility is a sign that independent development in Brazil is maturing.
"Until a year or two ago, [Brazilian developers] were a nobody," he said. "I'm hopeful that Brazil can be perceived as an important point on the planet for development."
64.0
Rebel Rabbit
Lima, Peru
Hailing from Lima, Peru, the studio Rebel Rabbit set up shop in their producer's lime green house.
"We're working in a space that looks like an office. I guess that's better than a garage," said Germán Cruz, the programmer for the three-person studio.
Their first game, 64.0 can be thought of a cross between a Nintendo Game & Watch game and Super Hexagon by indie savant Terry Cavanagh. The directional keys are used to shoot the bad squares, but not the good ones. The game is super minimalist and very difficult.
"We were aware of the problems this industry has. We know the game industry uses Latin American developers for cheap labor."
Like the difficulty ramp, the game's development process was exponential. Cruz hammered out the core mechanic in just two hours while vacationing in Mexico. Later on, he refined the idea into a crude prototype over a two week spurt during itch.io's Low Rez Game Jam. Unsatisfied with the outcome, he continued polishing away for two months, typically on nights and weekends, enlisting his friend Richard Da Cruz to help him.
Sensing that they were onto something big, they both resigned from their jobs at LEAP Game Studios, a Peruvian studio who primarily does outsourced work, in order to concentrate on 64.0 full-time.
"We were aware of the problems this industry has. We know the game industry uses Latin American developers for cheap labor," said Cruz.
"A lot of companies here do work-for-hire games. It was going to take a lot of time and effort for us to earn very little," he continued.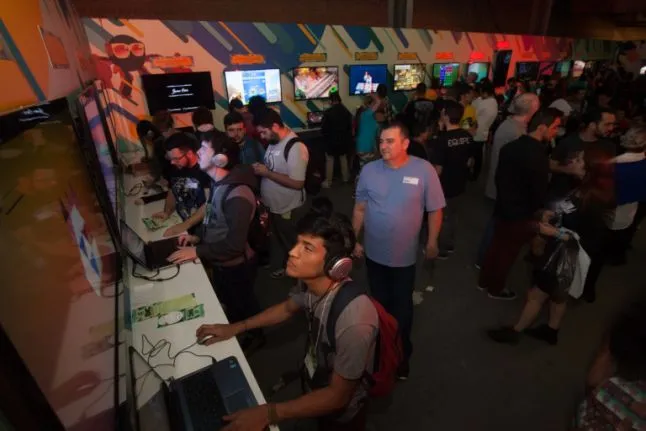 While exact numbers for the average income of a software engineer in Peru are difficult to pin down, a perusal of Glassdoor shows monthly salaries ranging between $1500 to $2000 US dollars. Honestly, these numbers seem high.
It's understandable why Cruz and Cruz don't want to go back to making uninspired content for overseas studios. Luckily, they might not have to. According to them, 64.0 did surprisingly well on Steam. The revenue is funding the studio's second game.
Decoherence
Efecto Studios
Bogotá, Colombia
Sandwiched between lawyer practices and consulting offices, Efecto Studios' headquarters is situated inside of one of Bogotá's countless red-brick buildings.
After a decade of strictly doing outsourcing work for larger studios like Ubisoft and Minority Media, the studio began to dream of spreading its wings. The only problem was they didn't know which direction to fly in.
"We were very good at following orders," said Eivar Castro, the CEO of the 32 person team. "But this was our very first time to digest an idea for a game."
The studio's CTO Miguel Posada, who was raised by his father as a Go protege, had his heart set on creating a cerebral and recursively deep game of strategy, where players program the simple AI of warring machines. To his dismay, the art team wanted to make a fun, twitchy, robot-fighting, action game.
After many rounds of iteration, a compromise was reached. When their game Decoherence reaches Steam later this year, it will involve two phases, the first where the player serves as robot commander, and the second, where they leap into battle to fight alongside their robotic team.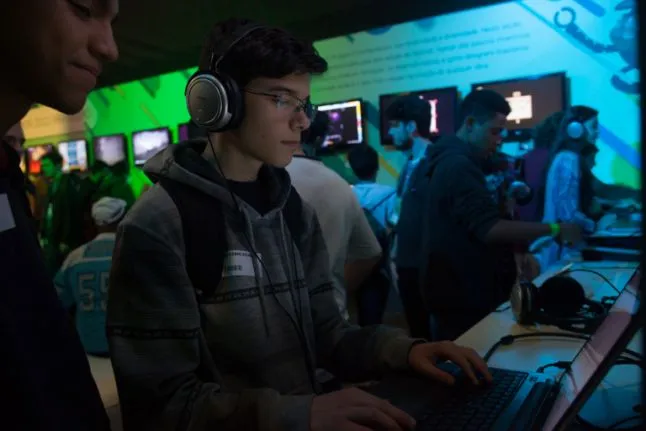 "We're targeting a really niche audience," said Castro. "I'm really excited, and at the same time I'm really scared. For a work-for-hire studio located in Colombia, releasing an online, competitive strategy game is madness."
Keen
Cat Nigiri
Florianópolis, Brazil
Keen's pigtailed, rollerblading protagonist was inspired by Babymetal, a Japanese thrash band fueled by three adorable J-pop idols.
"We're starting to grow, but we're still not competitive enough. The thing that Brazilian indies lack is visibility. A lot of good games are being hidden because we're unheard of.""
This curious clash of cuteness and toughness runs deep. Nando Guimaraes, the game's designer, and the co-founder of the Brazilian indie studio Cat Nigiri, imagined a game where terse tactical combat was presented simply and sweetly. However, the concept didn't gel until the team settled on an art direction.
"Three different artists tried to make Keen before we nailed it," said Guimaraes.
After selecting a sassy anime girl for the female lead, the character's personality began seeping into the core of the game. The original method of indirect control, where players confirmed their moves each turn, a la Disgaea or Fire Emblem, was replaced with a free-flowing fighting system. From there on, they began pouring in new monsters, new power-ups, new levels, careful not to break anything.
At present, everyone works remotely, with most of the team based on the island of Florianópolis, a vacation spot and fishing community a few hours south of Rio. They hope their efforts will help their country see games in a new way.
"Until recently, games in Brazil were considered gambling. They had an awkward negative connotation," Guimaraes said.
That's one reason Cat Nigiri—like all developers in Latin America—are targeting international markets, including the US, Europe, and Asia.
Of the indie scene in Brazil, he said, "we're starting to grow, but we're still not competitive enough. The thing that [Brazilian indies] lack is visibility. A lot of good games are being hidden because we're unheard of."
At BIG Festival, that began to change.