Welcome to the quarterly summary of game company financials for the fourth quarter of 2017, which ended in December of last year.
Given the scale of financial information generated every three months by dozens of game companies, we've come up with a simpler way of presentation.
Now expanded to include two key South Korean games companies, alongside the previously ranked western and Japanese games companies, the graphic for each region ranks each company in terms of its market capitalization.
You then read along a row to see if a company beat (or not) its previous revenue and profit figures on a year-on-year and quarter-on-quarter basis.
Note, if a company is/was loss-making in a quarter, we can't calculate the percent, hence the "N/A". US figures are GAAP.
Mixed picture
Given the financial quarter considered is the 1 October to 31 December period, it's no surprise many companies experienced a strong increase in quarter-on-quarter sales. After all, the Holiday Season remains a key time, especially for western console and PC game sales.
The bigger winner was Nintendo, which thanks to buoyant Switch sales, booked triple digit growth in terms of year-on-year and quarter-on-quarter sales, and quarter-on-quarter profits.
When it came to profits, the situation was more complex as some US companies took the opportunity provided by the Tax Cuts and Jobs Act to repatriate cash previously held overseas. This resulted in big accounting losses for the quarter for Activision Blizzard and EA, and results in the series of N/A entries in our western matrix.
Also interesting to note is the bull market in game stocks appears to have peaked, with the change in quarter-on-quarter market capitalization providing a more mixed pictured in comparison to the big green up arrows seen in Japan, South Korea and the west in the year-on-year columns.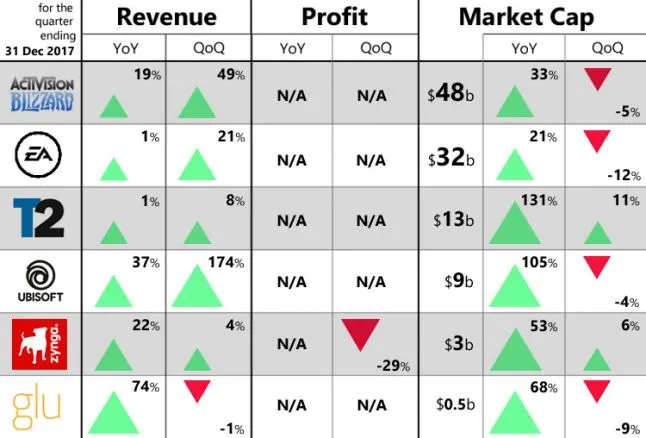 Activision Blizzard
Thanks to Destiny 2 and Call of Duty: WWII, Activision Blizzard capped off a record year with a record quarter. However, active player base in terms of monthly users was static - for Activision - or declined - for Blizzard and King.
EA
While Star Wars: Battlefront 2's underperformance was reflected in EA's weaker stock price, the quarter's financials were maintained by core franchises FIFA and Madden NFL, especially their Ultimate Team modes.
Take-Two
Despite a lack of new releases, Take-Two continued its strong performance in 2017, with GTA V and GTA Online once again the key contributors. NBA 2K18 and WWE 2K18 also sustained their sales from the previous quarter.
Ubisoft
Thanks to the release of Assassin's Creed: Origins, which drove a strong uptick in digital sales, Ubisoft was the best performing western game company in our matrix. Tom Clancy games such as Ghost Recon and Rainbow Six continue to deliver recurring revenues too.
Zynga
For the third consecutive quarter, Zynga was profitable, also ending 2017 with its best sales performance since 2013. Zynga Poker and CSR Racing 2 were the key games and new launch Words With Friends 2 performed surprisingly well too.
Glu Mobile
Bad historic decisions compounded by the failure of new Taylor Swift app The Swift Life saw Glu Mobile writing off $10 million of intangible assets relating to its celebrity games. That pushed its full year loss to $82 million, although the company hopes new games include deals with WWE and Disney will result in profits sometime in 2018.

A note on South Korean games companies
New for this edition of our financial winners and losers, we've added the two largest South Korean game companies. Note; Netmarble IPOed in May 2017 so doesn't generate a year-on-year return yet.
Netmarble
Lineage 2: Revolution continues to be the top game for mobile publisher Netmarble, which following its April 2017 IPO is the largest games company in Korea. Marvel: Contest of Champions, the game it acquired from US outfit Kabam for $700 million, remains its second biggest title.
NCsoft
Demonstrating the power of the Lineage brand, which NCsoft owns and Netmarble licenses of it, Lineage M dominated NCsoft's financials, accounting for almost two-thirds of quarterly sales. Its sales were down 27% compared to its previous launch quarter, however.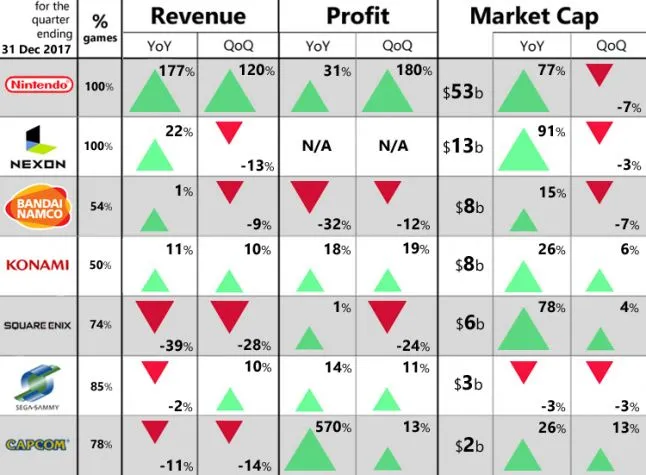 A note on Japanese game companies
Unlike western games companies, many Japanese game companies have ancillary businesses. Ranging from fitness centers and casinos (Konami), to Pachinko arcades and golf courses (Sega), and toys, music, and arcades (Bandai Namco), this makes analysis of their underlying games performance harder.
Given the situation, in this graphic we're only comparing the performance of the sales and operating income of each company's game division. The market capitalization data is taken for the company as a whole, however, while a measure of how 'game-orientated' each company is, is provided by the '% game column', which is a measure of quarterly sales.
Nintendo
With Switch looking likely to outsell Nintendo's increased guidance of 16.7 million shipped by the end of March 2018, everything remains on the up for the Japanese giant, which posted very strong sales and profit growth for the quarter. The only negative was a small decline in its stock price, although this has since been reversed as the company high a 10-high market cap.
Nexon
While the failure of LawBreakers generated headlines, F2P PC/mobile publisher Nexon posted record annual results, with Dungeon&Fighter growing strongly in China as did MapleStory in Korea. Indeed, MapleStory will be key to the company's 2018 performance with one PC and two mobile games in the series planned for release.
Bandai Namco
Weakness in its arcade game machines and home video game sales, especially in the Americas, lead to weak growth and declining operating profits for Bandai Namco. Its top franchises were Dragon Ball and Mobile Suit Gundam, which resulted in Japan accounting for 85% of total game sales.
Konami
Console and mobile games only account for 50% of Konami's sales, but they account for the bulk of Komani's profits and the division continued to grow during the quarter. Konami's baseball and soccer mobile titles such as Jikkyou Pawafuru Puroyakyu and Winning Eleven, in particular, remain very popular in Japan.
Square Enix
Due to previous launches such as Dragon Quest XI, Square Enix experienced a strong downturn in comparative sales and operating profits this quarter. In fact, it was the worst performer in our matrix. Veteran mobile games such as Final Fantasy Brave Exvius and Hoshi No Dragon Quest continue to generate solid quarter-on-quarter revenues in Japan, however.
Sega Sammy
Despite the release of Sonic Forces, not much happened during this quarter for Sega Sammy's Entertainment Contents Business, although online titles such as Phantasy Star Online 2, Puyopuyo Quest and Hortensia Saga provided strong recurring earnings in Japan. Else, Sega Sammy's pachinko and resort divisions experienced declining sales.
Capcom
The highlight for Capcom this quarter was a strong rebound in profits, with Capcom labelling Ultra Street Fighter II a "smash hit". Revenues were soft, however, with Marvel vs. Capcom: Infinite underperforming, while the company called its mobile performance "stagnant".