Earlier this year, Monument Valley developer Ustwo Games did two things it had never done before: it launched its first ever live-ops supported title, Desta: The Memories Between, and it partnered with Netflix Games to help create one of the streaming giant's first mobile exclusives.
We had the chance to speak with the UK studio's lead game designer Joel Beardshaw about why it decided to join forces with Netflix, which aims to have around 50 titles on its Netflix Games platform by the end of the year, to bring Desta to mobile, and it turns out there are plenty of benefits to working with the Stranger Things maker.
Straight off the bat, Ustwo explains that the aim with Desta was to bring what it describes as a "deeply personal story" to as many people as possible. The turn-based-tactics-meets-dodgeball-puzzler aims to explore themes such as self-reflection, loss, regret, and identity though the eyes of non-binary protagonist Desta, and the game will also be heading to Nintendo Switch and Steam early next year.
On mobile, however, Desta will be exclusive to Netflix Games, and the studio said it hoped that launching on the platform – which is available to all Netflix subscribers, including those paying for the cheaper ad-supported – will create a lower barrier to entry.
For the many
"When we had the first concept and prototypes for Desta, we knew we wanted to bring this deeply personal story to the biggest audience possible. From the first moment we talked to Netflix Games, we knew they could help us achieve this," said Beardshaw.
"Lowering the barrier to entry to gaming by offering Netflix Games to all existing Netflix subscribers, and giving everyone who may have never considered paying for a game like Desta the chance to play – it felt like a huge opportunity for us."

Perhaps one of the lesser-known perks of becoming pals with Netflix was being able to leverage the company's existing talent to help with production challenges such as localization. Beardshaw explained that Desta had to be translated into over 12 languages for launch, which is more than the Ustwo has supported on any of its projects to date, and Netflix's experience working on an international scale proved invaluable.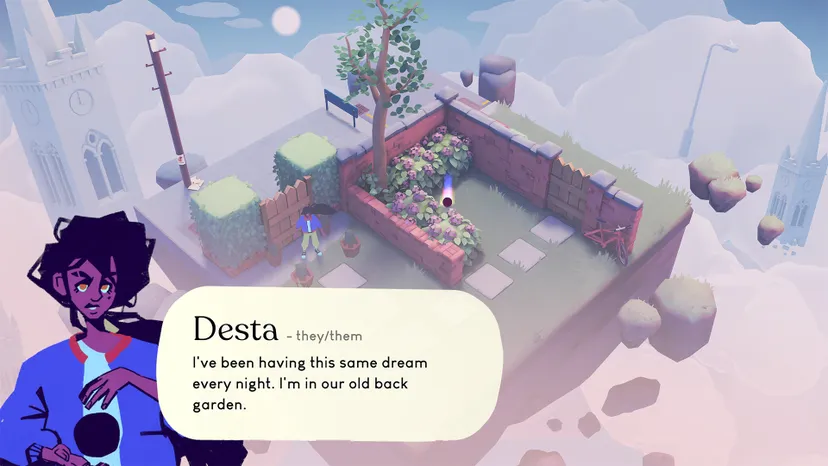 "[Netflix cares] a lot about the quality of their localization and translations," says Beardshaw. "[The company] brought their own experience from years of translating shows and movies, but also external support with [other elements] translating video games entails.
"Their care and attention around translating a game with a non-binary protagonist, but also a game set in the North of England, with a fair amount of regional slang, was wonderful. As a team, we had lots of great conversations with leanings on all sides about how this story and its characters should be portrayed to people with very different cultural understandings to our own."
Beardshaw adds everyone involved with Desta at Netflix and within the translation team cared about getting localization right "no matter what language a player chooses to play in," and that attention to detail meant the world to Ustwo.
Visions of the future
When it comes to making good on its promise of delivering a live-ops title, Ustwo has lots of ideas of how to support Desta with regular content updates. Although the studio acknowledges that the game "can't be extended forever" in the same way as a multiplayer title could be, it currently has six months of updates planned that it hopes will made Desta "the best it can be."
Those content drops will be informed by real player feedback, as well as data and analysts that offer insights into how people are engaging with the game. Ultimately, Beardshaw says the studio wants to continue to working towards its overarching goal of making an approachable tactics game that can find and retain an audience from all walks of life, and all corners of the world.
"We are now full-swing with live updates for Desta, adding new abilities to the game, and having just launched our big new 'Challenge Mode' feature which has a new map every two weeks," said Beardshaw. "It's really exciting to continually be learning from our community of players [...] and we are also making changes to the main game based on the response from our community yo enable more people to get involved with the core story.
"Right now, we are planning six months of great content updates and continually making Desta the best it can be. After this, we don't currently have any plans on a roadmap, but who knows what the future holds?"