It's been roughly four years since the debut of Double Fine Presents, the indie publishing business Double Fine has been loathe to brand an indie publishing business.
Presents has been intriguing from the start: an indie game publishing program in all but name, run by an established indie studio with a history of getting burned by other publishers.
And unlike some indie publishers (Devolver Digital, Adult Swim, etc) it's always been a bit tricky to nail down what a Double Fine Presents game is, exactly; when Gamasutra caught up with then-COO of Double Fine Justin Bailey and heard the Presents program's criteria for which devs it would work with and how were "a bit squishy at the moment."
"For the short term, we just want to test the waters out and grow organically. We don't want to force anything," Bailey said in 2014. "If it turns out to be successful for both parties, and there's adequate demand, then we can always ramp things up."
Fast forward to now, and the Presents program has become a ramp for notable indie games like Everything, Gang Beasts, Ooblets, and Knights & Bikes. Speaking with Gamasutra earlier this month, Double Fine's Greg Rice said the program has grown into something of a surprise success for the company -- one he's now keen to build on.
"We'd like to continue to expand," says Rice. "Gang Beasts, specifically, is one that's been really successful, and is driving a lot of our financial success recently, for Double Fine Presents, and financing a lot of our expansion."
For Double Fine, the appeal of the Presents program is clear: it lets the company feel good about helping indie devs by putting their games in front of its considerable audience, and also make a bit of money on those games without having to actually develop them itself.
"It's just shown to be an easier place to make profit than our development-side games, because our games are big and expensive."
"It's just shown to be an easier place to make profit than our development-side games, because our games are big and expensive," adds Rice. "With the publishing side of things, there's somebody else who's taking the risk on the budget and everything."
For devs, the appeal of the Presents program is harder to suss out. From the outside looking in, Double Fine Presents can look like a venture where Double Fine offers (and risks) little -- marketing your game to its fans, putting your game in its regular Day of the Devs game showcase, helping with PR -- in return for a piece of your success.
But in a game industry overflowing with great devs and games, that's been enough to ensure Rice fields roughly a thousand pitches from devs every year -- far more than the 3-4 games Presents publishes in a given year.
This bears out the trend we've seen over the past few years of publishers coming back into style, in large part because lots of game makers are leery of self-publishing their work in a marketplace with so much competition.
"Now there's just so many people having success that it's more difficult to find it," adds Rice. "There was a while there where I would have been more focused on empowering people to self-publish, but more and more I think to rise above the noise, it takes having partnerships, and people who have your back, and people who can kind of help fill holes you can't."
This mirrors what game developer and animator David OReilly told Gamasutra about his experience working with Presents on both his first game Mountain (2014) and Everything, the award-winning game he released last year.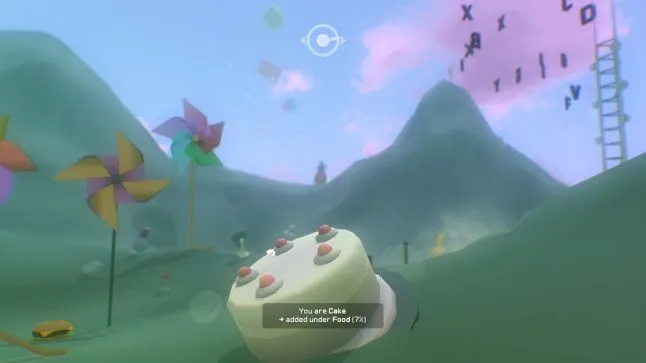 David OReilly's Everything
"I was entering games with zero experience, and Greg and his team taught me everything and introduced me to everyone," OReilly wrote in an email. "I learned what to expect at every step of the way which made it a lot easier to navigate. They understand the industry but also the particular needs of artists. I've never encountered a company that gets this as well as they do. They took the pressure off everything I am bad at - press, entries, shows, any kind of business so I could focus on development. This is key. Double Fine are the best."
Rice says Double Fine is willing to do more for devs than just marketing and PR, too; the company has helped devs negotiate funding deals, offered QA support, and "pretty much everything a big publisher has done" -- all on an a la carte basis.
"One of the troubles with larger publishers is they have this huge stable of things they're offering all of their games, and even if they don't need some of it, they're paying for it," says Rice. "It becomes this kind of larger deal, with a larger recoup, and a larger percentage to the publisher, just because they have to pay for all this overhead. Where for us I think we try to work with each team to pretend that it's a Double Fine game, an internal game, that's supported in all the ways that we would, without stepping on any toes in terms of what they're already doing well."
This, then, is Rice's answer to the question of why Presents has no unifying tone, theme, or style which helps you know whether your game would be a good fit: because it's a Double Fine project, and like Double Fine's own catalog, the Presents games are meant to share little in common save a general sense of creativity.
"It's really tricky to nail down. But I guess I try to approach it like, finding stuff that feels like it suits our company and it fits in with Double Fine as a whole," says Rice. "I think it's more that it's coming from someone who has a real vision, and is executing on that at a high level of quality."
This isn't exactly helpful if you're looking to work with Double Fine on your next game -- it's rare to find game makers (or any creative types, really) who feel, with a deep and certainty, that they have "real vision" or are doing high-quality work.
Pitching to a publisher? Keep it brief -- and include a video
Pressed for more specific advice he'd give to devs looking to pitch Double Fine (or any publisher), Rice emphasizes the power of clarity and brevity. Short, clear descriptions of your game are best, accompanied by a nice video or animated gif.
"And then just a really high-level elevator pitch, and like, what the needs are. Especially for us, I think it's good to know what the financial needs are, and things like that, just because a lot of times that's where the conversation ends if it's just too large of a game," he adds. "I think the biggest thing that will be an immediate no are copycats and clones and things like that. We still get a lot of it, we still get a lot of shmups and puzzle games that look like every other shmup and puzzle game. I see a ton of like, tunnel-based race-y rhythm-y things, too. As soon as it looks like something I've already seen, that's a problem."
"Now there's just so many people having success that it's more difficult to find it. There was a while there where I would have been more focused on empowering people to self-publish, but more and more I think to rise above the noise, it takes having partnerships."
A playable build of your game is especially valuable, though Rice says that games much past the "playable prototype" stage aren't necessarily what Presents specifically is looking for.
"I feel like a lot of people will come to us and say we've had good success on Early Access, or we're coming out in a month, and at that point it's just hard for us to do too much," says Rice. " But then on the other side of things, it is hard to evaluate something without a prototype. So if somebody comes to me early and I see images or a description that sounds really cool, that's great and I will follow up with them, but it's always going to be 'let us know when you have something playable.' As soon as somebody has something that's playable that people are happy with and they feel represents what they want to do, then that's where I'd like to be getting in touch."
And while Double Fine Presents initially didn't offer funding ("just because we're small, and don't have a ton of budget for that kind of thing"), the venture has now grown to the point where Rice & Co. have agreed to partially fund Ooblets and Knights & Bikes.
Going forward, Double Fine hopes to continue offering direct funding, and Rice says the company is working to try and offer co-development support (a producer and art support for top earner Gang Beasts, for example) in an effort to both bring some of its game dev expertise to bear and work alongside some notable teams outside the company.
The company also wants to continue building out Day of the Devs, the public game showcase it's been organizing for years. Day of the Devs got its start in 2013 as a free party in San Francisco where Double Fine, longtime partner iam8bit and some dev pals would show off their games; since then it's grown to become something of an indie game showcase, featuring 70 games at its last standalone event in November in addition to smaller showcases it brings to other events, like the Game Developers Conference.
Ahead of the first Day of the Devs in 2013, Rice told Gamasutra that the event was being organized as a way to bring the dev community in San Francisco together and "nurture the scene"; now, Rice says it's become a critical part of how Presents does business.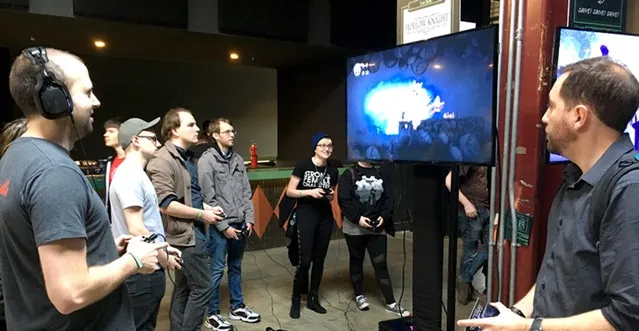 Team Cherry's Hollow Knight being demoed at Day of the Devs in 2016
"Presents is 3-4 games a year, whereas the last Day of the Devs had 70 games, so it's almost like a training ground, I guess," he says. "There's games that I feel like I'm excited about that there's not a build ready yet for, or it's early, and I just want to see how they're going to progress, so I'll throw them into Day of the Devs, and we'll stay close and I'll see how things progress before making an official call on it, from a Double Fine Presents standpoint."
So for devs, pitching your game for Day of the Devs (which has had a public call for submissions since 2016) can be a good way to open a conversation with Double Fine that may lead to a publishing deal; Glumberland's Ooblets, for example, was part of Day of the Devs before it was ever part of the Presents program.
Even if a publishing deal isn't in the cards, public play events like Day of the Devs can give you valuable playtesting opportunities and a hard deadline to work towards.
"The event forced us to whip a lot of systems into shape," says OReilly, recalling when Everything appeared at a Day of the Devs event in 2016. "it was our first major milestone in the game, getting the connected universe and object travel to work. The game was significantly unfinished compared to the final version but it was an important part of its development."
And for publishers, Day of the Devs is something worth studying: a regularly-occurring, community-building event which offers value to fans (come and play some neat games!), developer partners (come meet some fans and watch them play your build!) and Double Fine itself.
"It's nice to have this kind of recurring yearly excuse to go out and look for new games," Rice says. "And meet these people, and see if that could be something that turns into a Double Fine Presents deal."
Throughout our conversation, Rice repeatedly echoes a sentiment Devolver Digital's Nigel Lowrie shared at GDC 2016: that ultimately indie devs no longer need a publisher, and thus it's up to Double Fine and others to present devs with an appealing, useful partnership deal.
"It can be tricky, the developer-publisher relationship," says Rice. "It can be challenging to communicate, the needs of everybody are different, and I think the fact that we've had so many different flavors of publisher relationships, and have been a developer, I feel like makes us a little more suited to kind of understand everything that they're going through. And be able to empathize with the development experience."
Gamasutra and GDC are sibling organizations under parent UBM Americas. GDC is partnering with Double Fine and iam8bit for a mini Day of the Devs exhibit at GDC 2018.